DOUBT: "You accusin' me?" asks Father Flynn, played by Br"an F. O'Byrne. "Yes, I am!" replies iron-willed Sister Aloysius, portrayed by Cherry Jones.

W

atching actors Cherry Jones and Brian F. O'Byrne in John Patrick Shanley's multi-award-winning drama Doubt, it leaps out at you that these actors not only love what they're doing, but that they live to do it. Their challenge is to plant uncertainty and divide audiences. Jones and O'Byrne do their jobs well are are being rewarded: Outstanding Actor Drama Desk Awards and nominations for Best Actor Tony Awards.
[Shanley's play, already a Drama Desk winner, is also Tony-nominated.]
Jones and O'Byrne accomplish their jobs well. In fact, their performances -- along with Shanley's trademark twists and turns -- are keeping theatergoers on the edge of their seats.
"It goes by so fast you don't realize it's ninety minutes," states Jones.
"It's like you step on and get off!" O'Byrne reponds.
"From the second the house lights dim," beams Jones, one of theater's preeminent actors, "audiences tell us they're completely engaged. It's because it's so much fun. There's not a single scene where you go, 'I hope this goes well' or 'I can't wait to get past this.
She explains that the unexpected magic of Doubt is the uncertainty principle. She compares the onstage fireworks between she and O'Bryne as something akin to the gunfight at the O.K. Corral. "They're meant to roil the audience, but they seem to really enjoy it. In fact, they feel the play is theirs and if there's a false moment they'd feel betrayed."
"What's bizarre," adds O'Byrne, "is that when audiences are leaving the theatre, they're not talking about us, the actors, but about the play. It's become a very personal thing."
Jones and O'Byrne, thrilled that they have audiences so excited and agitated, say they're having the time of their lives. "When audiences walk up the aisles," chimes in Jones, "and they're not talking about the performances, but about the play, we've done our job. That's the best review of all. Nothing gets better than that for an actor."
Although Doubt is set in 1964 in a Bronx [the borough where Shanley grew up - he even uses names of his former classmates in the play] grammar school, it could be torn from recent headlines. The plot centers around an iron-willed school principal, Sister Aloysius [Jones], who suspects a feisty, street-wise priest, Father Flynn [O'Byrne], of being a pedophile when he takes too much interest in a young male student.

The featured cast is also Tony-nominated: Heather Goldenhersh [Freedom-land, Last Dance] plays a younger nun who's quite intimidated by Sister Aloysius' methods; and Adriane Lenox [Shug Avery in the Atlanta premiere of the musical adaptation of The Color Purple, The Moon in Caroline or Change at the Public], who portrays the student's mother.
______________________________________________________
HONORED CAST: ALL TONY-NOMINATED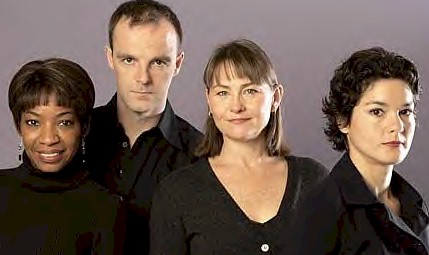 Adriane Lenox, Br"an F. O'Byrne, Cherry Jones, Heather Goldenhersh
___________________________
___________________________
Amid the seriousness of the story, Jones reports that she's found humor. "Not surprising, since
Doubt
is from the author of
Moonstruck
. A friend said she was doing a funny play this season. Another boasted that she was doing a serious one. And I replied, 'I'm doing a funny and a serious play!'"
She adds, "I'm having fun pleading Aloysius' case - especially the one about ball point pens, which she says should never have allowed to enter schools because they make students press down and end up writing like monkeys. No one has penmanship like someone who went to Catholic school! You can spot one a mile away."
Sister Aloysius, a previously married woman in her 40s, "is a strong and formidable character," Jones observes. "She runs her fiefdom with an iron hand. She believes her methods and views are correct and she vigorously imposes them. It's fascinating to watch as she methodically sets her trap. When it comes to Aloysius' suspicions, she has no doubt whatever."
Not so the audiences, says O'Byrne. "It's amazing. They've been divided. Flynn has his loyal supporters, who feel Aloysius has railroaded him. One will say, 'He's guilty!" and another will say, ëNo, she's guilty!'"
"It's gotten so intense," laughs Jones, "that it's been suggested I might need a body guard when I leave the theatre! But what's really interesting is that those people who agree that Aloysius is right merely say ëFather Flynn's guilty,' while those who think she's wrong call her ëdespicable.'
O'Byrne even recalls one woman crying when someone said his character was guilty. "She said, 'You're nuts! How can you think that?'"
"What makes the play powerful," notes Jones, "is that it reflects the condensation of the country, the prevailing attitudes on absolutism. The left get tired of spewing their venom at Bush and spew at me. The more conservative, who think that Bush hung the moon, spew theirs at our humanist priest, Flynn."
"It's a live thing, adds O'Bryne, "and you feel yourself moving right along. Because of this, you feel you have to work a bit harder. You're never off stage long and you're constantly building emotion and intensity."
____________
HEATED MOMENT
:
___________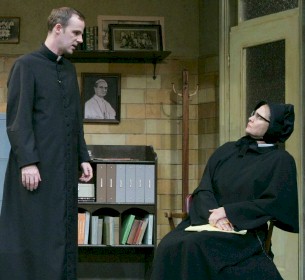 Father Flynn: "Have you no heart?"
And what does Sister Aloysius answer?
___________________________________________________________
Jones and O'Byrne are delighted to be working again with Hughes, who directed her in New York Theatre Workshop's
Flesh and Blood
and him in
Frozen
.
Growing up Methodist in Tennessee, the Catholic Church, laughs Jones, was the most exotic thing in town. Her two best friends were Catholic. "I'd go to mass with them and they'd show me these little slivers of bone that were relics of saints. I used to wonder, with so many Catholic churches, if there'd be enough to go around."
Frequently, she heard stories about the nuns. "Their fiefdom was the school system," reports Jones. "They were trained to be field marshals: discipline, order, rigidity. When I heard how they used clickers in church, I couldn't help but laugh. Click, you kneel! Click, you stand!"
She remembers the time when young men going into the priesthood were deified in their communities: "But, sadly, once they were priests, they were never allowed a normal adult relationship with anyone outside the cloth who understood what they're going through. That had to do something to the soul and mind. We're sexual beings. I can't believe that eventually Catholic priests won't be allowed to marry. Otherwise, they're going to be beating the bushes looking for vocations."
Jones and O'Byrne, from Ireland, couldn't be more different yet they seem cut from the same cloth. They've come up the ranks from Off Off and Off Broadway to starring roles on the main stem, Tony Award nominations and wins - Jones, as Best Actress in The Heiress; O'Byrne, Best Featured Actor, Frozen.
Jones' New York debut was in 1983 in Claptrap at the original Upper East Side home of MTC. There'd been small roles on TV and in films since 1986, when she hit 30. She made her Broadway debut the next year in Tommy Tune's Stepping Out. Numerous roles followed.
"Every play I've done," Jones explains, "has been exactly what I wanted to be doing at that point. I saw each as a step toward more options. Having worked in every different style -method, mime, you name it - prepared me for working with the various style of directors."
Audience and critical acclaim and Jones' multiple awards for her brilliant portrayal of Washington Square's Catherine Sloper in 1995's The Heiress [opposite Philip Bosco, Tony-nominated this season for a Best Actor Tony for Twelve Angry Men and who's appearing in Chitty Chitty Bang Bang] was the catalyst to getting good representation and scripts. On the basis of seeing her in The Heiress, Robert Redford cast her in The Horse Whisperer, in which he starred and also directed.
Larger roles followed as Hallie Flanagan in Cradle Will Rock, directed by Tim Robbins; Erin Brockovich , directed by Steven Soderbergh; and M. Night Shyamalan's suspense thrillers Signs as a police officer and The Village as Mrs. Clack. Most recently, she played a dual role in the 2004 hit, Oceans' 12. She has roles in Swimmers and Aftershock, co-starring with Jessica Lange, both expected later this year.
Prior to the opening of Doubt at MTC late last year, Jones had been absent from the New York stage since summer 2003 and her acclaimed performance Off Broadway in Flesh and Blood, Peter Gaitens' adaptation of Michael Cunningham's novel about several generations of an American family. She was gone so long that some prominent guest starring roles on such TV series as The West Wing, many fans were worried that she'd gone Hollywood.
"No! No! No!" she states emphatically. "I never expected Hollywood to come calling, even after The Heiress. I didn't know anything about film and never spent time in L.A. Movies and TV are fun, as long as you know you've got something to come home to. Theater will always be my primary focus. I'm not ambitious. [Evidence of that is that she passed on a role in Cold Mountain.] My agents are understanding. I never feel pressure to accept roles I don't want."
Amazingly, in view of her success onstage, Jones hasn't ask her agents to go after starring roles. "Not many women my age [she's 48] are in the Hollywood mindset," she laughs. "Where I'm at, I have to specialize in nuns and FBI agents [Oceans 12]! But I love the low-pressure character parts, because I have the opportunity to watch and learn."
Jones guiltily admits to loving the ambience of Hollywood. "I'm at that career point where I find these character parts in film delicious to play around with. But then to have this magnificent part come along in Doubt, well, is the icing on the cake. It arrived at just the right time because I was itching to get back to the stage. It'd been while since I went 'Ohhh!' after reading a script. So I jumped at it.
Of film vs. theater, she states, "In film, you play a character. There's no projection. The camera's in front of you and the boom mike looms overhead. It's a world of fifteen-second bites. You have make-up and wardrobe fussing over you and 300 others concentrating on that tiny sequence. It's incredible to have all that manpower and imagination to bring to life one moment."
There's something childlike about theater, she observes. "You enter the fantasy. You wrap yourself around the audience and are your character. And you can never forget the persons in those seats in the last row of the balcony. You must project to reach them. Even in your offstage moments, in the wings or doing a quick change, you're 'out there' because you're listening, watching, totally immersed and involved."
As she reminisced about her theatrical career, Jones called herself "the luckiest actress in the world. "I've done so much more than I have any right to, then a part like Sister Aloysius comes along and it's just the topping on the dessert!"
O'Byrne's career has come full circle - well, in terms of wearing a cassock: one of his first U.S. acting jobs was playing a priest on a sitcom. Before his Tony-winning role as a pedophile serial killer in last season's Frozen, he'd acted here and in Ireland in playwright Martin McDonagh's The Beauty Queen of Leenane and appeared in Sam Shepard's The Lonesome West -- work that brought him to Clint Eastwood's attention and got him cast as the no-nonsense priest in 2004's Oscar-winning Best Picture, Million Dollar Baby.
________ JONES & O'BYRNE ________
.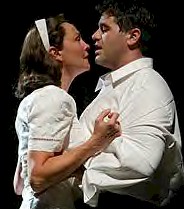 ...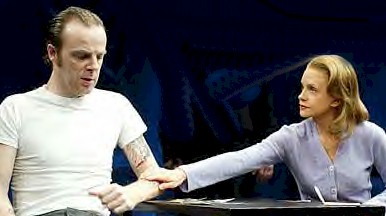 Jones and John Sierros in
Flesh and Blood; O'Byrne and Swoosie Kurt in Frozen; and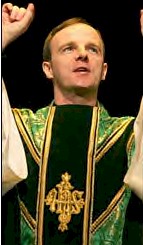 O'Byrne as Father Flynn, delivering one of his sermons on Doubt.
__________________________
Jones and O'Byrne are highly complimentary of Lenox and Goldenhersh. Of them and O'Byrne, Jones says, "I cannot wait to get to the theatre to climb into that ësandbox' and fuss at ëem."
In an analogy to the recent baseball steroid scandals, the Irish-born actor confesses that he takes "performance-enhancing drugs." A huge smile erupts as he adds, "My pill is Cherry, eight times a week. It makes me feel good all the time and it also give me strength to play when I go out onstage. My ëdealer' is Shanley, who's been dealing out ëdrugs' for a long time now, but not ever as potent as this one."
He and Jones admit taking another "pill," which a lot of actors find hard to swallow. "It's called a director -- our director," states O'Byrne, referring to award-winner Doug Hughes, who also directed him in Frozen.
Jones describes Hughes as the sweetest, smartest and gentlest directors. "You shouldn't be surprised at those qualities, since he grew up in that proverbial trunk [the son of Barnard and Helen Hughes]. What I like about him is that early in rehearsals he takes you through the play and then allows you time to go back and work on details."
Jones, too, heaps praise on Hughes -- and Shanley. "I owe them my first born!" she exclaims. Adding with a laugh, "which is seeming more and more unlikely to happen."
>>>>>>>>>>>>>>>>>>>>>>>>>>
[Photos:
JOAN MARCUS
]
<<<<<<<<<<<<<<<<<<<<<<<<<<<<<<<
______________________________
SO LITTLE TIME, SO MUCH DOUBT
:
The Clash Of the Titans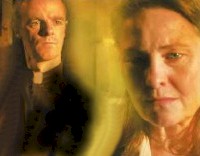 "The gift of the wise," says Jones,
"is uncertainity";
Jones, out of habit: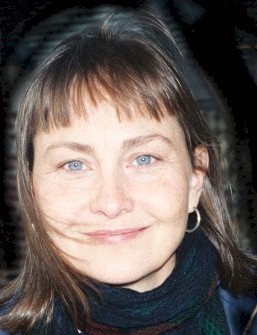 __________________________________________
--------
Ellis Nassour is an international media journalist, and author of Honky Tonk Angel: The Intimate Story of Patsy Cline, which he has adapted into a musical for the stage. Visit www.patsyclinehta.com.

He can be reached at [email protected]
Why are you looking all the way down here?
For more articles by Ellis Nassour, click the links below!
Previous:
HARVEY FIERSTEIN returns as host of the Drama Desk Awards
Next:
2005 TONY AWARDS: MEMORABLE MOMENTS FROM AN EXEMPLARY SEASON
Or go to the
Archives