The 51st annual Drama Desk Awards, hosted for the third consecutive year by Harvey Fierstein, fresh from repeating his starring role in the Las Vegas edition of Hairspray, take place Sunday, May 21, from 9 - 11 P.M. in the Concert Hall of Fiorello H. LaGuardia High School of the Performing Arts at Lincoln Center [109 Amsterdam Avenue at West 65th Street].
This year's Awards, which honor Broadway and Off Broadway, will be webcast live by TheaterMania.com and have a delayed telecast on Thirteen/WNET, NYC TV25 and, nationally, over 25 PBS stations. An "Red Carpet" segment will feature Rex Reed interviewing arriving nominees. A reception to honor all nominees will be held Tuesday.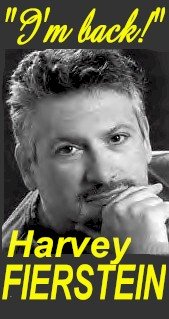 The Awards will feature the stars of nominated plays and the stars and entertainment from nominated musicals.
Nominees for Outstanding Play are : Alan Bennett, The History Boys; David Hare, Stuff Happens; Warren Leight, No Foreigners Beyond This Point; Martin McDonagh, The Lieutenant of Inishmore; Terrence McNally, Dedication or The Stuff of Dreams; and Craig Wright, The Pavilion.
Nominations for Outstanding Musical are: The Drowsy Chaperone, Grey Gardens, Jersey Boys, See What I Wanna See, Thrill Me and The Wedding Singer.
The Drama Desk membership is comprised of more than 130 professional theater critics, reporters and editors.
Robert R. Blume, TheatreSport Ltd., is executive producer of the Drama Desk Awards, which are presented in association with TheaterMania.com and produced and directed by Lauren Class Schneider and Jeff Kalpak. Veteran producer and a former executive producer of the Tony Awards Roy A. Somlyo is consulting producer. The show is being written by Terry Berliner.
Sponsors of this year's awards include: Jack and Susan Rudin, the Smart Family Foundation, Dorothy Strelsin Foundation, Dorothy Loudon Foundation, The New York Times, Variety, PB and J Partners The NY Friars Club, Jamie deRoy & Friends, Jacki Barlia-Florin, Lawrence Fraiberg, Roy Furman, Stewart F. Lane, Richard I. Kandel, Chase Mishkin, Lynn and Lewis Pell, Daryl Roth, Ted Snowdon, Arte CafÈ, Bolla Wines, Grey Goose Vodka and Tony's Di Napoli Restaurant Times Square.
To purchase tickets for the black-tie event at $175 each, which include a pre-Awards reception, call (212) 352-3101 or go online at TheaterMania.com. Tickets may also be purchased at the TheaterMania.com box office at the Virgin MegaStore Times Square from Noon - 6 P.M. For additional information, go to http://www.dramadesk.org/.
For VIP tickets, at $750 each, which include priority seating and private before-and-after cocktail parties at Trump Plaza and John's Pizzeria of Times Square with transportation to and from the concert hall by co-sponsor Gray Line NY Sightseeing, call (212) 354-5124 or (646) 522-5870.
RICE AND WEBBER TOGETHER AGAIN THE FIRST TIME

The Likes of Us was the first musical collaboration between Andrew Lloyd Webber and Tim Rice. Written in 1965, when Lloyd Webber was in college, the musical was not produced and never recorded.
Forty years later the show received its first staging at the Lloyd Webber's Sydmonton Festival last summer and was recorded live. Now it's available on CD [Decca Broadway, $25; illustrated book with full libretto and notes from ALW and Rice] with 24 tracks [17 songs, including a new tune "This is My Time"; reprises, overture, entr'acte] on two discs.
Similar in style and flavor to Lionel Bart's Oliver!, The Likes of Us is based on the life of 19th Century philanthropist Dr. Thomas Barnardo, who devoted his life to changing conditions of Victorian London, especially surrounding the impoverished children. His works led to the foundation of children's homes that bear his name today.
The reconstructed musical [the original book was lost] is evidence of what excellent collaborators Rice, an amazingly-gifted wordsmith, and ALW were and has some promise they may work together again.
Rice makes a rare performing appearance in a principal role among the cast of 23. Adam Brazier [The Woman In White] plays Dr. Barnado. There is an introduction and narration by Stephen Fry. Simon Lee conducts.
Selections, which vary from pop and light rock to operetta, include "Love Is Here," "How Am I To Know, "This Is My Time," "Lion-Heart Land," "A Man On His Own," "You Can Never Make It Alone," "You Won't Care About Him Anymore" and "Man Of The World."
As you may have guessed from a couple of the titles, Lloyd Webber went on to use music he composed for Likes in later works.
"When Tim suggested we record The Likes Of Us," says Lloyd Webber, "I was more than a bit cautious. I knew that I'd used melodies from it elsewhere, but how many I couldn't remember."
Part of the fun of the Likes CD is guessing which tune went where! [Hints: Jesus Christ Superstar, Song and Dance, By Jeeves.]
Lloyd Webber and Rice's works include Joseph and the Amazing Technicolor Dreamcoat, Jesus Christ Superstar, and Evita. In addition, Rice has worked with Elton John on such projects as The Lion King and Aida.
Lloyd Webber's latest opus was the short-lived The Woman in White, which marked the Broadway debut of Maria Friedman [also on Decca Broadway]. In January, his and Charles Hart's The Phantom of The Opera became the longest-running musical in Broadway history [topping previous champion Cats, also, of course, by Lloyd Webber].
POTO has, of course, been produced around the world; and, beginning June 4, is being presented in a special 95-minute edition, Phantom - The Las Vegas Spectacular. in a magnificent $40-million theater modeled on the 1862 Paris Opera house in the sprawling grandeur of the Venetian Resort, Hotel and Casino.
Broadway hunk Brent Barrett [Annie Get Your Gun, Kiss Me, Kate, Chicago] and Tony Award-winner Anthony Crivello [Kiss of the Spider Woman] will alternate in the lead role.
To order tickets [$82-$157], call (866) 641-7469 or (702) 414-7469, or visit http://www.venetian.com/. The official website is http://www.phantomlasvegas.com/.

MUSICAL MONDAY DOUBLE BILL

Musical Mondays Theatre Lab presents is presenting a sneak preview of two new musicals from the BMI Musical Theater Workshop tomorrow [May 1] at 6:15 P.M. at the 45th Street Theatre [354 West 45th Street, between Eighth and Ninth Avenues].
Mel Miller, Frank Evans, Anne L Bernstein and Mary Ellen Ashley are the producers for Musical Mondays.
The Dogs of Pripyat, based on the play by Leah Napolin, has music by Aron Accurso and lyrics by Jill Abramovitz, is set against the nuclear explosion in Chernobyl, where a young terrier goes from life as an abandoned pet "to alpha male."
The creative team describes the musical as "a modern fable about hope, survival, and the triumph of the spirit under the most unimaginable of circumstances." The cast includes Steve Routman, Nora Mae Lyng [Into the Woods, Amour], Kate Katherhead [ÖSpelling Bee], Robb Sapp [Wicked, Zanna Don't], Tom Gualtieri [Naked Boys Singing], Adam Overett [The Light in the Piazza], Tim Shew [Wonderful Town, Les Miz] and Gaelen Gilliland [Wicked].
The second part of the bill is Rock City, a 20-minute musical drawn from a full-length collection of short musicals exploring the complexities of modern romantic relationships, each set at a different tourist destination across America.
It has music by Brad Alexander and book and lyrics by Adam Mathias. Mamie Parris, who plays16 different characters in Off Broadway's Bush Wars, and Benjamin Schrader [Dog Sees God and Tom Sawyer in Big River's national tour], star.
Tickets are $10. For reservations, call (212) 989-6706 or go online at [email protected]
SCREEN GODDESS GET DEFINITIVE BIOGRAPHY
Men literally dropped when she walked by. Even the most gorgeous of babes were jealous of her. Ava Gardner was that beautiful.
The sexually uninhibited to-say-the-least Gardner was not a disappointment to anyone who met her. Especially men.
Onscreen, she was the sex symbol who dazzled all the other sex symbols. She was heat personified. Offscreen, she was the temptress who kept loony Howard Hughes at bay in spite of his lavishing diamonds and autos on her, haunted Ole Blue Eyes to the brink of suicide and drove The Mick to the edge of insanity.
Lee Server, author of the excellent Robert Mitchum bio Baby, I Don't Care, serves up all the dish, and much, much more in Ava Gardner, "Love Is Nothing" [St. Martin's Press; hard, 851 pages; $30; filmography; index, 16 pages of B&W photos].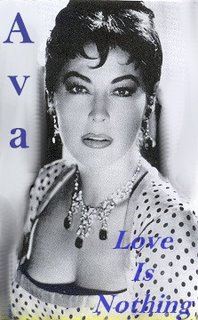 With hundreds of interviews with colleagues, friends, lovers, Gardner's second husband [former big band leader Arte Shaw] and research [there are 25 pages of references, source material and bibliography], Server details the nitty gritty of one of the top glamour queens of 40s and 50s and her tumultuous private life of lovers, wreckless living, hard drinking and self-imposed exile from Hollywood to a solitary life in London and self-destruction through alcohol, stroke and illness.
It's a bigggg book, but never dull. However, one thing's missing. In spite of the numerous photos, the two-sections of galleries don't have the type of of pictures that define this charismatic, jaw-dropping beauty who launced a thousand affairs.
The former North Carolina beauty, who was born and raised on a tobacco farm, arrived in Hollywood via a photo session in New York. She was shy and, to say the least, unpolished, but even without make-up she photographed beautifully. However, Louie B. Mayer and his Hollywood dream factory, MGM, knew how to create stars. Strangely, though, Mayer focused on sex goddess Lana Turner and failed to capitalize on Gardner. However, on loan-0ut to Universal, she got the type of role that made her sizzle. The Killers [1946], a violent film noir produced by Mark Hellinger, directed by Robert Siodmak and starring Burt Lancaster, put her on the map not merely as a sex symbol but also as an actress. Gardner was more than a hot bod.
Starting in 1941, it took 24 films before Gardner was noticed by the public. It was 1945's Whistle Stop, a gritty potboiler created as a showcase for then megastar George Raft, that first garnered her the sex symbol label.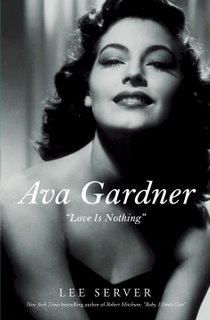 Gardner had roles in over 65 films, in addition to a TV series. She died much too early in 1990 at the age of 68.
She was only Oscar-nominated once - for her lusty role as Honey Bear in John Ford's African adventure Mogambo opposite her childhood idol Clark Gable. If the fates had been with her, she would have been nominated several more times, especially for her portrayal of lusty, but world-weary Maxine Faulk in the 1964 adaptation of Tennessee Williams' Night of the Iguana, for which she took home a Golden Globe [and was nominated as Foreign Actress by BAFTA].
Other notable films were One Touch of Venus, the 1951 Show Boat, The Snows Of Kilimanjaro [based on a Hemingway short story], The Barefoot Contessa, Bhowani Junction, The Sun Also Rises, The Naked Maja, On the Beach, 55 Days in Peking and Seven Days In May.
Best-selling author Edward Z. Epstein met Gardner when he was a press representative for Universal Pictures [the movie was The Sentinel]. "She was fifty-four - a precipitous age for a ëlegend' - but still beautiful," he says. "I thought, 'If she looks this good in her fifties, no wonder she drove powerful men berserk in her twenties and thirties! Ava might have been a country girl at heart, but she'd grown accustomed to the perquisites of stardom. She was restless, demanding, sweet and spoiled. But also highly likable, and her energy level was awesome."
Asked about Gardner's sexuality, Epstein didn't hesitate: "She was intensely feminine and provocative. What was amazing, however, was that she seemed totally oblivious to the commotion she caused."
Epstein became so intrigued by Gardner that, after writing 20 books, he's written a one-woman play about her. "But," he says, "casting the role of Ava won't be easy!"
In Ava Gardner, Server's account of the lusty courtship and stormy marriage of Gardner to Sinatra and their life-long bond is the most detailed yet and has new information about their passionate but violent relationship.
In hindsight you have to wonder what Gardner was thinking when it came to marriage. Hollywood kept many secrets from the public in that era, but none among industry insiders and colleagues. It was well-known that Mickey Rooney, Artie Shaw and Sinatra were champion womanizers. Yet love, or what sometimes passes for it, is blind. Headstrong, Gardner leaped in with eyes wide shut.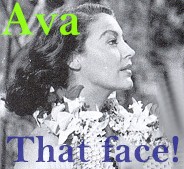 Her marriage to Sinatra is the stuff of legend. It was especially doomed for he and Gardner were cut from the same cloth. Both were jealous and possessive. They came close to killing each other a few times, but through all the on and off again and ups and downs there was an intense bond until the day she died.
Love or infatuation really was blind when it came to Gardner's first marriage. She was 19, Rooney was 21. Notes Epstein, "They were kids! She wouldn't get her break on screen for several years. He was the Number One box office star and an insatiable womanizer. It's amazing he married at all."
How could a simple Southern gal resist Hollywood royalty? Gardner couldn't, but she had a ploy. She was a virgin. The Mick had women throwing themselves at him. He took whatever he wanted. Incredible specimen though she may have been, she also had a brain. If Rooney wanted her, they had to make it legal. Mistake Number One. After he enjoyed the marital bed, he seemed to prefer golf to Gardner.
Two more mistakes followed, but Shaw, when interviewed by Epstein for a biography on Lana Turner, who he'd been married to, had interesting insight. "He said that being with Lana was like being in the room with a beautiful vase, but that Ava was the total opposite. She was great fun and had many dimensions to her personality. She was opinionated, curious about everything and highly intelligent."
It didn't help in her marriage to Sinatra that his career was literally dead in the water and hers at its zenith. To help him out of his depression, Gardner lobbied Columbia Pictures chief Harry Cohn, at first through his elegant, powerful wife Joan, to get Sinatra the role of Private Maggio in the film adaptation of James Jones' From Here To Eternity. It became a box office blockbuster and led to what many consider the greatest comeback in entertainment history.
Then the tables turned. Sinatra went on to win an Oscar for the role. He became so full of himself that he actually lost interest in the woman he literally drove nuts until she married him [this was a theme that ran through all three marriages].
Those mistakes were marital, but lusty Gardner made many more. She just didn't marry them. She had an especially strong attraction to strong egos or they to her - such as Hemingway, bad boys and bullfighters. It would not be an understatement to say - old or young, tall or short, handsome or not so handsome, exotic or plain, star or bit player, there was hardly a male of her acquaintance that she didn't bed.
Ava Gardner was one of a handful of screen beauties whose life was grander and more colorful than any movie. Servers' biography is a telling memento of it all, covered in quite intimate and graphic detail - much more so than in Gardner's posthumously-constructed autobiography Ava: My Story. Sadly, it lacks a happy ending.

OVER THERE TO OVER HERE
British playwright Samuel Adamson's critically-acclaimed 1996 play Clocks and Whistles is having it's American premiere in a production by the Origin Theatre Company, the cross-cultural group "dedicated to the development and interpretation of emerging European playwrights" by offering American premieres of their work.
The play centers on three London 20-somethings "involved in a sexually-ambivalent triangle that blurs the boundaries between friendship, love and sexual identity."
Featured in the cast are Meghan Andrews [Lortel Award nominee, The Trip to Bountiful; Steppenwolf Theatre's The Grapes Of Wrath], Christopher Randolph [the Christopher Plummer King Lear], Guthrie Theatre veteran Catherine Eaton, Jerzy Gwiazdowski and David Mawhinney. Talya Klein is directing.
Sheridan Morley, in The Spectator, called the London production "far and away the most accomplished first play I have seenÖCoward, Isherwood and Rattigan would have recognized and applauded [this] character study of clenched despair [and] subtle sexual, social and professional betrayal." he prestigious Kennedy Center and the Dublin Festival.
Performances are May 4-21 at Chashama Theatre [217 East 42nd Street]. To book $18 general admission tickets, go to http://www.smarttix.com/ or call (212) 868-4444.

NOW FOR SOMETHING PINK

The 2006 Back Stage Bistro award-winning and Nightlife Award-nominated vocal trio, the Fabulous Pink Flamingos, are presenting a religious pageant, but one filled with their trademark humor, in The Gospel According to the Pink Flamingos. The trio notes that the show is "appropriate for people of all creeds, colors and gender."
If you wish to join the zany fun and guests, the Taffy Sisters, for what the Pink Flamingos are calling "an all-out, shake-your-shoes, lose-your-blues, hand-clappin', foot-stompin', hell raisin' time for the gentile in all of us," they're at Don't Tell Mama [343 West 46th Street] tomorrow night and subsequent Mondays and Tuesdays through May 16 at 9 P.M.
Admission is a $12 cover and two-drink minimum. For reservations, call (212) 757-0788.
--------
Ellis Nassour is an international media journalist, and author of Honky Tonk Angel: The Intimate Story of Patsy Cline, which he has adapted into a musical for the stage. Visit www.patsyclinehta.com.

He can be reached at [email protected]





Why are you looking all the way down here?
For more articles by Ellis Nassour, click the links below!

Previous: Euan Morton In Kushner/Sendak's Brundibar And In Concert; A Chorus Line Returns; Tennessee Williams On DVD; Red Light Winter's Show-Within-the Show; More

Next: The Tonys Turn 60; Encores!' Of Thee I Sing And Benefit for City Center; Cirque du Soleil's Corteo; Lupone To Torch Vivian Beaumont; Maria Friedman Live And On CD; More

Or go to the Archives