This year's Tony Awards not only celebrate Broadway excellence but 60 years of saluting it. And the show is so big that instead of one host there will be 60 stars from stage, screen and TV - one for each year! - to do the honors.
CBS is the loyal network hosting the awards, from 8 to 11 P.M., at Radio City Music Hall.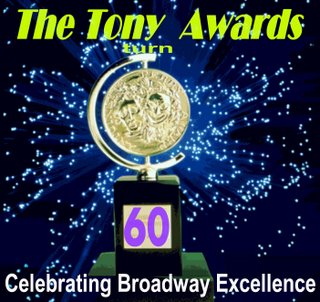 Hank Azaria, Glenn Close, Ralph Fiennes, Eric McCormack, Cynthia Nixon, Oprah Winfrey, Anna Paquin, Bernadette Peters, Julia Roberts, Mark Ruffalo, Liev Schreiber, Kyra Sedgwick, Martin Short, Alfre Woodward will be among those presenting.

These stars plus the nominees will create a Sixth Avenue and 50s traffic jam the likes Julia and David never saw.
The Tonys are giving the stars the red carpet treatment, beginning at 6:30. You can watch the glamour coverage as the celebs arrive at Radio City at TonyAwards.com [courtesy of IBM] or on NY 1.
TonyAwards.com will also carry the pre-telecast segment, from 7:15. - 8:00 p.m.
The Tonys are presented by the American Theatre Wing and the League of American Theatres and Producers. Sondra Gilman is Wing chair with Douglas Leeds as president. Shubert head Gerald Schoenfeld is League chair with Jed Bernstein as president.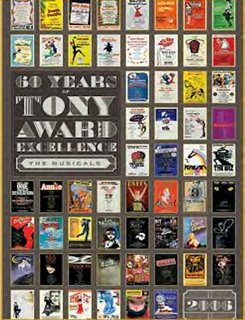 Elizabeth I. McCann is managing producer and Joey Parnes coordinating producer for Tony Award Productions.
Ricky Kirshner and Glenn Weiss/White Cherry Entertainment are executive producers of the telecast, with Weiss once again as director.
At the Tony nominees' brunch, the elegantly-dressed Kate Burton was meeting every nominee she could.
"It's so hard to believe this year," she says. "Maybe because it went by so fast, I haven't had time to think about it. It was so thrilling to be back on Broadway in The Constant Wife, following the realization of my dream to do Hedda Gabler."
Richard Griffiths was saying that cell phones should be confiscated when patrons enter theatres [a prospect that check room attendants would at $3 a pop] when he wasn't
admiring the view from the eagle's nest of the Marriott Marquis' The View. "Isn't it marvelous!" he said. He noted that he and his wife hadn't had time to do any sightseeing, "what with my History Boys schedule. But this is marvelous! I've never known a place as exciting!"

Color Purple's Felicia P. Fields, who plays Sofia, said, "It has been several years of blessings. And a long road from Chicago [where she's been nominated for, among other roles, her Dolly Levi in Hello, Dolly! and Effie in Dreamgirls] to Atlanta [where the show premiered] to Broadway. And to think, in my Broadway debut, to be nominated for a Tony. Never in my wildest dreams!"

She added that the cast is thrilled to be Tony-nominated after "being terribly bruised by the fact that the Drama Desk nominators completely overlooked us. We didn't get a single nomination. How can that be?"
Pajama Game's Connick and O'Hara, a winning onstage combo if ever there was one, displayed as much chemistry offstage as they do onstage as they made the media and photo opt rounds.
That chemistry wasn't just left to the gods. Says O'Hara, "Kathleen [Marshall] was a very shrewd director. Early on in the casting decisions, she had Harry and I meet and just sit and talk while she and who knows who else observed us. We clicked. And it was obvious to everyone. When that happens, it's great because it makes what you experience in the theater all the more real."
Jim Dale was abuzz with excitement and his ever-ready sense of humor. He, too, was having "a helluva year" what with his Tony nod for The Threepenny Opera being the icing on his cake, after winning Drama Desk and Outer Critics Circle Awards. "It can't get better than this!"
Jersey Boys nominees were as wide-eyed at all the hoopla as The Lieutenant of Inishmore nominees were not.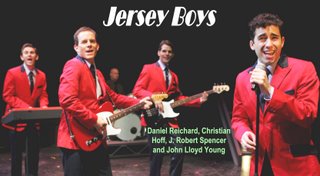 John Lloyd Young, who was in tears walking off the stage after his Drama Desk Award win, recounted his amazing path to Broadway and his daily rountines to keep his voice in tip-top Frankie Valli condition.
He and Featured nominee Christian Hoff, who plays Tommy DeVito, still can't get over how audiences respond to their show.
"In Act One," pointed out Young, "at the end of a concert sequence when we do 'Walk Like A Man," it still startles us, but in the most pleasant of ways, when the audience en masse gives us a standing ovation. The music gets 'em."
Hoff, not bragging, also noted that there are usually another two standing ovations in Act Two, "and that's before we take bows!"

HAVE YOU VOTED?

The nominations for the 2006 American Theatre Wing's Tony Awards are:
Highlights ~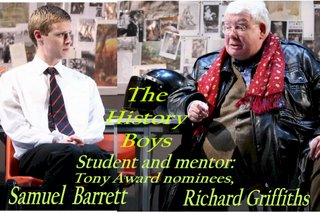 For Best Play: The History Boys, Alan Bennett; The Lieutenant of Inishmore, Martin McDonagh; Rabbit Hole, David Lindsay-Abaire; and Shining City, Conor McPherson.

Are the bets still on The History Boys?

Best Performance, Leading Actor, Play: Ralph Fiennes, Faith Healer; Richard Griffiths, The History Boys, éeljko Ivanek, The Caine Mutiny Court-Martial, Oliver Platt, Shining City; and
David Wilmot, The Lieutenant of Inishmore.

Is the money still on Griffiths? How sweet it would be to see Ivanek win for his devastating turn as Queeg.

Best Performance, Leading Actress, Play [it still boggles my mind that Cherry Jones, spellbinding and delivering an emotional wallop in Faith Healer was amazingly, incredibly not nominted]: Kate Burton, The Constant Wife; Judy Kaye, Souvenir; Lisa Kron, Well; Cynthia Nixon, Rabbit Hole; and Lynn Redgrave, The Constant Wife.

This is a tough one to call because Burton and Redgrave are in the same category. Now, if Jones had been nominated, well...but she wasn't.

Best Performance, Featured Actor, Play: Samuel Barnett, The History Boys; Domhnall Gleeson, The Lieutenant of Inishmore; Ian McDiarmid, Faith Healer; Mark Ruffalo, Awake and Sing!; and Pablo Schreiber, Awake and Sing!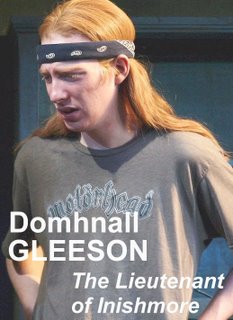 Anything goes here. McDiarmid is a delight, but the money seems to be on Barnett, especially with Ruffalo and Schreiber competing against each other. If the theatrical gods are shining, the Tony will go to Gleeson, who gives one helluva performance and manages to be hilarious without his character coming off as el stupido.

Best Performance, Featured Actress, Play: Tyne Daly, Rabbit Hole; Frances de la Tour, The History Boys; Jayne Houdyshell, Well; Alison Pill, The Lieutenant of Inishmore; and Zo" Wanamaker, Awake and Sing!

Who wants to bet that de la Tour doesn't leave early [as she did at the Drama Desk Awards]? But it could be Houdyshell or Wanamaker's night. But what's Wanamaker doing in the Featured category?

Best Revival, Play: Awake and Sing!, The Constant Wife, Edward Albee's Seascape and Faith Healer.

Best Direction, Play: Nicholas Hytner, The History Boys; Wilson Milam, The Lieutenant of Inishmore; Bartlett Sher, Awake and Sing!; and Daniel Sullivan,
Rabbit Hole.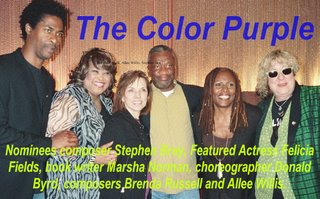 For Best Musical: The Color Purple, The Drowsy Chaperone, Jersey Boys and The Wedding Singer.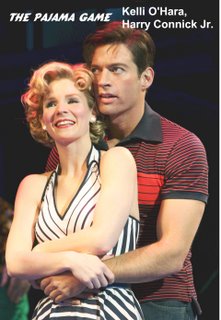 Best Original Score: The Color Purple, music/lyrics by Brenda Russell, Allee Willis and Stephen Bray; The Drowsy Chaperone, music/lyrics by Lisa Lambert and Greg Morrison; The Wedding Singer, music/lyrics by Matthew Sklar and Chad Beguelin and The Woman in White, music/lyrics by Andrew Lloyd Webber and David Zippel.

Does The Woman in White have a chance against out-front fav The Drowsy Chaperone?
Best Revival, Musical: The Pajama Game, Sweeney Todd and The Threepenny Opera.
Best Performance, Leading Actor, Musical: Michael Cerveris, Sweeney Todd; Harry Connick, Jr., The Pajama Game; Stephen Lynch, The Wedding Singer; Bob Martin, The Drowsy Chaperone; and John Lloyd Young, Jersey Boys.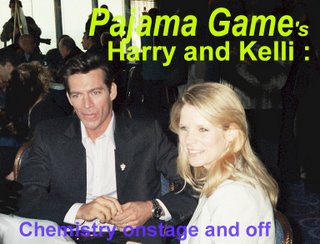 Will Young take the prize or will it go to Connick or Martin, both in their Broadway debuts?
Best Performance, Leading Actress, Musical: Sutton Foster, The Drowsy Chaperone; LaChanze, The Color Purple; Patti LuPone, Sweeney Todd; Kelli O'Hara, The Pajama Game; and Chita Rivera, Chita Rivera: The Dancer's Life.
Will it be Broadway darling Foster or Broadway darling LuPone? Could LaChanze pull an upset?
Best Performance, Featured Actor, Musical: Danny Burstein, The Drowsy Chaperone; Jim Dale, The Threepenny Opera; Brandon Victor Dixon, The Color Purple; Manoel Felciano, Sweeney Todd; and Christian Hoff, Jersey Boys.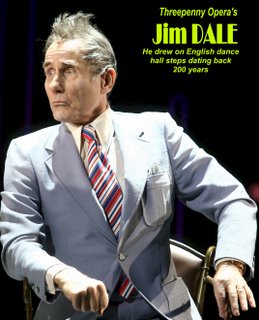 This is also a tough one. All four are exemplary. Dale, of course, is the sentimental favorite and he works his feet off to give Threepenny audiences something to remember; but, oh, Burstein is outstanding and drop-deal funny as AdolphO!
Best Performance, Featured Actress, Musical: Carolee Carmello, Lestat; Felicia P. Fields, The Color Purple; Megan Lawrence, The Pajama Game; Beth Leavel, The Drowsy Chaperone; and Elisabeth Withers-Mendes, The Color Purple.
Carmello should get a medal! Fields and Lawrence are terrivic but, baring a last-minute disaster or fiasco, the Tony's going to Leavel for her showstopping antics.
Best Direction, Musical: John Doyle, Sweeney Todd; Kathleen Marshall, The Pajama Game; Des McAnuff, Jersey Boys; and Casey Nicholaw, The Drowsy Chaperone.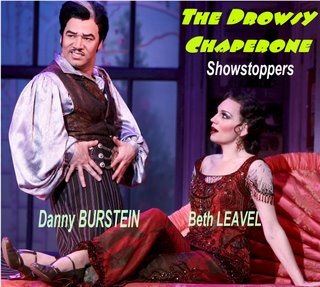 Will it be Doyle or Nicholaw?

Harold Prince, with no shortage of Tonys on his mantel, will recieve a Lifetime Achievement Award.

Sadly, the cat in Lieutenant wasn't singled out by the nom com for a Special Award.



For a complete roster of the 2006 Tony Award nominations and special awards, go to: www.tonyawards.com/

On the Tony web site, hosted by Tony partner IBM with feature content from Playbill, you can enjoy a video player link for up close and personal encounters with winners; access to their acceptance speeches and their thoughts on the impact of winning a Tony; an archive of nominees and winners in every category from 1947; Tony trivia; and a detailed profile of the fascinating Miss Perry, among other things, a pioneer for women producers on Broadway.

[Photo credits: 1, 2, 4, 6 and 7) JOAN MARCUS; 3) MONIQUE CARONI; 4 and 6) ELLIS NASSOUR]


DOWN TONY MEMORY LANE

Who Was This Tony, Rather Toni,
The Namesake Of The Tony Tony Awards?

by

Ellis Nassour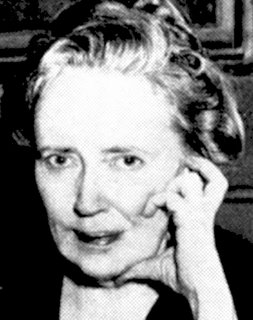 Toni was the nickname of beautiful Denver actress Antoinette Perry, who, after several years playing ingÈnues on Broadway, turned to producing and directing in an era when women in the theater were relegated to acting, costume design, or choreography. The success of the same named home permanent product that was the subject of a huge media blitz caused her to change the i to a y. When she decided to move from acting and become a producer and director, she became a theatrical trailblazer for women.

Amazingly, well into the 70s, Miss Perry was the only woman director with a track record of hits. Today, she's all but forgotten. In her prime, she showed innovative theatrical instincts and scored an enviable roster of hits - producing and often directing 17 plays in 13 years. In one month in 1937, according to her daughter Margaret, Miss Perry directed and produced three productions, "once rehearsing in our Fifth Avenue living room while peeling peaches for preserves."

Among her impressive hits were Personal Appearance [1934] and Claire Boothe's Kiss the Boys Goodbye [1938], a spoof of the search for Scarlett O'Hara for the film adaptation of Gone with the Wind. The latter had a stellar cast, including Benay Venuta, a perennial star of stage and screen [who died in 1995].

"Tony was rather a theatrical pioneer," said Miss Venuta, "in that she made a huge impact as a producer and director in an era of male theatrical powerbrokers. She was successful and success either earns you envy or respect. In Tony's case, it was both, but I never heard her criticized on the basis of being a woman."

A TONY AWARDS PHOTO GALLERY
in honor of the 60th Annual TONY AWARDS

Clockwise : 1967: The first Tony Awards national telecast - Alexander H. Cohen, telecast and Broadway producer[left], [his wife] Awards writer Hildy Parks and director Clark Jones in ABC's mobile studio in Shubert Alley; 1967: Barbra Steisand, Joe Masteroff [left], John Kander and Fred Ebb pose in the Sardi's press room. Streisand presented Tonys to the composers for Cabaret; 1972: Richard Rodgers and Ethel Merman are honored with special Tonys after showstopping performances; and 1996, when the hostess with the mostest was Angela Lansbury.

[Photos: Collection of ELLIS NASSOUR; ABC-TV, CHRISTOPHER LUKAS; The New York Times; ABC-TV ~ from the Collection of ELLIS NASSOUR; WHERE magazine]

TRIVIA

THE AWARD

: Early awards to honor Antoinette Perry by making her the namesake of best in theater awards were engraved ladies' compact and cigarette cases. In 1949 a contest was held to select a special design. Herman Rosse won with a silver medallion that, on one side, features the masks of comedy and tragedy and, on the other, a profile of Miss Perry. Initially, they were presented in felt cases. Later, they were mounted on a swivel stand.

DO YOU KNOW:
1. Which of these one-word play title took Tony Awards?
A. Art
B. Closer
C. Copenhagen
D. Da
E. Equus
F. Lovers

2. Which actresses tied for the coveted Tony Award for Best Actress in a Musical in 1968?
A. Angela Lansbury, Dear World; and Dorothy Loudon, The Fig Leaves Are Falling
B. Barbara Harris, The Apple Tree; and Mary Martin, I Do! I Do!
C. Patricia Routledge, Darling of the Day; and Leslie Uggams, Hallelujah, Baby!
D. Julie Harris, Skyscraper; and Angela Lansbury, Mame

3. In 2003, Vanessa Redgrave in Long Day's Journey Into Night became one of a handful of actresses to have won a Tony, an Emmy and an Oscar. Who else can boast membership in this award trifecta club?
A. Patty Duke
B. Rita Moreno
C. Suzanne Somers
D. Joanne Woodward



4. Who is the only Tony to have hosted the Tonys since the first national telecast in 1967?
A. Tony Bennett
B. Tony Curtis
C. Tony Quinn
D. Tony Randall

5.

Three sets of family members have been Tony-nominated in the same category in the same year. Which duo below is not correct?
A. Richard Rodgers and daughter Mary Rodgers, 1960
B. Jason Robards and son Sam Robards, 1988
C. Lynn Redgrave and niece Natasha Richardson, 1993
D. Rosemary Harris and daughter Jennifer Ehle, 2000

[ Answers: 1. A, C, DC and E; 2. C; 3. B; 4. D ; 5. B ]

LOST TREASURES FROM BROADWAY

Anyone interested in the archives of great performances from the early Tony Awards produced by Broadway impresario Alexander Cohen [through the 1986 Tonys] will enjoy excerpts from those telecasts presented on Broadway's Lost Treasures.

If somehow you missed Volume 3, after it's PBS broadcast, there's hope. Acorn Productions has issued a boxed set of Volumes 1-3.

Volume 3 is a motherlode of rare Broadway moments: 23 production numbers, including the company of Merrick's 42nd Street ["We're In the Money"], Gwen Verdon performing "Whatever Lola Wants" from Damn Yankees along with, among others, an eight minute tribute to Ethel Merman, a Julie Andrews medley and numbers from Fossee, A Funny Thing..., How Now Dow Jones, Into the Woods, Kiss Me Kate, Peter Pan, Ragtime and West Side Story.

The bonus bonus DVD is a real plus with some rare excerpts from 18 nominated Best Plays featured on Tony telecasts. Performance highlights are by Jane Alexander, Philip Bosco, Art Carney, Charles Dutton, Morgan Freeman, Victor Garber, James Earl Jones, Linda Lavin, John Lithgow, Brian Stokes Mitchell, Gary Sinise and, among others, Maggie Smith.


LIGHT WILL BE LIVE FROM LINCOLN CENTER

Live from Lincoln Center [PBS] presents the TV premiere of LCT's 2005 Tony-nominated musical, The Light in the Piazza, live in performance from the Vivian Beaumont on Thursday, June 15 at 8 P.M. [check local listings].

LFLC host is Beverly Sills. The telecast will present in-time intermission features, which will include cast interviews and an interview with Guettel. There will also be a segment on behind-the-scenes "magic."

Seven-time Emmy Award winner Kirk Browning is telecast director. Multiple award-winning John Goberman, who's taken home 12 Emmys, is telecast executive producer. Live from Lincoln Center is made possible by a grant from MetLife.

With music and lyrics by Adam Guettel and book by Craig Lucas [based on Elizabeth Spencer's 1960 novel], Light won of six Tonys, including Best Score.

Directed by Bartlett Sher, the lush, poignant musical features Tony Award-winner Victoria Clark as Margaret Johnson, Katie Clarke as Clara, Aaron Lazar as Fabrizio and, from the current cast of 20, Michael Berresse, Sarah Uriarte Berry, Patti Cohenour and Chris Sarandon. An additional co-star are Michael Yeargan's award-winning fluid sets.

Sher, the artistic director of Seattle's Intiman Theatre, is also director of LCT's revival of Clifford Odets' Awake And Sing! at the Belasco.

TLITP, which also won five Drama Desk Awards, ends its 15-month run on July 2 to commence a national tour.

--------
Ellis Nassour is an international media journalist, and author of Honky Tonk Angel: The Intimate Story of Patsy Cline, which he has adapted into a musical for the stage. Visit www.patsyclinehta.com.

He can be reached at [email protected]





Why are you looking all the way down here?
For more articles by Ellis Nassour, click the links below!

Previous: Theatre World Awards; Kim Stanley Bio; Wedding Singer Cast CD; Fred Willard In Rare Stage Appearance; Nancy Anderson and TV Stars Star Off Broadway; More

Next: Roz Ryan Power Night Tonight; Bloomsday Friday; Broadway By the Year Season Finale; Actor's Fund Benefit Stars Charles Busch; More Bette Davis; More

Or go to the Archives