Can you imagine that there was a playwright that George Barnard Shaw envied? Better still, that he would admit that there was a playwright he envied?

Shaw was so impressed with the talent - and success - of post-Victorian era leading light Harley Granville-Barker that he actually wrote Misalliance as an answer play to Barker's then hit, The Madras House, about family, courtship, marriage, marital separation, commerce, greed, sexual politics and harassment.

It seems Shaw had the last laugh. Though he only outlived HG-B by four years, we are more then acquainted with his body of work through numerous revivals. We haven't been so fortunate with Granville-Barker, who's been shamefully ignored in the area of theatrical revivals for years.

However, he's having a banner season of rebirth Off Broadway with two of his better known plays, The Voysey Inheritance and The Madras House, being presented to rave reviews by two award-winning companies, the Atlantic Theater Company and the Mint Theater Company. The end date to catch them is Sunday, March 25th.

ATC is staging Pulitzer Prize/Tony and Drama Desk-winner and co-founder David Mamet's adaptation of Voysey Inheritance at its mainstage [336 West 20th Street, between Eighth and Ninth Avenues]; while the Mint [311 West 43rd Street, just off Eight Avenue] has director Gus Kaikkonen's slightly abridged Madras House.

Granville-Barker pioneered the "discussion play," often focusing on the struggle for female equality and then-taboo topics as prostitution and abortion. As was the theatrical custom, his plays were four-acters and boasted large casts. For Voysey, Mamet, as Charles Isherwood wrote in the NYTimes, has "cleanly refitted" HG-B's play "for a new theatrical century" - trimming speeches of some secondary characters and eliminating others - for a crisp running time of two hours with intermission. The Mint, which earlier produced the entire Voysey, has done only minor Madras trimming for a length of two hours and 50 mintues.
Harley Granville-Barker, barely remembered today but who is one of the most influential figures in the history of the modern theater, was born in London in 1877. He began his stage career at 14 performing with English leading lady Mrs. Patrick Campbell. His first play,
The Marrying of Ann Leete
, was produced in 1900 when he was 24. That same year Shaw personally cast him as Eugene Marchbanks in the premiere of
Candida
.
A 15-year professional and personal relationship developed between HG-B and GBS that went beyond mentoring. In fact, many thought the handsome Barker was GBS's illegitimate son.

With a partner, HG-B founded London's Court, the first modern repertory theatre. Among his innovations was open staging [going beyond the proscenium arch] and doing away, for the most part, with the star system. Instead, he concentrated on excellence in the entire ensemble.He was also a champion of a national theatre for Great Britain and the first to call for subsidized theatres.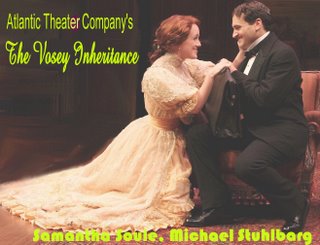 As a director, Granville-Barker staged plays by Euripides, Shakespeare, Ibsen, Galsworthy and such playwrights as John Masefield and the prolific Arthur Schnitzler. In the early 1900s, he not only produced and directed but also performed in ten of Shaw's plays, single-handedly establishing GBS as one of the world's foremost playwrights. Among his roles in Shaw vehicles was Frank Gardner in Mrs. Warren's Profession, John Tanner in Man and Superman, Dr. Valentine in You Never Can Tell, Major Sergius Saranoff in Arms and the Man, General Burgoyne in The Devil's Disciple and Adolphus Cusins in Major Barbara.
In 1909, HG-B was having difficulty finding a satisfying ending to his quite lengthy Madras House. He did a reading of his script-in-progress, attended by Shaw and other playwrights. GBS came away with the idea for his next play, Misalliance. Tonight at 7:30, at a Mint dinner and cocktail gala, you can see how Shaw was influenced as the company presents a reading of Misalliance. [Reading, $35; dinner and reading, $100; call (212) 315-0231]
The Guardian recently wrote about HG-B: "We are all in debt to Granville-Barker. His ideas were prophetic and extraordinary."
In his later years, Granville-Barker lived a wealthy life in Paris, where he wrote popular volumes of Prefaces to Shakespeare, which revolutionized the approach in staging plays by the bard. He died in 1946.
The Voysey Inheritance, set in 1905 as England emerges from the strictness of the Victorian Era, is directed by David Warren. HB-G explores the issue of morals vs. money as an upper middle class family all but falls into crisis when it's revealed that the patriarch, portrayed by veteran actor and Tony-winner Fritz Weaver, amassed the family fortune by embezzling money from clients. On his death, son Edward, played by Tony-nominated and Drama Desk-winning Michael Stuhlbarg [The Pillowman], is faced with attempting to put things right against others in the family who want continue the father scam rather than sacrifice their comfort and luxury.
Also in the play are Rachel Black, Christopher Duva, Steven Goldstein, Peter Maloney, Tricia Paoluccio, Judith Roberts, Geddeth Smith, Samantha Soule, Todd Weeks [The Full Monty] and CJ Wilson.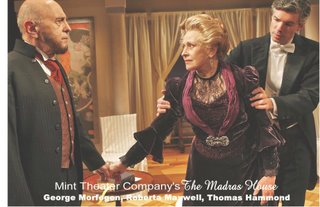 The Madras House, which debuted in 1909 and is being revived here for the first time since the 20s, is episodically-styled in the way of an 19th Century potboiler novel. It centers on the family of fashion emporium magnate Constantine Madras's family who have been deserted by their designer patriarch [George Morfogen] to live a polygamous life as a Muslim in Iraq. When he returns to England for the sale of the business, which has been run for years by his son Philip [Thomas Hammond] a to an American tycoon, the business and family is thrown into disarray. A reunion between Constantine and his wife [film and stage star Roberta Maxwell], who has yearned in vain for his return, doesn't go well. Other conflicts, such as sexual harassment in the workplace, arise.
Alexander Woollcott, writing in the NYTimes in 1921, reported, "The Madras House is a dramatization not of a human being, but of a human problem. The protagonist that wanders through its four abundant acts is not a person. It is a question."
The Madras cast also includes Mary Bacon, Ross Bickell, Lisa Bostnar, Jonathan Hogan, Laurie Kennedy, Allison McLemore, Pamela McVeagh, Mark Montgomery, Angela Reed Scott Romstadt and Kraig Swartz.
For tickets: The Voysey Inheritance, Atlantic Theater Company, $60, (212) 239-6200 or http://www.telecharge.com/; The Madras House, $45, Mint Theater Company, (212) 315-0231 or www.minttheater.org.

Behind the Scenes at Voysey Inheritance

ATC, which recently moved their earlier mainstage production [and their first musical] Spring Awakening to Broadway, has been thrilled with the success of Harley Barker-Granville's The Voysey Inheritance. Artistic director Neil Pepe noted that the demand for tickets prompted, for the first time in Atlantic's history, a third extension.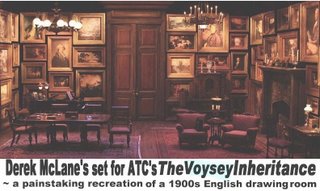 The company went all out for their staging of
Spring Awakening
, so director David Warren was not to be outdone on
TVI
. Set designer Derek McLane [
The Scene, The Fever, Pajama Game, Little Women
, numerous others] and Warren discussed a set that would transport audiences into the era of play. They certainly succeeded.
There's period-correct furniture and a stunning period concert grand, but the bulk of the set is made up of 70 paintings. The first thing you wonder is how did McLane accumulate them. As it turns out, he didn't.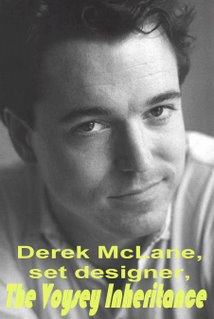 "We made them," he reveals. "Everything you see is based on a photograph of a room from the 1880s that I'd been long taken with it. For fifteen years, I'd been kicking around how to do something like that. When I showed the photo to David, he looked up and said, ëAbsolutely,' that's it!'"
It was a time consuming process as McLane and his associates researched to find renderings of period paintings. Then they made photos, "did a lot of different things to the photos on the computer to alter them a bit" and then had them printed on canvas. "Then," adds McLane, "we painted over the surfaces with glazes to make them appear sepia-colored and to give the texture of oil paintings."
McLane also took as much color out of the prints as possible "because I wanted a muted look. By doing that, it added age and a sense of unity. With so many paintings, I didn't want to overwhelm the stage and draw too much audience attention to them. The play was the thing, so to speak."
The frames were custom made and each is uniquely different. The paintings appear to cover three walls, but they actually are the walls - hung on a three-sided steel frame.
When he got the job, costumer Gregory Gale [The Wedding Singer, Urinetown] was in California "pulling costumes" from film studio vaults to rent for Classic Stage Company's The Milliner, set in the 30s and 40s.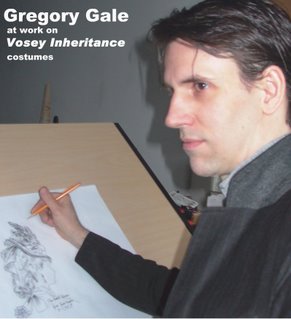 "David and I discussed the play," says Gale, "and the fact that he wanted the characters dressed as authentically as possible. I knew the play, so I knew what period it was in. I spent the majority of the Voysey budget on real clothing. Every piece you see is a real period garment or, in a couple of instances, an exact duplication."
The challenge, he notes, was making the aged rentals, some over a hundred years old, stageworthy. "We had to take the garments apart, make new foundations for them to sit upon and then put them back together."
For wardrobe supervisors Camryn Duff and her assistant Ryan Morrison maintaince of the fragile garments was the challenge. "But," explains Gale, "Camryn and Ryan as well as our cast are aware of the age of the garments and treat them very carefully. Thankfully, it's a drama and not a musical where the cast is singing and dancing - and perspiring!

An Off Broadway Bargain Bonanza

Through Sunday, 27 Off-Broadway shows - some long-running hits, some spanking new - are offering tickets for only $20 and beginning 20 minutes before show time. This will be the first in what will be an annual promotion called 20at20, a project of the Off-Broadway Brainstormers and the League of Off-Broadway Theatres and Producers.
Part of the pitch is that really gung-ho theatergoers can actually see as many as five shows in one day [because of various starting times] for less than the price of one ticket to a Broadway show. Purchases must be made at theatre box offices and at most shows it's on a cash-only basis.
Among the shows are Altar Boyz, The Big Voice: God or Merman?, The Fantasticks, The Fever, Gutenberg! the Musical!, I Love You, You're Perfect..., A Jew Grows in Brooklyn, Jewtopia, The Last Word, My Mother's Italian..., Naked Boys Singing, Perfect Crime, Sealed for Freshness, Stomp, 25 Questions for a Jewish Mother and Harley Granville-Barker's The Voysey Inheritance.
Also included in the offering are these new additions to the Off Broadway scene: Bill W. and Dr. Bob, Defender of the Faith, The Gazillion Bubble Show, Mary Rose, Mayumana's "BE" and Terrance McNally's much-anticipated Some Men.
For a complete listing and how to get tickets, visit www.offbroadway.com.

Get Thee to the Philharmonic On Time

Professor Henry Higgins and Eliza Doolittle meet again, this time onstage at Avery Fisher Hall, March 7-10, in a concert presentation of Lerner and Loewe's My Fair Lady by the New York Philharmonic. It headlines Kelsey Grammer [yes, TVs Dr. Frasier Crane] and Tony and Drama Desk nominee Kelli O'Hara.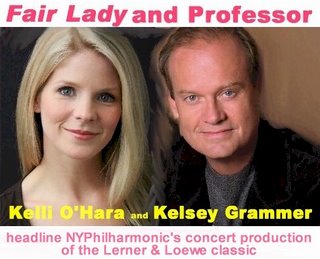 Also starring are Tony and DD-winner Brian Dennehy as Alfred P. Doolittle, a little levity before opening next month with Christopher Plummer in Inherit the Wind; Marni Nixon, who did the singing for Audrey Hepburn in the film adaptation of MFL, as the Professor's mother; and as Colonel Hugh Pickering, Tony and DD-nominee Charles Kimbrough [Sunday in the Park with George, the 1993 Company; and perhaps best known for his dry comedy as Jim Dial on TV's Murphy Brown].
Meg Bussert, Philippe Castagner [as Freddy Eynsford-Hill], Joe Grifasi and Tim Jerome are among those featured in the large cast of the semi-staged production.
Former song-and-dance man James Brennan, whom you may recall from Crazy for You, Me and My Girl and I Love My Wife, is directing. Award-winning Broadway conductor Rob Fisher is conducting. Peggy Hickey is choreographer.
Onboard as producer is multiple Grammy-winner Thomas Z. Shepard [who produced RCA's Sondheim cast albums], and with his pedigree, this probably means there'll be a CD of the concert.
Adapted from Shaw's play and Gabrial Pascal's motion picture Pygmalion, the musical sported songs such as "Get Me to the Church on Time," "I Could Have Danced All Night," "I'm An Ordinary Man," "I've Grown Accustomed to Her Face," "Just You Wait," "On the Street Where You Live," "Show Me," "The Rain in Spain," "With a Little Bit of Luck" and "Wouldn't It Be Loverly."
The original production in 1956, directed by the legendary Moss Hart, ran on Broadway for 2,717 performances, winning numerous Tony and DD Awards and other kudos. It was revived in 1976, 1981 and 1993.
Wednesday's performance of My Fair Lady will be the NYP's Spring Gala. For information about the pre-concert reception, concert and post-concert dinner with the artists, contact Eve Helfstein, (212) 875-5757.
Programs of the New York Philharmonic are supported, in part, by public funds from the NYC Department of Cultural Affairs, NYState Council on the Arts, NYState Music Fund and the National Endowment for the Arts.
Single tickets for My Fair Lady are $65 to $245. Purchase online at nyphil.org, by calling (212) 875-5656 and at the Avery Fisher Hall box office.

Metropolitan Presents a Taste of Spain
A must-see exhibition, Barcelona and Modernity: Gaud" to Dal", arrives at the Metropolitan Museum of Art Wednesday through June 3. It's the first comprehensive exhibition of its type mounted in America.
BAM:GTD explores the diverse work of Barcelona's artists, architects and designers in the years between 1888 and the Fascist regime of Francisco Franco, which began in 1939.
On view will be 300 works, ranging from paintings, sculpture, drawings and prints to posters, decorative objects and furniture. Organized in nine sections, Barcelona and Modernity offers new insights into the art movements that advanced the city as the primary center of radical intellectual, political and cultural activities in Spain. Works from Picasso's Blue Period [La Vie, Blindman's Meal], MirÛ [Still Life with Old Shoe, The Farm], Dal" [The Dream, Soft Construction with Boiled Beans (Premonition of Civil War)] as well as furniture designed by Gaud" are among the masterworks gathered from museums and private collections.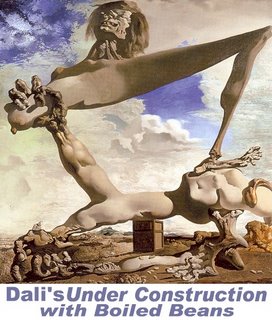 The exhibition begins with the origins of the Catalan Renaissance. The remaining sections focus on the artistic movements that followed: Modernisme, Noucentisme, Surrealism, avant-garde idioms and art influenced by the Spanish Civil War.
Featured artists include RusiÒol, Casas, Llimona, Nonell and sculpture by Casanovas.
Accompanying the exhibition is a 540-page catalogue [Cleveland Museum of Art, in association with Yale University Press, $65 hardcover, $40 paperback], featuring 600 illustrations, a preface by Robert Hughes and scholarly essays.
Barcelona and Modernity: Gaud" to Dal" is organized by the Metropolitan and the Cleveland Museum of Art and Barcelona's Museu Nacional d'Art de Catalunya. Funding comes from Spain's Caixa Catalunya, Obra Social, the Generalitat de Catalunya, Jane and Robert Carroll, the Horace W. Goldsmith Foundation and Angelo, Gordon & Co.
For information on gallery talks, lectures, family programs, films and concerts in conjunction with the exhibition, visit www.metmuseum.org.

Another Met Milestone
On April 21, after more than five years of construction and 15 years of design and planning, the Metropolitan unveils their much-anticipated new, dual-level Greek and Roman Galleries in the monumental Leon Levy and Shelby White Court with its two-story atrium.
Lead Curator Carlos PicÛn and Collections Coordinator Bill Gagen reported that thousands of works from the MMOA's collection, considered one of the world's finest, will return to view after years in storage.
"The Greek and Roman Galleries are a milestone in an unprecedented building campaign - more than a dozen years in the making," states MMOA director Philippe de Montebello. "It's all been constructed anew within the framework of our historic building in a way to encourage visitors to look at ancient art in a new way. Many of the works date to the early years after the Museum's founding in 1870."
[Photos: 2 and 4) MONIQUE CARBONI; 3) RICHARD TERMINE]
Ellis Nassour is an international media journalist, and author of Honky Tonk Angel: The Intimate Story of Patsy Cline, which he has adapted into a musical for the stage. Visit www.patsyclinehta.com.

He can be reached at [email protected]
Why are you looking all the way down here?
For more articles by Ellis Nassour, click the links below!
Previous:
Encores!' Follies Is a Must; Boyd Gaines in Journey's End; Lillias White Sings the Blues; Broadway Single's Night; Rare Tennessee Williams; Off Broadway Bargain Week; On the Cabaret Scene
Next:
Curtain Up on Kander & Ebb's Curtains; Harvey Fierstein Back to Broadway in New Muscial; Recalling Broadway 1938; A CD of 1929 Broadway Classics; Encores! Restores Berlin and Hart's Face the Music; More
Or go to the
Archives