Tony and Drama Desk-winner Kristin Chenoweth, who recently concluded her critically acclaimed run in Roundabout's The Apple Tree, will host the 52nd Annual Drama Desk Awards on Sunday, May 20. Making the announcement were Robert R. Blume, executive producer of the awards ceremony and telecast, and William Wolf, Drama Desk president.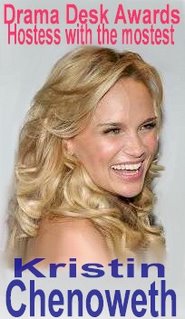 Chenoweth won a DD and Tony nomination for her role in Wicked and DD and Tony Awards for her featured turn in You're A Good Man, Charlie Brown.
Beth Leavel, 2006 Drama Desk and Tony Award-winner [The Drowsy Chaperone] and DD and Tony-winner James Naughton [City of Angels; a nominee for Chicago] will announce the DD nominations on Thursday, April 26th at 10 A.M. in a media event at the Friars Club. On Tuesday, May 1, nominees will be feted at a reception and media meet and greet at Arte CafÈ on the Upper West Side.
The Drama Desk Awards, held in the F.H. LaGuardia Concert Hall at Lincoln Center, will be taped for broadcast on PBS stations nationwide, including the metropolitan area's Thirteen/WNET and NYC TV 25; and webcast live by TheaterMania.com, one of the award show's sponsors.
"We've had a great relationship with Kristin in the past and we are thrilled to welcome her back into the Drama Desk Awards family," said Blume. "Kristin is a sensational performer whose multiple talents as a singer/actress have made her a Broadway and television star."
Chenoweth's bantam size belies the fact that she can soar vocally with a 4 octave range. She's used this gift to great affect on world concert stages and solo CDs in addition to her cast recordings.
Prior to the Awards, from May 10 - 14, Chenoweth will headline City Center Encores! first original production, Stairway to Paradise, which will celebrate a half century of Broadway revues.
Chenoweth is well-remembered for her featured role in Kander and Ebb's Steel Pier, for which she won a Theatre World Award. Her performance in Roundabout's production of Moliere's Scapin also won her raves. She made an impact on TV in the cast of The West Wing, playing Marian in TV adaptation of The Music Man and as Lily St. Regis in the TV Annie. She also starred in her own series, Kristin. Movie roles include Running with Scissors, The Pink Panther remake and Bewitched. Currently, she's developing a film based on the life of Dusty Springfield.

Another Milestone for POTO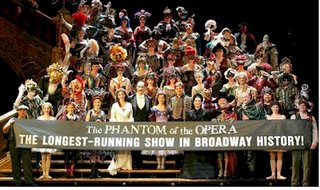 The Broadway production of Andrew Lloyd Webber/ Charles Hart/Richard Stilgoe's The Phantom of the Opera, the longest-running show in Broadway history, makes history again at Wednesday's matinee when it achieves another milestone: 8,000 performances. There'll be a special curtain call with current and long-running Phantom Howard McGillin wheeling out a huge cake to mark the occasion. POTO is directed by Harold Prince with musical staging by Gillian Lynne. It won numerous 1988 Tony and DD Awards, including Best Musical.

POTO's Milestone Is Marked By A Passing

The life and career of one of the theater community's most beloved personalities, J. C. Sheets, the actor/singer-turned-dresser who spent his career working two Cameron Mackintosh mega-musicals, Les Miz and POTO, will be commemorated Monday, April 9 at 4 P.M. at the Majestic Theatre, where he was worked as dresser to Howard McGillin and a host of Phantoms. The memorial is open to the public.
"J.C. left work after the curtain call on Friday," recalled McGillin, "telling all of us he'd see us on Tuesday, but that was not to be." Sheets died Sunday, February 4th of a brain aneurysm.
McGillin, co-stars and the POTO crew speak fondly of Sheets. "He was a friend who is deeply missed by all," McGillin added. "J.C. was a welcoming presence to any new addition to our cast or crew and had a reputation of always being available to show 'the new kid' the ropes."
As an actor, Sheets was with Les Miz on and off from 1988 to 1996, as alternate and understudy for Jean Valjean [whom he played more than 300 times] and portraying Brujon, as well as covering 12 featured roles.
Following a stroke which crippled his vocal abilities, he continued in musical theater but in the behind-the-scenes role of dresser at POTO.

A Passion Play [Of Sorts] - with Music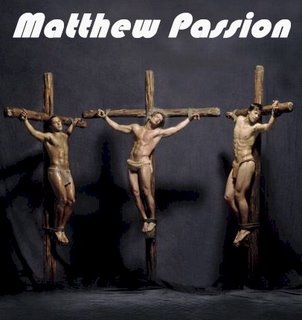 Phil Hall's Matthew Passion, a "passion" play with music, arrives just in time for Easter. It's having its New York debut in a very limited showcase engagement at American Theatre of Actors' Chernuchin Theatre [314 West 54th Street, between Eighth and Ninth Avenues].
The exploitative poster and some ads have stirred some passionate and purient interest in members of the cast. But, if interested, get thee to the box office because MP gives its last performance, in this inception, on Easter Sunday.
Many know Hall as a musical director, vocal arranger, composer/lyricist, performer and author. He composed Dr. Jekyll and Mr. Hyde, which played NJ's Paper Mill Playhouse and numerous regionals. Among his Broadway conducting credits was associate conductor for the Mame revival. Tour credits include POTO, Cats and 42nd Street.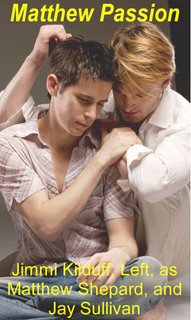 Hall describes Matthew Passion as "moving, boldly dramatic, funny and musically entertaining" and says it has "a universal relevance for straight and gay audiences because it's about embracing who you are with no apologies. This message unfolds through three separate stories on the life of Matthew Shepard; a friend who realized that a HIV+ diagnosis wasn't the end of his life; and that of passion and crucifixion of Jesus Christ. Though taking place thousands of years apart, they reflect common themes and dramatically converge in the final moments."
Shepard, a gay Wyoming youth, was brutally murdered in 1998 and left to hang on a pasture fence. This tragedy brought national attention to the issue of hate crime legislation at state and Federal levels.
MP's nine-member cast alternate in various roles with Jimmi Kilduff portraying Shepard. There are six musicians. Steve Stringfellow directs, with choreography by Jacob Brent. Hall has composed the music.
Tickets are $18 and available through SmartTix, (212) 868-4444, or at http://www.smarttix.com/. For more information, visit www.matthewpassion.com.

Genet's Political Drama In Revival
The experimental Medicine Show Theatre Ensemble [549 West 52nd Street, Third floor, between Tenth and Eleventh Avenues] has Jean Genet's provocative political drama The Balcony in revival through April 21st in a new translation by Obie-winner Barbara Vann, MSTE founder, who is also directing and in the 16-member cast.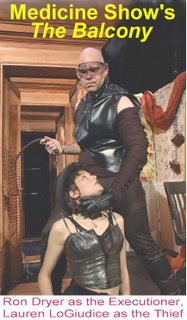 The Balcony was penned in 1956. It's a high camp portrait of power and intimacy set in Madame Pimpadour's House of Illusions [a brothel] in a monarchy on the brink of revolution where prostitution is legal and spies are everywhere.
It was even more controversial than the author/playwright's 1949 The Maids; so controversial that is was banned in Paris and so raised the wrath of England's Lord Chamberlin that it had to be staged in a private club.
Genet was notorious for his sexually explicit work and was briefly imprisoned and not allowed to leave Europe. The Balcony was literally banned everywhere in the English-speaking world.
However, what was considered the official world premiere took place in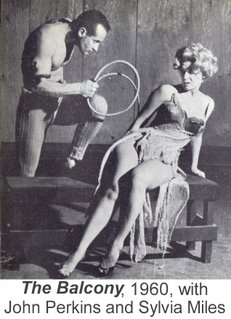 1960, in spite of religious condemnations and protests, at the former Greenwich Village Circle in the Square, directed by the celebrated Jose Quintero. In spite of the fact that the translation from the French left a lot to be desired, it ran a very impressive 672 performances. [It still used language never heard onstage by American audiences.]
"I saw the original just out of college," states Vann, "and didn't understand what the play was about. When I was asked to direct it in 1981, the theme of the revolution had been deleted from the translated text I studied, leaving it a soap opera within a whorehouse."
Dissatisfied with existing translated editions, Vann used Genet's definitive version and translated portions of it to make the text more faithful to the original. Genet approved.
She calls her new translation "a further labor of love in which I've tried to keep the music of Genet's language - his rapid switches from the vulgar to the exalted - and his biting satire of political wrongdoing."
The Medicine Show's revival follows the 1976 production by Ireland's Abbey Theatre; and a 1990 production at the Hudson Guild, with a translation by Bernard Frechtman.
Among the cast of the 1960 production was Tony and DD-nominee Nancy Marchand [a DD winner for Mornings at Seven; and later Livia on The Sopranos] as the brothel Madam, two-time Oscar-nominee Sylvia Miles as the Thief, John Perkins [who went on to roles in Shakespeare, Duerrenmatt and such musicals as Wish You Were Here [as hunk Harry "Muscles" Green] and Bells Are Ringing] as the Executioner and Salome Jens as the Girl.
"It was an extraordinary production," says Miles. "We ran for two years and during that time, in spite of the controversy, the actors were asked to appear at churches where the subject matter of Genet's play was used in sermons."
[Trivia: Elliott Gould was a friend of a cast member. Dating Barbra Streisand at the time, he got her a job tending dressing rooms at CITS between singing engagements.]
Tickets are $18 and are available from Smarttix at (212) 868-4444 or www.Smarttix.com.

At the Ballet ~
From Russia with Love
Eifman Ballet of St. Petersburg, celebrating its 30th Anniversary, plays a three-week season at City Center from Friday, April 13 - Sunday, April 29. The Opening Night Gala will feature Yelena Kuzmina in the world premiere of Cassandra by Nikita Dmitrievsky, with music by Holst; as well as excerpts from ballets by Boris Eifman.
Hailed by critics worldwide as Russia's most innovative contemporary ballet company, Eifman Ballet is the only foreign dance company to earn the status of a resident company at City Center.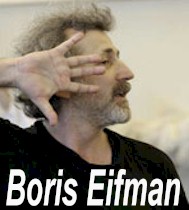 Eifman says he founded the 45-member company "because the passion for ballet in Russia is unquenchable and I felt sure Russian ballet hadn't exhausted its potential. My goal was to develop new forms and ideas."

A highlight of the City Center visit will be the American premiere of The Seagull, based on Chekhov's play, with music by Rachmaninoff. Other full-length ballets will be Anna Karenina [Tolstoy, music by Tchaikovsky], Russian Hamlet and the company's acclaimed Red Giselle.

Tickets are $35-$100 and available at the City Center box office, by calling CityTix at (212) or (877) 581-1212 or online at http://www.NYCityCcenter.org.

Eifman will do a Q&A following the New York premiere of Alexander Gutman's documentary Boris Eifman: Work in Progress tomorrow night and April 6th at 7 P.M. at the Directors Guild Theatre [110 West 57th Street]. Tickets are $20. To purchase, call (212) 399-0002.

Highstepping from Blues City

Classical ballet meets contemporary cool, Southern-style, as one of the South's most acclaimed companies, Ballet Memphis, celebrates its 20th season by making its Joyce Theatre debut April 3rd through Easter Sunday. There are two ambitious programs, with five of the works receiving their New York premiere.

Founder and artistic director of the 14-member company is Dorothy Gunther Pugh. Resident choreographer is Trey McIntyre.

Tuesday at 7:30 P.M., Program A debuts with McIntyre's The Naughty Boy [ Music by Mozart], which tells of "a streak of passion and the flight of Cupid's arrow"; Julia Adam's A Curtain of Green, based on a short story by renowned Mississippi author Eudora Welty; and Thaddeus Davis' Mercurial Balance, which "defines the process of collaboration between choreography, urban hip-hop and poetry]. Other performances: Thursday, April 5, 8 P.M.; Saturday, April 7, 8 P.M.; and Sunday, April 8, 2 P.M.

Wednesday at 7:30 P.M., Program B debuts with Adam's The Awakening [music by Chopin], based on the ground-breaking feminist novel by 19th Century Louisiana Creole activist Kate Chopin [no relation to the composer]; McIntyre's In Dreams [music, Roy Orbison]; and Mercurial Balance. Other performances are: Friday, April 6, 8 P.M., and Saturday, April 7, 2 P.M.

Single tickets are $38, $29 for Joyce members, and available at the box office; through JoyceCharge, (212) 242-0800, and at http://www.joyce.org/.


Choice PBS Programming

Tonight's American Experience: Sister Aimee focuses on 20s colorful, controversial evangelist Aimee Semple McPherson, founder of the Church of the Foursquare Gospel and a a pioneering Pentecostal, who drew bigger crowds than Teddy Roosevelt, Harry Houdini and P.T. Barnum. On radio, she preached fiery sermons to multitudes. At her Los Angeles temple, where she delivered musical productions worthy of Broadway, she packed in 5,000 believers or curious. Needless to say, she eventually became engulfed in the flames of her publicity and embroiled in juicy scandal.

Tuesday's American Masters repeats 1991's Ray Charles: The Genius of Soul.

Wednesday's The American Novel examines in "dynamic visual style"themes reflected through characters found in Dreiser's Sister Carrie, Wharton's The House of Mirth, Fitzgerald's The Great Gatsby and Steinbeck's The Grapes of Wrath. Passages from the books are dramatized through photos and woven together with original and archival footage.

On Thursday American Masters repeats the acclaimed 2004 two-hour doc Judy Garland: By Myself.

Theatergoers are in for a supreme treat Friday night at 9:30 on WNET when the talents of DD-winner and without question 2007 Tony nominee Christine Ebersol of Scott Frankel/Michael Korie/Doug Wright's Grey Gardens are presented in all their vocal glory on New York Voices.

Easter Sunday, Masterpiece Theatre goes High Definition for the first time with a new adaptation of Kenneth Grahame's beloved classic The Wind in the Willows. This presentation dispenses with animation and relies on the striking animal instincts of some very talented actors - which is only proper, since Grahame's story features animals acting like people. The cast is headlined by British comedian Matt Lucas, who stars as gadget-crazed Mr. Toad, the irresponsible scion of a great fortune and Bob Hoskins as Badger.

Dance fans can look forward to Thursday, April 12, when Great Performances presents Dance in America: Beyond the Steps: Alvin Ailey American Dance Theatre.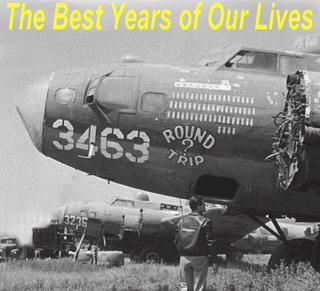 This Saturday, WNET's 9 P.M. movie is William Wyler's masterpiece The Best Years of Our Lives, 1947's Oscar-winning Best Picture. There've been excellent movies on the subject of war-weary vets returning home from world conflict, but none yet have captured the devastating poignancy of this film about soldiers returning to small-town America from WW2 and attempting to pick back up their lives as the nation undergoes a new beginning. In spite of its age, the film has stood the test of time [thanks heavily to the Oscar-winning screenplay by Robert Sherwood, adapted from MacKinlay Kantor's novel] and, all these years later, has a strong revelancy. There are some stunning visuals in glorious B&W [by cinematographer Gregg Toland], such as Dana Andrews' visit to a fighter plane cemetery. The superb cast includes Frederic March [Oscar, Best Actor], Myrna Loy, Teresa Wright, Virginia Mayo, Cathy O'Donnell, Hoagy Carmichael [who sings "Lazy River"], Gladys George and Harold Russell [a double-amputee who won the Featured Actor Oscar].
Special note to WNET, Channel 13: We love you, but you are way overdue purchasing telecast rights to a new block of Saturday movies. And how about putting some of that loyal Syms [where Educated Consumers are their best customers] sponsorship toward some outstanding indies and docs from recent years?

Retrospective of Second Tier Musicals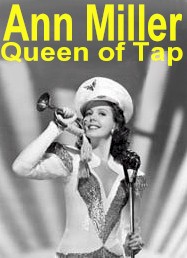 A lost era of Hollywood history is revealed in B Musicals - 49 movies in all, from the 40s and 50s [some in double and triple bills] - through April 19 in Film Forum's retrospective of musical second features, most of which have never been on video or disc or, for that matter, seen on TV.
In Hollywood's Technicolor musical heyday, a B-picture meant a bottom-of-the-bill quickie in B&W from a major studio or a best effort from a "Poverty Row" studio, such as Columbia Pictures [in that era] and Republic, whose heart was its Westerns franchise [many starring Gene Autry, Roy Rogers, John Wayne and Rex Allen].
Though low on budget, they were high on talent. The films in the B Musicals line-up, many in new, remastered prints, proved to be basic training for such future A-list stars Sinatra, Garland, Crosby, Rooney, Rogers, Grable, Monroe, Reynolds, O'Connor, Jane Powell, Alice Faye, Ann Miller, Linda Darnell, Dorothy Lamour, Mitzi Gaynor, Martha Raye and Marge & Gower Champion - not to mention directors, choreographers and songwriters and screen writers [such as Herman Mankiewicz, who wrote Citizen Kane].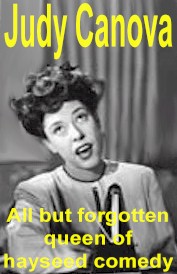 B Musicals will give younger movielovers the rare opportunity to discover the wondrous comic and the amazing vocal talents of the all-but-forgotten brilliant "hillbilly" comedienne Judy Canova, who could go from marvelous face mugging and yodeling to stun with operatic arias.

On Monday, the actress's daughter, TV's Diana Canova will pay tribute to her mother and introduce a triple bill which includes comic classics Joan of Ozark [1942] in which Canova brings down a Nazi spyring; Sis Hopkins [1941], which has country bumpkin Canova going to college and starring in a "Spring Fling" show with lavish costumes and sets [well, they are taking it from the auditorium straight to Broadway!]; and Hit the Hay [1945], where Canova is discovered singing opera as she milks a cow and ends up saving an opera company from financial ruin by introducing "jive opera."

In spite of the age of these three films, and the fact that they are obviously dated and from a bygone era, some comic gems shine through. Republic and Columbia had the good sense to feature stellar character and comic actors in co-starring roles. You'll recognize faces that continued to pop up in lesser roles for another decade or two.

The special thing about Sis Hopkins is that it doesn't look like a "B musical." There are quite entertaining songs [such as the stirring, patriotic anthem "Look At Me, Look At You"] by future Broadway greats Frank Loesser [Guys and Dolls] and Jule Styne [Funny Girl] in their prolific Hollywood period, first-rate choreography by Aida Broadbent in "Here We Are Studying History/Cleopatra." None other than [late] Broadway producer Cy Feuer was musical director. The great deadpan comic Charles Butterworth steals every scene he's in, but gets stiff competition from anything-but-subtle Jerry Colonna, here a sort of substitute for Groucho Marx, but who has one of the funniest lines of that period in the scene where he steps out of a bubble bath in a tub equipped with two phones. Adding support is a very young Susan Hayward The film received a 1942 Oscar nomination for B&W Art/Interior Decoration.

The series also features a rare screen appearance by Fats Waller; the song and dance trio the Andrews Sisters in a triple bill on Easter Sunday that also headlines Abbott & Costello [the hilarious Buck Privates] and the Ritz Brothers [Argentine Nights]; and, on the April 12th triple bill, MM singing and dancing in her first featured role in Ladies of the Chorus [1949].

B Musicals is programmed by Bruce Goldstein, FFs Repertory Program Director. For this series, he relied on such advisors as Clive Hirschhorn, author of The Hollywood Musical; British musicals expert Tom Vallance, author of The American Musical; and Howard Mandelbaum, co-author of Screen Deco and Forties Screen Style and founder of the Photofest movie stills archive.

Film Forum [209 Houston Street, West of Sixth Avenue] tickets are $10.50; $5.50 for FF members, children under 12 and senior citizens Monday-Friday for shows beginning before 5 P.M. For more information, schedules, cast list, showtimes and membership, call (212) 727-8110 or visit www.filmforum.org.


New Musicals in a Cabaret Setting

The Laurie Beechman Theatre [407 West 42nd Street, at Ninth Avenue, in the West Bank CafÈ] will host triple-bill premieres of short musicals on Fridays [April 6, 13 and 20] at 7 P.M. The works - Playtime by Erato Kremmyda and Sean Keogh, Mrs. Smith Goes to Washington by Karlan Judd and Robin Share and Momento Mori by Rob Broadhurst and Maggie Coleman - are by students in NYU's Graduate Musical Theatre Writing program. Phil Geoffrey Bond and Ryan Mekenian are directing, with musical direction by Ray Fellman and Sam Willmott.

Admission is a $12 cover charge, with a $15 food/beverage minimum. For reservations, call (212) 695-6909 between Noon and 6 P.M.

[Photos: 2) JOAN MARCUS; 3 and 4) DAVID MORGAN; 5) JOHN QUILTY; 6) MARTHA SWOPE; 9 and 10) PHOTOFEST]



= ~ = ~ = Recent Archive = ~ = ~ =

Monday, March 5, 2007
[ STARS ] A Banner Season for All-But-Forgotten Playwright Harley Granville-Barker; Voysey Inheritance's Designers; Philharmonic's Fair Lady; Metropolitan's Gaud" to Dal"

Wednesday, March 21, 2007
[ STARS ] Curtain Up on Kander & Ebb's Curtains; Harvey Fierstein Back to Broadway in New Muscial; Recalling Broadway 1938; A CD of 1929 Broadway Classics; Encores! Restores Berlin and Hart's Face the
Music
With the death of Fred Ebb in 2004, Curtains, years in development, marks the last collaborations by the longest-running songwriting team in Broadway history; More.

Monday, April 2, 2007
[ STARS ] Kristin Chenoweth to Host Drama Desk Awards; Another Phantom Milestone; A Passion Play; The Balcony Returns; At the Ballet; Choice TV and Film Programs





--------
Ellis Nassour is an international media journalist, and author of Honky Tonk Angel: The Intimate Story of Patsy Cline, which he has adapted into a musical for the stage. Visit www.patsyclinehta.com.

He can be reached at [email protected]





Why are you looking all the way down here?
For more articles by Ellis Nassour, click the links below!

Previous: Curtain Up on Kander & Ebb's Curtains; Harvey Fierstein Back to Broadway in New Muscial; Recalling Broadway 1938; A CD of 1929 Broadway Classics; Encores! Restores Berlin and Hart's Face the Music; More

Next: Antoinette Perry's Daughter's Memories of a Theater Legend; Sondheim Remastered; Something New at the Met for Somethings Old; The Grandivas Return; An Off Broadway Milestone; More

Or go to the Archives