Of course, she was the last to arrive, but since she was the main event - the drawing card, why shouldn't she make an entrance? And Patti LuPone did - past one of the largest crowds ever gathered for a CD launch at Barnes & Noble, Lincoln Triangle [over 400!]. Those that came as early as 2 P.M. for the 5:00 event certainly weren't disappointed.
LuPone wore an outfit so colorful it was good that the day had been so hot and humid with a blazing sun and so many had their shades. It was not only colorful but complimented by comfortable beach pumps with a red-ribbon that wrapped up The LuPone's shockingly unstockinged legs. And, one might add, an effusive LuPone, who seem genuinely impressed at the turnout.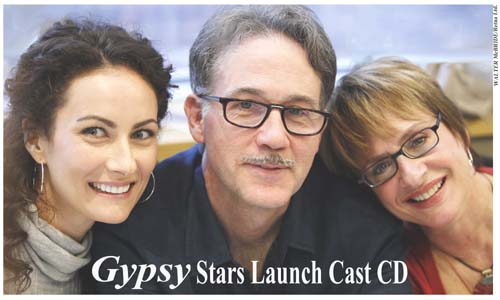 The event was the launch of the Time Life 2008 cast recording of Gypsy. Not only was the Tony and Drama Desk-winning star there - animated, laughing, genial and kicking up her legs, but she was joined by Tony and DD-winning co-stars Boyd Gaines and Laura Benanti and almost the entire revival cast.
There was no performance but rather a discussion of their roles and their first discovery of Gypsy, moderated by theater journalist Patrick Pacheco [NY1, L.A. Times]. Sondheim and director/book writer Arthur Laurents weren't present, but a special guest was Margaret Styne, widow of composer Jule Styne. The CD is produced by multiple Grammy-nominated Robert Sher.
Once again, LuPone heaped praise upon Laurents for guiding her shattering performance as Mama Rose. "I didn't do this alone," she said. "Whatever I've accomplished, I owe it all to Arthur. I brought Patti LuPone, but it's Arthur who's responsible for what Patti LuPone is doing. It has been one of the most satisfying and incredible journeys of my career working with Arthur in creating Rose. Throughout the entire process he was very focused, especially on bringing something new to this production."
Part of that "something new" is a bit of sexual chemistry between Rose and Herbie, which LuPone said was easy to accomplish since there is a bit of history - only onstage! - with long-time friend four-time Tony and two-time DD-winner Gaines, whom she's known since their Juilliard School days. "Rose was an incredible woman, capable of wiles when it came to getting a man."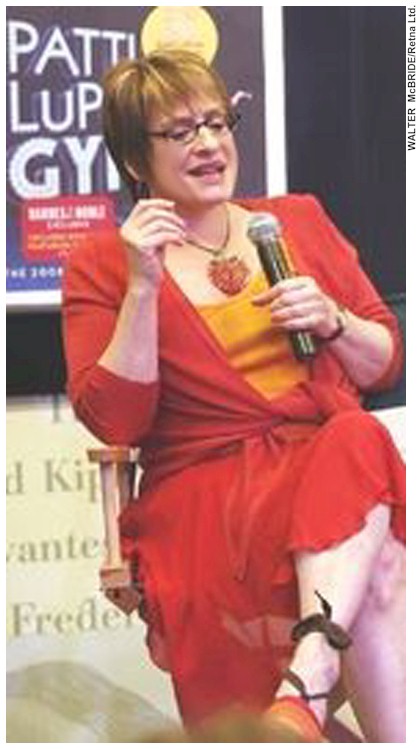 Interestingly, Benanti revealed two almost unbelievable things about her past: that growing up in New Jersey, she was introverted and far from the stunning beauty she's become. This info brought a jaw-dropping reaction from LuPone, who stared at Benanti in total disbelief - as did probably everyone lucky to be seated for the discussion.
Benanti added that though she listened to a lot of Broadway cast recordings, she's never listened to Gypsy, and hadn't listened to the new one. You may recall that she was literally just out of high school when she was cast as a postulate in the 1998 Sound of Music revival, where she understudied and eventually replaced Rebecca Luker.
Growing up on L.I., LuPone was meserized by the Ethel Merman cast recording, saying that she fell in love with Dainty June's opening "Cow Song." However, she didn't have eyes on playing June. "It was Mazeppa! I loved her gravely voice and the way she played the trumpet." The role was played by Faith Dane in her only listed Broadway role.
LuPone did go on to play Louise. At age 13! It was in a Northport school production. "I was stripping in front of my teachers," she recalls in the CD liner notes. "There I was pulling the panels off my costume staring straight at my science teacher, thinking 'How do you like them eggrolls, Mr. Goldstone?'"
She discussed the relationship she discovered in her research between Louise, later Gypsy Rose Lee, and her mother and drew parellels to her relationship with her mother and son Joshua.
For the revival, she remembers Laurents telling her, "I want this to be different from all other productions. I want to cast it with actors." And so it was.
The result is "a company unparalleled in my theatrical experience," LuPone said, as she lavished praise on her co-stars. "I'm so proud to work with this finest and most dedicated group."
The cast includes Marilyn Casey, Alison Fraser, Leigh Ann Larkin, Leonora Nemetz and Tony Yazbeck, all of whom where there to participate in the signing.

The CD features never-before-recorded songs that were cut from the original production, including "Three Wishes for Christmas," "Mama's Talkin' Soft," "Nice She Ain't," "Mother's Day," "Smile, Girls," "Who Needs Him?," and an alternate version of "Mother's Day." They are sung by the appropriate cast members with newly-created orchestrations by Jonathan Tunick.

She's Back and Hangin' at the Bar
Now through September 16, MM, no, not that one but award-winning cabaret star and Grammy-nominee Marilyn Maye returns for her fifth Metropolitan Room [34 West 22nd Street, between Fifth and Sixth Avenues] engagement in a show she's titled Love on the Rocks. If past performances are any indication, the veteran chanteuse will concoct a veritable and volatile Molotov cocktail.
MM claims, "It will be a show with songs of passion, sex and romance, in an unblinking look at all the ways we find and, so sadly, lose the objects of our desire."

Since returning to New York after a 16-year absence in October 2006, Miss Maye's return engagements have been SRO. Last April, she was awarded the Back Stage Bistro Award for Lifetime Achievement; but, says the elegant, but still feisty Miss Maye, "I'm still here and I'm going to blast some great old chestnuts that will have the room rocking."
She's not kidding. In spite of reaching the milestone of her 80th decade, MM possesses a vocal stamina remarkable for a performer of any age and one that younger singers can only dream of.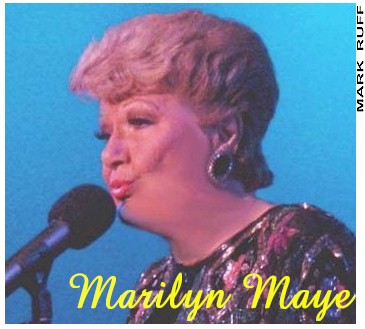 Miss Maye's 2007 Metro Room engagement, her first in New York in 16 years, stirred quite a groundswell of excitement and acclaim. Now New York can't get enough of her, "and I can't get enough of New York," she says. "I'm excited about being back. There's a lot of love from the audiences there. They are, if I may use an old-fashioned word, hip; and cognizant of every little thing. They just get it. Elsewhere, that's not always the case."

What impresses her is the age of her fan base, "which ranges from very young to, shall we say, mature. Some are so young, I assume they're discovering me for the first time. Incredibly, they seem to know more about me than I do myself so I think some of them are historians. They're certainly true music lovers. They've either researched a lot or paid attention to the singers of the past. When young folk show up with an old album. I often wonder, 'Where did they get that? At a garage sale?' It's recycling!"
For Love on the Rocks, Miss Maye will be accompanied by Tedd Firth on piano, Tom Hubbard on bass and, on drums, her long-time associate Jim Eklof.
Shows are at 7 P.M. The music charge is $30 with a two-beverage minimum. For reservations, call (212) 206-0440.

Gone But Not Forgotten
PBS's award-winning, acclaimed Great Performances celebrates the life and artistry of one of opera's most cherished voices, Luciano Pavarotti, in Wednesday's 9 P.M. premiere of Pavarotti: A Life in Seven Arias, a documentary with interviews with two of the three tenors, Jose Carreras and Placido Domingo. The broadcast marks the first anniversary of Pavarotti's passing.
Presented by the BBC and Thirteen/WNET New York, the 90-minute special features rarely-seen performance footage assembled by producer/director David Thompson.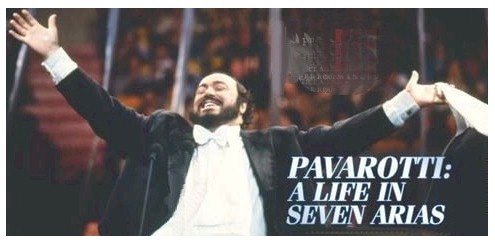 Carreras and Domingo are joined by tenors Kim Begley and Juan Diego Florez, conductor Richard Bonynge, Montserrat Caballé, Renata Scotto and Dame Joan Sutherland.
"Luciano had the sun in his voice," says Carreras. "It was such a bright, pure sound." Adds Domingo, "It was one of the greatest ever. And Luciano was always such a joy to work with."
The "seven arias" represent chapters in the opera megastar's life. They include "Che gelida manina," from Puccini's La Boheme, the opera that marked Pavarotti's debut. An excerpt is featured from the 1965 performance in the tenor's hometown Modena, Italy, with Mirella Freni; "Pour mon ame," from Donizetti's La Fille du Regiment, the work he toured with Joan Sutherland and the opera whose astronomical high notes earned him the sobriquet "King of the High Cs"; "Nessun dorma," from Puccini's Turandot, the aria Pavarotti made his own in the series of Three Tenors concerts; and "Ingemisco," from the Verdi Requiem.

Strong Breeze Cast
Ruben Santiago-Hudson's production of Leslie Lee's The First Breeze of Summer at the Signature Theatre Company at the Peter Norton Space [555 West 42nd Street, between Tenth and Eleventh Avenues] has received its share of critical and audience acclaim.
Signature's 2008-2009 season salutes the work of the Negro Ensemble Company, which presented Breeze in 1975, when it won an Obie.
The play takes place over the course of a sweltering weekend in June as the struggles and indiscretions of three generations of the Edwards family collide. Family matriarch Gremmar, played lovingly by Tony-winner Leslie Uggams, recalls her past. As the temperature and tempers rise, choices affecting the future of the family in a changing world are confronted.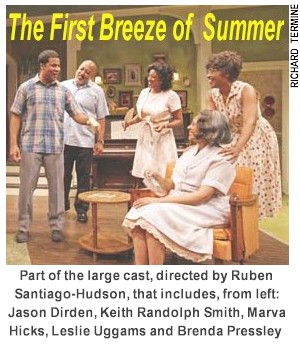 Ms. Uggams' poignant performance with its incredibly wide range of emotions is highly complimented by the large cast under Santiago-Hudson's keen direction: DD-winner Harvey Blanks [TableTop], Yaya DaCosta [as Lucretia, Gremmar of 60 years ago], Sandra Daley, Crystal Anne Dickinson, brothers Brandon and Jason Dirden, Quincy Dunn-Baker, Marva Hicks [Caroline, or Change, The Lion King], Tony-nominee John Earl Jelks [Radio Golf], Tuck Milligan, Gilbert Owuor, Brenda Pressley [Dreamgirls] and Keith Randolph Smith.
Though the entire cast is exemplary, Jason Dirden as Edwards son Lou, and Jelks as Lucretia's suitor Harper, a coal miner with aspirations to the ministry, are standouts.
There's another reason to attempt to see Breeze before September 28, although available tickets are quite limited: Tickets are $20.
In a ground-breaking effort to make theater more accessible, Signature A.D. James Houghton and exec director Erika Mallin struck a deal with Time Warner to subsidize 70% of the cost of full-price tickets. The program has additional support from American Express and Margot Adams.
After the 28th, for the extended run through October 19, Breeze tickets are $65. For tickets, visit www.signaturetheatre.org [seating chart available] or call (212)
244-7529.
Amargo the Beautiful
Spanish hunk Rafael Amargo and his 18 member flamenco company hit the Town Hall stage in Maestro Management's spectacular and sizzling Tiempo Muerto [Time Out]. Performances are Saturday, the 20th, at 8 P.M. and Sunday, the 21st, at 3 P.M.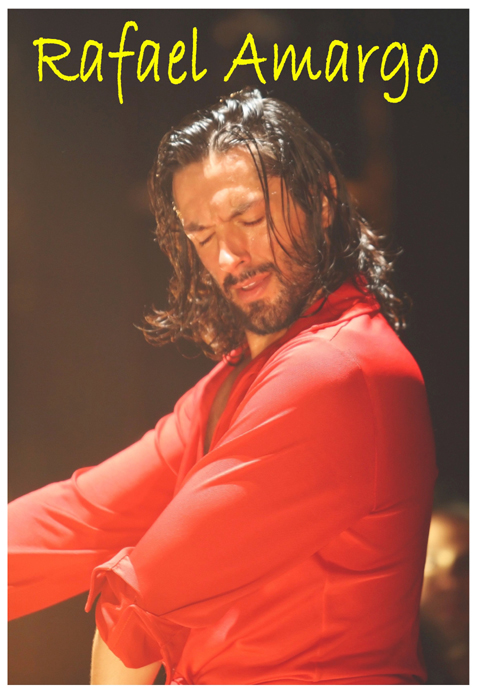 Magazine coverboy and acclaimed flamenco titan Amargo, choreographer of the West End Zorro [music by the Gypsy Kings], is considered Spain's top male flamenco dancer. After training in Spain and working with Martha Graham, he flirted with modern dance, break-dance, "aerial theater" and cinema. Now, he's returned to his roots to create "the hottest and sexiest" flamenco show - his sixth original production, which stops in New York on its world tour.
Amargo has been honored with numerous Best Dance and Best Dance Show awards as well as Italy's Positano Leonide Massine Prize, the most important given to dance. Previous recipients are Bejart and Nureyev.
The score for Tiempo Muerto is by celebrated flamenco composer Juan Parrilla, who's expanded the band include a wind section, stringed instruments, bass, synthesizers and keyboards. A vital musical component of any flamenco show are the lyrics, which Amargo has written. Vocals are by Maite Maya, Carmina Cortes and Pedro Obregon.
Tickets for Rafael Amargo:Tiempo Muertoare $45 - $85, with premium orchestra locations at $95. They're available at the Town Hall box office, and through Ticketmaster at (212) 307-4100 or on-line at www.ticketmaster.com. For more information, visit www.maestroartist.com.

Sondheim Treasure Trove
Musical theater buffs rejoice! Releasing on the 30th is a comprehensive treasure trove of the works of Stephen Sondheim, The Story So Far, a comprehensive four-CD, four and a half hour + set [SonyBMG/Legacy Records; SRP $55]. It features 81 tracks with selections from Sondheim's 15 Broadway shows, film scores, TV specials, incidental music and demo recordings from his private collection [songs cut from shows or written for aborted stage and film projects].

Sondheim served as exec producer with A&R head Steve Berkowitz as producer. The set was prepared by veteran producers Didier C. Deutsch and Darcy M. Proper.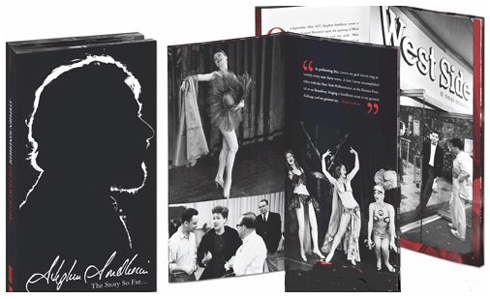 "Show buffs love nothing more than demos, out-of-print and private recordings," says Sondheim, "particularly cut songs - especially when sung by the composer. This has all of the above and more. I'm listed as co-producer, but the work and choices were Didier and Darcy's. They have packaged these buried and not-so-buried nuggets with care and lavish elegance."

Of particular interest, the box set includes 28 previously-unreleased tracks and such rarities as songs from Evening Primrose, the 1966 television musical starring Anthony Perkins and Charmain Carr, and demos from Saturday Night, the 1955 musical that would have marked Sondheim's Bway debut had it reached a NY stage. It remained on the shelf until a 1997 London production. In 1998, it finally received a professional recording, which was followed in 2000 by a production at Second Stage.

Other unreleased tracks in the set include demos of songs from Do I Hear a Waltz?; discarded tunes from Company, Follies, A Little Night Music and Pacific Overtures; and songs for an intended 1992 TV production of Into the Woods.

Artists in the set Julie Andrews, Carol Burnett, Len Cariou, Barbara Cook, Victor Garber Dean Jones, Glynis Johns, Nathan Lane, Angela Lansbury, Madonna, Merman, Minnelli, Mandy Patinkin, Bernadette Peters, Zero Mostel and Donna Murphy.
The profusely illustrated booklet features an introduction by Harold Prince, notes by Mark Horowitz, Library of Congress senior music specialist, as well as Sondheim's personal reflections.

Biltmore No More
As a result of what must be a most generous gift [the amount is undisclosed] from veteran press agent Jane Friedman, the daughter of pioneering late press agent Samuel Friedman, and the Dr. Gerald J. and Dorothy R. Friedman Foundation, MTC has renamed the stunningly-restored, landmarked Biltmore Theatre the Friedman.
At Thursday night's reception and lighting of new signage, it was also announced by MTC A.D. Lynne Meadow, back on the job after a year's sabbatical, and board chair Peter Solomon that the box office lobby was being named in honor of veteran press agents Shirley Herz and Bob Ullman, who worked with Friedman.

The Friedman/Biltmore, opened in 1925, reopened after years of neglect and fire and water damage as MTC's third and largest stage in October 2003 after a two-year, $35-million renovation.
It was a night when Meadow also saluted the league of press agents who labor behind-the-scenes to bring audiences into theatres, rarely drawing attention to themselves.
Oscar-winner F. Murray Abraham, dressed as if he just left a luau; Tony and DD-winner and multiple nominee, the inimitable, prim and regal Marian Seldes [expressing excitement about seeing the Broadway revival of Equus, in which she co-starred in two roles during the run]; Pulitzer Prize-winning playwright Frank Gilroy; Kate Levin, commissioner of Cultural Affairs [presenting a citation from Mayor Bloomberg]; and the cast of MTC's upcoming revival of To Be or Not To Be, which includesTony and DD-nominee Jan Maxwell, David Rasche and Peter Benson, were among those attending.
Gilroy had the audience in stitches as he told stories of the "irascible" Friedman, whom people in the industry "either loved or hated," and a whirlwind, breathless 23-hour publicity trek in Chicago in support of the tour of his The Subject Was Roses." He added, "Whenever I was asked to speak on Sam, I'd always ask if they wanted something pro or con!" Veteran press agent Harvey Sabinson spoke on how Friedman worked with "the press - that's what we called theater journalists in those days. Media was a town outside Philadelphia" promoting shows and how everyone learned from him.

What Becomes a Legend Most?
Memories of a feisty movie diva will surely surface this month with the U.S. Postal Services issue of a Bette Davis first-class stamp on the 100th anniversary of her birth. Davis is 14th star to be honored in the Legends of Hollywood Series.
A 10-time Academy Award nominee, Davis won twice, for her roles in Dangerous [1935] and Jezebel [1938]. She shares the record for most consecutive nominations [with Greer Garson]: five years in a row: 1939, 1940, 1941, 1942 and 1943.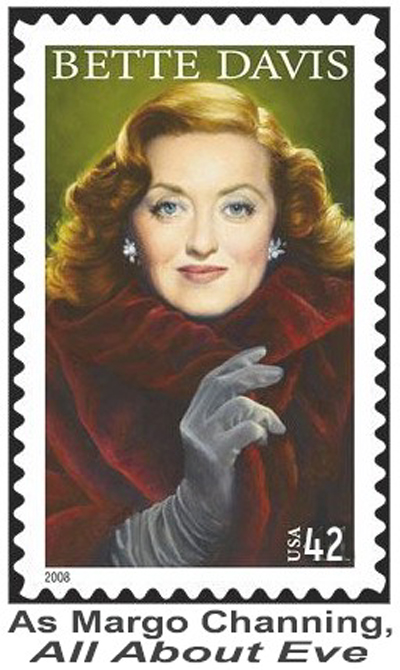 In a bow to too much political correctness, Davis' ever-present cigarette has been airbrushed out of her hand.
Davis was the first female honored with the American Film Institute's lifetime achievement award. On AFI' s 100 Years of The Greatest Heroes and Villains list, her Regina Giddens in The Little Foxes [1941] ranks #43 and Baby Jane Hudson in What Ever Happened to Baby Jane? comes in at #44. She is #2 on AFI's Greatest Screen Legends actress list.
While promoting Baby Jane [1962], Davis, puffing away, told Johnny Carson that when she and Joan Crawford were first suggested to Warner Bros. head Jack Warner, he replied: "I wouldn't give a plugged nickel for either of those two old broads." The following day, she received a telegram from Crawford: "In future, please do not refer to me as an old broad!".
Davis and Crawford had cold relations through the years, beginning with B.D. whispering great dislike for J.C. after Marilyn Monroe confided to B.D. that J.C. "came on to me." Of Crawford, she alleged "she's slept with every male star at MGM except Lassie...She's the original a-good-time-was-had-by-all gal."
When they were both at Warner, Davis told me in an interview that she became "quite uncomfortable with Crawford fawning over me a little too much, often sending gifts to my dressing room, which I gave to my assistants without ever opening."
But now with Baby Jane, it was no longer a cold war, but an all-out feud.
For years, director Robert Aldrich told hilarious stories of the tit-for-tat machninations that went on during filming. In one incident, B.D. mischeviously had a Coca-Cola machine installed on the set to spite the press J.C. was getting because of her affiliation with Pepsi-Cola as widow of board chair Alfred Steele. Crawford got her revenge by putting weights in her pockets in scenes when Davis was to drag her across the floor.
Davis desperately wanted to win an unprecedented* third Best Actress Oscar for Baby Jane. Crawford, who wasn't nominated, led an anti-campaign.
[*Trivia: Walter Brennan had won three Oscars, but in the supporting category.]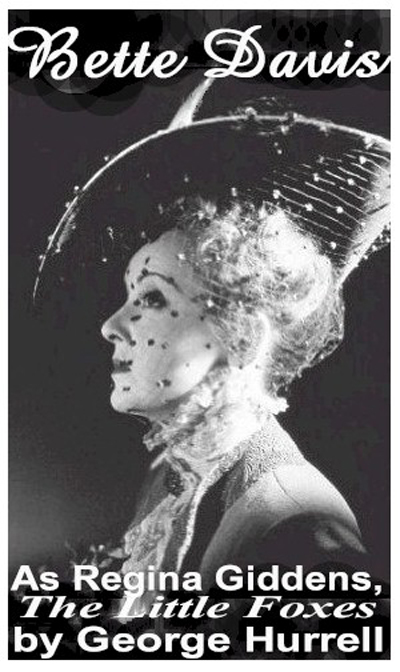 Davis and Anne Bancroft [for The Miracle Worker] were the front runners, and J.C. made a deal with Bancroft, who was unable to attend the Oscars, that if she won she'd accept for her. At the Awards, B.D. figeted and smoked in the wings. The envelope was opened and Bancroft was the winner. B.D.felt an imperviously icy hand on her shoulder as J.C. pushed by, saying "Excuse me, I have an Oscar to accept."
It wasn't easy to get Davis to speak of Crawford, but she was quite blunt when she did, once stating that "I wouldn't p--s on her if she was on fire." Another time, she recalled that "the best time I ever had with Joan Crawford was when I pushed her down the stairs in Baby Jane?"
But when Crawford died in 1977, I had occasion to be working with Davis at her home in Weston, CT. She was literally in her cups -- drinking Bell's Scotch out of a tea cup. She made sympathetic comments about J.C.'s long-fight with cancer and that, indeed, she had been a screen legend. At one point, she retorted, "I always felt her greatest performance was Crawford being Crawford." When reporters asked her of her opinion of J.C., however, the old bitterness returned and she told one, "My mother told me never to speak badly of the dead. She's dead....Good."

One of Hollywood's most jealous actresses was Miriam Hopkins, a notorious scene-stealer. Davis had an affair with her husband, director Anatole Litvak, so things were not exactly warm and cozy when they worked opposite each other.
In Old Acquaintance [1943], where B.D. and M.H. go from best friends to rival authors, Hopkins does everything but eat the scenery to upstage Davis. But Davis was on to her and would often stand between Hopkins and the camera. There is a volitile scene where Davis shakes Hopkins to her senses and, thankfully, it was done in one-take because B.D. grabbed M.H. and shook her so hard the soundstage rafters rumbled.
Davis claimed to have given the Academy Award the nickname "Oscar," stating that the statue's "bum" reminded her of her first husband Harmon Oscar Nelson.
She was a perfectioness who went to war against Warner for putting her "in so much drivel." Her reputation for being difficult is legendary. She stated, "I've been known as difficult for fifty years. And it's always because I want to make it the best film I can."
Some of her classic screen lines were "I'd love to kiss you, but I just washed my hair" [The Cabin in the Cotton], "What a dump!" [Beyond the Forest]; "Don't let's ask for the moon. We've already got the stars" [Now, Voyager] and "Fasten your seat belts. It's going to be a bumpy night!" [All About Eve].

On Davis' tombstone at Forest Lawn, it's inscribed "She did it the hard way." She did.

Broadway Voices Series
Headling tonight at 7 P.M. in the Voices From the Great White Way series at the Laurie Beechman Theatre [407 West 42nd Street, between Ninth and Tenth Avenues] is Tony and DD-nominee Barbara Walsh.
Upcoming in the Monday night series are golden-voiced Christine Andreas, John Treacy Egan, Alison Fraser, Andrea Burns, Mary Testa, Alexander Gemignani and Judy McLane.
Beechman tickets are $25 with a $15 beverage or food minimum. For reservations, call (212) 695-6909.
Ellis Nassour is an international media journalist, and author of Honky Tonk Angel: The Intimate Story of Patsy Cline, which he has adapted into a musical for the stage. Visit www.patsyclinehta.com.

He can be reached at [email protected]





Why are you looking all the way down here?
For more articles by Ellis Nassour, click the links below!

Previous: Glam Beth Leavel in Unglam Role; FringeNYC Packs 'Em In; Spiegelworld is Back; Luba Returns; Patti Signs and Sings; More

Next: Leslie Uggams: A Woman for All Ages; BC/EFA Flea; Lost Musical Found; Betty Buckley/Michele Lee Sing; WB Retrospective; More

Or go to the Archives