"Cinema," Federico Fellini once stated, "is an old whore . . . who knows how to give many kinds of pleasure." Francis Ford Coppola opined, "You want to make the greatest film in the world, but when you get into it, you just want to get it done, let it be passable and not embarrassing." And this from Stanley Kubrick, "The very meaninglessness of life forces man to create his own meaning. If it can be written or thought, it can be filmed."
It would be wise to keep those deliverances in mind when film festivals announce their selections. Certainly that has been the case to date in the 46th New York Film Festival, and will continue to be so in this the Festival's last week - [officially] through October 12.
As always, the NYFF has an international slate of productions, but this year it hasn't been too heavy on standout American films. You could just call the Fest A Tribute to the Cannes Film Festival, since there are five major prize winners showing here. Many of the movies come to be presented in search of distribution and IFC has been very aggressive, scoring bragging rights to five of the 28 main slate offerings.

Some entries have been short; a couple extremely long. Since this will be a hot week, don't be disappointed. Get thee to the box office. With construction ongoing at Alice Tully Hall, screenings are at the Ziegfeld Theatre, the Walter Reade and Avery Fisher Hall.
Last week's Opening Night pic was France's Entre les Murs/The Class [to be released by Sony Pictures Classics], winner of the Golden Palm, Cannes top prize. Directed by Laurent Cantet, it follows a teacher through an explosive year in an unconventional public school as he battles to teach and challenge a rowdy [to say the least] class. It was an unusual opening choice since it's half scripted, half improvised and features a cast of multi-ethnic unknowns.
Sunday's closing attraction [AF] is Darren Aronofsky's "raw and raucous" The Wrestler [Fox Searchlight Pictures] with the much-heralded return of bad boy Mickey Rourke. Written by Robert D. Siegel, Rourke returns to lead actor status with a blistering performance as a once-popular tumbler now on the skids and rethinking his life after a heart surgery. He attempts to reconnect with his long-left-behind daughter as pursues a relationship with a stripper, played by - surprise! - Oscar-winner Marisa Tomei in, perhaps, the most revealing role of her career.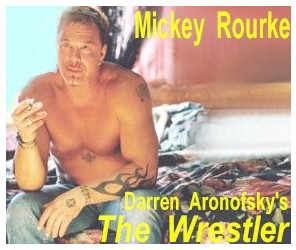 At the media press conference, Tomei gave the impression going au natural isn't second nature to her; but there's been no shortage of it. Surely, you haven't forgotten her romps in Before the Devil Knows You're Dead nor her unveiling in the mind-boggling, jaw-dropping 2003 Broadway staged reading of Salome, directed in your face by Estelle Parsons and starring Al Pacino as a banana-eating Herod.
Asked if she learned anything from the strippers, Tomei boasted, "They learned a few moves from me." They certainly are, shall we politely say, in-your-face moves. If I heard correctly, she wears prosthetic nipples.
There was a much-anticipated American entry: Clint Eastwood's Changeling [Universal Pictures], starring Angelina Jolie and John Malkovich, with the director doing a rare discussion. Running almost two-and-a-half hours and a very factual rendering of true incidents in 1928 Los Angeles concerning a slandered mother's search for her son against corrupt police and a skeptical public; Malkovich co-stars an activist minister.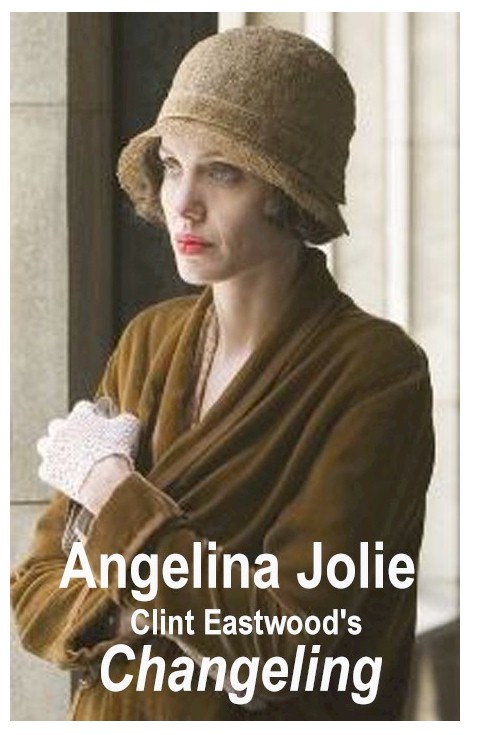 The NYFF welcomed back Steven Soderbergh, who came with his much-too-long [nearly four-and-a-half-hours] doc-style, bio pic Che [IFC], in Spanish, co-produced by Spain, France and the U.S. It stars Benicio del Toro, who won Best Actor at this year's Cannes, as the iconic Argentine revolutionary out not only to change Cuba but the world.
After the media screening, reviewers were divided. One noted that it is so focused on Che's goals that it's emotionally uninvolving. Another found it fascinating because it shows how a revolution grows from grass roots guerrilla warfare to full-blown coup. And Che certainly does that -- day by day, setback and step forward by setback and step forward, bullet by bullet. In the final two hours, set a decade later when Che, disguised, slips into Bolivia to attempt a coup, the pace picks up with several spectacularly executed scenes and begins to grab you.
One of the last U.S. entries is Antonio Campos's Afterschool [today, at 6; Wednesday, 9], the story of a tribute for two prep school students who overdosed.
Of interest to cinema buffs are four more Cannes prizewinners: Italy's Matteo Garrone's Gomorrah, Grand Prize; U.K.'s Steve McQueen's Hunger, Camera d'Or; and upcoming this week, Sergey Dvortsevoy's Tulpan , Un Certain Regard Prize [Saturday, 6], financed by five countries including his native Russia; and Kiyoshi Kurosawa's Tokyo Sonata , Jury/Un Certain Regard Prize [Saturday, 9:15].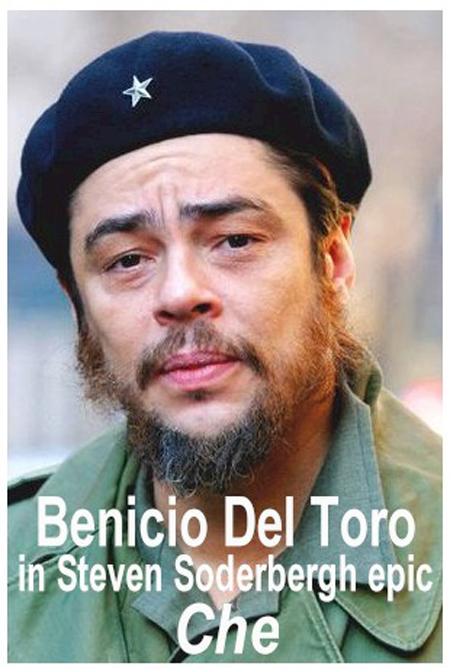 Gomorrah, a violent depiction of the modern-day Neapolitan mafia, based on Roberto Saviano's 2006 book, and its devastating effects on one city. It was filmed in actual locations, starring actor/director Toni Servillo and, as bravado-spewing young Tony Montana wannabe punks, theater actors Marco Macor and Ciro Petrone. Amazingly, it was shot with the "family"'s blessings. Garrone said that in Italy the cinema is so powerful mobsters actually welcomed having their story told.
Hunger [IFC] marks the feature film debut of controversial black British political visual artist McQueen in an uncompromising look at the 1974 hunger strike led by IRA prisoner Bobby Sands.
This will be one of the year's most celebrated films, in line with last year's The Diving Bell and the Butterfly, a.k.a. My Left Eye. Like that film, audiences will either love or hate it. There's little dialogue and the proceedings require great patience. If you go to the movies to be entertained, this isn't your cup of tea. Much talk surrounds two sequences with the camera stationary: shooting two actors talking for what seems like an eternity [it was!]; and a later scene of a custodian sweeping a deluge of puddles of a certain liquid escaping from under cell doors right into the audience's faces. The only missing is Gene Kelly singing in the rain of urine.
Alongside Entre les Murs, France is well-represented this year with four films and eight co-productions. Upcoming: Un Conte de Noel/A Christmas Tale [IFC, Friday, 6; and Saturday, 11:15 A.M.; both at Z], starring the still-stunning Catherine Deneuve facing a life-threatening illness in Arnaud Desplechin's two-and-a-half hour plus story of a dysfunctional family [a French one, for a change!] gathering for the holidays. Jean-Paul Roussillon, Mathieu Amalric, Anne Consigny and Chiara Mastroianni [Deneuve's daughter].
The salute to Japanese director Nagisa Oshima [through October 14], "one of the essential figures of modern cinema," continues. Among his works scheduled this week are Diary of a Shinjuku Thief [1968, Wednesday, 7 P.M.], Max Mon Amour [1986, Friday, 9], Merry Christmas, Mr. Lawrence, starring David Bowie, [1983, Saturday, 9], Taboo [1999, October 13, 2 and 8:45], Kyoto, My Mother's Place [1991] screening with 100 Years of Japanese Cinema [October 13, 4] and Empire of Passion [1978, October 13, 6:30].

In addition to HBO's Films Dialogues, director panels and the avant-garde film showcase, the Fest will be giving screenings to 17 short films.
Career paths and families are at the center of Kiyoshi Kurosawa's Tokyo Sonata[Japan/Denmark; Regent Releasing; Saturday, 9:15], where a family struggles to stay together after the father loses his job; and Parlez Moi de la Pluie/Let It Rain [October 12, 11:15 A.M.; Z], Agnès Jaoui's story of aspiring filmmakers following a female politician.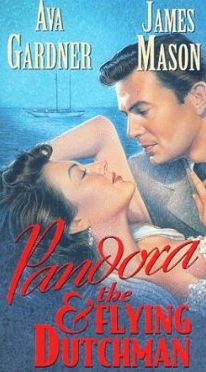 Tonight, at 6 and 8:30 P.M. [WR], the Festival tradition of presenting restored classics continues with a remastered 35mm print of Josef von Sternberg's 1928 silent classic The Last Command, starring Emil Jannings [Blue Angel opposite Marlene] and William "Thin Man" Powell. Jannings, as a once-decorated Russian general relives the Revolution as a Hollywood extra, won the first Best Actor Oscar. The film is accompanied by a new score by the three-member Alloy Orchestra [which also composed the score for the restored Metropolis].

This Friday, Martin Scorsese will introduce a restored Technicolor print [courtesy of George Eastman House] of 1951's Pandora and the Flying Dutchman at 6:15 [WR]. Directed and adapted by Albert Lewin, with a celebrated production design by Clive Donner with some assist from Man Ray and magnificently shot on the Spanish coast by renowned cinematographer Jack Cardiff.
It stars a very seductive Ava Gardner and James Mason, Nigel Patrick, Juan Montalvo and Marius Goring. Cardiff went on to directing. Lewin, all but forgotten today, was a Brooklynite who had a brief stint as film critic before heading West where he became assistant to Irving Thalberg. He produced such highbrow fare as The Picture of Dorian Gray and The Moon and Sixpence. But later he was regulated to writing for such TV fare as My Favorite Martian and Diff'rent Strokes.
Among the sponsors of the 46th New York Film Festival are Chopard, The New York Times and Sardinia Region Tourism.
Tickets for screenings are on sale at Avery Fisher and the Ziegfeld and online at filmlinc.com. For a full listing of the week's attractions, information on the numerous NYFF events and showtimes, visit the web site.

Remastered, Restored Sleeping Beauty
"Do fairy tales ever get old?" asked Whoopi. "It seems they are always new and I look forward to watching them today the same way I did as a kid when we'd sit around the TV and watch those great animated cartoons and Peter Pan during the holidays."
Now, of course, you don't have to wait until the holiday. Just order the DVD and pop the corn, melt the butter, lay out the candies, crush the ice, fill your glasses all the way to the top with it and pour in about an ounce of soda and you can have a movie theatre experience right at home!
And now comes a classic, totally reimagined. In celebration of Tuesday's DVD and Blu-ray release of Sleeping Beauty: 50th Anniversary Platinum Edition [2 discs; SRP $30, B-r, $35], from the Disney Studio vaults for a limited time, the studio held a star-studded premiere in six of the theatres of the Chelsea Cineplex.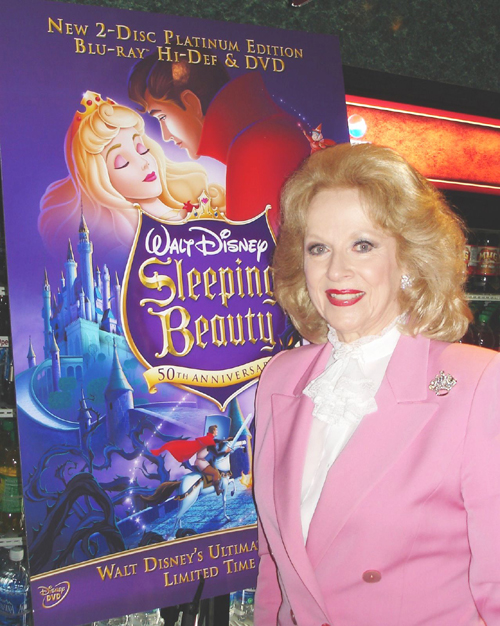 Among those attending the "premiere" and gala post party in the recently-restored and storied Plaza Hotel grand ballroom were Vanessa Williams and daughter Sasha Gabriella; Elisabeth Hasselbeck with Grace Elisabeth and Taylor Thomas; Shrek star Brian d'Arcy, wife Jennifer and daughter Grace; Xanadu's Kerry Butler; All My Children's Cameron Mathison, wife Vanessa and children Lucas and Leila; Michael Gaston [Body of Lies, W], Terry Serpico [Righteous Kill, TV's Army Wives], and, among others, costumed Disney characters from the film - not to mention hundreds of lasses in elaborate princess outfits looking for love's first kiss.
The event was presided over by Princess Aurora herself, renowned international opera singer Mary Costa, hand-picked by Walt Disney to be the lead voice of the 1959 widescreen animated classic.
Personally supervised by Disney [his last], Sleeping Beauty became the studio's most stunning animated feature. The feature is set to magnificent Oscar-nominated orchestrations of Tchaikovsky's timeless ballet melodies.
For the new DVD and Blu-Ray editions, Sleeping Beauty's sight and sound has been meticulously restored through state-of-the-art digital technology, Not only has the original dazzling Technicolor been restored, but Dolby Digital 5.1 has been added.
As Gordon Ho, Disney Home Entertainment exec VP, marketing, creative content and business development, said in his welcome, "Sleeping Beauty has been restored and remastered beyond its original brilliance, in the way Walt Disney envisioned it. The colors are more vivid, the backgrounds appear richer and you see elements and characters that you never saw before."
Ms. Costa, former Metropolitan Opera star [debut, 1964, La Traviata] and longtime roving Disney ambassador, says, "It's quite spectacular, as if it was made yesterday. You hear the highs and lows and all the inbetweens like never before. The master technicians have given a fresh, new life to this classic."
Mr. Disney personally selected Ms. Costa, in her 20s at the time, "and encouraged and guided my performance through the seven years of production," she noted. "When he was casting, he went about choosing his singers with a lot of care. He told me he wanted the film to be a gift of love to children everywhere."
Ms. Costa's career has spanned four decades singing on radio, records, TV, film, command performances at the White House and in nearly 50 major operatic roles.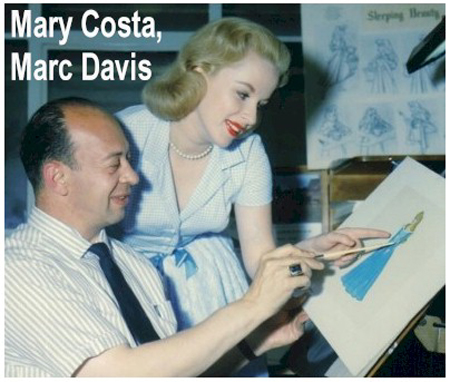 Bill Shirley, a singer, movie singing voice double and ice skater who'd been performing since the 40s, voiced Phillip. "He was a real sweet guy," says Ms. Costa. "Bill came in and just knocked us out with his voice. We all fell in love with him."
For the 1964 film adaptation of My Fair Lady, George Cukor choose Shirley for the singing voice of Freddy Eynsford-Hill played by Jeremy Brett, who for years kept claiming he did his own singing and Shirley merely sweetened the high notes.
Eleanor Audley provided one of the most memorable meanies in moviedom, modeled on Snow White's wicked queen and the model for 101 Dalmatians Cruella De Vil. Veteran comedienne, TV and film star Verna Felton [the voice of Cinderella's fairy godmother and Alice ...'s Queen of Hearts] was a natural choice to voice Flora; with Barbara Luddy giving life to Merryweather and Barbara Jo Allen voicing Fauna.
Sleeping Beauty: 50th Anniversary Platinum Edition contains a galaxy of bonuses, including a making-of doc, games, photo gallery; music video and sing-along program.

From Brazil to Birdland with Love
Krazy Love, that is. Sensational blonde bombshell Luba Mason, who rocked Broadway as Hedy La Rue opposite Matthew Broderick in How to Succeed... and a Chicago Velma, arrives at Birdland after sold-out engagements in Chicago tomorrow night for two shows [8:30 and 11]. "And," she says, bursting with enthusiasm,"there's a new rhythm in my soul."
In between the above Broadway shows, Mason wowed audiences as J&H's first replacement for Linda Eder with her power renditions of "Someone Like You" and "A New Life."
No stranger to Latin music, due to a very particular family connection and her featured spot on Broadway opposite Marc Anthony and Ruben Blades in Paul Simon's short-lived Capeman, Mason has been flying south of the border a lot over the last two years to capture the unique composer talents of Sao Paulo native and Prince keyboardist Renato Neto. The singer says she's been "totally reenergized and the results are quite exhilarating."
Their collaboration, with Mason writing spirited, and deeply emotional lyrics, is the Krazy Love...A Cool Brazilian Mood, Mason's new CD, which she will be previewing prior to official release [in February] at Birdland. The statuesque, sultry Mason, who gives new definition to "belter," will be accompanied by her band Kava, featuring Dario Eskenazi, piano; Sandro Albert, guitar; John Benitez, bass; Dende, percussion; Adriano Santos, drums; and Rodrigo Urasai on flute and sax.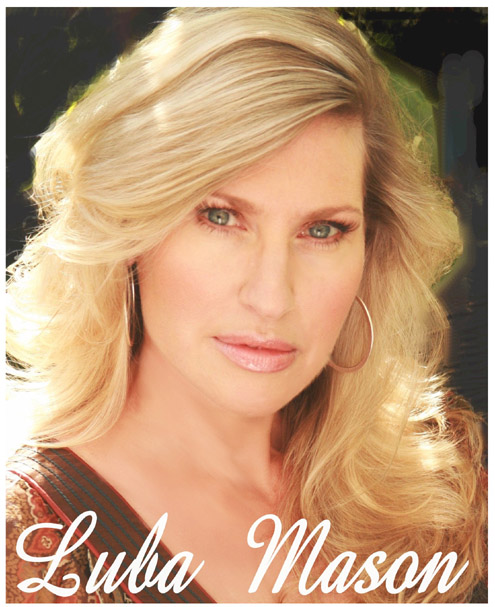 "The seed for Krazy Love," informs Mason, "took place ten years ago when I met Ruben Blades, now my husband, and was introduced to Brazilian music. I fell madly under its spell - the melodies, the rhythm."
So, a decade later: Krazy Love. Why so long? "The time was right. The music represents where I am in my life - more mature, more sophisticated in my musical tastes and, for the first time, ready to write my material. It's been a musical evolution."
Not only did Mason write the lyrics for eight of the 10 tracks, she also composed the music. "I performed as a classical pianist from age five to twelve. Music came first, then singing and acting. Every project I pursue, I want to set a higher level. Writing was the next challenge. I knew I could do it. It was just a matter of gaining the confidence and support of my partner in the project, Renato."
Mason says while she's been learning about Latin culture from Blades, not only a Grammy-winning hitmaker and actor but also Panama's Minister of Tourism, Neto was "the key. He's from Brazil and has the music in his soul. His musicianship and knowledge is amazing. I'm so blessed to have found Renato. He complimented my writing and guided me to creating a work of art."
The title and title tune came easy, states Mason. "The subject matter is love and Brazilian music is a lot about love, bursting with the joy of life and the exotic movement of the rhythms. Some of the songs are my experiences or simply made up! I'll never tell."
Mason's Krazy Love preview is presented by Birdland perennial Jim Caruso's Cast Party [Monday open mike nights] and TheaterMania.com as part of Broadway at Birdland, the Nightlife Award-winning concert series.
Tickets are $25 general admission, and $40 orchestra plus two drink/food minimum. To reserve, call (212) 581-3080 or go online at www.birdlandjazz.com.

It's Back and Happening!
The Public Theater announced that single tickets will go on sale Sunday, October 12 for Road Show, a new musical featuring music and lyrics by Stephen Sondheim, book by John Weidman, and direction and scenic design by John Doyle. Michael Cerveris and Alexander Gemignani headline the cast of 17.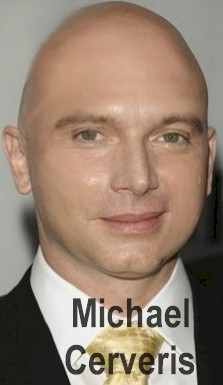 Previews begin October 28, with an opening set for November 18. The musical is scheduled to run through December 28.
The name Road Show is not the only thing new. Doyle is now at the helm and, with Weidman, has made "transformative changes." One change is Sondheim's writing new lyrics to the former title tune. Doyle will contribute scenic design, with orchestrations by Jonathan Tunick and musical direction by Mary-Mitchell Campbell.
Road Show spans 40 years from the Alaskan Gold Rush to the Florida real estate boom in the '30s and is the story of brothers Wilson and Addison Mizer whose quest for the American dream turns into a life-changing test of morality and judgment.
For the world premiere, under the title Bounce, at Chicago's Goodman, Hal Prince directed Richard Kind, Howard McGillin, Michele Pawk and movie musicals legend Jane Powell. The show then played the Kennedy Center. Under that title, there was a cast recording on Nonesuch.
Single tickets become available at midnight on October 12; at 10 A.M online at www.publictheater.org or by phone, (212) 967-7555; and at 1 P.M. at the Public box office.

Don't Tell Mama But Devlin's Back in Town
West Coast dynamo singer Devlin returns to town, and none too soon, with a new show, The Places You Find Love, at Don't Tell Mama at 7 P.M. on October 13 and 15 and a special happy hour show on October 18 at 5 P.M. She's not arriving empty-handed. The DTM engagement marks the release of her first CD, Devlin, Live In New York.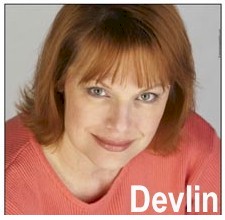 A critic noted that whether singing torch or brassy jazz, Devlin soars "outta the park" and has audiences "eating notes from the palm of her hand."
For Mama's, Devlin is planning to run a fearless gamut of songs from Berlin, Carmichael and Mercer, Cahn and Heindorf and the Gershwins to k.d. lang, Annie Lennox and James Taylor.
West Coast, East Coast, Devlin, a redhead with sparkling green eyes, has been making her mark in notable cabarets, such as last October at the Metropolitan Room; and acting, winning San Diego's Playbill.com Best Actress award for her Frankie in Frankie and Johnny in the Claire De Lune.
The 15 tracks on the CD [SRP $15], recorded live at the Metro, are eccletic, with songs by Berlin, John Bucchino, Craig Carnelia, Cass Eliot [with a medley tribute to the Mamas and Pappas], Amanda McBroom, Laura Nyro and Lalo Schifrin. The arrangements and musical direction are by Rick Jensen.
Admission for Devlin and The Places You Find Love is $15 with a two-drink minimum [but includes debut CD]. For reservations, call (212) 757-0788.

Save the Date...Order Tickets Now
Friday, Saturday and Sunday, October 17, 18 [at 8 P.M.] and 19 [at 3 P.M.] for Town Hall's Fourth Annual Broadway Broadway Cabaret Festival, hosted by Scott Siegel [Broadway by the Year], The respective programs are A Tribute to Lerner & Lowe and a rare concert appearance by Colm Wilkinson [Les Miz, POTO]; and the always eagerly anticipated Broadway Originals!, which brings back to the stage stars, such as Lucie Arnaz [They're Playing Our Song], Stephen Mo Hanan [Cats], Karen Morrow [I Had a Ball] and Pam Myers [Company], singing songs from musicals they were in. Tickets for a three-show package are $150, with individual tickets at $55. They are available at the Town Hall box office.
One of the most anticipated dance events annually is Career Transition for Dancers' tribute to dancers in all fields. The 23rd anniversary show, On Broadway!, A Glittering Salute To The American Musical, presented by Rolex, is Monday, October 27 at 7 P.M. at City Center with Angela Lansbury hosting. Tommy Tune will receive the Rolex Dance Award. Among participating companies will be the American Ballet Theatre. There'll also be a film montage of Broadway musical choreography. The event continues with a supper dance in the Hilton New York's grand ballroom. Honorary chairs include Cynthia Gregory, Jane Powell, Ann Reinking and Chita Rivera. Show tickets, at $45 - $130, are available at the City Center box office and through CityTix, (212) 581-1212.
Ellis Nassour is an international media journalist, and author of Honky Tonk Angel: The Intimate Story of Patsy Cline, which he has adapted into a musical for the stage. Visit www.patsyclinehta.com.

He can be reached at [email protected]





Why are you looking all the way down here?
For more articles by Ellis Nassour, click the links below!

Previous: New York Film Festival; Tovah Feldshuh Channels a Heroine; Euan Morton Returns; Choreographer Jack Cole Remembered; More

Next: Broadway Buzz; Mitzi Gaynor Razzle Dazzles; Rising Star Tenor Joseph Kaiser; Broadway Cabaret Festival; More

Or go to the Archives