Drama Desk, OBIE and Lortel Award-winning Classical Theatre of Harlem, now in it's 10th season, salutes Black History Month with a work considered to be one of our greatest plays. The story offers audiences the opt to consider the spiritual paralysis that keeps us from pursuing our dreams, the feeling of unfulfilled lives and the longing for meaning in daily pursuits.
The result is an uncanny blend of the painful and trivial, the ordinary and the catastrophic. In fact, conventional boundaries between comedy and tragedy are deliberately blurred, and things are seldom what they seem in Checkhov's Three Sisters.
Checkhov? Three Sisters? Classical Theatre of Harlem? Why not?
Scheduled to run through March 8, the production is directed by company co-founder Christopher McElroen, no stranger to Chekhov. He helmed the company's acclaimed produciton of The Cherry Orchard [not to mention Waiting for Godot and their multiple OBIE Award-winning production of The Blacks].
TTS is the fourth Chekhov work this season, joining BAM's Cherry Orchard [directed by Sam Mendes], Classic Stage Company's Uncle Vanya [starring Tony winner Denis O'Hare as Vanya, Maggie Gyllenhaal as Yelena and Peter Sarsgaard as Astrov] and Broadway's The Seagull [which starred Kristin Scott Thomas].
The 14-member cast of The Three Sisters includes Reg E. Cathey [The Wire], Earle Hyman [original production, Anna Lucasta; numerous others; The Cosby Show ], Billy Eugene Jones [Passing Strange, Raisin in the Sun], Carmen de Lavallade, Sabrina LeBeauf [Cosby Show] and Roger Guenveur Smith [stage,TV's A Huey P. Newton Story],
Performances of TTS are at Harlem Stage Gatehouse [150 Convent Avenue at West 135th Street]. Tickets are $40 and available at the box office, by calling (212) 281-9240 X. 19/20 or online at www.HarlemStage.org. For more information, visit www.classicaltheatreofharlem.org.

Paley Center CTOF Reading
Tamara Tunie [Law & Order:SVU], Carmen De Lavallade, Zainah Jah and NoshirDalal from the Classical Theatre of Harlem will present a reading of Arnold Rabin's Queen of Thebes on March 23 at 7 P.M. at the Paley Center for Media [25 West 52nd Street, between Fifth and Sixth Avenues]. CTOF A.D. Alfred Preisser will direct this new play focusing on Queen Jocasta. Following the 90-minute reading, there will be a Q&A. Admission is free for Paley Center members and $10 for non-members. To reserve, go to www.paleycenter.org.

CD Salutes Black History Month
In celebration of Black History Month, Sony Classical has released Lift Every Voice - Honoring The African American Musical Legacy [2 discs; SRP $19], an anthology of seminal performances of more than 60 years of recordings by legendary black artists in the fields of classical, gospel, spirituals, pop, blues and jazz.
The roster includes Harry Belafonte, Miles Davis, Duke Ellington, Ella Fitzgerald, Aretha Franklin, Dizzy Gillespie, Mahalia Jackson, Wynton Marsalis, Johnny Mathis, Nina Simone, Luther Vandross and Nancy Wilson. Also included are selections by famed opera divas Marian Anderson, Kathleen Battle, Jessye Norman and Leontyne Price and the legendary Paul Robeson.
The CD is the second in the Carnegie Hall Presents series of recordings featuring historic live and studio performances. It's being released in conjunction with Carnegie Hall's Honor! A Celebration of the African American Cultural Legacy, a city-wide festival curated by Ms. Norman and running through March 23. For information on Honor!, visit: www.carnegiehall.org/honor.

Jerome Robbins Remembered
No other creative figure of the latter 20th Century was as contradictory as Jerome Robbins, and few were as controversial. As difficult a taskmaster as he could be, he was beloved by his dancers. Robbins was a master of the Broadway musical, transforming its possibilities with such works as West Side Story, Gypsy and Peter Pan, and was one of our greatest ballet choreographers.
Thirteen/WNET's American Masters profiles this complex mid-century artist in Jerome Robbins: Something to Dance About, premiering February 18 at 9 P.M. Directed and produced by six-time Emmy-winner Judy Kinberg and written by Robbins biographer Amanda Vaill, the two-hour film is narrated by Ron Rifkin, who performed the roles of both Robbins and his father in a workshop production of the director/choreographer's theatrical autobiography, The Poppa Piece.
The doc features excerpts from Robbins' personal journals, archival performance footage and never-before-seen rehearsal recordings, as well as interviews with Robbins, Baryshnikov; Jacques d'Amboise; Suzanne Farrell; Arthur Laurents; Peter Martins; Chita Rivera; Sondheim; and Robbins' Fiddler collaborators Jerry Bock, Sheldon Harnick and Joseph Stein.
"Robbins' remarkable body of work redefined dance and musical theater for a contemporary audience," says A.M. exec producer Susan Lacy. "The upcoming revival of West Side Story validates his lasting importance, his lasting impression. This film is a tribute to Robbin' genius on the 90th anniversary of his birth."

Parsons Contributes
At the recent Theater Hall of Fame inductions, THOF member, Oscar and Drama Desk winner and four-time Tony nom Estelle Parsons, speaking with an acquaintance who informed her he was about to journey into the bowels of Asia to work for several weeks with Mother Teresa's order, the Missionaries of Charity, at an orphanage.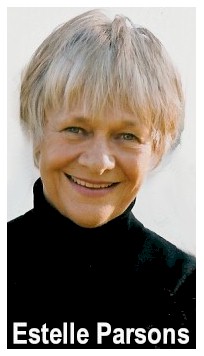 Parsons became very silent, then blurted, "Isn't that wonderful! And what am I doing? Appearing in a Broadway play!"
Of course, it's not just any Broadway play but Tracey Letts' Pulitizer, Tony and DD-winning combustible August: Osage County, where she's co-starring as the death-defying, fierce Violet Weston [the role Deanna Dunagan created to Tony and DD acclaim].
The acquaintance replied, "Estelle, you're making a contribution. You're scaring the hell out of audiences eight times a week. No matter how bad their families are, you're getting them to appreciate what they have!"
How true! If your special someone isn't quite into you yet, seeing this play will do the trick. Comparing you to what's onstage, you'll be highly regarded.
So what better place to show and share love with loved ones than at A:OC with the family that gives dysfunction a new definition: Violet; Mattie Fae, Charlie and Little Charles; Ivy; Karen; Barbara, Bill and their little demon Jean; and every parent's worst nightmare Steve?
The stakes and histronics have, no doubt, gotten higher at A:OC with the recent arrival of Elizabeth Ashley in the role of Mattie Fae.

You Don't Have to Go Far to Celebrate Valentine's Day in Style
So she/he's just not that into you? That can all change with the right moves this weekend. Saturday is Big Love Day for the one you're into or want to be into.
If you're already with that special someone, don't forget Valentine's Day - the works: flowers, chocolates, andy, dinner, theater, weekend escape, love-you-forever card - or, for the next few months, you'll be in the dog house!
The U.S. may be the only nation that spends as much money on Valentine's Day as we do on Mother's Day. And, hey, Mom can be that special someone!

Broadway Love



Some astrologers say that on Valentine's Day the moon will be in the Seventh House and Jupiter will be aligned with Mars - other astrologers we know say it's later in the week, but what the hey, so come Saturday we will be in the Age of Aquarius! The tribe from that tribal rock love musical Hair will be onstage celebrating free-love and abandon beginning next month at the Hirschfeld.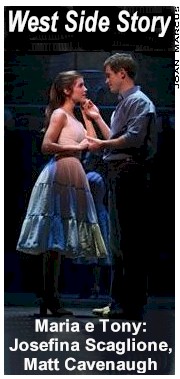 Basada en la clásica historia de amor Romeo y Julieta, West Side Story se desarrolla en las calles de la parte Alta de Manhattan donde Maria y Tony se enamoran. Las funciones comienzan el día 23 de Febrero en el Teatro Palace.
Love, the kind you find in an instant across a crowded room on some enchanted evening, is being celebrated by Nellie, Emile, Joe and Liat in Lincoln Center Theatre's sumptuous, award-winning revival of Rodgers and Hammerstein's South Pacific, where the Seebees seemingly are in constant lust.
There's all kinds of love on Broadway. You've heard of puppy love, well, there's a lot of puppet love at long-running, Tony-winning Avenue Q, wet love on dry land in The Little Mermaid and adulturous love in Chicago. Look is easy to find in Billy Elliott, Guy and Dolls, In the Heights, Jersey Boys, The Lion King where you can feel the love, Mamma Mia!, Pal Joey, Shrek and don't forget the Phantom and Christine.

Cabaret Love
Lisa Asher:
The Laurie Beechman Theatre within the West Bank Café will again celebrate love on Valentine's Day night with a concert that's become tradition these last five years. Their romantic evening includes a three-course dinner and the passionate, rich vocal stylings of MAC, Bistro and Nightlife Award-winner [for Stranded in the Moonlight] Lisa Asher.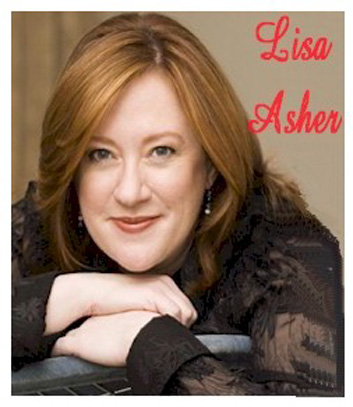 Asher's eclectic musical tastes range range from Rodgers and Hammerstein, with songs from Cinderella, Rodgers and Hart and Cole Porter ["Love for Sale"] to Janis Ian and Mary Chapin Carpenter. "My Valentine's Day show isn't just about love and romance per se," says Asher, who'll undoubtedly display her acclaimed belt, "but I encourage singles and wanna-be-couples to attend."
There'll be plenty of love onstage as Asher's music director is husband Jeff Waxman.
Asher recently returned from Colorado where she co-starred in Almost Heaven ... Songs and Stories of John Denver at the Denver Theatre Center Company. For Lisa Asher CDs and more information, visit www.LisaAsher.com.
The house opens at 6:30 for drinks and dinner. Showtime is 7:30. Reservations are recommended since this show has sold-out in the past. Package price is $65, with show-only tkts for $25 plus $15 food/beverage minimum. Call (212) 695-6909.

Shelly Burch: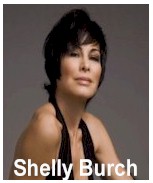 Returning to the spotlight after 20 years, Shelly Burch plans to sing her heart out in Second Coming, February 25 - March 2 at the Metropolitan Room. She says her show "takes a look at the many aspects of love - from the exciting first moments to the choices a woman makes confronting marriage/career/children and the calm that comes with fulfilling love."
Directed/written by husband Martin Charnin [Annie, Two by Two], it will feature songs by Vernon Duke, Ira Gershwin, Jule Styne and Maury Yeston. Additional material has been written by musical director Keith Levenson.
After triumphs in Stop the World..., Annie, Nine [original Claudia] and an eight-year stint on One Life to Live [as the evil Delila], Burch relocated, married and had a family. Singing remained a passion and she did concerts and theater. Single again, she reunited personally and professionally with Charnin, her Annie lyricist/director.

Admission is $30 plus two-drink minimum. Reserve at (212) 206-0440.

Romantic Getaways
There's no shortage of Valentine Day or romantic weekend getaways right in our midst or very close by. Nothing could be more romantic than a stroll around and through the Cloisters, any number of galleries at the Met and MOMA, a ride on the Staten Island ferry as dusk approaches, those Poconos heart-shaped bed and tubs [not to mention Champagne glass baths] or, the granddaddy of all romantic spots, Niagara Falls.
Then, only 90 miles North and a step back in time, there's magnificent Mohonk Mountain House [a Historic Hotel of America] at New Paltz, celebrating its 140th anniversary in one of the most awesome setttings imaginable. Mohonk is said to be an old Native American word for "lake in the sky." This is a very apt name; for once you discover this hidden jewel of rustic elegance nestled along a half-mile lake and the mountains, you'll go back again and again. It's still family-owned [the Smileys] and famous for its service, over-sized rooms, huge hearths and antique furniture. There's no end to the list of activities: fitness center, rock climbing, boating, tennis, golf, fishing, horseback riding, winter skiing, biking, hiking, nature walks. In season, there's swimming in the lake along a sandy beach. Amenities also include outdoor heated mineral pool, indoor pool and a spa with a solarium. In addition to meals in the cavernous dining hall, there's afternoon tea. For more information, visit www.mohonk.com.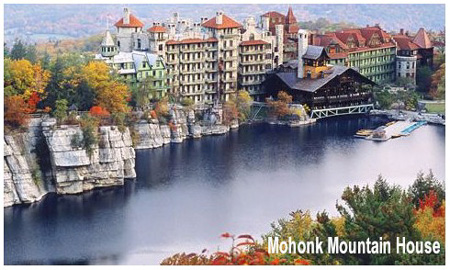 On and Off the Boardwalk in Atlantic City
The many temptations and vices of Atlantic City are also close by [two to two-and-a-half hours] via Amtrak ACES Express Service, Academy Bus and Greyhound. What happens in A.C., stays in A.C. - just make sure you tell your friends to remain tightlipped.
There's no better time than now for cupid to book a weekend getaway or spa rendezvous in Atlantic City.
Remember when they just weren't that into you and only wanted you to gamble. Not anymore! The city is repositioning itself as a world-class vacation destination, so just come. Of course, the casinos pray you'll drop a few bucks on the tables or slots.
A.C. today isn't mother's A.C. The options range from deluxe rooms with wide-screen TVs, marble shower stalls accommodating two to six [I know!], wi-fi and iPod docking stations.
Food options run the gamut from milk shakes and hamburgers to health salads and stir-fry [in a casino? You betcha!; and that's in the upscale Borgata's Cafeteria food court] and lavish buffets to star chef restaurants. Each casino has numerous high-end restaurtants. Homesick, try the A.C. outposts of some NY dining establishments, such as Old Homestead [Borgata], Patsy's [Hilton], Carmine's and the Palm [Tropicana] and Morton's [Caesars].
Want to chow down - pardon me, I mean dine with a fav chef, try Wolfgang Puck's and Bobby Flay's at Borgata.
Since A.C. is about half way between NYC and Phily, you can expect several tastes of Philadelphia's fine restaurants, such as George Perrier [Le Bec Fin] and Chris Scarduzio's smashing Mia at Caesars.
There are two outstanding restaurants at Taj: Safari Steakhouse and, for Indian, Royal Albert's Palace. At Harrah's, in addition to one of the city's best buffets, there's the super elegant Steakhouse that should be renamed Steak and Seafood House. There's every imaginable cut of meat, and also a wide array of seafood [you may leave saying you've never seen shrimp as large as theirs - they give jumbo new meaning]. And if seafood's your thing, try McCormack & Schmick's.
Tired of snobby door policies at Manhattan bottle clubs? A.C. has more high-end bottle clubs where you can dance your bootie off 'til dawn in one boardwalk block than Manhattan has in one mile. And they're friendly! Try Borgata's mur.mur and mixx, Harrah's The Pool and Resorts' Boogie Nights. For info on all the joints that are jumpin', go to www.atlanticcitynightlife.com.
Move over salt water taffy! A.C. can boast of the number of luxurating, pamering spas. We're not talking a little dip in a Jacuzzi and a pat-on-the-back massage. No sir/ma'am. We're talking the Qua Baths at Caesars, inspired by the jaw-dropping, dripping-wet Roman Baths at Caesars Las Vegas, Elizabeth Arden Red Door at Harrah's, the Borgata's Toccare [where The Pump Room, their macho workout center, has the gall to charge guests to use it] and the W.C.'s high-end, high-up Immersion.
There's no shortage of entertainers appearing, either, at Caesars superstar Circus Maximus [the Gypsy Kings, this weekend], Harrah's Concert Venue, Taj's Estes Arena, Resorts Superstar Theatre [Howie Mandell] and the list goes on. Just this weekend at Borgata's Music Box and Event Center, there's Hall & Oates, Aaron Lewis and that evil, hilarious Queen of XXX-Rated Comedy Lisa Lampanella. Speaking of the B, weeknights, guests get free admission to the Comedy Show, with a line-up of three comics. Recently, comedienne Sherry Davey had the audience rolling on the floor with laughter at her home-grown quips - and, lo and behold, there wasn't a four-letter word in her entire act. For casino shows and megastar appearances at Boardwalk Hall, visit. www.acweekly.com and click on casinos.

And then there's the blues - the House of Blues, that is, at Showboat, which will be in a festive Mardi Gras mode beginning this weekend. In addition to entertainment and a bar that gives "full service" new meaning, HOB A.C. is home to one of the chain's stunning high end restaurants, the Foundation Room, decorated in to-die-for lush Moroccan and kinky decor.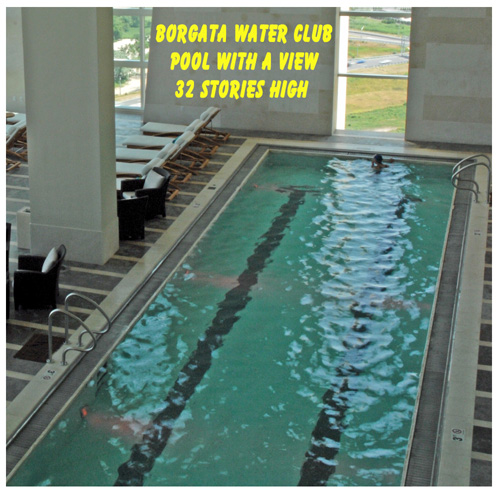 Remember when suites were reserved for high rollers? Not anymore. With the new economy, comes a change in attitude. Welcome to a wonderful world of suites, with some that defy your fantasy imagination and others reaching the height of elegance. And they don't want you to come alone. Bring friends, family. Book a reunion, a bachelorette. Showboat recently introduced HOB's kinky, large, well-appointed [and not at all like what you might expect], multi-level, surprisingly reasonably-priced suites. The rates for standard rooms have been slashed across the board in A.C. There are also some great package deals that include breakfast and a spa visit.
Pools, anyone? Can't get into the pool at the Gansevoort or belly up to the wet bar at Room Mate's Grace's pool? Not to worry, just dive in in Atlantic City! Pools are a plenty and not your mother's swimming pool either! At Borgata, you have a stunning Olympic-size pool with adjoining Jacuzzi, but over in their sister hotel [no gaming], the very chic Water Club, you can choose from five pools [three, this time of year], with one up, up, up on the 32nd floor with a view to die for. Harrah's magnificent pool under the dome is not only a swimming hole but a tropical resort in itself. By nightfall, when everyone has dried off, it transforms into Party Central.
Shopping, anyone? Almost every casino has high-end, over-priced designer boutiques. Chances are you can find what you're looking for much cheaper at The Walk, four-square-blocks of 40 + chain-store outlets, between Atlantic and Baltic Avenues. If they make it, it's here - along with a variety of restaurants, including a Ruth's Chris Steakhouse.
One side trip from The Walk has to be a visit to the very simple White House, within walking distance, which is world-famous for their subs and the waitresses' attitude.
Along the boardwalk, in addition to taffy and corn dogs, you can actually find fun stuff, collectibles and objects d'arte.
Across from Caesars are The Pier Shops, 78 high-end and specialty stores and seven feature restaurants - including Buddakan, with it's giant golden Budda, The Continental and Phillips Seafood. From the third floor food court, with many reasonably-priced options, there are spectacular ocean views. Highlights of the pier are a free dancing waters/light/sound show and, on Three, a [free!] sand "seashore" with replicas of those great, large seaside chairs where you can sit and watch the waves roll in and the sunset.
If you forgot to bring the chocolates, not to worry. There's terrific fudge all along the boardwalk and, if you want to really impress, visit Harrah's incredibly edible Jacques Torres chocolate factory Tempations.
NYC is famed for the neon glitter of Times Square, and now A.C. has something that would make even IMAX a bit envious: the world's LED light display The Experience that plays nightly on the entire 44 floors of Harrah's new Waterfront Tower, the tallest building in the city [over 525 feet high] and the second tallest in the state. There's 33,000 linear feet of LED lighting - roughly six and a quarter miles - and over a million and a half color combinations. It's visible for a 10-mile radius.
Ellis Nassour is an international media journalist, and author of Honky Tonk Angel: The Intimate Story of Patsy Cline, which he has adapted into a musical for the stage. Visit www.patsyclinehta.com.

He can be reached at [email protected]





Why are you looking all the way down here?
For more articles by Ellis Nassour, click the links below!

Previous: Leslie Uggams, Celebrating 50 Years in Show Business, Portrays Lena Horne and Looks Younger than Springtime

Next: A Must-See Cripple; Kathleen Turner, Trouper; Henry V; Broadway by the Year; Irena's Vow; Avow Returns; Willa Cather Musical; Star-Studded Benefits; More

Or go to the Archives