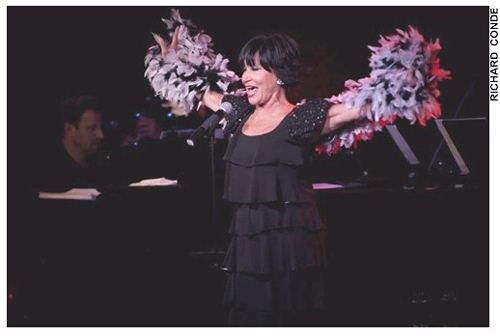 "Nowadays," says Chita Rivera after the upbeat overture and her rousing signature opener "I Won't Dance" in her Birdland concert, "when I look around, I'm beginning to wonder with the revival of Bye, Bye, Birdie, seeing giant posters of Velma from Chicago with her legs spread, and these buses going by with West Side Story on them, if I'm not supposed to be somewhere at 8 P.M.!"
Three of the famous musicals she starred in are back on Broadway. And Chita is somewhere: Birdland, celebrating the launch of her new solo CD, the first in years, And Now I Swing. But instead of 8, the time Broadway shows begin, the spotlight hits her promptly at 8:30.
Broadway's national treasure, Presidential Medal of Freedom recipient, Kennedy Center honoree, Theater Hall of Famer, two-time Tony and Drama Desk-winner [not to mention multiple T and DD nominations], has packed Birdland audiences on their feet before she even sings the first tune in her upbeat concert, accompanied by five musicians and music director [and CD producer] Michael Croiter. The show has a decidedly jazz and latin beat.
Of course, Chita does dance. There's no stopping her. "I can't help it," she says, "I live my life to musical rhythms. It keeps my soul lubricated." For 90% of the show, she's in constant motion moving back and forth across the stage. "I'm here and I'm alive!" she exclaims to wild applause.
Chita has four more performances: tonight and tomorrow at 8:30 and 11. The 85-minute show is filled with numbers from her most celebrated musicals - including WSS, Birdie, Sweet Charity, Kiss of the Spider Woman, The Rink, and Chicago .
The Birdland show - as well as Chita's CD - reflect her theater roots along with her love for jazz and standards. Things get really upbeat when the band plays tunes with the late Fred Ebb's signature entrance vamps. "No once could write vamps like Fred," says Chita. "You'd be waiting for your entrance and hear that music and it would get you all pumped up."

There's an extended Birdie medley. Songs also include "Where Am I Going?" from Sweet Charity, "Camille, Collette, Fifi" from Seventh Heaven, her showstopping Jacques Brel's "Carousel," "I Don't Remember You," and "More Than You Know."
Standouts among the newer material are the torch tune "Love and Love Alone" from Kander and Ebb's The Visit, and Lynn Ahrens and Stephen Flaherty's "A Woman the World Has Never Seen" written for Chita's The Dancer's Life, which becomes a catalog of ruminations on her various shows.
There are delightful tales out of school about various co-stars, such as Dick Van Dyke and Ricardo Montalban; loves gone right and wrong; a particularly personal moment when Chita becomes ultra introspective and talks about the one who got away in such a way that you can almost feel the heat that was at the center of their "brief" romance; and a fascinating story of the psychic path Chita took to starring in Spider Woman.
Among the many poignant moments is the prelude to Carol Hall's "Circle of Friends," in which she pays tribute to friends past and present, here and gone, who've made her life what it is. As Chita has done in the past, she pays great tribute to Kander and Ebb for their faith in her; and also to the intimitable Gwen Verdon, her Chicago co-star.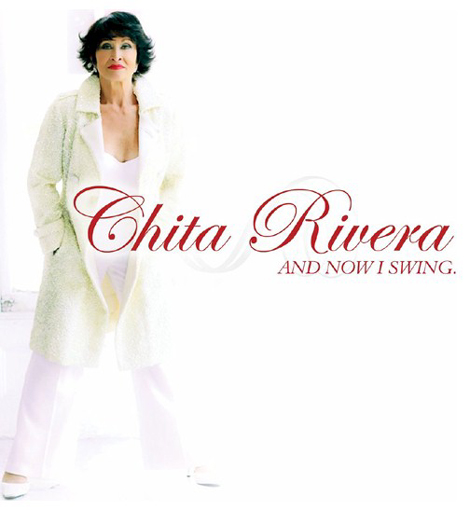 In the show, the body's certainly willing; and Chita, 76, never looked more ravishing. This is one entertainer who knows how to seduce an audience. She gives it all she can vocally, but occasionally there's a bit more vibrato. However, there's never a lack of verve. Her voice is at its memorable best when performing songs in character, as she does with "Chief Cook and Bottle Washer" from The Rink and her marvelous renditions of "All That Jazz," "Class" and "Nowadays" from Chicago.
The concert is in many ways a retrospective of how Chita Rivera, the Latino gypsy, rose from chorus ranks to stardom. And now with the CD, she feels her career "is a culmination of a wonderful adventure. It's been a challenge, yes;, but an extraordinarily rewarding one. I'm a lucky gal, working with Jerome Robbins, Leonard Bernstein, Stephen Sondheim, Gower Champion, Bob Fosse, Hal Prince, Arthur Laurents, Jerry Herman, and Frank Galati. I've been so handsomely rewarded."
Is there anything the sensational Rivera hasn't done? Nope. Through her colorful career as a triple-threat [dancer/singer/actress] she's had star billing on Broadway, London, Toronto and Vegas. Not bad for the daughter of Puerto Rican Pedro Julio Figueroa, who played saxophone and clarinet in the Washington-based U.S. Navy Band. He died when Chita was only seven and her mother Katherine Anderson del Rivero not long after auditioning at age 11 in Washington was forced to go to work as a secretary [at the Pentagon].
Rivera says she was a "rambunctious tomboy" and to tone her down, her mother enrolled her in ballet school at age 11. When an instructor from New York's American School of Ballet - run by the esteemed George Ballachine - visited, she was chosen to attend on a scholarship.
"Some early advice from one of my Washington dance instructors was 'Be who you are!'" says Rivera. From that day forward, she has been.
At ABT, her teachers included Maria Tallchief and Edward Villella. It was the dance world's loss and show biz's gain when the 17-year-old Rivera accompanied a friend to the auditions for the tour of Call Me Madam and she ended up landing the part.
In the mid-50s, she made her Broadway debut in Cole Porter's Can-Can, followed quickly by the Victor Young/Stella Unger musical adaptation of Seventh Heaven. She began her rise out of the chorus in 1957 with Mr. Wonderful, starring Sammy Davis Jr., with whom she was greatly enamored; and as Eartha Kitt's understudy in Shinbone Alley.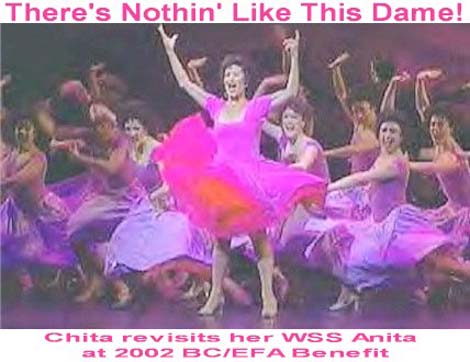 Jerome Robbins cast her as Anita in WSS [1957] opposite Larry Kert and Carol Lawrence. Her electric performance to his groundbreaking choreography started her on the road to stardom. It also led to a serious romance with Mordente, a Jet gang member. They were married during the run. Rivera's critical acclaim equaled that of Kert and Lawrence, so much so that producer Hal Prince delayed the WSS West End opening until Rivera gave birth to her daughter and was back in shape.
Her first Broadway starring role was as Rosie in Bye Bye Birdie [1960], opposite Dick Van Dyke. It's never really spoken of but Gower Champion's casting her in the female lead was groundbreaking. Nothing was made at the time of Rivera being the first Latino Broadway star.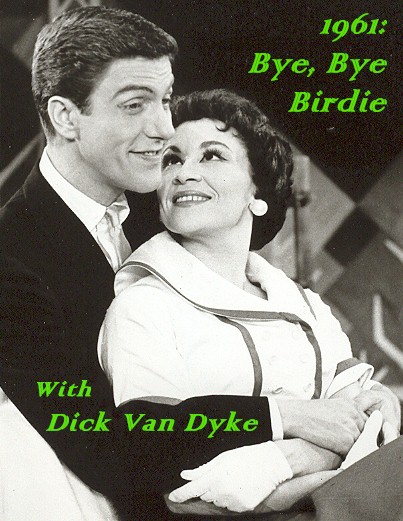 After BBB, it was three years before she was back on Broadway, when choreographer Peter Gennaro hand-picked her to appear opposite Herschel Bernardi and Nancy Dussault in Bajour [1964], where as Anyanka she was featured doing some spectacular dancing alongside "this brilliant kid Michael Bennett," who was just beginning to branch out into choreography.
In 1968, she headed West. By that time Chita was a tried and true New Yorker, and, she says, "Let's face it, L.A. is not New York. It doesn't have New York's pace or energy and I was very much homesick." While out there, however, Rivera did some fancy footwork as Nickie opposite Shirley MacLaine [and McMartin] in the film version of Cy Coleman and Dorothy Field's Sweet Charity [1969], which she had previously toured in as Charity for a year.
From 1973 to 1974, she appeared with Van Dyke and Hope Lange on The New Dick Van Dyke Show. "I was Dick's neighbor. It was a great opportunity, but I didn't have a lot to do. On one show I was to come in loaded with groceries and find Dick all doped up after being at the dentist. I was to try to rouse him.
"My lines," she continues, "were, 'Dick. Dick? Dick!' I knew I had to make the most of it, so I really rehearsed ways to have the most impact. 'Dick!! Dick?? DICK!' We did it and I immediately felt it was time to throw in the towel. Done in by three Dicks, I headed back to New York."
In 1975, as jealous jail-house rival Velma Kelly, Rivera and Gwen Verdon, as the infamous Roxie Hart, created the razzle-dazzle for Bob Fosse and Kander & Ebb's Chicago; and Rivera has a cameo in the Oscar-winning film adaptation.
She stumbled through a very short-lived 1981 Birdie sequel. "The wonderful Donald O'Connor and I tried valiantly to bring him back, but hard as we tried, we couldn't do it!"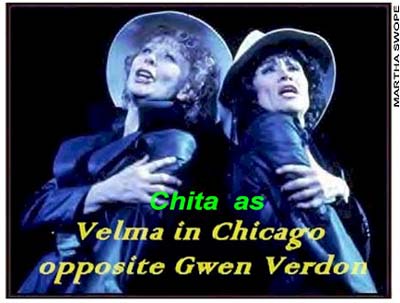 Chita was back on Broadway as the Queen in Elmer Bernstein/Don Black's 1983
Merlin, which co-starred Nathan Lane and, lackluster though it was, managed a six-month run mainly due to Doug Henning's magic.
In 1984, she received major recognition playing Liza Minelli's free-spirited mom, Anna, in Kander & Ebb's The Rink, which through its trials and tribulations managed six months on Broadway. A year and a half later, she was co-headlining with Dorothy Loudon and Leslie Uggams in the Jerry Herman revue Jerry's Girls.
In her 50-year career, Rivera's never been a dreamer. "There's nothing easy about show business," she says. "In fact, it's so seldom that the good guy wins." She, of course, is one of the exceptions.
She's quick to note that she is, "first of all, a dancer who's grown into many other things with the great help of the geniuses I've worked with. God's been wonderful. He said, 'Okay, I'll let you go there.' And everyday, I'm still learning."
Dancers, explains Rivera, are an obedient lot. "We do what we're told - generally without opening our mouths. Most directors love that! But, working with these guys, I've always been able - no! been encouraged, to say what I feel."
She also points to her outstanding line-up of "leading men": Van Dyke, Brent Carver and Anthony Crivello [Spider Woman], O'Connor [Bring Back Birdie], John McMartin and George Hearn [in The Visit], Antonio Banderas "and to work with such giants as Larry Kert [West Side Story] and Jerry Orbach [Chicago]."
Her life in theater, says Rivera, "has been a wonderful and rewarding adventure. With each job, I feel as if I'm being pushed into a new area with these great playwrights and creative teams who trust me and want to direct me and take me further and further down this path of theatrical adventure."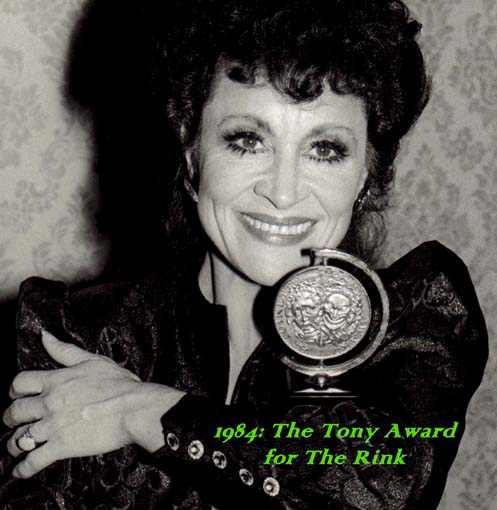 As obedient as she may be, Rivera also has a sharp thought process. For instance, she explains, "I really wasn't anxious to do Nine. Doing a revival was not at the top of my To Do list. I don't find them challenging. I was working in L.A. and I started hearing tidbits about what it was going to be, who was going to be in it and who'd direct. When my agent called back, I wasn't so negative. I had heard a lot about director David Leveaux. When I heard Antonio was doing it, I thought, 'What an interesting project.'"
But, she laughs, she didn't arrive "all starry-eyed, looking at Antonio as this Hollywood sex symbol." It didn't take long for him to win her over, however. "Soon, I was thinking, 'He's born for the stage.' He was sweet, approachable, charming, savvy and respected everyone. He didn't walk around with star attitude. He sincerely wanted to be accepted as a stage actor on Broadway. And, to prove that, he worked harder than anyone. It was fabulous to see someone respect that space - to really love theater."
To what does Rivera owe her longevity? Certainly good genes and discipline. She laughs, "I tell my body, 'We did it yesterday, and we can do it today.'' Most of all it's her absolute refusal to think negatively in the face of crisis. Especially her worst crisis.
In a 1986 automobile accident, Rivera's left leg was crushed. That she is able to walk much less dance after her horrendous injuries in an automobile accident, is a miracle. "The prognosis wasn't good," she relates, "but I was determined I'd dance again. When I saw the x-rays, I realized that would be the hardest job of my career." She was thankful for her years as a dancer when discipline, discipline, discipline was instilled in her psyche. "Pity wasn't a word in my vocabulary. I've never been one who does anything half-way."
Amazingly, she was released three weeks later, albeit with 18 screws in her leg. "From day one," Rivera notes, "I obeyed, did exactly what I was told. It was fascinating because I could feel my leg mending." Eleven months later, she had the type of mobility which made her realize she would still have a career. "I wasn't happy with my dancing, but I was on my feet!"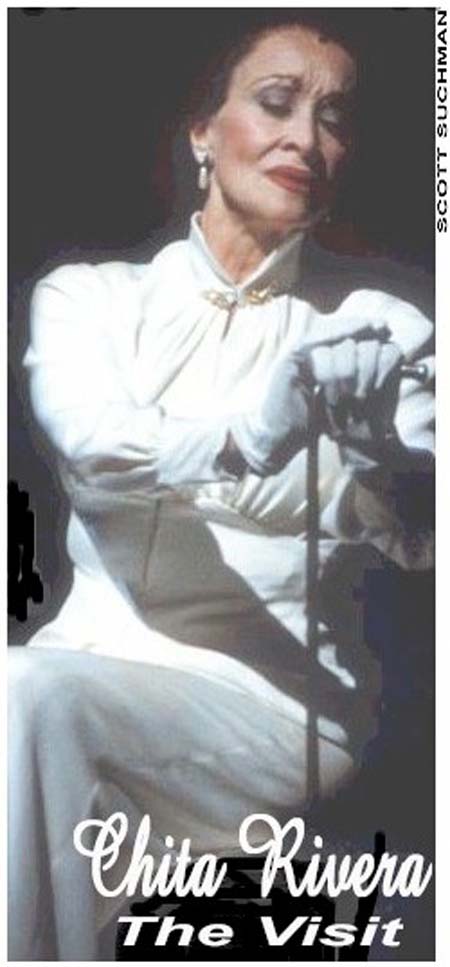 Many predicted the accident would end her career as a dancer, but determined trouper that she is, Chita did a couple of "shakedown" engagements before coming full-circle, career-wise, and signing on for the 1988 international tour of Can Can, with the high-kicking Rockettes. "How crazy is that?" she screams. "Of all the shows! But I didn't miss a kick!"
She went on to stun L.A. in Lorca's House of Bernarda Alba at the Mark Taper Forum; then, on to Toronto and Broadway with her awesome footwork in K&E's Kiss of the Spider Woman [1993] and the Nine revival.
Chita says she is happy the accident didn't happen when she was younger, as she may not have been as strong.
As a dancer, she says, "I've always maintained that there is a dance in every movement we make. When you walk onstage, when you move about the scenery, you can make it all appear as dancing. It can all flow. And, when it's not so obvious, that's when you have the real magic."
She went on to do The Visit, which has been presented at Chicago's Goodman and Arlington, VA's Signature. "I pray to God we're able to bring it to Broadway soon," she says. Regarding the musical, which sometimes borders on Theatre du Grand-Guignol, Chita admits it isn't your typical musical comedy fare with big, bouncy production numbers. "It's complex and dark. I was worried audiences might not get that it was a love story. It's about justice, love, bitter heartbreak. There are many parallels to Spider Woman."
The musical is based on the Tony-nominated 1958 play of the same name by Friedrich Durrenmatt [adapted by Maurice Valency] which was directed by Peter Brook about the return to her poor hometown of an enormously wealthy woman on a mission of revenge.
Fears of darkness disappeared when she saw how audiences responded. "I don't know why I was worried. It's quite compelling and there's a wonderful intimacy. I'd been there, done that with John and Fred and came out quite well - Chicago, The Rink, Spider Woman. They were always like family, my brothers. Whatever they'd ask, I wouldn't blink. I'm happiest being in something that has the audience leaving needing a drink, needing to talk about the show And The Visit is definitely one of those shows."
One of the things Chita is most graceful for is being chosen to create so many choice roles in K&E. "They will be remembered as two of the greatest writers we've had in musical theater," she says. "Without them, I wouldn't be here. It's as simple as that."
Not a day goes by, she states, "that I don't pinch myself and say thank you. There's a lot of hard work involved in maintaining a career, but I don't understand it if it isn't hard work. Every once in a while, I think, 'You could be doing something much easier!' But would I be happy? No! My philosophy is: If it works, let's do it.
"People say," she continues, "'Aren't you sorry you didn't do the movie of this, or the movie of that?' No! Because this is the path that's been chosen for me, and I'm going to stay on it as long as I can and as long I should."
The new album And Now I Swing [Yellow Sound Records; 11 tracks, 13 songs; SRP $14] is a variation on Chita's long-ago solo CD, And Now I Sing, now an expensive collectible. The only thing lacking, and you would have thought Chita would have been very much on top of this, is that after waiting this long for another solo CD, are a few more tracks. It's not like our gal can't find material.
At Tuesday's CD launch and concert preview for invited guests, among those in attendance were Lucie Arnaz, Stephanie J. Block, Alan Cumming, Michael Douglas and Catherine Zeta Jones, George Dvorsky, Harvey Fierstein, David Hyde-Pierce, John Kander, Terrence McNally, Lin-Manuel Miranda, Bebe Neuwirth, and Tommy Tune.
Chita begins a concert tour, Chita Rivera: My Broadway, in January in Florida, with a stop at Lincoln Center on March 6. For additional dates and more information, visit www.chitarivera.com.
Monday will be a very busy day for Chita. She'll perform and sign copies of the And Now I Swing in the Live at Lincoln series at Barnes & Noble, Lincoln Triangle [Broadway at 66th Street] at 7:30 P.M. Arrive early. Seating is limited. Afterward, she'll join Dancers Over 40's tribute to legendary dancer/choreographer Peter Gennaro at St. Luke's Theater [308 West 46th Street], where she'll reunion with WSS star Carol Lawrence and Harvey Evans, an alumnus of the show, for an interview.
Birdland tickets are $40, and $50 for central premium seating, plus $10 food/drink minimum. The club's width and tiered seating make for hardly a bad seat. Dinner, from the club's extensive menu and first-class kitchen, is served from 5:30. To purchase, call [212] 581-3080 or go online at www.birdlandjazz.com.
Chita Rivera Home Page Photo by RICHARD CONDE
Ellis Nassour is an international media journalist, and author of Honky Tonk Angel: The Intimate Story of Patsy Cline, which he has adapted into a musical for the stage. Visit www.patsyclinehta.com.

He can be reached at [email protected]





Why are you looking all the way down here?
For more articles by Ellis Nassour, click the links below!

Previous: Chita Onstage and On CD; Broadway Cabaret Festival: Linda Eder, David Merrick; Showstoppers; Peter Gennaro Tribute; More

Next: Memphis and Birdie Choreography Soars; Star-Studded Galas; Bold, Daring Precious; ACL Documentary; Coming Soon; Last Chance; Boo!

Or go to the Archives