The excitement's building. Rentals of black tie have been exhausted. Harry Winston and Tiffany's are raiding their vaults for more diamond loanouts. Designers have fitted their gowns. The champagne's iced. Nerves are at the breaking point. Broadway's main event is just hours away. It's all in anticipation of the CBS telecast of the 64th Annual Tony Awards from Radio City Music Hall tonight from 8 P.M.-11 P.M.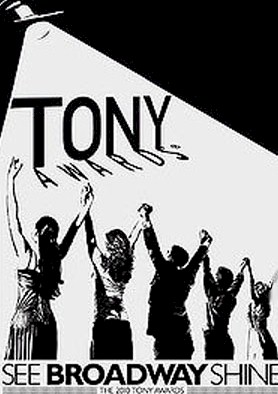 Hosted by Tony nom Sean Hayes, there'll be enough A+-List smiles to boost Con Ed's output for the long, hot summer. What a night, even though it may be near impossible to top last year's ab fab opening. This production number will salute every new musical on Bway. Even though we've had a behanding in Spokane on the main stem this season, let's pray there won't be another near catastrophe of a beheading on Bway.
There will be performances by Hayes, showcasing his piano virtuosity [and also, it's rumored, having a big liplock moment with a Bway dynamo wearing something resembling a towel covered with Swarovski crystals], Green Day, the band behind such mega blockbuster rock albums as American Idiot; Glee's Lea Michele and Matthew Morrison and by the casts of Tony-nom'd musicals American Idiot, Fela!, Memphis and Million Dollar Quartet ; and Tony-nom'd Musical Revivals La Cage aux Folles, A Little Night Music, and Ragtime. There'll also be performances by cast members from Come Fly Away, Everyday Rapture, Promises, Promises and Ragtime.
Presenters include: Paula Abdul, Antonio Banderas, Justin Bartha, Patrick Breen, Laura Bell Bundy, Laura Benanti, Cate Blanchett, Michael Cerveris, Kristen Chenoweth, Barbara Cook, Viola Davis, Michael Douglas, Kelsey Grammer, Brian d'Arcy James, Rosemary Harris, Katie Holmes, Scarlett Johansson, Angela Lansbury, Anthony LaPaglia, Laura Linney, Lucy Liu, Ricky Martin, Jan Maxwell, Idina Menzel, Helen Mirren, Alfred Molina, Matthew Morrison, Chris Noth, Bernadette Peters, David Hyde Pierce, Daniel Radcliffe, Eddie Redmayne, NY Jet Mark Sanchez [yes, the quarterback], Tony Shalhoub, Liev Schreiber, Will and Jada Pinkett Smith, Stanley Tucci, Denzel Washington, Racquel Welch, and, among others, a live cameo by Bon Jovi from London.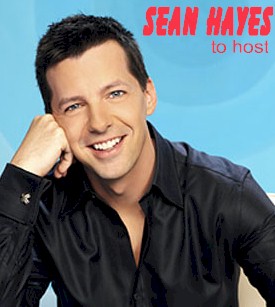 During the first hour, creative and special awards are presented: The Eugene O'Neill Theater Center [Waterford, CT] receives the Regional Theatre Tony; David Hyde Pierce, the Isabelle Stevenson Award [named in memory of the late American Theatre Wing prez,; the Alliance of Resident Theatres/New York; vet fight director B.H. Barry; and BC/EFA's Tom Viola. Tonys for Lifetime Achievement go to playwright/director Sir Alan Ayckbourn and Tony/Drama Desk- winning actress Marian Seldes.
Scenic Design, Play and Musical; Costume Design, Play and Musical; Lighting Design, Play and Musical; and Orchestration awards will be presented pre-broadcast and later recapped.
The entire Awards will be simulcast live on Times Square's jumbo ClearChannel Spectacolor HD Screen from 7 P.M. There'll even be behind-the-scenes Tweetering, at Twitter.com/TheTonyAwards. TonyAwards.com will present a live webcast. TheatreMania.com editor-in-chief Brian Scott Lipton will blog from the press room, adding his unique and fun perspectives. Broadway Stars will also provide full coverage.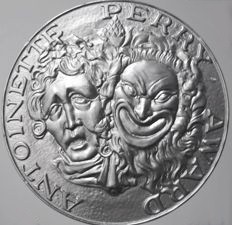 Angela Lansbury racked up her seventh Tony nom [she's won five] for her sassy portrayal of Madame Armfeldt in A Little Night Musict. The recordholder is Julie Harris, with 10 noms.
There's a first this season. Due to the dearth of original musicals, in the Score category plays not considered "musicals" but which have songs and musical scores have been nominated.
The Tonys are co-presented by the American Theatre Wing and the Broadway League. Tony partners include Visa, Continental Airlines and Sprint. On the Tony web site, there's everything but the kitchen sink. It's become too cluttered and difficult to manuver, but there're video interactive features such as nominee memoirs, mobile alerts, access acceptance speeches, winners' thoughts on winning a Tony, an archive of nominees and winners from 1947, Tony trivia and a detailed profile of Awards namesake.

Have You Voted? Nomination Highlights
A complete list appears at TonyAwards.com, where you can DL a printable ballot.
Play
In the Next Room or the Vibrator Play, Sarah Ruhl
Next Fall, Geoffrey Nauffts
Red, John Logan
Time Stands Still, Donald Margulies
Musical
American Idiot
Fela!
Memphis
Million Dollar Quartet
Book, Musical
Everyday Rapture, Dick Scanlan, Sherie Rene Scott
Fela!, Jim Lewis, Bill T. Jones
Memphis, Joe DiPietro
Million Dollar Quartet, Colin Escott, Floyd Mutrux
Original Score [Music and/or Lyrics] Written for the Theater
The Addams Family, Andrew Lippa
Enron, M: Adam Cork, L: Lucy Prebble
Fences, Branford Marsalis
Memphis, M: David Bryan; L: Joe DiPietro, David Bryan
Revival, Play
Fences
Lend Me a Tenor
The Royal Family
A View from the Bridge

Revival, Musical
Finian's Rainbow
La Cage aux Folles
A Little Night Music
Ragtime

Actor, Play
Jude Law, Hamlet
Alfred Molina, Red
Liev Schreiber, A View from the Bridge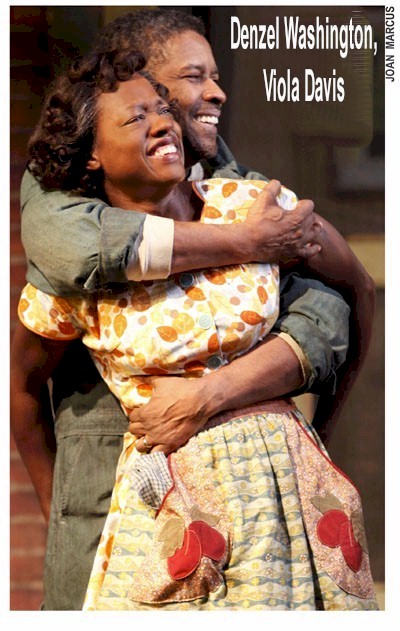 Christopher Walken, A Behanding in Spokane
Denzel Washington, Fences

Actress, Play
Viola Davis, Fences
Valerie Harper, Looped
Linda Lavin, Collected Stories
Laura Linney, Time Stands Still
Jan Maxwell, The Royal Family
Actor, Musical
Kelsey Grammer, La Cage aux Folles
Sean Hayes, Promises, Promises
Douglas Hodge, La Cage aux Folles
Chad Kimball, Memphis
Sahr Ngaujah,Fela!
Actress, Musical
Kate Baldwin, Finian's Rainbow
Montego Glover, Memphis
Christiane Noll, Ragtime
Sherie Rene Scott, Everyday Rapture
Catherine Zeta-Jones, A Little Night Music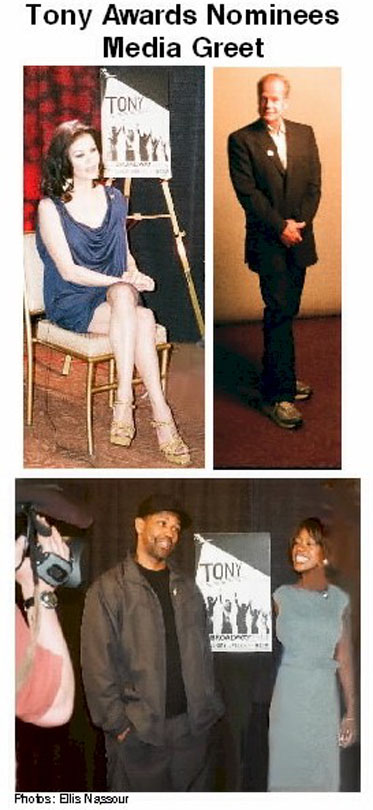 Featured Actor, Play
David Alan Grier, Race
Stephen McKinley Henderson, Fences
Jon Michael Hill, Superior Donuts
Stephen Kunken, Enron
Eddie Redmayne, Red
Featured Actress, Play
Maria Dizzia, In the Next Room or the Vibrator Play
Rosemary Harris, The Royal Family
Jessica Hecht, A View from the Bridge
Scarlett Johansson, A View from the Bridge
Jan Maxwell, Lend Me a Tenor
Featured Actor, Musical
Kevin Chamberlin, The Addams Family
Robin De Jesús, La Cage aux Folles
Christopher Fitzgerald, Finian's Rainbow
Levi Kreis, Million Dollar Quartet
Bobby Steggert, Ragtime
Featured Actress, Musical
Barbara Cook, Sondheim on Sondheim
Katie Finneran, Promises, Promises
Angela Lansbury, A Little Night Music
Karine Plantadit, Come Fly Away
Lillias White, Fela!
Director, Play
Michael Grandage, Red
Sheryl Kaller, Next Fall
Kenny Leon, Fences
Gregory Mosher, A View from the Bridge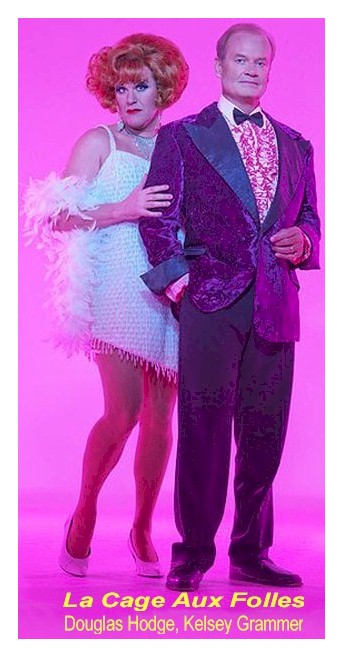 Director, Musical
Christopher Ashley, Memphis
Marcia Milgrom Dodge, Ragtime
Terry Johnson, La Cage aux Folles
Bill T. Jones, Fela!
Best Original Score (Music and/or Lyrics) Written for the Theatre
Score
The Addams Family, Music, Lyrics: Andrew Lippa
Enron, Music: Adam Cork, Lyrics: Lucy Prebble
Fences, Music: Branford Marsalis
Memphis, Music: David Bryan, Lyrics: Joe DiPietro, David Bryan
Choreography
Rob Ashford, Promises, Promises
Bill T. Jones, Fela!
Lynne Page, La Cage aux Folles
Twyla Tharp, Come Fly Away

About the Tony Awards
The Antoinette Perry or Tony Awards are bestowed annually on theater professionals for distinguished achievement. The Tony is one of the most coveted awards in the entertainment industry. The Awards are presented by the Broadway League and the American Theatre Wing. Ricky Kirshner and Glenn Weiss of White Cherry Entertainment are exec producers. Weiss also directs.
Sidebars
Chad Kimball
Memphis, a fictionalized account of the roots of rock 'n roll as it emerged from unknown black boppers in "underground" clubs of the 50s along Memphis' Beale Street is anchored by Chad Kimball's DJ Huey Calhoun, the role that dominates the musical. Calhoun ignores racial boundaries of the era in his determination to take "race music" to the mainstream. His is a star-making turn after appearing in the short-lived Lennon, Good Vibrations, and the Into the Woods revival. Memphis, six years in germination, with a blues score by Bon Jovi founding member David Bryan and book by Joe DiPietro has found an ever-growing audience.
"To create a character from scratch and have the opportunity to develop that character over a period," says Kimball, "is every actor's dream come true. I fell madly in love with the music and story. It's work that doesn't feel like work. I've been able to bring to Huey something from my life, my experiences. All those tough, sad times, those times of desperation served the role. It makes me believe it was meant to be."
Kimball's co-star is stunning, golden-voiced belter Montego Glover as the singer Calhoun pushes into the big time. "What can I say? Montego is an absolute delight to work with. She's passionate, inquisitive, confident, easy on the eye, and can blow the roof off any building with that power house voice. I'm a lucky man to be allowed to share the stage with her."
Says Glover, "Working with Chad is thrilling because we've created our roles together over six years. It's amazing how we've developed a shorthand between us. Most amazing is Chad's fearlessness, intelligence, and commitment. I find it engaging and empowering."
He said it wasn't such an easy task to create Huey. "He's a guy who's belligerent, annoying, and selfish - at times! - and stil he has to tug at your heart, make you smile, make you cry. I'd describe him as a likable tragic hero, a sort of everyman. He isn't the suave, debonair leading man Broadway's used to. He is a guy's guy who tries, fails, picks himself up, and repeats. He's someone we all can relate to because we live that cycle everyday."
Stephen Kunken
It's hard to steal anything, much less a show, from Norbert Leo Butz and Marin Mazie, but Stephen Kunken in Enron as Andy Fastow, the mastermind of the fraud, did. Even the raptors couldn't swallow him up. And he got a Tony nom.
"This is my first," he says. "It's still sinking in. My first instinctual reaction was to burst into a silent scream of jubilation - but we have a nine-month- old that we didn't want to wake! Honestly, I was floored. Growing up on Long Island, Broadway was my family's destination many times a year. We'd pile into the car and head over to TKTS to try to get the hot shows. I grew up on some classic Broadway and it was the "home" I always hoped I'd get a chance to walk around in. A Tony nomination is a little like being invited into the house and then being told there's a dinner being held in your honor. It's something I'll never forget and will continually strive to live up to in my work.
Re: Enron's early closing: "We were disappointed that we didn't get to share the play with more people. The company had gotten incredibly tight and we were incredibly proud of what we had created. Theater is a game of speculation and we understood that the play needed to find its audience quickly in a rough economic climate. Of course, every show eventually closes, so for us it wasn't how long we burned, but how bright the flame.
Jude Law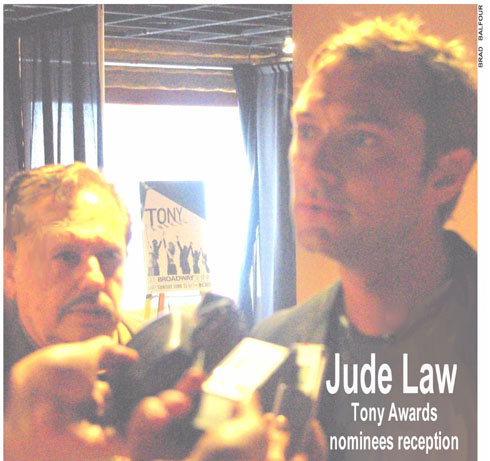 "It's rather simple," says Jude Law, who captivated theatergoers this season with his Hamlet. "The difference between film and theater is the audience. Theater is a live event. My parents were teachers but were very involved in amateur dramatics, When I was 10, Mom stopped teaching and founded a theater company. So from childhood on, theater has been very much a part of me."
In the annals of theater, he pointed out, there's no prouder roster than those actors who have been celebrated for their portrayals, including Lewis Hallam, Edwin Booth ["Who rather owned the role for about four decades," notes Law], Sarah Bernhardt, E.H. Sothern, Johnston Forbes-Robertson, Robert Mantell*, John Barrymore, Walter Hampden, Raymond Massey, John Gielgud, Maurice Evans, Laurence Olivier, Diane Venora, Richard Burton, and Ralph Fiennes.
"I am incredibly honored to have bean allowed be included among their ranks," says Law.
[* Sothern, Forbes-Robertson, and Mantell, trying to capture the Booth mantel, often presented "dueling" Hamlets at the same time in various NY venues.]

Who Was This Tony, the Namesake of the Tony Awards?
Toni, later Tony, was the nickname of Denver actress Antoinette Perry, who, after several years playing Bway ingenues turned to producing and directing in an era when women in theater were relegated to acting, costume design, or choreography. When she decided to move from acting and become a producer and director, she became a trailblazer for women.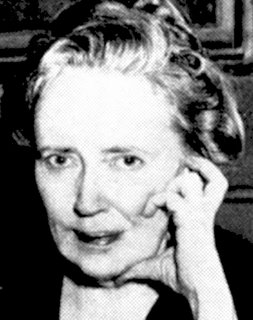 Well into the 70s, Miss Perry was the only woman director with a track record of hits. Today, she's all but forgotten. In her prime, she showed innovative theatrical instincts and scored an enviable roster of hits - producing and often directing 17 plays in 13 years. In one month in 1937, according to her daughter Margaret, Miss Perry directed and produced three productions.
Among her impressive hits were Strictly Dishonorable [1929, Personal Appearance [1934] Claire Boothe's Kiss the Boys Goodbye [1938], and Harvey [1944]. Miss Perry, a co-founder of what is today known as the American Theatre Wing, made a huge impact in an era of male powerbrokers. She was successful and envied, but never criticized on the basis of being a woman.

In Memoriam, Season 2009-2010



From the Discussions Archive: The Understudy Gets the Nomination
Larry Kert wasn't nominated for a 1958 Tony for his Tony in West Side Story. However, he holds the distinction of being the only cast replacement to be Tony-nominated - in 1971 for Best Actor, Musical for his Bobby in the original Company. He won that honor over opening night star Dean Jones, who two weeks into the run and after recording the cast album, pulled out.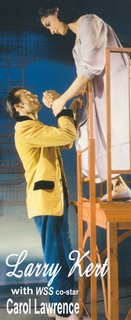 The Tony Administration Committee ruled not enough nominators caught Jones, whose reviews as Bobby could have established him as a major Bway player after such Disney fare as That Darn Cat! and The Love Bug.
"It was a crowning glory moment," said Kert. "We never understood Carol [Lawrence] being nominated in the Featured category. Chita and I were totally overlooked.So, being nominated for Company was sweet, indeed."
WSS was nominated for six Tonys, including Best Musical [losing to Music Man]. It won for Choreography and Set Design. In a seemingly purposeful snub, only Meredith Wilson was nominated in the score category. He won! Kert died June 5, 1991, three days after the Tony Awards. Amazingly, Kert has never been named to the Theater Hall of Fame.
[* In another mindboggler, Barbara Cook, The Music Man's co-star, was nominated in the Featured category.]

Tony Awards Trivia[Answers appear below]:
1. What composer was rehearsal pianist for the original production of Gypsy?
A. Cy Coleman
B. Jerry Herman
C. John Kander
D. Frederick Loewe
E. Charles Strouse
2. Which of these one-word musical titles took Best Musical Tony Awards?
A. Carnival!
B. Fiorello!
C. Gypsy
D. Hair
E. Mame
F. Redhead
3. Which actress duo tied for the Best Actress, Musical, Tony in 1968?
A. Barbara Harris, The Apple Tree; and Mary Martin, I Do! I Do!
B. Julie Harris, Skyscraper; and Angela Lansbury, Mame
C. Angela Lansbury, Dear World; and Dorothy Loudon, Fig Leaves Are Falling
D. Mary Martin, Sound of Music; and Ethel Merman, Gypsy
E. Patricia Routledge, Darling of the Day; and Leslie Uggams, Hallelujah, Baby!
4. He won a Tony for his performance in Jerome Robbins' Broadway but never won an Emmy for his most famous TV character.
A. Jason Alexander (George Costanza, Seinfeld)
B. Simon Cowell (Mean judge, American Idol)
C. John Goodman (Dan Conner, Roseanne)
D. Andy Griffith (Andy Taylor, Andy Griffith Show)
5. Three sets of family members have been Tony-nominated in the same category in the same year. Which duo isn't correct?
A. Tammy Grimes and daughter Amanda Plummer, 1982
B. Rosemary Harris and daughter Jennifer Ehle, 2000
C. Lynn Redgrave and niece Natasha Richardson, 1993
D. Debbie Reynolds and daughter Carrie Fisher, 1973
E. Richard Rodgers and daughter Mary Rodgers, 1960
6. In 2003, Vanessa Redgrave in Long Day's Journey Into Night became one of a handful to win a Tony, Emmy, and Oscar. Who else can boast that?
A. Paula Abdul
B. Patty Duke
C. Rita Moreno
D. Rosie O'Donnell
E. Joanne Woodward
7. Which one-word play did not take a Best Play Tony Award?
A. Art
B. Closer
C.Copenhagen
D. Da
E. Equus
F. Seascape
8. Who is the only Tony to have hosted the Tony Awards?
A. Tony Bennett
B. Tony Curtis
C. Tony Martin
D. Tony Danza
E. Tony Randall
Bonus Trivia from wwww.TonyAwards.com:
Cast members from the original production of which 2010 Best Revival nominee performed at the first Tony Awards ceremony in 1947?
A. Finian's Rainbow
B. A Little Night Music
C. The Royal Family
D. Ragtime
E. A View from the Bridge

Broadway Lost Treasures
Anyone interested in the archives of great performances from the Tony Awards, including the early shows produced by Broadway impresario Alexander Cohen [through 1986] will enjoy telecast excerpts presented on Broadway's Lost Treasures, Volumes 1-3 [Acorn Productions; SRP, $60]. Volume 3 is a motherlode of rare Broadway moments: 23 production numbers, including a full company number from the 42nd Street revival; Gwen Verdon in "Whatever Lola Wants" from Damn Yankees; an eight minute tribute to Ethel Merman; Julie Andrews medley; and numbers from Funny Thing..., Into the Woods, Kiss Me, Kate, Ragtimeand WSS. A bonus DVD has rare excerpts from 18 nominated Best Plays.
______________________________________
[Answers: 1. C; 2. B and F; 3. E; 4. A; 5. C and E; 6. C; 7. B; 8. E; Bonus. A..]
Ellis Nassour is an international media journalist, and author of Honky Tonk Angel: The Intimate Story of Patsy Cline, which he has adapted into a musical for the stage. Visit www.patsyclinehta.com.

He can be reached at [email protected]





Why are you looking all the way down here?
For more articles by Ellis Nassour, click the links below!

Previous: Tony Honoree Marian Seldes: Grand Duse of the American Theater

Next: Summer in the City: Fireworks on the Hudson Launch a Season with Plenty to Do and See

Or go to the Archives