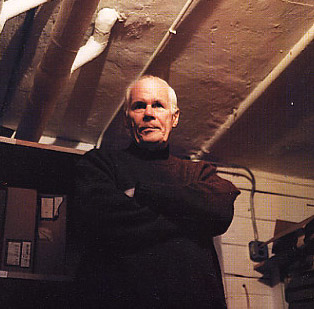 "Don't trust anyone over 30!" was a warning cry of youth in the turbulent, anti-authoritarian years of the late 1960s. Well, Hair, the "American tribal love-rock musical" that distilled many of the era's hopes, dreams, and frustrations, has now turned 40. Much of the show's book, by Gerome Ragni and James Rado, has not aged all that well; but thanks largely to its score, featuring evergreen music by Galt MacDermot and heart-on-the-sleeve lyrics by the Ragni-Rado team, Hair lives on in perpetuity.
This weekend, such songs as "Aquarius," "Good Morning Starshine," and "Let the Sunshine In" will ring out at the Delacorte in Central Park as the Public Theater presents a free-admission, 40th anniversary concert version of the epoch-making musical that was first seen at the Public in 1967. And don't be surprised if Hair still has a lot to say to a country that once again finds itself involved in a highly unpopular war.
"The show seemed fun at the time, but some of it was quite shocking," says Galt MacDermot, who'll be playing keyboards in the 12-piece band for the Delacorte performances. And how will audiences react to Hair in 2007? "They'll probably think it's kind of dated. Kids today are not particularly concerned about the war in the way the people were back then, because there's no draft now. I don't think kids today even know what a hippie is."
MacDermot tells me that, for the park concerts, "some of the scenes have been shortened, and the band will be on stage: three trumpets, trombone, baritone sex, and five in the rhythm section. The main thing with the music of Hair is to get a really good band -- and we've got one. The drummer and the bass player played on the movie soundtrack, and a couple of the guitar players have done the show before."
The composer is a longtime resident of Staten Island, where I was raised. I first interviewed him in 1979, just before the movie version of Hair was released. He has always been known for his honesty -- as you can tell from his comments above and his response to my remark that Spring Awakening is perceived by some people to be a revolutionary musical in much the same way that Hair was in its day. "I've heard a couple of the songs from Spring Awakening, and the score didn't sound very revolutionary to me," MacDermot says. "Pop music has become pretty standard on Broadway now. Hair sounded like it was of its era, but the truth is that every song is a little different. They're not all in one genre; that gets boring. A lot of the songs really couldn't be classified as rock and roll."

Though he went on to write several other terrific scores -- including one of my personal favorites, The Human Comedy -- there's no question that Hair is MacDermot's masterpiece. "The show is done more or less continually around the world," he notes, "especially in Europe. Over there, it never stops. My wife is Dutch; she hears about those productions, and she tells me about them. I used to go to see the show often, but not recently. The last time I saw it was a few years ago, at Wagner College on Staten Island. It was very good."
Of late, MacDermot and his New Pulse Jazz Band -- with his son Vincent on trombone -- have been playing on Monday nights at the Laurie Beechman Theatre at the West Bank Cafe. "You could call it jazz," he says. "It's my own music, but we play like a jazz band. My son runs a little record company called Kilmarnock, and we put out recordings of things we like. We made a live recording of a concert we did at the St. George Theatre on Staten Island, and we put that out as a CD."
The West Bank gigs have been on hold for the past couple of weeks as MacDermot has been prepping for Hair at the Delacorte. He declares himself "very happy" with the cast, which is headed by Jonathan Groff (Spring Awakening) as Claude and Will Swenson (Adrift in Macao) as Berger. Also featured are such talents as Karen Olivo (Sheila), Darius Nichols (Hud), and Megan Lawrence (Mother). But why is the Public offering only three al fresco performances of a show that's sure to attract a huge potential audience? "I don't know," says MacDermot, "except that it's getting a little cold out now."
[Hair will be performed on Saturday, Sunday, and Monday, September 22-24, at 7pm. For more information, click here.]
******************************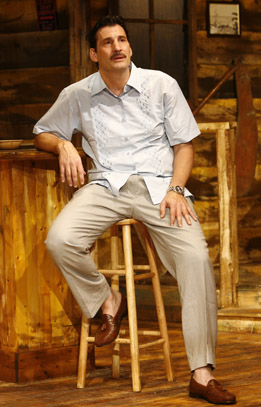 When last I caught up with Robert Funaro, he had just recently had his big moment as Eugene Pontecorvo on The Sopranos. Desperate to sever his ties with the mob but unable to do so, Eugene had gruesomely offed himself by hanging. The performance earned Funaro great acclaim and lots of fans, many of whom will no doubt show up for The Lady Swims Today, the play in which he's currently co-starring at the TADA Theater on West 28th Street.

Described as "a drama in the tradition of Key Largo and The Petrified Forest," H.G. Brown's play is set in Baltimore in the summer of 1984. A guy named Eddie plans to steal two million dollars off a boat on the Chesapeake Bay, and he enlists some other losers to help him. "The play has a very film-noir feel," says Funaro, "but the comedy is definitely there, too. It's set up in the way these people talk to each other. Eddie is this independent business man-slash-criminal. In a way, the play reminds me of The Treasure of the Sierra Madre. It's about how people behave when they get a lot of money."

A highly intense actor, Funaro has previously been seen on the New York stage in Dread Awakening (as a sexually abusive dentist!) and in showcase productions of Golden Boy and Burn This, but he views The Lady Swims Today as his first big Off-Broadway foray. Of his career, he says: "It's not as easy as people think it would be when you've been on a hit TV show. I was out of work for a little while. Summers are really slow, and keeping things going is not so simple." Did he at least get a big send-off from The Sopranos. "No," he laughs. "They used to have The Big Pussy Rule: If you got whacked on the show, they threw you a party in Little Italy. But then they stopped doing that, so I didn't get a party. I just faded away."

Funaro does have a juicy featured role in an upcoming Ridley Scott movie that sounds like it has "hit" written all over it: American Gangster, due out in November. "It's a wonderful film about a drug kingpin, based on a true story," he says. "Denzel Washington plays Frank Lucas and Russell Crowe plays Richie Roberts, who brings him to justice. It's an interesting story about how Lucas came to power; he kind of usurped all the crime organizations by going to Vietnam and buying heroin directly. Josh Brolin and I play two detectives on the case who are very crooked."

Right now, though, Funaro is 100% focused on The Lady Swims Today. "It's a lot of hard work," he allows, "but it's fun. This is the second time I've done the play; I did it as a showcase in February. It's been interesting to work with a new director, Steve Sunderlin. The challenge for me has been to put aside everything I did before and make it fresh. I'm still working on that! But I'm honored and very happy to be a part of this production."




Published on Friday, September 21, 2007




Michael Portantiere has more than 30 years' experience as an editor and writer for TheaterMania.com, InTHEATER magazine, and BACK STAGE. He has interviewed theater notables for NPR.org, PLAYBILL, STAGEBILL, and OPERA NEWS, and has written notes for several cast albums. Michael is co-author of FORBIDDEN BROADWAY: BEHIND THE MYLAR CURTAIN, published in 2008 by Hal Leonard/Applause. Additionally, he is a professional photographer whose pictures have been published by THE NEW YORK TIMES, the DAILY NEWS, and several major websites. (Visit www.followspotphoto.com for more information.) He can be reached at [email protected]


Why are you looking all the way down here?
For more articles by Michael Portantiere, click the links below!

Previous: Broadway al Fresco

Next: To Market, To Market

Or go to the Archives