JETS, SHARKS, AND GYPSIES
The 19th annual "Gypsy of the Year" competition was held at the New Amsterdam Theatre on Monday and Tuesday, December 17 and 18. Despite a major disruption caused by the stagehands' strike, the fundraising efforts leading up to the competition raised a record sum of more than $3,927,000 for Broadway Cares/Equity Fights AIDS. The centerpiece of this year's show was a 50th anniversary tribute to West Side Story, featuring many of that epoch-making musical's original cast members. We are pleased to bring you some photos of this extra-special event.
---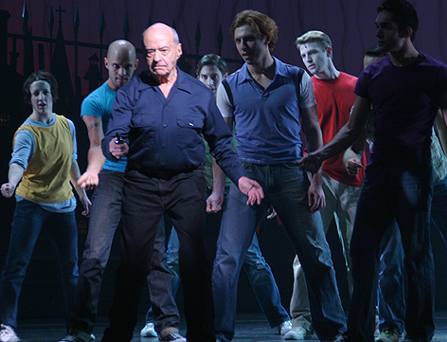 Here's Ken LeRoy, the original Bernardo, in a tense moment with the Jets.
---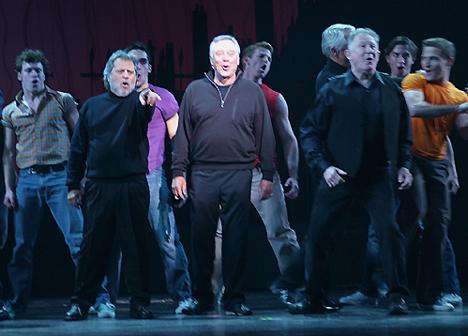 Among the other veterans of the original production of WSS on hand were (center, left to right) Tony Mordente, Mickey Calin (a.k.a. Michael Callan), and Harvey Evans.
---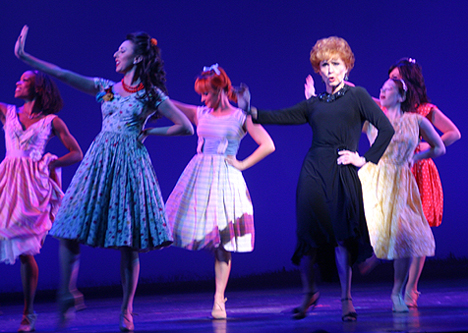 The original Maria, Carol Lawrence, was featured in "I Feel Pretty."
---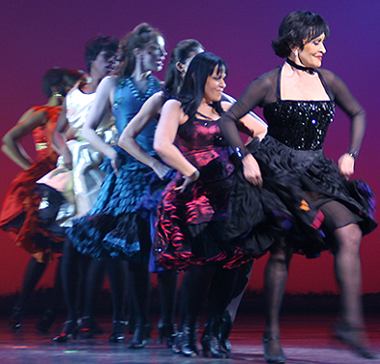 Anita forever: The mambo showcased the amazing Chita Rivera and company -- including Lisa Mordente, Chita's daughter by Tony Mordente, second in line.
---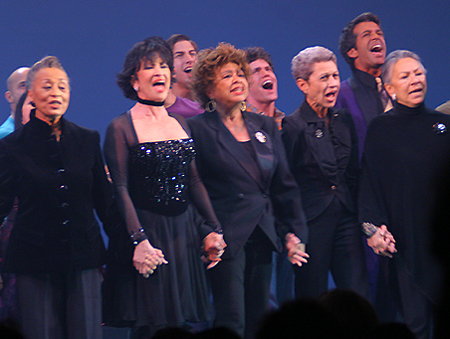 The WSS segment ended thrillingly with the "Tonight" ensemble.
---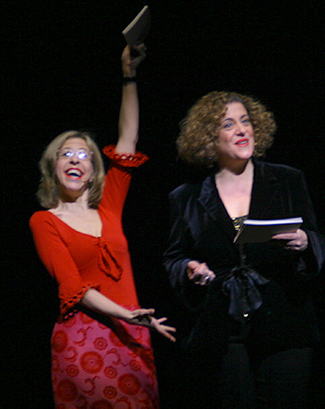 This year's "Gypsy of the Year" hosts were Xanadu's Jackie Hoffman and Mary Testa.
---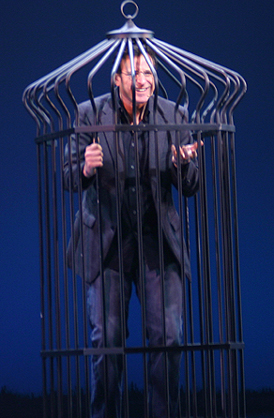 ...plus sitcom veteran and current Drowsy Chaperone star Bob Saget, whose sex jokes throughout the proceedings proved to be controversial.
---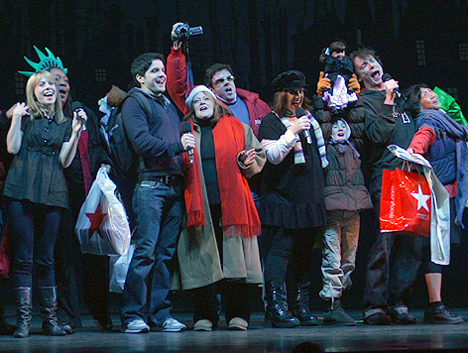 Among the many highlights of the show was the company of Avenue Q in a hilarious number about "the slow-moving tourists of Times Square."
---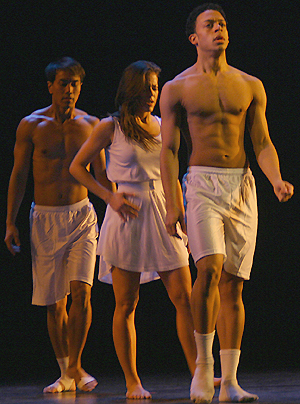 The company of Wicked presented "Dear Mr. President," an open letter to George Bush.
---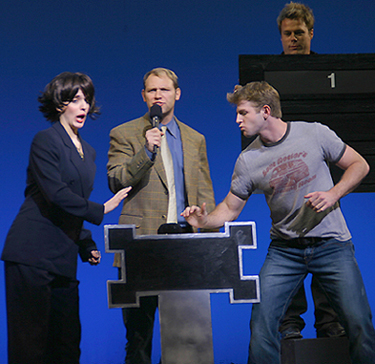 Jim Newman (center) and the cast of Curtains envisioned the stagehands/producers contretemps as a "Family Feud"-style battle.
---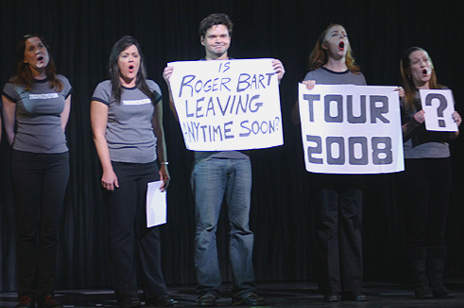 Members of the cast of Off-Broadway's Frankenstein were very good sports about the brevity of their show's run.
---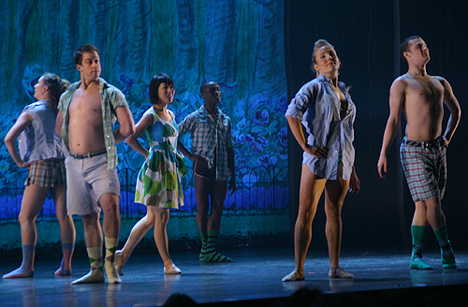 Dancers Responding to AIDS (DRA) offered a lovely piece titled "Summer Study."
---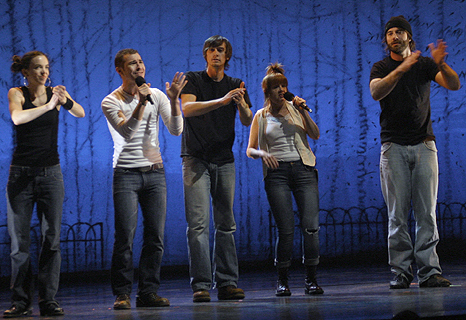 The companies of Stomp and Xanadu pooled their talents to create and present a terrific number titled (what else?) "Stompadu."
---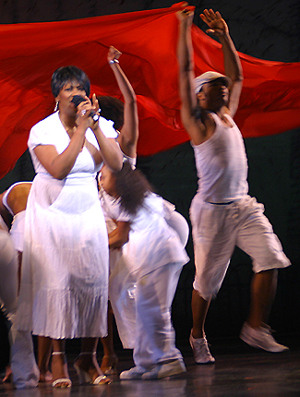 "Pressure" was the title of the piece performed by the cast of The Color Purple.
---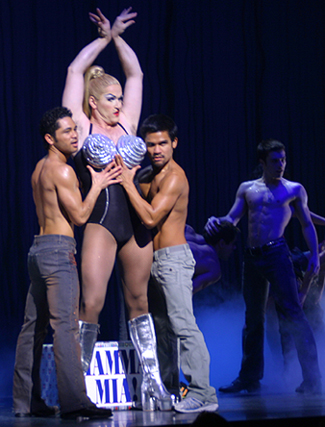 The company of Mamma Mia! imagined how their show might look if it were broadcast by a gay TV network.
---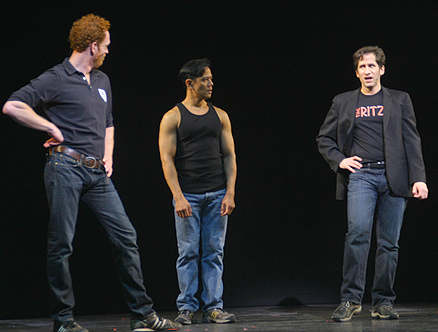 Seth Rudetsky (right) and the cast of The Ritz recounted some gypsy folklore for the benefit of the younger generation.
---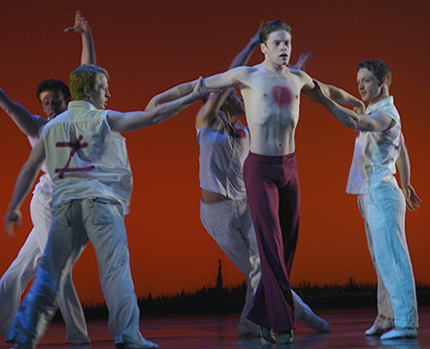 Brian Letendre and the company of Mary Poppins offered a dance piece titled "The Eagle and the Hawk."
---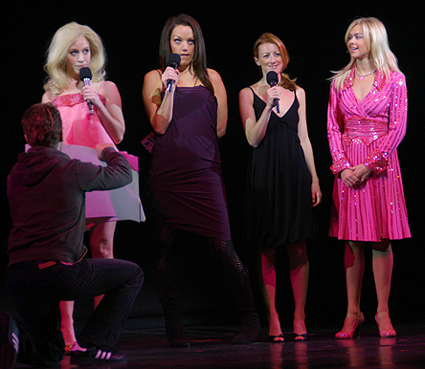 Laura Bell Bundy (far right) and the cast of Legally Blonde dissed The Hill Girls, who rather ineptly hosted the MTV telecast of the musical.
---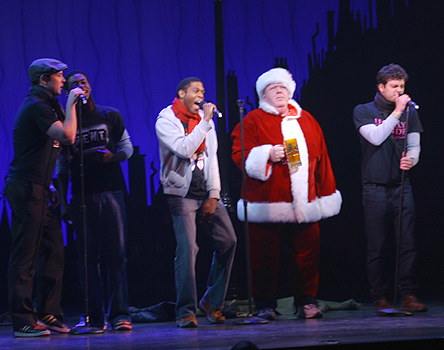 George Wendt (a.k.a. Norm from Cheers) and the company of Hairpsray promised that "Santa Claus is Comin' to Town."
---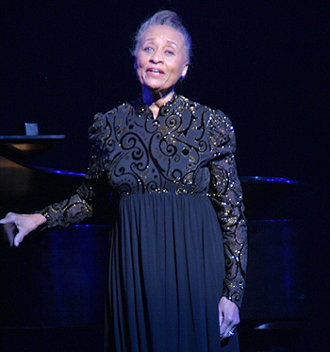 Reri Grist reprised "Somewhere," the beautiful, heartbreaking song she introduced 50 years ago in the original production of West Side Story.
---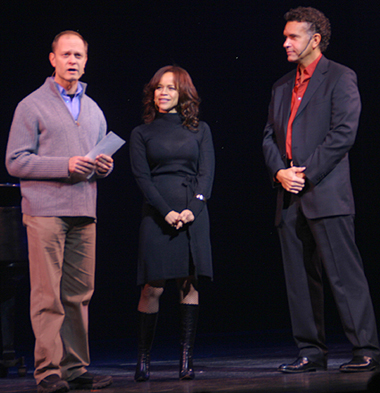 At the end of the show, David Hyde Pierce (Curtains), Rosie Perez (The Ritz), and Brian Stokes Mitchell (president of The Actors' Fund) took the stage to announce the winners in the various fundraising categories and the presentation category (The Color Purple), as well as the total amount of money raised for BC/EFA.




Published on Wednesday, December 19, 2007




Michael Portantiere has more than 30 years' experience as an editor and writer for TheaterMania.com, InTHEATER magazine, and BACK STAGE. He has interviewed theater notables for NPR.org, PLAYBILL, STAGEBILL, and OPERA NEWS, and has written notes for several cast albums. Michael is co-author of FORBIDDEN BROADWAY: BEHIND THE MYLAR CURTAIN, published in 2008 by Hal Leonard/Applause. Additionally, he is a professional photographer whose pictures have been published by THE NEW YORK TIMES, the DAILY NEWS, and several major websites. (Visit www.followspotphoto.com for more information.) He can be reached at [email protected]


Why are you looking all the way down here?
For more articles by Michael Portantiere, click the links below!

Previous: Gifts That Keep on Giving

Next: Swing Your Razor Wide, Sweeney!

Or go to the Archives