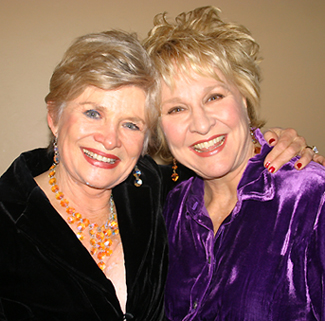 IN THE COMPANY OF WOMEN
Way back in 1970, Stephen Sondheim and George Furth's Company marked the dawn of a new era in musical theater, so it's extremely gratifying that several of the show's original cast members are still performing.
Think about it: The ubiquitous, indefatigable Elaine Stritch recently began an engagement of her smash-hit show At Liberty at the Café Carlyle; Charles Kimbrough, who gained loads of TV-Q as Jim Dial on Murphy Brown, did a turn as Col. Pickering in the New York Philharmonic's 2007 concert performances of My Fair Lady; Donna McKechnie, legendary for having created the role of Cassie in A Chorus Line, works constantly; and Teri Ralson, who has appeared in or directed 11 productions of Sondheim musicals, just gave two performances of her terrific club act at the Metropolitan Room, with Company original castmate Pamela Myers as her special guest.
Back in the day, Ralston was prized for the silvery soprano she displayed not only in Company but also in Sondheim's A Little Night Music and in the Stephen Schwartz-Joseph Stein musical The Baker's Wife, which closed out of town before reaching Broadway but nevertheless yielded a gorgeous cast recording. Amazingly, her soprano register is still intact, though she can belt to high heaven when she wants to. Her program at the Met Room was highlighted by "Old Friend" (from Gretchen Cryer and Nancy Ford's I'm Getting My Act Together and Taking it On the Road), "Colored Lights" (from Kander and Ebb's The Rink), and a heartbreaking rendition of "In Buddy's Eyes" from Sondheim's Follies. Myers gave the crowd what they wanted, singing the hell out of "Another Hundred People" from Company, and she teamed with Ralston for a delightful "togetherness" medley. Shelly Markham was the show's A-list musical director/pianist.
I've often heard it lamented that young performers have no knowledge of theater history and little reverence for the work of the art form's veterans. Sadly, this generalization seems to be true. With people like Teri Ralston and Pam Myers still out there doing it, attention must be paid -- and there's no excuse for the young'uns to miss out, considering the Metropolitan Room's moderate cover and minimum charges. But if few folks under 40 attended Sunday night's show, Ralston's and Myers' peers were out in force, among them Stephen Schwartz, Jonathan Tunick, Donna McKechnie, Roger Rees, Andrea Marcovicci, Steve Ross, and Julie Wilson. Maybe it takes talent to know talent.
********************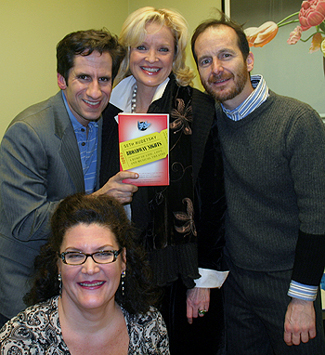 OH, THOSE BROADWAY NIGHTS!
In a column I wrote and posted in October, I highly recommended Broadway Nights, Seth Rudetsky's sort-of-autobiographical comic novel. The book is a scream on the page, so you can only imagine how hilarious it was last evening (Monday, January 14) when Rudetsky and several of his famous showbiz pals read excerpts from it at Barnes & Noble's Lincoln Triangle store.
Rudetsky himself took the role of up-and-coming Broadway musical director Stephen Sheerin, with two-time Tony Award winner Christine Ebersole appearing as his mother; Cheyenne Jackson (Xanadu) as his best friend, Jackson; Denis O'Hare (Take Me Out, Sweet Charity) as Jackson's boyfriend, an annoying agent; and Kristine Zbornik (A Catered Affair) as young Stephen's nanny. The packed reading also featured three musical performances: Jackson did "The Proposal" from Titanic, Zbornik put over a hilarious parody of "People" from Funny Girl, and no less a personage than Andrea McArdle dropped by to sing "Maybe" from Annie.
I'm here to tell you that Barnes & Noble is definitely the place to be for the fabulous, theater-related events that are presented as part of the store's "Any Wednesday" series and on other evenings. Tonight (Tuesday, January 15), Mel Brooks is scheduled to be there signing copies of the Young Frankenstein CD. So go!
********************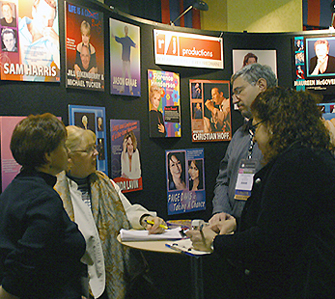 APAP-A-LOOZA
It was quite a scene at the Hilton on Sixth Avenue this weekend, as the Association of Performing Arts Presenters (APAP) took over vast sections of the hotel for its annual convention and showcases.

The theme for this year's event was "Presenting America: New Ground," and the exhibition halls featured booths representing more than 370 artists management firms, agencies, and industry vendors. Said exhibitor Rich Aronstein, of R/J Productions, "This is my sixth year at the booth and my fifth year showcasing, which we did last night. There are more than 3,500 buyers here shopping for shows for next season.

"We've done very well," Aronstein continued. "Most of our artists are going out across the country -- people like Maureen McGovern, Sam Harris, and Jason Graae. Marilyn Maye was a huge hit last night; the room was packed. Everybody flies in to do this. It's been very successful for us. In fact, most of our bookings come out of this conference. I'm a sponsor this year, which helps also."

Dedicated to bringing artists and audiences together through presenting and touring, APAP has over 1,900 members worldwide. It has been estimated that the performing arts presenting industry in the U.S. reaches more than 300 million audience members each year and has an annual national economic impact of more than $8.5 billion. For more information, visit www.artspresenters.org.




Published on Tuesday, January 15, 2008




Michael Portantiere has more than 30 years' experience as an editor and writer for TheaterMania.com, InTHEATER magazine, and BACK STAGE. He has interviewed theater notables for NPR.org, PLAYBILL, STAGEBILL, and OPERA NEWS, and has written notes for several cast albums. Michael is co-author of FORBIDDEN BROADWAY: BEHIND THE MYLAR CURTAIN, published in 2008 by Hal Leonard/Applause. Additionally, he is a professional photographer whose pictures have been published by THE NEW YORK TIMES, the DAILY NEWS, and several major websites. (Visit www.followspotphoto.com for more information.) He can be reached at [email protected]


Why are you looking all the way down here?
For more articles by Michael Portantiere, click the links below!

Previous: I Resolve

Next: "I Was Jilted By a Lesbian Dwarf"

Or go to the Archives