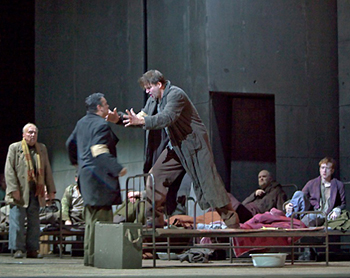 Well Met
Just as Broadway musicals demonstrate an incredibly wide range of directing talent, from the heights of Thomas Kail's In the Heights and Diane Paulus's Hair to the depths of Arthur Laurents's West Side Story and Robert Longbottom's Bye Bye Birdie, so do some Metropolitan Opera productions cause us to exclaim "Excellent direction!" while others make us wonder, "What the [email protected]!! was he/she thinking?!" Just a couple of months ago, Luc Bondy's take on Puccini's Tosca was roundly jeered, but more recently, the Met has brought us two other productions -- one brand new this season, the other new in 2007 -- that garnered bravos rather than boos.
Leos Janacek's From the House of the Dead, which premiered in 1930, is set in a penal colony in Siberia. If any composer today were to write an opera with that setting, you can bet the farm that it would be atonal (and unlistenable); but the great Janacek uses a gorgeously tonal musical language in this alternately grim and poetic piece. As the prisoners moods shift from hopeful to bitter to despairing, the melodies and hamonies perfectly mirror their feelings. The opera has little if any over-arching plot, but it's peerless in conjuring the world of the prison and exploring the emotions of the men incarcerated therein.
The Met production represents the belated company debuts of Patrice Chéreau, whose 1976 Bayreuth Festival staging of Wagner's Ring cycle is considered a benchmark in operatic history, and Esa-Pekka Salonen, the world-renowned conductor. In collaboration with set designer Richard Peduzzi, costume designer Caroline de Vivaise, and lighting designer Bertrand Couderc, Chéreau has created a stunning physical production that incorporates several coups de theatre, including one in which the ceiling of the prison seems to collapse with jaw-dropping realism.
Salonen leads the superlative Met orchestra in a definitive reading of this achingly beautiful but extremely challenging score, which is sung (and acted) to perfection by a top-flight company including the awesome Peter Mattei as Shishkov, the honored veteran Willard White as Gorianchikov, and the stunning debutant Eric Stoklossa as Alyeya. From the House of the Dead is written in three acts but the complete performance lasts only about 95 minutes, with no intermission. That's an hour and a half of musical theater that you will not soon forget.
********************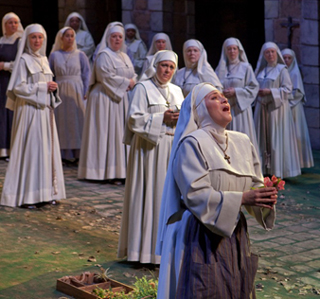 Under its new general manager, Peter Gelb, the Met has been making a concerted effort to recruit directors from the theater world. One of the best is Jack O'Brien, who two years ago came up with a gripping new production of Puccini's Il Trittico. O'Brien's work in the three one-act works that make up this triptych is notable for hundreds of little moments of psychological truth and, in Gianni Schicchi, the kind of expert comedy that until recent years was rarely seen on the operatic stage. He also provides three textbook examples of how to change the time period in which an opera is set in such a way as to enhance, rather than destroy, the effect of the piece.

This season, Patricia Racette is singing the leading female soprano roles in all three operas: the desperately unhappy, unfaithful wife Giorgetta in Il Tabarro; the tragic nun in Suor Angelica; and the relatively carefree, somewhat insipid Lauretta in Gianni Schicchi, who nevertheless gets to sings one of opera's biggest hits: "O mio babbino caro." In performances at the Met, the New York City Opera, and elsewhere, Racette has time and time again proved herself a singing actress of the first order, so it's not remotely surprising that she rises to the Trittico challenge and achieves a triumph. (Sorry, make that three triumphs).

The rest of the company is solid throughout, with especially noteworthy contributions from two tenors who are new to me: Aleksandrs Antonenko, a thrillingly masculine and passionate Luigi in Tabarro, and Saimir Pirgu, wonderfully handsome and sweet-toned as Rinuccio in Schicchi. Alessandro Corbelli is hilarious in the title role of Schicchi; Zeljko Lucic broods movingly as MIchele in Tabarro, even if his medium-sized voice is occasionally covered by the orchestra; and the amazing Stephanie Blythe repeats her threefold success of two seasons ago as Frugola, La Zia Principessa, and Zita in Tabarro, Angelica, and Schicchi, respectively.

Conductor Stefano Ranzani displays great empathy for all three scores, each of which is quite different from the others in terms of emotional and musical tone. Puccini was a master orchestrator as well as a supreme melodist, and the sounds emerging from the pit during Il Trittico are as transporting as what's happening onstage. Get your tickets now so you can recoil in delicious horror at the violence in Tabarro, weep copiously at the suicide of Suor Angelica, and laugh your head off at the antics of Gianni Schicchi et al.




Published on Sunday, November 29, 2009




Michael Portantiere has more than 30 years' experience as an editor and writer for TheaterMania.com, InTHEATER magazine, and BACK STAGE. He has interviewed theater notables for NPR.org, PLAYBILL, STAGEBILL, and OPERA NEWS, and has written notes for several cast albums. Michael is co-author of FORBIDDEN BROADWAY: BEHIND THE MYLAR CURTAIN, published in 2008 by Hal Leonard/Applause. Additionally, he is a professional photographer whose pictures have been published by THE NEW YORK TIMES, the DAILY NEWS, and several major websites. (Visit www.followspotphoto.com for more information.) He can be reached at [email protected]


Why are you looking all the way down here?
For more articles by Michael Portantiere, click the links below!

Previous: Many Thanks

Next: Show Me Christmas!

Or go to the Archives