Part One
There's never been a holiday season with so much Broadway-related product in the market place. You'll have no problem finding a theater or arts gift for that special someone - or yourself! The list is long: books galore - big ones, small ones; DVDs; CDs; tickets to several worthwhile attractions. There's something for everyone - even if you're on a limited budget. If you're not, you're going to have some festive holidays! Of course, there's the gift that never fails to please: tickets to a Broadway or Off Broadway show!
Broadway Musicals: The 101 Greatest Shows of All Time by Ken Bloom and Frank Vlastnik [with a foreword by Jerry Orbach] will sing and dance its way into the hearts of any theater lover. It will certainly rank as one of the most lavish and beautiful theatrical books ever published -- worth the price alone for the more than 850 photographs -- the majority in glorious color, many culled by the authors from private collections.
Speaking of price, this 336-page book is the bargain of the year - an unbelievable top suggested $34.95 [Black Dog & Leventhal]. In addition to stories of the hits shows, there are synopses, cast and song lists, production credits, profiles and a helpful Index -- and tales of show biz egos, behind-the-scenes brawling, backstabbing and backstage anecdotes.
The insider gossip and often biting picture captions aside, Bloom and Vlastnik set the musicals in a historical and cultural context with stories of the legendary stars, directors, producers and choreographers. Shows are catalogued not by year but alphabetically, with a nod to Off Broadway. Sections include Star Turns, Revues, Broadway Houses and such irreverent titles as Notable Flops, Great Scores from So-so Shows, Stars Who Tried To Conquer Musicals and Cast Albums.
There's detail, detail, detail - for instance, director Joshua Logan's deciding factors in casting male roles for his shows; how Mary Martin might have been the star of Funny Girl with Sondheim as lyricist, Fosse as choreographer and a couple of these geniuses suggesting cutting "People"!
Nothing has been overlooked! For older fans, the book is a fantastic trip down memory lane; for younger ones, it's a well-documented primer on Broadway's musicals from their roots in 19th-century operetta through the golden era of the book musical and into today.
You'll have to get a large, heavy-duty stocking for this oversized book. If you'd like your copy personally autographed, be at Drama Book Store [250 West 40th Street] tomorrow [Monday, November 15th] as Bloom, a playwright, theater director and radio host [and author of 2003's Jerry Herman: The Lyrics] and Vlastnik, a veteran of numerous Broadway musicals, will be at signing copies from 6 to 8 P.M. On hand will also be several surprise guests.
from
Broadway Musicals: The 101 Greatest Shows of All Time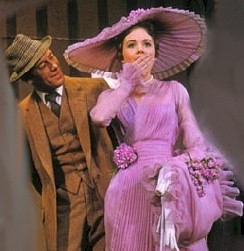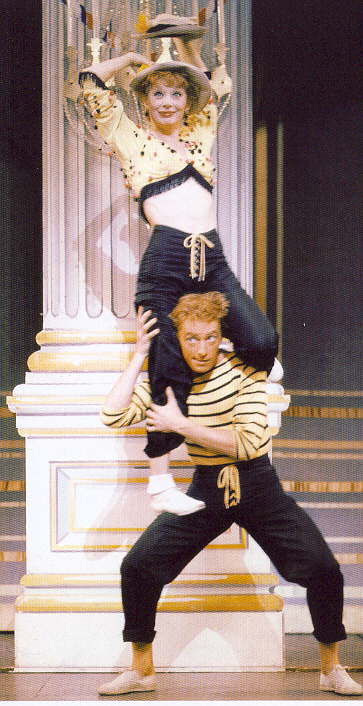 Clockwise : Rex Harrison, Julie Andrews, My Fair Lady, 1956; Gwen Verdon
gets a lift from Eddie Phillips, Damn Yankees, 1955; volatile belter Dolores Gray
has a leg up on Andy Griffith, Destry Rides Again, 1959 [she not only didn't get
along with him but also got into a slapfest with choreographer Michael Kidd,
who ungallantly returned fire; irrepressible Barbara Harris popping out,
The Apple Tree, 1967.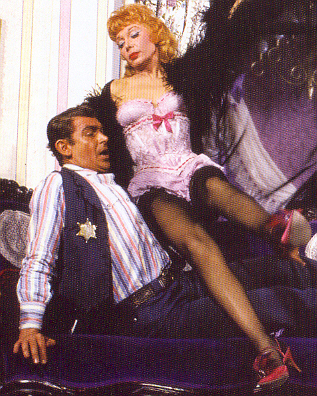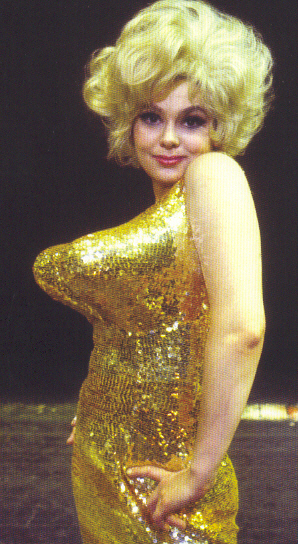 W
ant more Broadway, well, remember that amazingly compresensible three-part PBS series,
Broadway: The American Musical
? Just in time for gift-giving or collecting, the three-disc DVD set [Paramount Home Entertainment/PBS Home Video, suggested list price $60] is out. Julie Andrews is host and frequent narrator as 100 years [1893-2003] of Broadway milestones come alive. Like the series, it's organized into six time periods, with rare archival footage, home movies and tracks from Original Cast Recordings.
There're fascinating portraits of the creators and collaborators who toiled on and off stage to define and develop the musical. Among those appearing are Mel Brooks, Carol Channing, Betty Comden, Joel Grey, Kitty Carlisle Hart, Arthur Laurents, Hal Prince, Stephen Sondheim and Tommy Tune. The DVD contains five hours plus of bonus features -- including additional performances and interviews.
Oh, the DVD's not enough? OK, there's the companion book [Bulfinch Press; $60] by theater scholar Laurence Maslon and series creator/director Michael Kantor. At an imposing 470 pages, it's another candidate for a heavy-duty stocking. Highlights: 200 color and over 300 B&W photos [many oversized], lively sidebars, a Who's Who for each time period, a selected chronology of musicals and an Index.
The five-CD fold-out set [Columbia Broadway Masterworks, $48] has a lively 55-page readable booklet [how nice it would have been if they had designed a sleeve for it!] and features more than 100 of the more memorable songs from the Broadway musicals. However, depending on your tastes, it's far from definitive. Last, but certainly not least, for the budget-conscious, there's the 21-track Best Of single CD [Decca Broadway, $14].
When is it not good to buy or give a DVD or book on Broadway?
Among those available this season:

Broadway: The American Musical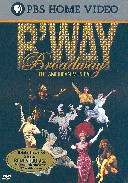 Broadway: The Golden
Age
and
The Back Stage Guide to Broadway
.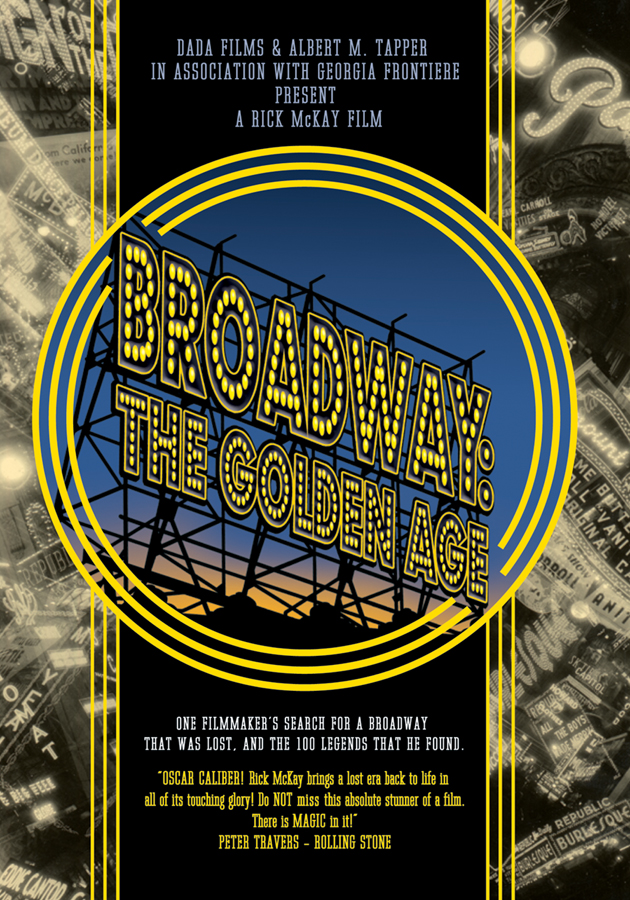 Hot off the presses are two more titles about Broadway: One, the DVD of award-winning filmmaker Rick McKay's Broadway: The Golden Age, by the Legends Who Were There [RCA Victor, $20]. In theatrical release, the documentary won over 15 festival Best awards. Countless stage greats [Carol Burnett, Kitty Carlisle Hart, Carol Channing, Barbara Cook, Fred Ebb, Jerry Herman, Angela Lansbury, Hal Prince, Chita Rivera, Stephen Sondheim, Elaine Stritch, Tommy Tune, Gwen Verdon] tell of making it on Broadway and recollect memorable career moments. There's 88 minutes of additional footage. The bonus material includes director commentary and deleted scenes, such as Marian Sledes speaking on Katharine Cornell and June Havoc on Pal Joey and a sneak preview of the 2005 sequel, Broadway: The Next Generation.
The Back Stage Guide To Broadway by Robert Viagas [Back Stage, $12.95] is a lively, in-depth guide that tells you everything you need to know. Viagas, author with Louis Botto of Playbill's At This Theater, reveals insider tips on the how-tos of securing tickets to sold-out shows, meeting stars, where to eat and stay, picking shows for children and, most importantly, on how not to get fleeced. Illustrated and indexed, with a Theatre District map. Even the natives will enjoy this, and it handily fits into your jacket pocket.
Tonight at 7 P.M. and next weekend [Friday, 7 P.M.; Saturday, 9 P.M.; and Sunday] is your last chance this season to catch the powerhouse vocals of Klea Blackhurst, who took the New York cabaret scene by storm in 2001 with her Merman tribute [winning the 2002 MAC [cabaret] Award for Best Female Vocalist]. You may recall her "Dear, Mr. Gershwin" show-stopping turn in Off Broadway's Radio Gals and her New York debut in Oil City Symphony [when she replaced the usually irreplaceable Deborah Monk]. Comparisons shouldn't be necessary; but, hey, when you've got Merman-style chops and Midler-style brassiness, why the heck not?
In Autumn in New York, with crystal clarity and a belt that'll knock you out, she pays tribute to Vernon Duke. She's backed by Michael Rice and the Pocket Change Trio. As wonderful as Blackhurst's inspired vocals are her tales of Duke's arrival in the U.S. and his dreams of writing for Broadway. It will be an evening you'll long remember. And you can take Klea home - at least, her CD "Everything the Traffic Will Allow." [Order a copy at: www.kleablackhurst.com.] At Opia with a $30 cover, $15 minimum - and she's worth every nickel; (212) 688-3939 [130 East 57th Street, at Lexington Avenue, in Hotel Habitat].
Now through Sunday [November 21], that sweet Cinderella is making a comeback with the New York City Opera's sumptuous production. The kids will get swept into the fairy tale world of enchantment with the eye-popping costumes. The Rodgers and Hammerstein score [with some hints of what was to come in The Sound of Music two years later] will keep adults alert. But this is not your mother's Cinderella [as seen on TV in 1957]. Sarah Uriarte Berry [Nicola in Taboo, and a Beauty and the Beast Belle] is an ideal Cindy with TV's Christopher Sieber [recently in Chicago] as the Prince. RenÈe Taylor and Dick Van Patten play Queen and King.
The real fun lies in the offbeat casting -- totally against type -- of demure Lea DeLaria [it's worth going just to see her in those costumes!] and SNL's Ana Gasteyer as the evil stepsisters, glamour drag artist Lypsinka, a.k.a. John Epperson as the stepmother [no doubt in the Joan Crawford mode] and the legendarily purrfect Eartha Kitt as the Fairy Godmother. Kitt, no doubt, will do it her way -- but the bets are on that she walks off with the show.
It's quite a journey for Epperson, "a sort of personal triumph." He moved to New York froms Mississippi wanting a mainstream career, "but," he says, "I was too frightened to do the traditional things, including auditioning. I even went so far to create a character that didn't have to speak or sing! I've finally gotten over that. I got this role by auditioning - singing and reading lines."
He adds, "It's my first uptown gig and I'm very proud. Proud of myself and proud to be working with such a fine company at Lincoln Center -- where I once worked as a rehearsal pianist for American Ballet Theatre in the Met's basement."
DeLaria has been enamored of musical comedy since childhood. "I was this six-year-old weirdo theatre person in the Midwest, where the thought bubble over most everyone's head had a pick-up truck or a motorcycle! While everyone drove around in their trucks, drinking beer and throwing the cans in back, I was in the basement tap-dancing and singing, 'Broadway rhythm's got me!' I could hit a high C. I still can. Only now, it depends on what key you're in. It's a high C in the key of Lauren Bacall, but not in the key of Bernadette Peters!"

Naturally, Merman was an inspiration. "When I started doing school musicals," she recalls, "Mom said I should write Ethel and send a tape. Since she didn't have a daughter, maybe, she'd adopt me! Garland and Ella Fitzgerald were my idols, too."

Gerald Steichen is waving the baton over the NYCO orchestra. Direction and choreography is by Baayork Lee, a veteran of musicals going back to the early 50s and not only Connie in ACL but also an assistant to Michael Bennett and Bob Avian. For performance times and tickets, visit nycopera.com or call Ticketmaster, (212) 307-4100.

S
unday, November 21, can probably lay claim to the Who's Who event of the season. The Metropolitan Opera Guild and dozens of luminaries will salute show business legend Kitty Carlisle Hart and her late husband, playwright/director Moss Hart with
Hart to Hart
, a concert celebration at 6 P.M. in Avery Fisher Hall. Julie Andrews and Beverly Sills will co-host. Among those appearing are Jane Alexander, Michael Feinstein, Robert Goulet, Rosemary Harris, Celeste Holm, Thomas Hampson, Audra McDonald, Anna Moffo and Rise Stevens.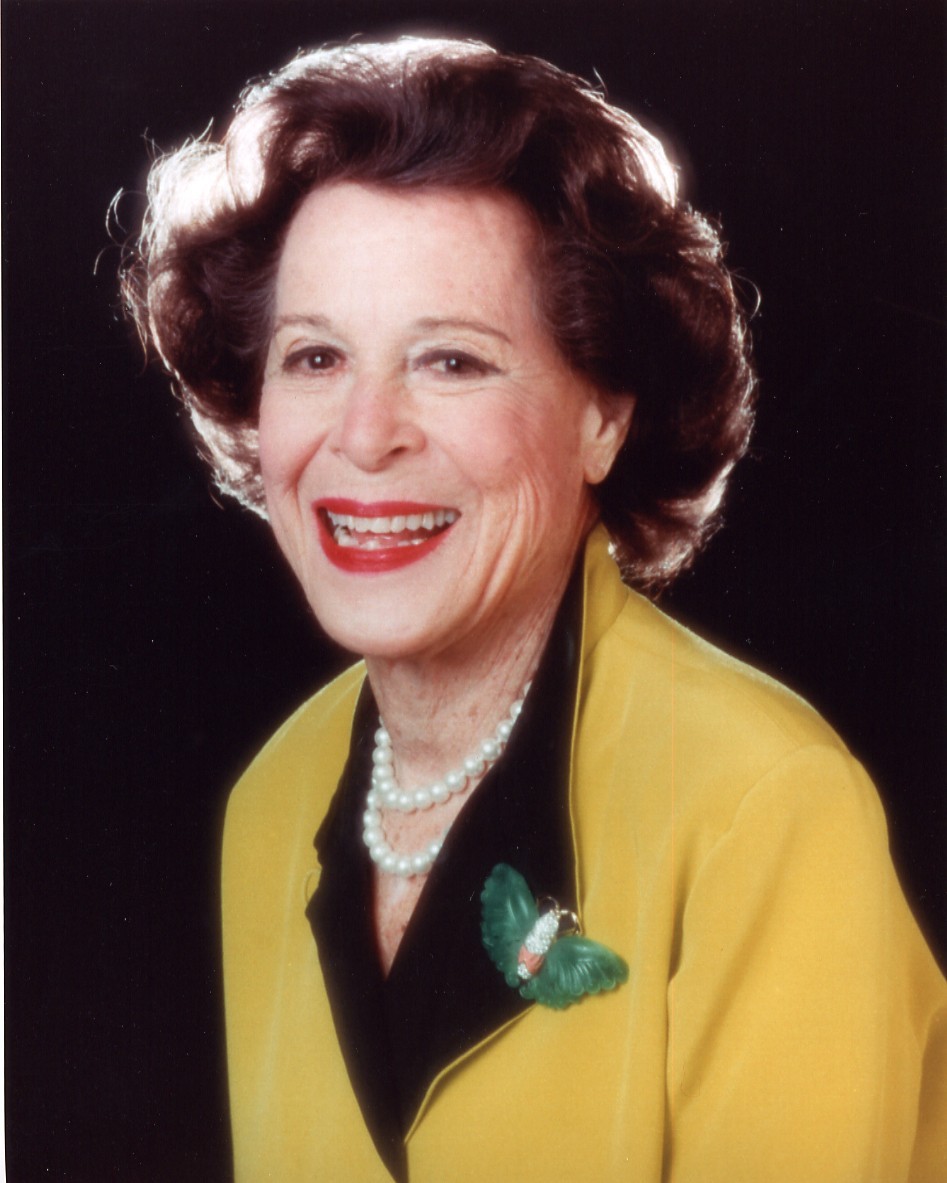 The amazing and glamourous Kitty Carisle Hart -- like that battery bunny, still going strong.
The concert will be followed by dinner on the Fisher Promenade. The benefit committee includes Governor Pataki, Senators Clinton and Schumer, Mayor Bloomberg, former Governor and Mrs. Cuomo, former Mayor Koch, Rocco Landesman, Harold Prince, Happy Rockefeller, Steven Spielberg, Mike Wallace and Joanne Woodward.


Besides tributes to Miss Hart, who for 20 years was chair of the New York State Council on the Arts, in song, there'll be clips from such films as A Night at the Opera -- as well as her many appearances on TV's To Tell the Truth. Moss Hart's career will be highlighted by performances of songs from Berlin, Porter, Rodgers and Hart and Weill and Ira Gershwin shows he wrote books for. There will be rare performance footage from his You Can't Take It with You [written with George S. Kaufman; winner of the 1936 Pulitzer Prize] and The Man Who Came to Dinner [also written with Kaufman] and musicals, such as Lerner and Loewe's My Fair Lady and Camelot [which he also directed] and Weill and Ira Gershwin's Lady in the Dark.

Miss Hart, for decades one of New York's most glamorous socialites, starred in opera, film and Broadway musicals. Moss Hart's work dominated Broadway from 1930 until his death in 1961 at age 57 at the peak of his career. His screen credits include Gentlemen's Agreement, Hans Christian Andersen and the musical remake of A Star is Born. His 1959 autobiography, Act One, was a best-seller. Miss Hart's autobiography, Kitty, was published in 1988.

U.S. Trust is underwriting the gala, with fine wines donated by Ruffinio. Proceeds benefit the Guild's education programs and the Metropolitan Opera. Individual concert tickets are $50 - $2,500. For information and gala tickets, contact the Guild at (212) 769-7062.

Renoir, Degas, Chagall, Picasso and Toulouse-Lautrec are alive and well at Lincoln Center. Their masterpieces spring to vivid life in Damrosch Park, through January 9th, as one of New York's most cherished holiday traditions returns: The Big Apple Circus. Picturesque, the 27th season in their intimate one-ring tent is billed as "all-new"; and except for one of our favorite clowns, Grandma, it is. This edition is the best ever. A couple of reasons why: Russia's gravity-defying 13-member Kovgar Troupe of teeterboard aerial acrobats; the spirited juggling of Spain's sensational Picaso Jr. [evidently no relation to Picasso]; and Russia's dexterous comic Vallery. Tickets: Ticketmaster, (212) 307-4100.

There'll be dozens of new CDs of interest in the racks for the holiday season. One is the lush soundtrack from Joel Schumacher's highly-anticipated Warner Bros. film adaptation of The Phantom of the Opera [Sony Classical/Really Useful], with Gerard Butler [whom you'll sureley remember from movies Lara Croft and the Cradle of Life: Tomb Raider II and Timeline] Emmy Rossum [Mystic River, Day After Tomorrow] and two-time Tony Award-nominee Patrick Wilson singing one of Andrew Lloyd Webber's most popular musical theater scores [lyrics by Charles Hart]. Co-stars include Minnie Driver and Miranda Richardson. In addition to "Music of the Night," "All I Ask of You" and "Wishing You Were Somehow Here Again," there's "Learn To Be Lonely," written for the film and performed by Driver. There'll be two editions: a deluxe, two-disc version in a collector's package; and a single-disc CD.

Hugh Panaro is the reigning Phantom on Broadway. At the end of January, POTO begins it's 17th year.

Other CDs of interest are either in stores or coming soon. Take Look, Ma, I'm Dancin' [1947] by Broadway and film songwriter Hugh Martin ["Have Yourself A Merry Little Christmas," "The Trolley Song"], which has been remastered for the first time on CD [Decca Broadway]. The show starred tiny dynamo Nancy Walker as a brewery heiress who underwrites a Russian ballet tour so she can be the star. Broadway favorite Harold Lang [Kiss Me, Kate] was co-star. Of special interest: two tracks -- "Let's Do A Ballet" and "Horrible, Horrible Love" - which were recorded but never put on the original LP after being cut are heard for the first time. In addition, there are alternate takes of songs and notes by Martin.
Of special interest to the younger set: A 40th Anniversary two-CD expanded soundtrack [28 tracks, plus bonus features; Disney, $19] from Mary Poppins, starring Julie Andrews and Dick Van Dyke. Disney also has something for the older set: Superstar Hits, a CD, featuring Christina Aguilera, Phil Collins, Billy Crystal, Celine Dion, Elton John, Sting, Tina Turner, Vanessa Williams, Stevie Wonder and Wynonna singing themes from the studio's blockbusters.

Since this is also the season for giving, remember the dedicated work of Broadway Cares/Equity Fights AIDS.
--------
Ellis Nassour is an international media journalist, and author of Honky Tonk Angel: The Intimate Story of Patsy Cline, which he has adapted into a musical for the stage. Visit www.patsyclinehta.com.

He can be reached at [email protected]





Why are you looking all the way down here?
For more articles by Ellis Nassour, click the links below!

Previous: JOHN CULLUM: VETERAN STAR OF BROADWAY MUSICALS AND TV TACKLES A DECIDELY DIFFERENT ROLE IN SIN (A CARDINAL DEPOSED)

Next: DAME EDNA'S BACK WITH A VENGEANCE AND BROADWAY'S GOT HER

Or go to the Archives