Varekai ~ Deep within a forest at the summit of a volcano exists the exotic world
of Cirque du Soleil.
Performances at the Meadowlands complex are through July 24.
Cirque du Soleil's lavish production of Varekai [pronounced ver∑ay∑'kie] returns to the New York Metropolitan area where it will pitch its distinctive blue and yellow "grand chapiteau" through July 24 at the Meadowlands Sports Complex.
Varekai, which first played in Upper New York City in May, 2003, translates as "wherever" in the Romany language of the gypsies and, according to writer/director Dominic Champagne, pays tribute to the nomadic soul - "to the spirit and art of the circus tradition, and to those who quest with infinite passion. It's an extraordinary world where the seemingly impossible becomes possible."
And it's set against a colorful background with some very fancy choreography. In fact, it appears that every movement is carefully choreographed.
To accomplish that Champagne has assembled an an international cast of more than 50 artists representing 13 countries, including Australia, Canada, China, France, Georgia, Italy, Mexico, Russia, Spain, Ukraine, the United Kingdom, the United States and Yugoslavia. There are clowns, dancers and artists.
As the show unfolds in a dazzling array of colors and eyepopping costumes, young Icarus, Anton Chelnokov, having flown too close to the sun, freefalling "into the shadows of a magical forest, a kaleidoscopic world imbued with fantastical creatures" to take and lead the audience on an adventure "both absurd and extraordinary."
The creatures of the forest - and those of George Lucas' Star Wars fame have nothing on them - tend to his wounds, wrapping him in a net which levitates high into the "heavens" as Chelnokov winds and unwinds himself with astounding agility..
. . . . . . .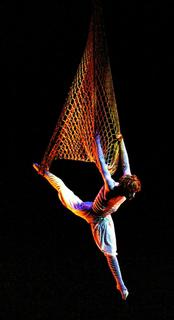 . . . . ANTON CHELNOKOV as Icarus
Some of the performing artists encountered along the way: Castor and Pollux, Brit hunk brothers Andrew and Kevin Atherton, emulating Icarus' dream, glide over audiences' heads with daring grace, gripping wrist straps; Andrei Yakovlev and 11 other artists creating an illusion of "body" skating on a silicone surface as they fling, intertwine and catch each other; and Irina Naumenko handbalancing on canes and maintaining a delicate equilibrium.
In an Act One showstopper, 11 acrobats from various corners of the globe tackle one of circus' oldest disciplines, body-juggling and rapid-paced sommersaulting; and Octavio Alegria, using hands and mouth, juggles numerous sizes of balls and other objects with astonishing speed.
The frenzy and rage, not to mention the amazing footwork, of the trio of Georgian Dancers is so intense you might think they are battling some unknown invaders. At the blackout, you're ready for a long intermission.
Other acts: three Asian tots become whirling dirvishes, called Water Meteors, as they spin ropes with metal anchors; and not one, not two, not three but four beauties defying gravity on a triple trapeze as the audience gasps at their daring routines.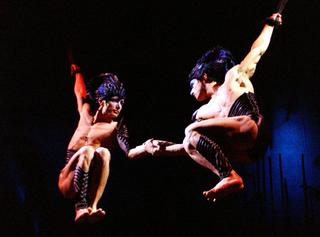 The Act Two finale is the thrilling showstopping showstopper: Alexander Parkov and 13 of his fellow Russian acrobats are hurled through the air with the greatest of ease, propelled from gigantic swings.
The Athertons
having a strapping
good time.
Fans of Cirque du Soleil have come to except Felliniesque production values and Varekai delivers them courtesy of Michel-AndrÈ Cardin, who is called Lightbulb, and mad scientist and jack of all trades La Vigie.

Of course, the real star of any Cirque is the production team and production designers Andrew Watson and StÈphane Roy, costumer Eiko Ishioka, choreographers Michael Montanaro and Bill Shannon, makeup designer Nathalie Gagne and lighting designer Nol Van Genuchten. Violaine Corradi composed the original score.
Guy LalibertÈ, an accordion player, stiltwalker and fire-eater, is the visionary behind the Montreal-based Cirque. Since 1984, he has guided the creative team through the creation of every show and contributed to elevating the circus arts to the level of the great artistic disciplines.
This "Circus of the Sun" has grown from a colorful band of characters that roamed the streets on stilts, juggling, dancing, breathing fire and playing music to become a phenomenon on five five continents. LalibertÈ, now Cirque CEO, estimates that by the end of 2005, Cirque will have been seen by over 50 million.

. ... . . . ......... ~ CIRQUE'S VAREKAI WITH A TOUCH OF FELLINI ~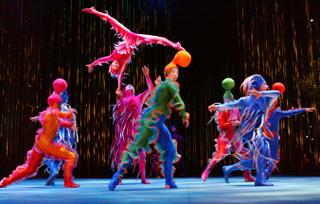 Cirque du Soleil productions have been the recipient of Drama Desk and Emmy awards.
It not only seems that Cirque du Soleil is everywhere, it is. In addition to the touring Varekai, Corteo has just ended it's Montreal premiere engagement and is embarking on a North American tour; Saltimbanco, currently in Paris, will soon begin a Mexican tour; and Dralion is touring Europe; Quidam is playing Down Under and will soon visit Asia; Alegr"a is selling out in Japan and will follow with a London engagement in January and then head to Europe.
In the U.S., there's La Nouba at Orlando's Walt Disney World, with MystËree, Cirque's water-themed "O," K¿ and the extraordinarily erotic Zumanity playing Vegas' Treasure Island, the Bellagio, MGM Grand and New York-New York, respectively.
Among the corporate sponsors of the Varekai tour are IBM, American Electric Power, Porsche North America and Celebrity Cruises.
For those without cars, there's NJ Transit bus service [as horrible as you might expect] from Port Authority, Windows 1-10. Special Event buses supposedly begin leaving at 6 P.M. and continue as each bus fills. Warning: service is sporadic, so plan accordingly.
For the return, buses begin leaving the complex as they are full a half hour after the two and a half hour show. If you miss the last one, you're outa luck unless you have the type of skills Cirque casting is looking for. [If you go early for the next week, a rather large NJ State Fair is also at the complex.]
Performances of Varekai are Tuesdays-Friday at 8 P.M.; Saturdays, 4 and 8; Sundays, 1 and 5. Adult tickets are $56-$86 with children's tickets from $39.25-$60.25. For tickets, group discounts and VIP ticketing, call (800) 450-1480 or visit online at cirquedusoleil.com.
--------
Ellis Nassour is an international media journalist, and author of Honky Tonk Angel: The Intimate Story of Patsy Cline, which he has adapted into a musical for the stage. Visit www.patsyclinehta.com.

He can be reached at [email protected]
Why are you looking all the way down here?
For more articles by Ellis Nassour, click the links below!
Previous:
CHERRY JONES IN THE PULITIZER PRIZE AND TONY AWARD-WINNING DOUBT IS HAVING NO DOUBTS AT ALL: "IT DOESN'T GET BETTER THAN THIS!"
Next:
JOHN LITHGOW JOINS BROADWAY GALLERY WALL OF FAME
Or go to the
Archives