Goldblum at Tony's
unveiling.

[Photo: AUBREY REUBEN/Playbill]
Goldblum mixed and posed for photos with numerous fans, surprised to find him, as one woman from his hometown of Phily put it, as "dessert" with her after-theatre dinner. He was joined by Pillowman cast members Tony Award-nominee Michael Stuhlbarg, Zeliko Ivanek, and members of the production team.
............................................................................I
In
The Life Aquatic with Steve Zissou: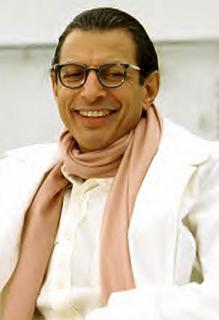 Goldblum's previous Broadway credits are The Play What I Wrote, the one-night-only The Moony Shapiro Songbook [which co-starred Gary Beach and Judy Kaye] and 1971's original NYSF production of Two Gentlemen of Verona [as a citizen of Verona and Milan with Stockard Channing, who was also making her Broadway debut]. Off-Broadway credits include:
The
Exonerated and El Grande de Coca Cola.

Goldblum made the transition to the big screen in a big way with roles in Independence Day, Jurassic Park, Earth Girls Are Easy, The Fly, Silverado, The Adventures of Buckaroo BanzaiÖ, The Big Chill, The Right Stuff, The Player, Invasion of the Body Snatchers, Next Stop Greenwich Village, Annie Hall, Nashville and, most recently, The Life Aquatic with Steve Zissou.
Goldblum in Buckaroo Banzai :

[Photo: BRUCE McBROOM]

On television, Goldblum starred in Tenspeed and Brown Shoe and has made guest appearances on Will & Grace and Friends.
The portrait gallery, co-created and produced by Tony's Special Events Coordinator Dale Badway of Badway On Broadway Productions was launched with a portrait of Broadway legend Chita Rivera. Paintings of Antonio Banderas, Bernadette Peters, Hugh Jackman, John Lithgow, Jerry Herman, Alfred Molina, Robert Goulet, Jerry Herman, Brooke Shields and Whoopi Goldberg were later additions.
The strikingly innovative, art nouveau oil paintings, which a heavy emphasis on black and the "dark side," are done from celebrity photos by Florida graphic artist Daniel.May, a former Tony's bartender.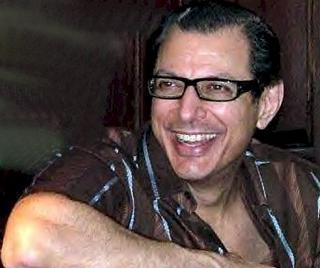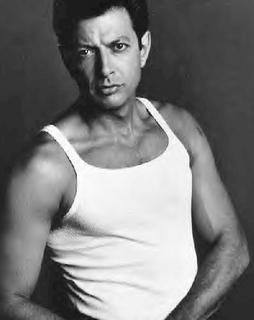 ......................... ... At unveiling ... and in a decidedly different mood ...
................................. [Photo (L) : ELLIS NASSOUR]
Upcoming additions to the Broadway Wall of Fame will be Tim Curry and David Hyde Pierce, co-stars of Spamalot, and Christina Applegate, Sweet Charity, in September.
--------
Ellis Nassour is an international media journalist, and author of Honky Tonk Angel: The Intimate Story of Patsy Cline, which he has adapted into a musical for the stage. Visit www.patsyclinehta.com.

He can be reached at [email protected]
Why are you looking all the way down here?
For more articles by Ellis Nassour, click the links below!
Previous:
CHERRY JONES : A RETROSPECTIVE WRAPPING HERSELF IN HER CHARACTERS AND MESMERIZING AUDIENCES
Next:
MARIAN SELDES: FIRST LADY OF AMERICAN THEATER?
Or go to the
Archives