How many Billys does it take to do a pas de deux? In the case of Billy Elliot, which opened last night, with music by Elton John and lyrics by Lee Hall, who also did the adaptation from his screenplay, it takes three, but only one on opening night.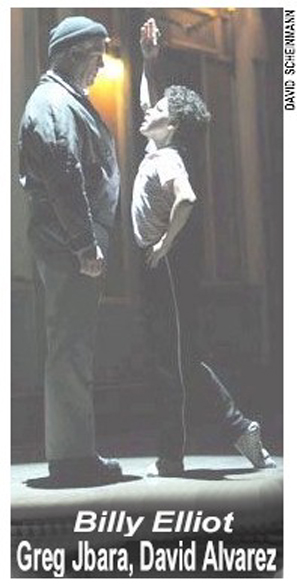 I don't know how many can do what a friend from New Orleans did last week, purchase tickets to three performances to catch the three Billys: David Alvarez, who performed last night, Trent Kowalik and Kiril Kulish. His report: all are excellent. Of course, the musical was in previews. As of today, with the gushing reviews, it's a solid hit. Can you still hear the thunderous applause from last night?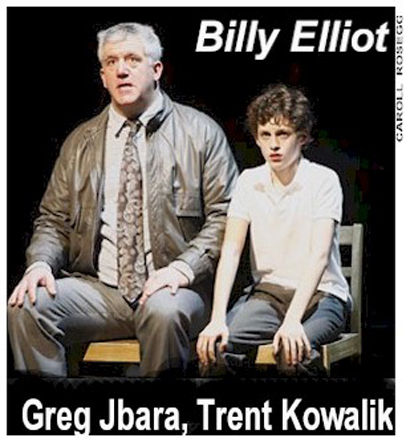 However, there two very special people you definitely will catch at every performance: Greg Jbara and the indefatigable Carole Shelley.
Jbara, a 2005 Drama Desk nominee for Featured Actor for Dirty Rotten Scoundrels and who was prominently featured in Victor/Victoria, with his touching performance as Dad, rises from the featured category to leading man status.
Ms. Shelley, well-remembered for her turn in Wicked and her Tony and DD-nominated performance in The Elephant Man, knows how to seize a stage as she certainly does in the role of Grandma.
The John/Hall score, Peter Darling's choreography and Stephen Daldry's direction are shoe-ins for Tony and DD nods.
It's shaping up to be quite a season.

It's Good to be the King
Tonight at 8 P.M. is the official opening night and last performance of the first revival of Alan Menken and Tim Rice's "modern oratorio," King David, which was the opening attraction in 1997 at the magnificently-restored New Amsterdam. The 10th Anniversary production is being presented at New York University's Skirball Center for the Performing Arts [566 LaGuardia Place at Washington Square Park South]. Special guests include Sir Tim and Menken.

Those are names you've surely heard of: Rice, for Jesus Christ Superstar, Evita, Chess, The Lion King, many more; Menken, for The Little Mermaid, Beauty and the Beast, Little Shop of Horrors, the movies Aladdin, Enchanted, many more.
Rice and Menken will be inducted into the NYU Music Hall of Fame. Rice departs New York for the West Coast, where he will be honored with a star on the Hollywood Walk of Fame.
The musical -- actually, Menken says he is never certain what to call King David, since to date it has only been presented in a concert format -- is based on the books of Samuel and 1 Chronicles, as well as text from King David's Psalms. It celebrates the amazing journey of the biblical shepherd from humble beginnings to becoming monarch but in Act Two David, seized with power, becomes an adulter and also arranges for the death of his son Absalom, who has become power hungry. There are also some shades of Henry VIII in David as he tries "bend" Hebrew marriage rules.
Directing is William Wesbrooks. The cast and orchestra is composed of undergraduate, graduate and doctoral students from NYU's Steinhardt School of Culture, Education and Human Development's Music and Performing Arts Professions departments. Stephanie Lang choreographs. Bruce Gil is music dirfector. Conducting the huge NYU orchestra will be Gerald Steichen.
Jay Armstrong Johnson appears as David. He recently appeared as Mark in the first national tour of the ACL revival.
Limited seats, at $10, are available. Purchase at the Skirball box office, online at www.skirballcenter.nyu.edu or by calling (212) 352 -3101.

Sound by God
This Monday at 8 P.M. at Town Hall enjoy Broadway songs the way they used to be heard, without mikes and mighty amplification, at Scott Seigel's Fifth Annual Broadway Unplugged.
"Amps and mikes be damned," states Seigel, who is writing the show. "The only sound you hear from our starry array of vocalists will be the old-fashioned kind, the way it used to be heard on Broadway - remember Merman? Martin? Drake? Gray? - without microphones and amplification. You might say the credit can read: Sound design by God."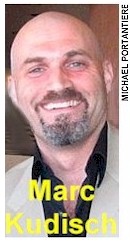 The Unplugged concerts are nothing less than memorable and spectacular and always marked by surprises and sustained audience ovations.
The singers [Mr. Siegel's usual cast of 20 +] with voices that can be heard right up to the last seat in the balcony include Ashley Brown [Broadway's original Mary Poppins], Ron Bohmer [Woman in White, where he could be heard even over a roaring locomotive], Mr. Bass himself Chuck Cooper [Tony winner, The Life; Caroline, or Change], Obie nom, Bistro Award winner and four-time MAC Award winner Bill Daugherty, Deven May [Batboy], Jeff McCarthy [Side Show, Urinetown], William Michals [u/s, Emile, South Pacific; Les Miz, B&B ], Christiane Noll [J&H] and, in his much-anticipated return to Unplugged, two-time Tony and three-time DD nom Marc Kudisch, who's just back from L.A.after being hog-tied, battered and beaten, by three chicks no less, in Dolly Parton's 9 to 5, coming to Broadway in early '09.

Broadway Unplugged is sponsored by, among others, the Edythe Kenner Foundation, Thoroughbred Records, TheaterMania.com, Trattoria Dopo Teatro, Jill and Irwin Cohen and Edith and Ervin Drake.
Tickets are $25 - $75 and available at the Town Hall box office, online at TicketMaster.com or by calling (212) 307-4100.

Character Actor
If you want to see an actor walk off with a play, actually steal almost the entire second act, rush to the Abingdon Theatre Company Complex [312 West 36th Street, off of Eighth Avenue] where Peter Brouwer is co-starring in the premiere of Steven Leigh Morris' Beachwood Drive, a potboiler that explores human trafficking.
Brouwer, frequently cast in Abingdon plays, especially scoring in Teddy Tonight and Glory Girls, plays LAPD detective William Cromwell, whom the script describes as being in his 70s and a fatigued Caucasian homicide investigator who's been trying in vain to retire.
To compensate for the criminals, suspects and witnesses he deals with, he keeps handy a flask of brandy, even drinking on the job. But Brouwer adds tons of color to the character that the playwright and director Alan Mandell should be quite grateful for.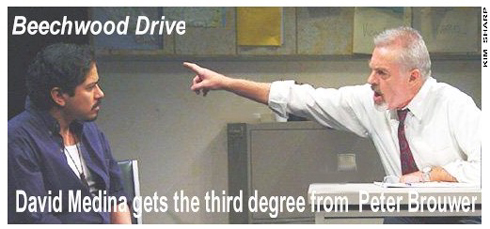 I adore Abington's A.D. Jan Buttram, a fine actress in her own right, and when she recommends coming to see a play I know I should. Since 1993, she and her team have developed the Abington into a fine Off Broadway venue for developing new works - and in one of the city's most comfortable 99-seaters.
I wasn't as enthralled with the play as Jan is. Thoughts entered my mind to make a discreet exit at the interval, but you know the rule: Stay for Act Two, because you never know what surprises might be in store. And, as Jan reminded me, Act One is the set-up for Act Two. And it is, and what a set-up because the Act Two surprise is Brouwer, who's not seen in Act One [big mistake!]. This is one detective who's not really that anxious to retire. He enjoys playing games with witnesses and criminals too much.
The pay off is quite a lot of fun as Brouwer, who conceivably could be in his 70s but looks at least a decade younger, is not only a welcome character, but a character who, in my humble opinion, saves the play with his sly Cromwell [keep in mind the Cromwell of Henry VIII England!]. This Cromwell also uses his powers of persuasion -- a sauve, debonair Southern gentleman's drawl and offers of brandy -- to off-put witnesses as well as suspects.
I noted in Brouwer's playbill bio there's no mention of TV and movie credits -- not even nno L&O!. Wow! are they missing the boat! Here is a man for all seasons and all media.
Performances of Beachwood Drive this weekend in the complex's June Havoc Theatre are tonight and Saturday at 8 P.M. and Saturday and Sunday at 2 P.M. Tickets are $40 and available online at www.smarttix.com, by calling (212) 868-4444 or at the Abingdon box office one hour prior to performances.

Encores! Returns to Paint the Town Red
Leonard Bernsetein and Comden and Green's love-New York musical On the Town opens the City Center Encores! season November 19 - 23.
The cast of 30 + includes Justin Bohon as Chip; Legally Blonde and Spamalot's Christian Borle as Ozzie; Michael Cumpsty as Pitkin W. Bridgework; Jessica Lee Goldyn as Ivy; Leslie Kritzer as Hildy; Andrea Martin, fresh from Young Frankenstein, as Madame P. Dilly; Julyana Soelistyo as Lucy; Jennifer Laura Thompson as Claire DeLoone; and Gypsy's Tony Yazbeck as Gabey.
Comden and Green wrote the hilarious book. Directing will be John Rando with Todd Ellison directing the Encores! orchestra. Choreography will be by Warren Carlyle. Jack Viertel is Encores! A. D.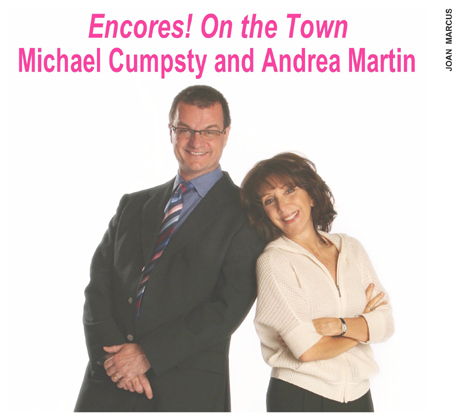 You may not have seen the original or the revivals, but how can you forget these classic lyrics by the late, great lyricists Comden and Green: "New York, New York, a helluva town/The Bronx is up and the Battery's down/The people ride in a hole in the ground/New York, New York, it's a helluva town!"
And it is, as the fleet docks and three sailors in particular hit the town running on 24-hour leave to discover the glories and gals of New York while searching for Miss Turnstiles.

On the Town is based on an idea by Jerome Robbins and inspired by his 1944 ballet Fancy Free. The score includes the poignant ballad "Some Other Time," "Lonely Town," "I Feel Like I'm Not Out of Bed Yet" and the showstopper "I Can Cook, Too."
Carlyle will reproduce the original Robbins' choreography for three numbers: "New York, New York," "Ya Got Me" and "Times Square Ballet." Scott Wise, Tony-winner for Jerome Robbins' Broadway, will assist.

This production is part of Bernstein: The Best of All Possible Worlds, a partnership with Carnegie Hall and the New York Philharmonic. For more information, visit bernsteinfestival.org. The Encores! season sponsor is Newman's Own Foundation.
Performances are Wednesday - Saturday at 8 P.M., Saturday at 2 and Sunday at 6:30. Tickets are $25-$95 [season subscriptions are $120 - $270] and available at the City Center box office, or online at www.nycitycenter.org. [where you print your tickets] or by calling (212) 581-1212.
Coming up: Jerome Kern/Oscar Hammerstein II's Music in the Air, February 5-8 with the original orchestrations by Robert Russell Bennett; and Burton Lane/E.Y. Harburg/Fred Saidy's Finian's Rainbow, March 26-29.

Songs of Fugitive Composers
on November 18 and 20 at 8 P.M. the New York Festival of Song will present Fugitives, songs by composers who fled Hitler's Europe, at Merkin Concert Hall at Kaufman Center [129 West 67th Street, off Broadway]. The program includes music from Broadway, the concert stage and Berlin cabaret by Kurt Weill, Erich Korngold, Arnold Schoenberg and others sung by Metropolitan Opera rising young stars tenor Joseph Kaiser and mezzo-soprano Kate Lindsey.
NYFOS A.D. Steven Blier, whom The New York Times praised as "a national treasure when it comes to the art of song," be pianist/host.

Tickets are $40-$55 and available at the Merkin box office, online at www.kaufman-center.org or by calling (212) 501-3330. A limited number of $15 student tickets are available. Call (646) 230-8380. For more information, visit www.nyfos.org.

Cook Will Be Cookin'
One of the most celebrated vocalists and channelers of, among others, Sondheim, Barbara Cook joins orchestrator/musical director/composer Jonathan Tunick as his very special guest at Broadway at Birdland on November 24 at 7 P.M. Oscar, Tony, Emmy and Grammy winner Tunick will be music directing his big band, the Broadway Moonlighters, which features musicians from the orchestras of Road Show, The Little Mermaid, In the Heights, Pal Joey and others.
Could Ms. Cook preview songs from her new DRG CD Rainbow 'Round My Shoulder.
Admission is $30 or $50 for VIP seating, with a $10 food/drink minimum. To reserve, call (212) 581-3080 or book online at www.Birdland.com.
Upcoming concerts at BAB: Christine Ebersole and Billy Stritch, November 26-29; the Broadway Boys, December 1; and Victoria Shaw, December 1.

Swingin' Duo Return
They're coming back with more, more more. They being Alison Fraser and Mary Testa, who will be reprising their show November 24th at 7 P.M., November 30th at 8 and December 11th at 11:30 at the Laurie Beechman Theatre Voices from the Great White Way series. Special guest will be Annie Golden.
Music directing a four-piece band will be Allison Leyton-Brown. Among the songs heard will tunes from Rusty Magee musicals, The Green Heart, written with Charles Busch; and The Czar of Rock and Roll , written with Lewis Black.
The cover is $25 with a $15 food/beverage minimum. For reservations, call (212) 695- 6909.

Viennese Bon Bons and More from PBS
Get your wallets out, have your credit cards at the ready, because Pledge Week two weeks away, but PBS has some very enjoyable rewards as a bonus for giving.
Placideo Domingo, Anna Netrebko and Rolando Villazón will perform to the intoxicating strains of Franz Lehar [The Merry Widow, Land of Smiles] and other masters of operetta and zarzuela [El Gato Montes] when PBS' Great Performances presents Domingo, Netrebko & Villazón: Three Stars in Vienna, a concert gala from the Imperial Park of Vienna's Schönbrunn Summer Palace, on November 30 at 7 P.M.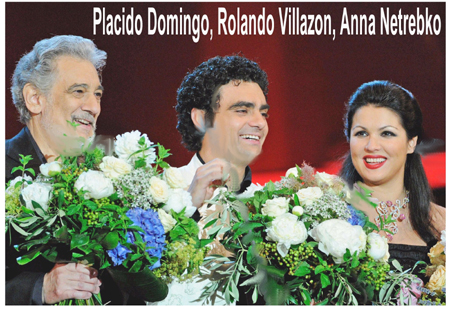 French conductor Bertrand de Billy will be directing the Vienna Radio Symphony Orchestra.
The hour-long special, taped last June, will be presented by Thirteen/WNET in HiDef.
Following at 8:30, Great Performances presents what you might call an "infinite" variety program as 15 Grammy Award-winner David Foster gathers some of his friends at Vegas' Mandalay Casino to entertain you.
Hitman: David Foster & Friends features a gilded roster of artists including songs from Andrea Bocelli, Josh Groban,Michael Bublé, Kenneth "Babyface" Edmonds, Brian McKnight, Peter Cetera, Boz Scagg, Kenny G, Katharine McPhee and 16-year-old Filipino power-house Charice with Foster at the keyboards with a virtual jukebox of songs written and/or produced by him over his, to date, 35-year career.
Showstopping moments include tenor Bocelli and McPhee dueting on "The Prayer"; and Groban with signature songs "Bridge Over Troubled Water," a duet with McKnight, and and "You Raise Me Up"; and segment with Celine Dion.
Great Performances is funded by the Irene Diamond Fund, the Corporation for Public Broadcasting and, of course, viewers like you.

Enemy Performances
Playwrights Horizons is presenting the New York premiere of Prayer for My Enemy by two-time Tony nominee, Pulitzer Prize finalist and two-time Obie winner Craig Lucas. Tony winner Bartlett Sher [South Pacific, Light in the Piazza] is directing Tony and DD winner Victoria Clark, Tony winner Michele Pawk and Tony and DD nominee Jonathan Groff in a six-member cast. It runs through December 21.
Lucas describes the play, set against a backdrop of a son returning from Iraq, as "a keenly-layered drama about the preciousness of life and the grace to share common ground - even with those we love the least."

Tickets are available at the Ticket Central box office on Theatre Row, by calling (212) 279-4200 and online at www.playwrightshorizons.org.
Reflecting PH's commitment to making productions more affordable to younger audiences, it is offering $20 rush tickets, subject to availability, day of performance only, starting one hour before showtime to those 30 and under [proof of age required; one ticket per person, per purchase] and $15 student rush tickets [same policy].

Coming of Age Now

A coming-of-age story about two brothers, Capture Now, written and performed by Josh Jonas, is getting some critical buzz at the Theaters at 45 Bleecker Street in Greenwich Village. The buzz is not just for the poignant writing which one critic called "Captivating. Innovative, insightful drama. A smash of the soul, a Jewish Field of Dreams " for also for the multi-talented Jonas, who in a tour-de-force plays all 10 parts. Larry Moss [The Syringa Tree, RFK] directs
You might have heard of the producers: Kurt Peterson [Sondheim: A Musical Tribute; and who was Young Ben in the original Follies and appeared with Angela Lansbury in Dear World], and Jane Bergère [13, All My Sons, Curtains].
For tickets, call Tele-charge, (212) 239-6200 or book online at www.telecharge.com. For more informtion, visit www.capturenowtheplay.com

A Special Trio in a Special Performance
On December 1, celebrated jazz and cabaret artists Laurie Krauz, Luba Mason and Spider Saloff will perform back-to-back in conert at the Metropolitan Room at 7 P.M. The cover is $30 with a two drink minimum. For reservations, call (212) 206-0440.
Ellis Nassour is an international media journalist, and author of Honky Tonk Angel: The Intimate Story of Patsy Cline, which he has adapted into a musical for the stage. Visit www.patsyclinehta.com.

He can be reached at [email protected]





Why are you looking all the way down here?
For more articles by Ellis Nassour, click the links below!

Previous: Ken Russell Makes Stage Directorial Debut with Psycho Drama Mindgame

Next: In Remembrance: Gerald Schoenfeld, Clive Barnes

Or go to the Archives