AT SEA WITH ROSIE, ANNIE, AND THE GANG
One of the stops on the just-concluded R Family Vacations cruise aboard the magnificent Norwegian Dawn was supposed to be Bermuda, but Key West was substituted as a port of call when organizers Rosie O'Donnell, Kelli O'Donnell (her spouse), and Gregg Kaminsky were informed a few months ago that this cruise for gay families and friends would be met by anti-gay Bermudan protesters! It was just as well: If the ship had disappeared in the Bermuda Triangle, it would have brought with it some of New York City's most talented performers. Here's a photo album of entertainment highlights from the spectacular week-long cruise on the vessel that piano bar entertainer Brian Nash succinctly and amusingly labeled "The Big Gay Boat."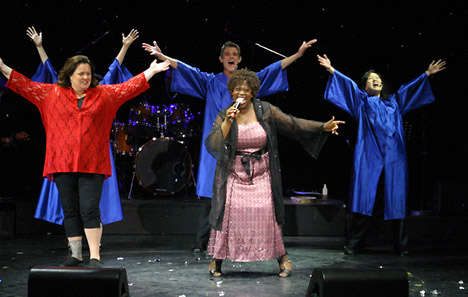 The evening of the day we left New York brought us the first of several top-shelf entertainments in the beautiful Stardust Theater: "Rosie's Broadway Belters." The show was capped by the one and only Capathia Jenkins in a roof-raising reprise of "A Big Black Lady Stops the Show," which she did nightly on Broadway in Martin Short: Fame Becomes Me.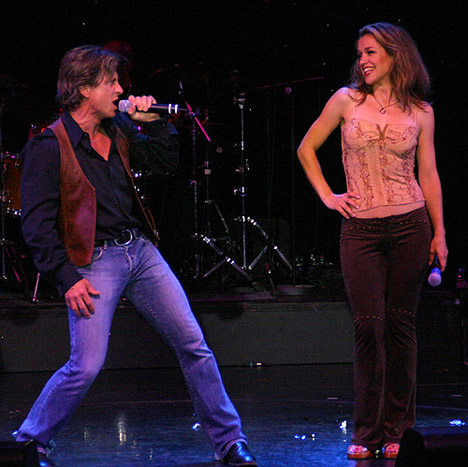 Also belting to high heaven were Sarah Uriarte Berry (who co-starred in Rosie's Broadway production of Taboo) and her husband, Michael Berry.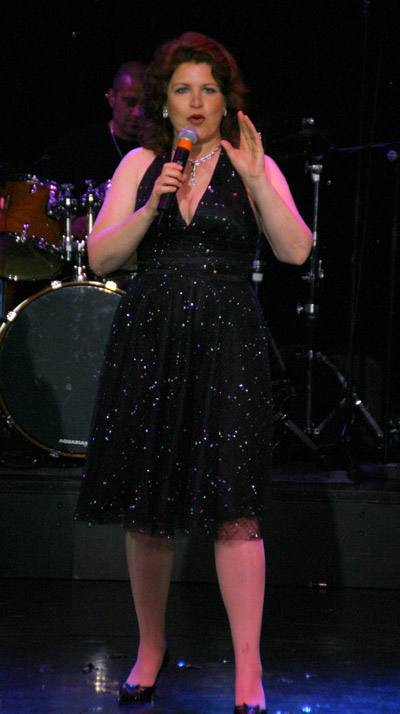 Klea Blackhurst thrillingly channeled the greatest Broadway belter of them all, Ethel Merman.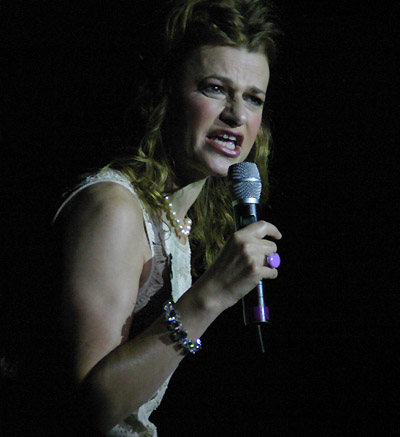 Sandra Bernhard opened her solo show of terrific singing and sharp comedy with an in-the-laps-of-the-audience performance of "And I Am Telling You I'm Not Going" from Dreamgirls.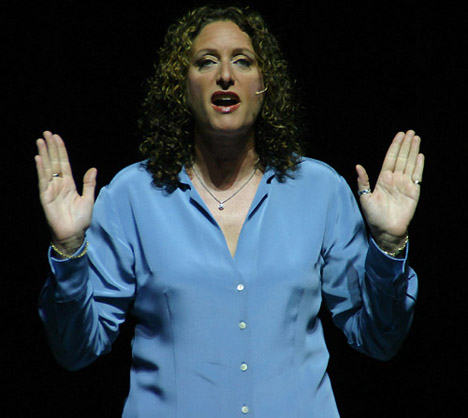 Comedy was King (or should I say Queen?) on the cruise. Judy Gold killed with her stand-up routine and also presented her one-woman show 25 Questions for a Jewish Mother, which won acclaim Off-Broadway.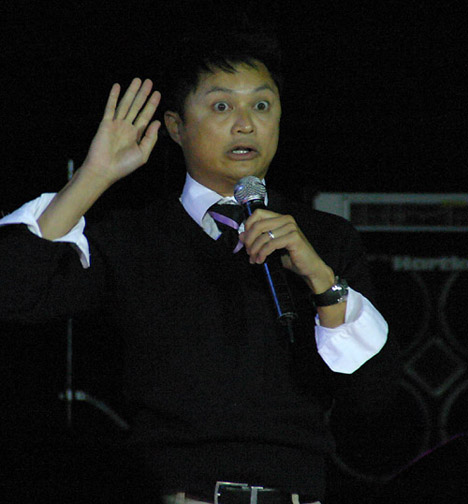 Alec Mapa, a veteran of the theater who has also appeared in such TV shows as Desperate Housewives, slew with a routine that touched on subjects ranging from gay parenting to the dietary habits of Filipinos.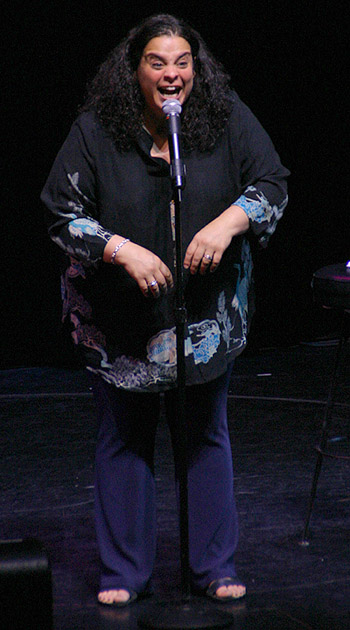 Jessica Kirson, recently seen off Broadway in The J.A.P. Show, brought down the house with (among other things) her priceless imitations of adorable little babies.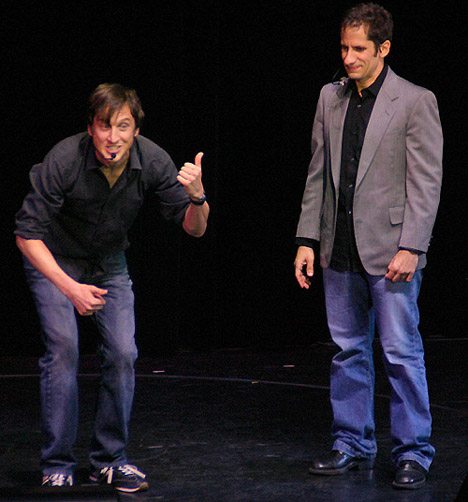 The indefatigable Seth Rudetsky, who seemed to have his hand in almost every show presented aboard ship, teamed up with longtime pal Jack Plotnick for a brand-new, cringe-inducing edition of "Mortification Theater."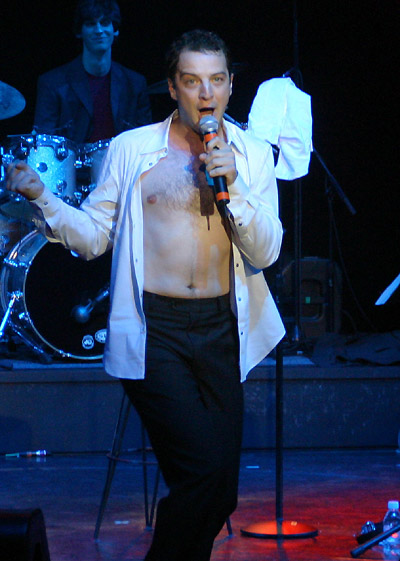 Euan Morton, who played Boy George in Taboo, sang the haunting "Stranger in This World" from that score as part of an eclectic program that also included songs by Joni Mitchell, Neil Diamond, and other greats.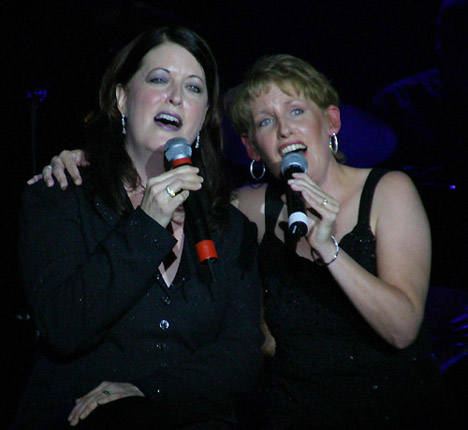 One of the major highlights of the week came when sisters Ann Hampton Callaway and Liz Callaway reprised their superb cabaret show Sibling Revelry, featuring an appropriately titled "huge medley" that included "I Know Him So Well" from Chess, "Bosom Buddies" from Mame, "A Boy Like That / I Have A Love" from West Side Story, etc., etc.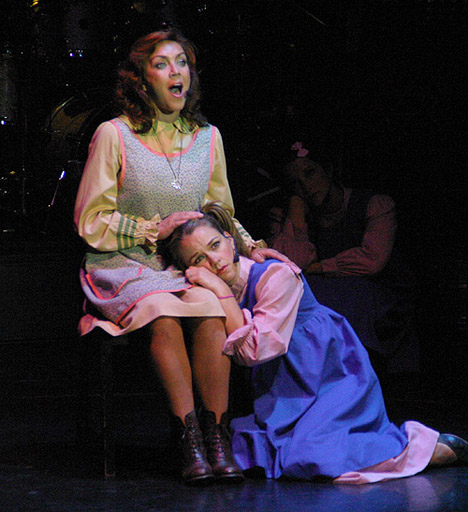 The final night of the cruise brought us the only show that could even come close to topping the Callaways: a concert version of Annie with its original star, Andrea McArdle! Here she is singing "Maybe" to comfort her fellow orphan Molly, played by Sarah Uriarte Berry.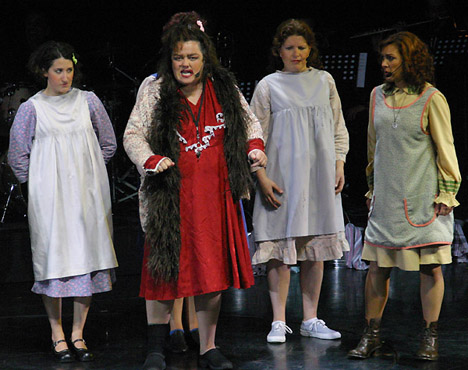 Mean, nasty Miss Hannigan was played by Rosie O'Donnell herself! Here she is putting the fear of God into the orphans.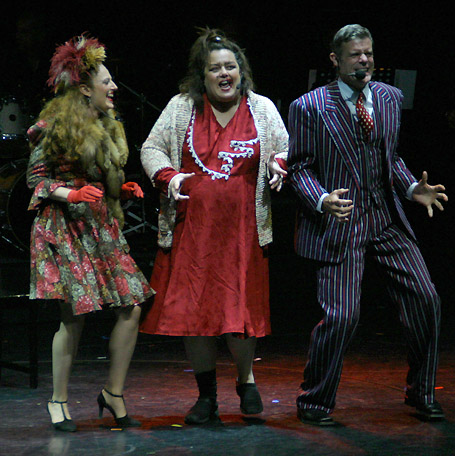 Rosie strutted down "Easy Street" with Naomi Naughton as Lily St. Regis and Michael Scott as Rooster.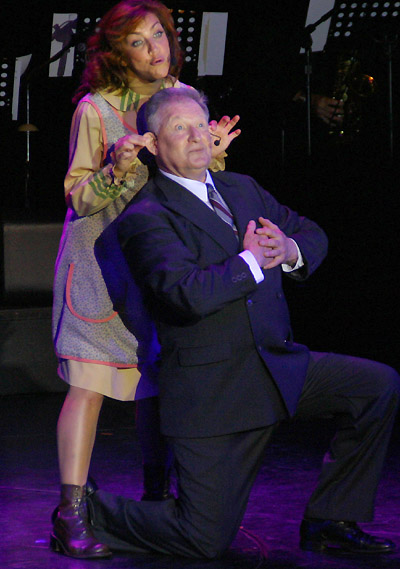 Broadway veteran Harvey Evans played Oliver "Daddy" Warbucks. Here he is with McArdle, performing "I Don't Need Anything But You."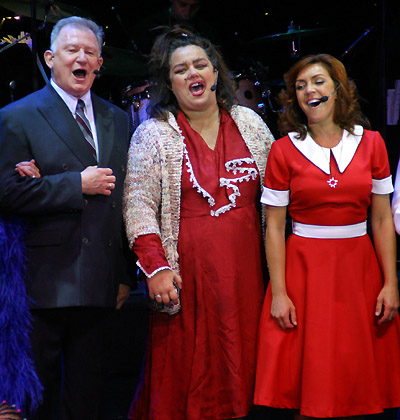 And here's McArdle (with Evans and O'Donnell) in the finale, sporting a knock-off of Annie's world-famous red dress.




Published on Saturday, July 14, 2007




Michael Portantiere has more than 30 years' experience as an editor and writer for TheaterMania.com, InTHEATER magazine, and BACK STAGE. He has interviewed theater notables for NPR.org, PLAYBILL, STAGEBILL, and OPERA NEWS, and has written notes for several cast albums. Michael is co-author of FORBIDDEN BROADWAY: BEHIND THE MYLAR CURTAIN, published in 2008 by Hal Leonard/Applause. Additionally, he is a professional photographer whose pictures have been published by THE NEW YORK TIMES, the DAILY NEWS, and several major websites. (Visit www.followspotphoto.com for more information.) He can be reached at [email protected]


Why are you looking all the way down here?
For more articles by Michael Portantiere, click the links below!

Next: The Gypsy Cult

Or go to the Archives