LET'S ALL PLAY "CAST THE REVIVALS!"
Now that the summer doldrums are here and there are no Broadway openings to look forward to in the near future except Grease (!!), I thought it might be a good time to play one of my favorite parlor games, "Cast the Revivals!" Here are some suggestions for particular roles in upcoming productions on and off Broadway. Feel free to give me your feedback, whether "That's a great idea!" or "How asinine," and to offer your own ideas. None of us will win anything for our efforts, but it can be fun to see how our own casting concepts compare to those of the professionals.

South Pacific:
This is a major event: Lincoln Center Theater is reviving the only show among the acknowledged masterpieces of Rodgers and Hammerstein that has never been seen on Broadway since its original production. Word on "the street" is that the beautiful and supremely talented Kelli O'Hara, who co-starred in LCT's The Light in the Piazza, is favored for the role of Ensign Nellie Forbush. She'd be great in the part, but if this casting doesn't come about for one reason or another, I'd like to suggest Nancy Anderson (photo left). In such previous shows as Wonderful Town (Broadway) and She Loves Me (Paper Mill), Anderson has proven not only that she possesses oodles of stage presence and has a great voice, but also that she looks right and has a definite feel for period musicals.
The great operatic baritone Dmitri Hvorostovsky has been mentioned for Emile DeBecque, and that casting would be just too marvelous for words. If it doesn't happen, how about Metropolitan Opera stalwart Dwayne Croft as Emile? (A few years ago, this would have been a dream role for Placido Domingo, but I think he's a bit past it now.) Of course, the problem with signing opera stars for Broadway shows is that they're often booked years in advance. If no such gents are available, I hope LCT gives some thought to Martin Vidnovic, who still sounds amazing and has just the right look for Monsieur DeBecque.
As for Lieutenant Joe Cable, the possibilities are myriad. Harry Connick did a fine job as Joe in the TV movie version of SP, but I doubt he'd be available for the LCT production, and he's now a little long in the tooth for the part. I suggest Steven Pasquale, Wayne Wilcox, or Matthew Morrison, all of whom played Fabrizio in The Light in the Piazza in one city or another. And here's an intriguing alternative: What about Spring Awakening star Jonathan Groff as Cable? Groff is more boyish than the role is usually cast, but this would only point up the fact that many war heroes are just kids barely out of high school or college. Can you imagine how heartbreaking Groff would be singing "Younger than Springtime" and "You've Got to Be Carefully Taught?"

Guys and Dolls:
Jane Krakowski triumphed as Adelaide in the recent London revival, and it would be great to see her reprise this plum role on Broadway. If not, how about Alison Fraser, who came close to stealing the recent City Center production of Gypsy in the role of Tessie Tura? To those who'd argue that Fraser is a bit too mature for the role, I would point out that Adelaide is supposed to have been engaged to Nathan Detroit for 14 years. Bearing that in mind, here's another idea for Adelaide that sounds crazy but might just turn out to be inspired: Ellen Greene, the original Audrey in Little Shop of Horrors. I'm not sure of Greene's actual age, but I've seen her on and off stage recently, and she looks fantastic. She never got to play Audrey on Broadway, so it could be a blast to see her in the somewhat similar, sweet-but-kinda-dumb-blonde role of Adelaide. Just a thought!
For Nathan Detroit, I'm thinking Brad Oscar or Richard Kind. For Sky Masterson and Sarah Brown, I'm thinking Marc Kudisch and Sarah Uriarte-Berry. Ernie Sabella would be great as Big Jule, and Todd Buonopane would stop the show with Nicely-Nicely Johnson's "Sit Down, You're Rockin' the Boat."

The Ritz:
Most of the principal cast of the Roundabout Theatre Company's revival of Terrence McNally's bathhouse comedy has already been announced, but not the pivotal role of Michael Brick, the detective who looks like Sam Spade and talks like Mickey Mouse. This would have been a great part for David Hyde Pierce, if he weren't busy playing another detective in Curtains. If the Roundabout wants a TV stars, maybe they could get Eric McCormack or Neil Patrick Harris. But my personal choice for Brick is Christopher Sieber, who has proven time and again that he's a comic genius.

Pygmalion:
The Roundabout has announced Jefferson Mays as Henry Higgins and Claire Danes as Eliza Doolittle. Wouldn't it be wild if they could get Danes' boyfriend, Hugh Dancy, to play Freddy Eynsford-Hill? I realize that he's a rising stage and screen star, and wouldn't normally accept such a small role, but he might do it for Danes in this limited run production. As Colonel Pickering, I'd love to see the beloved Broadway veteran George S. Irving; as Eliza's father, how about Barry Humphries, a.k.a. Dame Edna?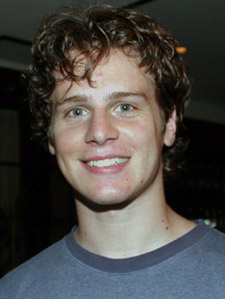 City Center Encores!:
I'm not going to attempt to cast Juno, because I don't know the show well enough, but I'll take a shot at No, No, Nanette and Applause. Encores! has announced Beth Leavel as Lucille Early and Rosie O'Donnell as the maid Pauline. I'd like to see Noah Racey or Gavin Lee opposite Leavel as Billy Early, with Harvey Evans or George S. Irving as Jimmy, and Debbie Reynolds or Jane Powell as Sue. Jersey Boys' Daniel Reichard or the aforementioned Jonathan Groff (photo right) would be perfect as naive young Tom Trainor. As for Nanette herself, the perhaps too obvious choice is Sutton Foster. Another possibility? Meredith Patterson. If she got the part, maybe her equally talented husband Shonn Wiley could play Tom?

Grey Gardens star Christine Ebersole will be playing Margo Channing in Applause, so it might be fun to see Erin Davie -- who played Young Edie Beale in Act I of GG -- as the conniving Eve Harrington. Tom Wopat would be an excellent choiice for Bill Sampson, while Brooks Ashmanskas, Mario Cantone, or Jesse Tyler Ferguson would be hilarious as the swishy Duane.


Musicals in Mufti:
The York Theatre Company will be honoring librettist Joseph Stein with semi-staged concert presentations of four of his shows. I'm not familiar enough with all of them to suggest casting, but for Zorba, I'd love to see Marc Kudisch and Judy Kaye, who received excellent notices as the title character and Mme. Hortense in last year's L.A. Reprise! production.

For The Baker's Wife, wouldn't it be fabulous to have engaged couple Laura Benanti and Steven Pasquale as Genevieve and Dominique? This might not be possible, as both are committed to TV series -- but I can dream, can't I? If they can't do it, I'd suggest Sarah Uriarte-Berry as the unhappy Genevieve and the golden-voiced David Burnham as her "beautiful young man," who turns out to be a real prick. Another great choice would be Max von Essen, who was terrific as Dominique in the recent Paper Mill Playhouse production. As for the cuckolded baker Aimable, I'm gonna stick my neck out and suggest Paul Sorvino, who played that part in the original production (as a replacement for Topol). True, Sorvino was disastrous as Tony in the New York City Opera's recent revival of The Most Happy Fella, but that was because he didn't bother to learn the part cold. The Mufti shows are performed with scripts, so this wouldn't be an issue; and Sorvino's singing voice is still in spectacular shape, despite his age. What do you think?




Published on Monday, August 6, 2007




Michael Portantiere has more than 30 years' experience as an editor and writer for TheaterMania.com, InTHEATER magazine, and BACK STAGE. He has interviewed theater notables for NPR.org, PLAYBILL, STAGEBILL, and OPERA NEWS, and has written notes for several cast albums. Michael is co-author of FORBIDDEN BROADWAY: BEHIND THE MYLAR CURTAIN, published in 2008 by Hal Leonard/Applause. Additionally, he is a professional photographer whose pictures have been published by THE NEW YORK TIMES, the DAILY NEWS, and several major websites. (Visit www.followspotphoto.com for more information.) He can be reached at [email protected]


Why are you looking all the way down here?
For more articles by Michael Portantiere, click the links below!

Previous: High School All Over Again!

Next: The Lady is a Champ

Or go to the Archives