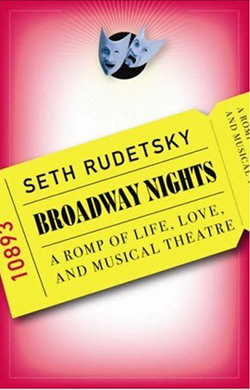 FOR YOUR READING AND LISTENING PLEASURE
Seth Rudetsky's Broadway Nights (Alyson Books) is guaranteed to be nine people's favorite thing. Of course, I don't mean that literally; it's a reference to the song from [title of show] in which the creators proudly proclaim that they'd "rather be nine people's favorite thing than a hundred people's ninth favorite thing." The point is that true artists write (or compose, or paint, or whatever) about what's important to them even if doing so limits their potential audience, rather than attempting to appeal to the masses and coming up with something generic and bland as a result.
As you may already know, Rudetsky is a multi-talented individual with simultaneous careers as a Broadway musician/conductor, a stand-up comedian, a radio personality, and an actor. (There are probably a few others that I've left out.) The central character/narrator of Broadway Nights, "Stephen Sheerin," bears a strong resemblance to the author, though some of the life details are fictionalized. For example: Sheerin has an epiphany when he experiences Andrea McArdle in Annie on Broadway, but Rudetsky has been heard to lament that she wasn't in the show when he saw it. Though Patti LuPone, Betty Buckley, and other real-life personalities are mentioned in the book, Rudetsky sometimes conflates the names of his friends and colleagues to come up with new monikers like "Hunter Plotnick" (a nod to Hunter Bell and Jack Plotnick). And though lots of actual shows are praised or dissed here, the tuner that marks Sheerin's official debut as a Broadway musical director/conductor is a fictional item titled Flowerchild.
Throughout the book's 339 pages, Rudetsky defines and explains certain terms and situations for the benefit of those who don't live and breathe musicals. But when you come right down to it, Broadway Nights is aimed at the hard core -- and it's freakin' hilarious. During a break in my grand jury duty recently, I embarrassed myself when I laughed out loud at Rudetsky's comparison of Broadway show dance captains to the kapos in Nazi concentration camps. On the subway home, I got some strange looks when I guffawed over his observation that doing theater in L.A. Is about as respectable as performing a drag show for the Southern Baptist convention. And I found myself giggling and nodding in agreement when I read his assessment of a Broadway production with which Rudetsky was actually involved: "The mid-'90s revival of Grease had a parade of TV stars coming through it every few months: Mackenzie Phillips, Mickey Dolenz, Sally Struthers, Linda Blair, ad infinitum. Even though a lot of them were extremely talented, the musical took on a freak-show element. Every night was like an episode of VH-1's Where Are They Now?"
For the record, the book also contains trenchant observations that will hit home even if you don't know a whole lot about The Baker's Wife or The Prince of Central Park. In reference to his god-like dancer boyfriend, Sheerin says, "It's a little intimidating having sex with someone whose body fat percentage is equal to the number of times I've laughed at Suddenly Susan (0), but, boy, you get used to it!" And I loved the following astute remark: "There is nothing more annoying than someone who has just discovered therapy and won't stop spouting off to people who are fine living in denial." If you find this sort of stuff as amusing as I do, Broadway Nights will be right up your alley.
********************
Who among the musical theater's current crop of young leading men has the most gorgeous voice of all? David Burnham, you say? Well, you won't get any argument from me. Burnham's stunning debut solo album on the LML Music label was released some time ago, but he's giving it a new push with a gig at the Metropolitan Room on October 7 and a signing and mini-concert at the Barnes & Noble store in Lincoln Triangle on November 14, so I'll take this opportunity to praise the CD once again. Give a listen and marvel as he puts his opera-quality bari-tenor through an eclectic program ranging from the classic "Moon River" (Henry Mancini/Johnny Mercer) to "Flight" (Craig Carnelia) to "Smile" (Charlie Chaplin/Geoffrey Parsons/John Turner). Burnham's rendition of "Maria" from West Side Story is beautiful beyond description, and there are stirring duets with Destan Owens ("Muddy Water" from Big River), Eden Espinosa ("As Long as You're Mine" from Wicked), and Burnham's former Light in the Piazza co-star Elena Shaddow ("The Prayer" by David Foster and Carole Bayer Sager). Required listening!

If you know Judy Kuhn's wonderfully warm and expressive voice from Les Misérables, Chess, or any of her other endeavors, the idea of her singing Laura Nyro's songs probably strikes you as a good one -- and it is. Six years ago, Kuhn appeared at the Vineyard Theatre in Eli's Comin', a show based on the Nyro songbook. Now she has given us a CD titled Serious Playground (Ghostlight Records), highlighted by her takes on two huge hits: "Stoney End" and "Stoned Soul Picnic." Also featured are such songs as "Sweet Blindness," "To a Child," "Save the Country," and "Lonely Women." Oddly, "Eli's Comin'" is not to be found among the disc's 14 tracks, but what's here is worth hearing as much for Jeffrey Klitz's terrific arrangements/orchestrations as for Kuhn's vocalism.

Since we didn't get a 50th anniversary Broadway production of West Side Story, we might at least have hoped for a great new recording of the immortal Leonard Bernstein/Stephen Sondheim score. Alas, the recently released Decca Broadway effort disappoints. Opera singer Vittorio Grigolo displays an uncommonly beautiful voice as Tony, and a fellow named Will Martin has just the right attitude for Riff, but their thick accents (Italian and British, respectively) make them less than credible as 1950s Hell's Kitchen teenagers. The same goes for the Brit supporting cast; when they shout "Mambo!" during the "Dance at the Gym" sequence, they pronounce the first syllable to rhyme with "m'am" rather than "mom," and it sounds really funny. Hayley Westenra, a New Zealand soprano of Irish heritage, brings a pretty but thin voice to the role of Maria, and she has an annoying habit of playing fast and loose with note values. Melanie Marshall's soprano-ish Anita and Connie Fisher's pop-ish rendition of "Somewhere" (in a much lower key than originally written) are further liabilities. Nick Ingman leads the Royal Liverpool Philharmonic Orchestra through a performance that inexplicably omits "The Rumble" and the "Somewhere" ballet. Though Ingman's reading of the score is quite good overall, there are some questionable tempo choices, not to mention a weird pause right before the last vocal chord in the "Tonight" ensemble. If you want to hear WSS, stick with the original cast recording and the movie soundtrack.




Published on Friday, October 5, 2007




Michael Portantiere has more than 30 years' experience as an editor and writer for TheaterMania.com, InTHEATER magazine, and BACK STAGE. He has interviewed theater notables for NPR.org, PLAYBILL, STAGEBILL, and OPERA NEWS, and has written notes for several cast albums. Michael is co-author of FORBIDDEN BROADWAY: BEHIND THE MYLAR CURTAIN, published in 2008 by Hal Leonard/Applause. Additionally, he is a professional photographer whose pictures have been published by THE NEW YORK TIMES, the DAILY NEWS, and several major websites. (Visit www.followspotphoto.com for more information.) He can be reached at [email protected]


Why are you looking all the way down here?
For more articles by Michael Portantiere, click the links below!

Previous: Lucia Goes Mad, Gets Even at Met

Next: Chasin' Jason

Or go to the Archives