A PIECE OF CAKE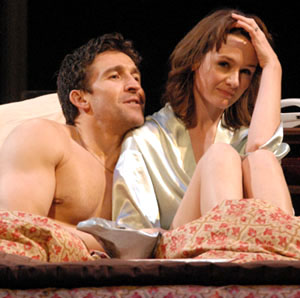 Sex sells! Actor Jonathan Cake has gained lots of attention for having displayed his ripped, muscular body in various degrees of undress in three different shows this season: Shakespeare's Cymbeline at Lincoln Center; the Atlantic Theater Company Stage 2 production of Almost an Evening, Ethan Coen's trio of one-acts; and now, the Atlantic's mainstage production of Jez Butterworth's Parlour Song. (In a TimeOut New York review of Parlour Song, Adam Feldman wrote: "It may be time for Jonathan Cake to legally change his first name to Beef.")
The fellow is definitely in demand for his acting talent and his plummy British accent as well as for his pecs, so much so that he couldn't sign on for the Atlantic's commercial run of Almost an Evening at The Theatres at 45 Bleecker Street, because he had already committed to the same company's production of the Butterworth play. I recently spoke with Cake about his burgeoning career, what he does to keep in shape, and the new addition to his family.
********************
BROADWAYSTARS: You've done three shows back to back in New York. I'm guessing that you're legally able to do so because you're married to an American?
JONATHAN CAKE: Yes. I attribute my work spree to the fact that I'm an English actor in New York with a green card. It's pretty handy that I'm legal, but it's funny: We've been living here for two years without anyone really offering me any theater work at all and then, suddenly, three shows came along in a row. I've been delighted about it, but it's been kind of intense. For the last six months, I've pretty much always been rehearsing during the day and performing at night, sometimes rehearsing one show and performing another. I'm not sure it's good for anyone to do that much acting. I think you can do it during the day or at night, but when you're doing both, it feels a little weird.
STARS: I imagine it would have been hard to turn down any of these projects.
JC: I've loved all three of these incredibly different, fascinating parts, and the people I've worked with have been extraordinary. But my wife and I have a new baby -- our first kid -- and there's that thing that happens when you become a parent. You have to abdicate the part of you that's selfish. For a while, I was getting that confused: I was being this sort of selfish person at home and this selfless provider at work. I couldn't quite get the balance right. But it's been amazing to go from difficult, complex, late Shakespeare to those deceptively slight one-act plays, which actually have an incredible amount of nuance and reverberations, and then to the concrete but, at the same time, surreal world of this new play by Jez Butterworth. It's been a glorious range of different styles.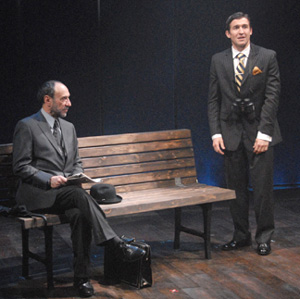 STARS: Your wife is an actress.
JC: Yes. Julianne Nicholson. She plays one of the detectives on Law & Order: Criminal Intent, opposite Chris Noth. We met about five years ago in L.A., when we were both doing a Steven Bochco pilot for HBO. My line is that the show didn't get picked up, but she did.
STARS: I was lucky enough to see you play Jason in Medea on Broadway in 2002, opposite the great Fiona Shaw. Was that your American stage debut?
JC: Yes. I'd never acted on stage here, and I'd never even been to New York. That was a very exciting time for me. I think that production had a profound effect on people. There's something special about the New York audience in that they're literally hungry for discussion of what artists working in the theater think about what's going on in the world. In that respect, it's a little different from London, where they're more reluctant to tune into the issues of the day. For example, when Margaret Thatcher was in power, there were no state-of-the-nation plays. But in New York, there's a great appetite for talking about what's going on. Medea was done not long after 9/11, and people were very interested in what the Greeks had to say about unimaginable suffering and brutality.
STARS: Tell me about Parlour Song.
JC: Emily Mortimer and Chris Bauer play a married couple living in a suburb of London. They've got to a stage in their marriage when things are stagnating. I play their next-door neighbor, the husband's best friend. Without giving too much away, the three of them cement each other's mid-life crises. You read these newspaper stories all the time where someone kills his wife and all of the neighbors say, "He seemed like such a nice guy." That's the sort of passion that's explored in this play.
STARS: In every show I've seen you in thus far, you've had a Brit accent. Can you sound American if you need to?
JC: After Medea, I did Doubt in L.A., so I got to do a Bronx accent. I'd love to do more American parts. I don't know many actors who don't have a good ear. If we work hard enough, we can do just about any dialect, because it's in our DNA. And I think it's generally easy for Brits to do American accents because we're constantly exposed to American culture through movies and TV shows.
STARS: So, Jonathan: What's up with your semi-nudity in these last three shows?
JC: I come from a tradition where, if a production or a play will benefit from that, it's just not an issue. In Cymbeline, there were very good reasons for setting that scene in the baths, the one where Posthumus meets Iachimo and the rest of these kind of loose Europeans. Then there was the scene where Iachimo comes to Imogen's bedchamber at night, and it made complete sense that there should be the sexual element of having him be this half-clothed voyeur. In Almost an Evening, Ethan Coen had a scene set in a steam room, and I wasn't going to say to him, "Ethan, could you rewrite this scene, because I took off my clothes in the last show?" And in Parlour Song, Jez has a great scene where the guy is playing Scrabble in bed with his mistress. The fact that these things happened for me one after another is coincidence, really. I hope people won't draw the conclusion that I have it specified in any contract that an author has to write me a scene where I'm semi-nude. I don't ever want it to be a distraction.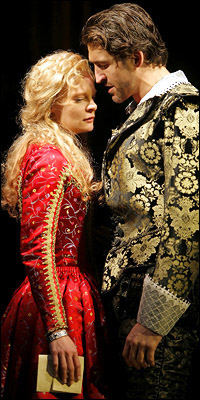 STARS: What's your exercise regimen?

JC: I particularly tried to get in shape for Cymbeline, because I felt the character is a complete narcissist and would pride himself on looking good. Iachimo is off stage for about an hour, so I would go and do a sort of spartan, prison-style workout in an empty rehearsal room. But that was really the only time I had to exercise, because I was dealing with a new baby.

STARS: The bar has been set incredibly high for any actor who displays his or her body on stage in New York, yet you've gotten a lot of positive response for that.

JC: I'm sort of perversely flattered, because I'm 40, and I haven't seen the inside of a gym in months. All I've been doing is rehearsing, performing, and changing diapers. There's something to be said for what I call "the play diet." The incredible Emily Mortimer has been eating like a horse, but she's been losing weight hand over fist while we've been doing this play. What happens when you're performing is that your metabolism is sped up to a great extent, because you spend most of your time in an abject state of fear. That's very good for your body fat ratio.

STARS: As you've proven in your last three shows!

JC: I know, I know. Listen, I don't want to do my next part in a burka, but it would be nice to maybe wear a suit or something.




Published on Friday, March 14, 2008




Michael Portantiere has more than 30 years' experience as an editor and writer for TheaterMania.com, InTHEATER magazine, and BACK STAGE. He has interviewed theater notables for NPR.org, PLAYBILL, STAGEBILL, and OPERA NEWS, and has written notes for several cast albums. Michael is co-author of FORBIDDEN BROADWAY: BEHIND THE MYLAR CURTAIN, published in 2008 by Hal Leonard/Applause. Additionally, he is a professional photographer whose pictures have been published by THE NEW YORK TIMES, the DAILY NEWS, and several major websites. (Visit www.followspotphoto.com for more information.) He can be reached at [email protected]


Why are you looking all the way down here?
For more articles by Michael Portantiere, click the links below!

Previous: Party Like It's 1947

Next: White House Keeping

Or go to the Archives