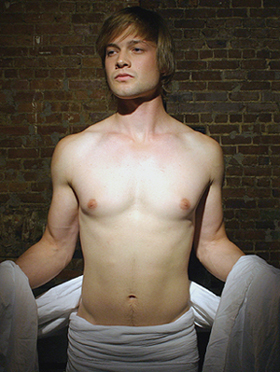 A BODY WITHOUT A HEAD
No, it's not the title of a new splatter film playing down at the multiplex. A Body Without a Head is a much more lyrical, non-violent entertainment, a "theatrical fable" written and directed by George R. Carr. Running April 28-May 2 at Manhattan Theatre Source, the piece is a staged presentation of poems by Carr that were originally published in a collection with sketches by his brother, the late Zack Carr III, who served as right-hand-man to living-legend designer Calvin Klein for more than 25 years.
The poems were written during a trip to St. Tropez and were inspired by the island's namesake, Saint Torpes, a Roman gladiator who was beheaded for refusing to renounce his spiritual beliefs. Set on "a moonlit beach where 12 souls...find comfort in the darkness and each other," A Body Without a Head is said by the author to be intended for anyone, anywhere who at anytime has lost his head to love.
Although the Torpes character doesn't appear until the final few moments of the hour-long show, Carr felt it imperative to have a magnetic, beautiful presence in the part -- and he was understandably shaken when the actor originally cast had to bow out due to another commitment. That's when the gods of the theater smiled on the company.
"Last year," Carr relates, "I was introduced to an actor named Brandon Ruckdashel, who was in a play called Ascension Off-Broadway. I saw him in that, and he was wonderful." Carr made it a point to keep him in mind for future projects, but Ruckdashel soon moved to Los Angeles and became so involved in building a career there that he was unavailable for New York theater work. Or so it seemed...
The story of Ruckdashel's career arc is as interesting as any play or musical -- and, in fact, calls to mind the plots of several plays and musicals. Less than a year after coming to New York at age 22, he was cast in Ascension as Lorenzo, a teenager who may or may not have been sexually abused by a Catholic priest. That tiny-budget production's scheduled three-week run was extended -- and its ticket prices tripled -- in response to the frenzy that was created when Anita Gates of The New York Times raved about Ruckdashel's acting, wrote that he possessed "the intense blond good looks of a young Brad Pitt with a soupçon of James Dean," and also happened to mention that he had a full-frontal nude scene in the show.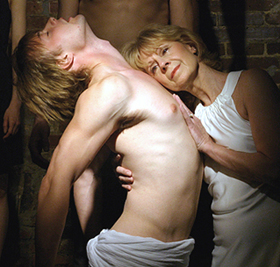 Flash forward one year: Following critical acclaim for his performance in the title role of the L.A. premiere of the musical Twist, Ruckdashel has lately been in the thick of indie film and television work. His highest-profile project thus far is a featured role in HERE! TV's gay vampire series The Lair, in which he'll be seen this fall. George Carr wanted him for A Body Without A Head in the worst way, but friends patiently pointed out that Ruckdashel would almost certainly not be available to fly to New York on very short notice for a one-week run in an Off-Off-Broadway showcase. Carr made contact anyway -- and Ruckashel's first words to him were, "When do you want me there?"
The cast of A Body Without a Head also includes Courtney Allen, James Edward Becton, Sarah Doudna, Matt Drago, Olivia Julien, Brian Karim, Catherine Kjome, Terrence Michael McCrossan, Barbara Mundy, John Van Ness Philip, and Steven Seidel. The piece is very much an ensemble effort, but Ruckdashel's role can be seen as its emotional center, and Carr is thrilled at this completely unexpected casting coup. "What a wonderful happening it is to have Brandon as our Torpes," he enthuses. "It's a gorgeous part, and he owns it." For more information, visit www.theatresource.org.
********************
TWO NIGHTS AT THE OPERA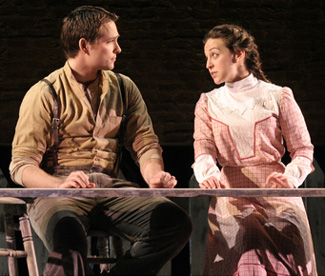 When I first heard that Ned Rorem was writing an opera based on Thorton Wilder's Our Town, I was very intrigued, as a huge fan of both Rorem's music and this all-time classic, ineffably moving play. So I was thrilled to attend the Juilliard Opera Center's New York premiere production of the piece -- and it wasn't until about a third of the way through the performance that I realized there's an inherent problem in using this work as source material for an opera or musical.
Think about it: The basic theme of Our Town is that, as we human beings move through our daily lives, we don't take the time to smell the roses -- i.e., to fully appreciate all the wonders of the world and the joys of our existence. Even though much of the score that Rorem has crafted for his adaptation is written in a non-effusive, conversational style, the very fact that the characters are singing rather than speaking gives more emotional weight to every single line, creating the impression that the characters are very much aware and appreciative of their loved ones and the simple beauty of their town. Nor does Rorem's music make any real distinction between the world of the living and the world of the dead, whom we see and hear in the famous, devastating graveyard sequence.
The piece may be problematic, but Juilliard gave it a first-class production, with Jennifer Zetlan and Alek Shrader singing beautifully and acting with utter conviction as Emily and George. Other standouts were David McFerrin and Renee Tatum as Mrs. and Mrs. Webb, and Marc Webster and Jessica Klein and Dr. and Mrs. Gibbs. Of all the leads, only Alex Mansoori disappointed as the Stage Manager, seeming too callow and bland for this all-important role. Director Edward Berkeley came up with some odd bits of staging, but Anne Manson conducted the performance with great skill and sensitivity.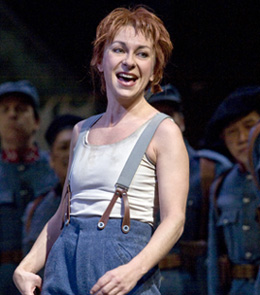 Way back in the '70s, when I wanted to introduce friends to the opera, the choice of production was clear: the New York City Opera staging of Donizetti's La Fille du Regiment. The fact that the company performed the piece in English (as The Daughter of the Regiment) was a major plus, especially given the fact that those were the days before NYCO introduced simultaneous translation of libretti via supertitles. La Fille contains quite a large amount of spoken dialogue, making it more accessible to that subset of people who are musical theater lovers but opera-phobes; the piece is basically light and funny, rather than dark and dour; and the NYCO production starred Beverly Sills, whose performance in the title role was irresistibly warm, funny, and charming.

The production of La Fille that's now in rep at the Metropolitan Opera doesn't have Sills, but it's got the brilliant Natalie Dessay in a tour-de-force performance of the title role. A true phenomenon, Dessay is somehow able to toss off thrilling coloratura roulades while gamboling across the stage in the role of the tom-boy waif Marie, going so far as to deliver two sustained high notes while being held aloft by the male chorus. She is superly partnered by the Tonio of Juan Diego Florez, whose singing of the showpiece aria "Pour mon ame" with its nine high "C"s is already the stuff of legend; Alessandro Corbelli, a delightfully droll presence as Sergeant Sulpice; Felicity Palmer in the Margaret Dumont-like role of the Marquise of Berkenfield; and the theater's own Marian Seldes in a nifty, non-singing cameo as the Dutchess of Krakenthorp.

Director Laurent Pelly has moved the action of the opera from the Napoleonic era to World War I, but this is not one of those wholesale revampings that destroy a classic work. On the contrary, this is the funniest, most endearing production of La fille du regiment that anyone could ever hope to experience. Add the surpassing beauty of Donizetti's score as conducted by Marco Amiliato and you have a night at the opera that should not be missed. Mark it in red on your calendar that this production will be telecast as part of PBS's Great Performances series on June 26 (Thirteen/WNET in New York). Check local listings for broadcast times in other cities.




Published on Monday, April 28, 2008




Michael Portantiere has more than 30 years' experience as an editor and writer for TheaterMania.com, InTHEATER magazine, and BACK STAGE. He has interviewed theater notables for NPR.org, PLAYBILL, STAGEBILL, and OPERA NEWS, and has written notes for several cast albums. Michael is co-author of FORBIDDEN BROADWAY: BEHIND THE MYLAR CURTAIN, published in 2008 by Hal Leonard/Applause. Additionally, he is a professional photographer whose pictures have been published by THE NEW YORK TIMES, the DAILY NEWS, and several major websites. (Visit www.followspotphoto.com for more information.) He can be reached at [email protected]


Why are you looking all the way down here?
For more articles by Michael Portantiere, click the links below!

Previous: Go, Billy!

Next: It Might as Well Be Easter

Or go to the Archives