FROM JERSEY TO WESTPHALIA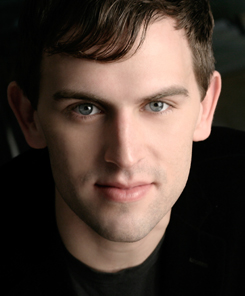 Versatility, thy name is Daniel. In his very first New York show, Forbidden Broadway, Daniel Reichard demonstrated a great talent for adopting the voices and body language of various theatrical characters (and actors). He had a somewhat similar assignment in The Thing About Men, in which he also played multiple roles. In the regrettably short-lived Radiant Baby at The Public Theater, Daniel gave an uncanny performance as Keith Haring, but he did a major turnaround in type for his Broadway debut role: Bob Gaudio in the mega-hit Jersey Boys.
On top of all this, Daniel has been a regular presence on New York's cabaret and club circuit, further proving that he can do just about anything by singing music that runs the gamut from hard rock to pop to the standards of the great American songbook. And now he may be found at the New York City Opera, where he's taking on the title role of the noble Westphalian youth Candide in the Harold Prince production of Leonard Bernstein's gorgeous operetta.
"I did this part 10 years ago at the University of Michigan," he tells me, running down the impressive list of others in that production who've gone on to Broadway: "Barrett Foa was Voltaire/Pangloss, Celia Keenan-Bolger was Sheep #1, and Alexander Gemignani was the Grand Inquisitor. Courtney Balan, who's in Cry-Baby, was also in it. We were all the closest of friends. By the way, Mark Simon -- the casting director for New York City Opera -- saw that Michigan production, and I think that's how the connection was initially made. There's something about the character of Candide that just comes out of me. Doing this part again has been kind of like getting back on a bike."
Is it a stretch for Daniel to sing operetta? Not really. "My voice teacher in Ann Arbor, Melody Racine, is an opera singer. She taught many of the Michigan grads, and she teaches a classically based technique. We weren't allowed to belt, everything was well placed. Her method with me and many of her students was to create a single voice. She gave me a very strong, legitimate technique. So I came to New York in 2000 with this kind of old-school voice, if you will. I used it in Forbidden Broadway and in Brigadoon at Goodspeed, but then I started getting all of these jobs in rock musicals and developed a style for singing rock and pop music. I love that I get to do both in my career."
Daniel makes a conscious effort to seek out different types of roles. "Playing Keith Haring was a cool experience and sort of legitimized me as one of New York's geekiest actors," he says. "Playing Candide again is great because he's a noble hero. He gets the girl, he's brave and strong -- even though he's a little goofy sometimes. I'm a little goofy myself, and I'm not embarrassed about it. I'm proud of it! Candide gets to do it all. I love the comedy of the piece and the character, but at the same time, there are opportunities for beautiful singing and real drama."
Candide was revived on Broadway in 1997, and at City Opera just three years ago. A 2005 concert presentation by the New York Philharmonic, with Kristin Chenoweth and Patti LuPone among the leads, was telecast by PBS and is available on DVD. So the piece is not at all an unfamiliar commodity. Still, Daniel is concerned that fans who know him only from Jersey Boys might be hesitant to attend an operetta, and he wants to reassure them on that score.
"It's an epic adventure, like The Lord of the Rings," he enthuses. "It's about this boy who goes on a very extreme journey. The audience sees the story through Candide's eyes, and they develop a relationship with him. The piece is so charming and funny as it shows us the adventures of this young man who has an unconquerable spirit in the face of human suffering. It's not hard to follow -- and it's all in English. No one should be afraid of it. I think of it as the perfect gateway to opera."
Daniel has warm words for his castmates; they include Broadway's Richard Kind as Voltaire/Pangloss and Judith Blazer as the Old Lady, with Lauren Worsham and Lielle Berman alternating as Cunegonde. Hal Prince, who's recovering from a stroke he suffered two months ago, has not been directly involved with this revival but, according to Daniel, "he checks in. Shortly before he had the stroke, he sent me a personal letter saying how excited he was that I was going to be playing the part, and how near and dear Candide is to him. When I opened that letter, I couldn't believe it. I didn't even know Hal Prince was aware of my existence. The letter has lived on my refrigerator for the past three months, as a reminder of how blessed I am to continue to be a part of this community."

********************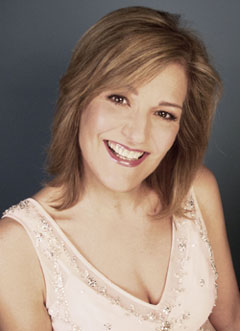 KAREN MASON: RIGHT HERE, RIGHT NOW
Karen Mason performs constantly in cabaret clubs and regional theater, and her Broadway career has been quite a ride. She made her debut in 1982 in a one-performance flop called Sing Me a Country Song and didn't return till seven years later, when she was cast as a replacement in Jerome Robbins Broadway. Next, she was hired as the standby for the bravura role of Norma Desmond in Andrew Lloyd Webber's Sunset Boulevard, and she got to go on many times during the show's two-and-a-half-year run. Her last Main Stem part to date was that of Tanya in the original company of Mamma Mia!. But now she's happily back on the Broadway boards as Velma Von Tussle in that joyfest called Hairspray.

"I had auditioned a few times for the show," she tells me. "Finally they called and said, 'We'd like you to go in.' It happened very quickly. I was already booked to do some shows at the Metropolitan Room, but I thought, 'I can do it all!' That's my personality. So I have my first performance in Hairspray on Tuesday, April 8 -- and then on Thursday, Friday, Saturday, and Sunday, we have late shows at the Metropolitan. It's very exciting, but just a little harder than I thought it was going to be. I made a joke that I'll probably check into a hospital on Monday, because I think I'm gonna be toast."

Her program at the Metropolitan Room will feature several songs from her new CD, Right Here / Right Now, produced by her husband Paul Rolnick for their "ma-and-pa" label, Zevely Records. "It's nice to have control over the product," Karen remarks. "You know, if someone came along and gave us a huge amount of money to do an album for a major label, I don't think Paul and I would say no. But, in the meantime, we get to have full control of the quality level and do the things we want to do."

The album's title song means a lot to both of them. "I don't think I'll ever be a pop diva," says Karen, "but we were looking for a song that was a little more mainstream and pop-oriented than what I usually do. Something like a power ballad. So Paul wrote this song, 'Right Here, Right Now,' and Chris Denny did the arrangement. It's a very romantic song; people are really moved and touched by it. I think it could be a pop hit - if not for me, then for someone else. Celine Dion would be just fine! And if someone wanted to take the recording from our album and use it for a commercial, that would be fantastic.

"Also on the CD, we have 'Diamonds are a Girls' Best Friend.' I love that song, but I thought, 'What kind of an imprint could I possibly have on it?' Chris and my director, Barry Kleinbort, came up with this kind of bossa-nova thing. Barry is so great about putting a sense of humor into something. He and Chris really tailored the song to what I can do. I never in my wildest dreams thought I'd be singing 'Diamonds are a Girl's Best Friend,' but it's a lot of fun."

Karen gives a refreshingly candid response when I ask if there's an overall theme to the album: "In no way," she says flatly. "There is absolutely no theme, unless it's just the different sides of me. I've never been good at themes. But it's got some great songs, like 'All That Jazz,' 'Secret Love,' and a kick-ass version of 'Get Happy.' Paul always likes there to be a Broadway connection on my albums, so we also have 'As If We Never Said Goodbye.' It's a kind of schizophrenic CD, actually. But that's me!"

One aspect of her "schizophrenic" personality will be given full rein as Karen eases into the comic bitch role of Velma in Hairspray. "At the put-in rehearsal today," she tells me, "I had on the costumes and the high-heels and the hair. Once you put on all that drag, it really is so much fun to be in this show. You can't go wrong with big hair!"




Published on Monday, April 7, 2008




Michael Portantiere has more than 30 years' experience as an editor and writer for TheaterMania.com, InTHEATER magazine, and BACK STAGE. He has interviewed theater notables for NPR.org, PLAYBILL, STAGEBILL, and OPERA NEWS, and has written notes for several cast albums. Michael is co-author of FORBIDDEN BROADWAY: BEHIND THE MYLAR CURTAIN, published in 2008 by Hal Leonard/Applause. Additionally, he is a professional photographer whose pictures have been published by THE NEW YORK TIMES, the DAILY NEWS, and several major websites. (Visit www.followspotphoto.com for more information.) He can be reached at [email protected]


Why are you looking all the way down here?
For more articles by Michael Portantiere, click the links below!

Previous: Foster Child

Next: Sing a Song of Alan Menken

Or go to the Archives