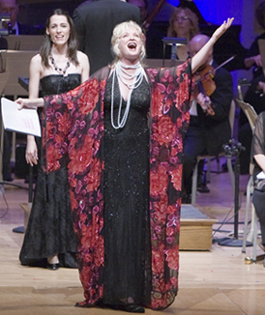 A LITTLE NIGHT MUSIC IN A ROMANTIC ATMOSPHERE
The best praise I can give to the Boston Pops' recent concert presentation of A Little Night Music is that I very much enjoyed it even though, about 24 hours before the first of the concert's four scheduled performances, deep disappointment descended with the announcement that one of the two Broadway stars who had been billed to head the cast "had to withdraw due to a scheduling conflict."
The lady in question is Mary Louise Wilson, who was to have appeared in the role of Madame Armfeldt. Her casting had seemed a major coup for the Pops, since Wilson and Christine Ebersole, both of whom won Tony Awards last season for their work as "Big Edie" and "Little Edie" in Grey Gardens, would once again have been playing mother and daughter. In the event, Wilson's Night Music shoes were filled by Boston favorite Bobbie Steinbach, who gave an excellent performance but who lacks the star wattage (and the history with Ebersole) that would have made this the extra-special event it promised to be.

Nevertheless, the concert was a triumph for the orchestra. Conducted by Keith Lockhart, the Pops sounded alternately silky and lush but always supremely romantic as the musicians reveled in the ravishing melodies and harmonies that Stephen Sondheim fashioned for this unique score, which is famously written entirely in three-quarter time or multiples of same. There were some odd cuts, most notably the entire prologue for the liebeslieder singers and one verse of Mme. Armfeldt's "Liaisons." But what remained was played and sung to the hilt.
Ebersole was a welcome presence as Desirée Armfeldt despite being somewhat miscast. She's not very good at playing worldly sophistication -- as a friend of mine put it, there's little of the grande dame in her persona -- which is why she didn't quite hit the bullseye on this occasion or when she took on the role of Margo Channing in the City Center Encores! production of Applause earlier this year. Uncharacteristically, Ebersole missed some of the laughs in Hugh Wheeler's witty script for Night Music, as in her misreading of a line that's meant to be a sly comment on her erstwhile lover Frederik's marriage to a very young woman. (It's supposed to be "And this is my daughter," not "And this is my daughter). Still, she looked beautiful, and she sang "Send in the Clowns" with lovely tone and a great depth of feeling.
Ron Raines was excellent as Fredrik, acting the role very well indeed and gloriously unfurling his robust, perfectly focused baritone in such songs as "Now," "You Must Meet My Wife," and "It Would Have Been Wonderful." The remainder of the company consisted of young vocal fellows from the Tanglewood Music Center, all of whom show great talent and at least one of whom can already be considered a bona-fide star: Matthew Worth, who nearly stole the show with his can't-take-your-eyes-off-him stage presence and gorgeous voice.
Though Ashley Logan as Anne Egerman (Frederik's child bride) seemed to have some trouble negotiating her register break, she sounded lovely in the upper reaches of her songs, especially in "Soon." Rebecca Jo Loeb did a wonderful job with Petra's "The Miller's Son," and the five liebeslieders -- Emily Hindrichs, Charlene Santoni, Kristin Hoff, Mark Van Arsdale, and Christopher Johnstone -- sang magnificently well.
On the mixed-to-minus side, Zachary Wilder was rather bland as Fredrik's tormented son Henrik; Katie Hanney was too old for the role of the pubescent Fredrika; and though Katherine Growdon sang much more beautifully than the typical Countess Charlotte Malcolm, she somehow managed to bungle every single one of the sure-fire laugh lines that the late Wheeler wrote for the character. (No help at all seems to have come from Casey Hushion, who was credited as stage director).
Night Music is set to be performed at Tanglewood on July 8. If you're planning to be in the vicinity of Lenox and Stockbridge, Mass. around that time, add it to your calendar of events; though this production certainly has its non-musical flaws, I can't think of a more beautiful or more appropriate score to enjoy as the summer night smiles down.
********************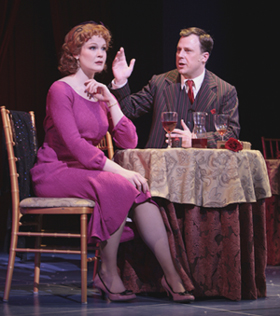 She Loves Me is often cited as a perfect little gem of a musical. So it's appropriate that James Noone's set design for the production that just closed at the Huntington Theatre Company and will move to the Williamstown Theatre Festival later this month called to mind a jewelry box, with set pieces gently emerging and receding into its medium-blue recesses throughout the performance.

Based on a play by Miklos Laszlo that also inspired the films The Shop Around the Corner, In the Good Old Summertime, and You've Got Mail, the Jerry Bock-Sheldon Harnick-Joe Masteroff musical about two warring shop clerks who don't realize they're carrying on an epistolary love affair with each other never fails to warm the heart when skillfully directed as it is here by Nicholas Martin, outgoing artistic director at the Huntington (and incoming artistic director at Willamstown). Time and again, Martin has proved himself one of the best in the business. It's great that, after eight years of consistently fine service, he's leaving the Huntington on such a sweet high note.

The most interesting facet of the production is Martin's choices of actors for the two leading roles, Georg Nowack (misprinted in the program as Howack!) and Amalia Balash. It goes without saying that major miscasting can ruin a show; but if you engage actors who are not quite what we're used to seeing in their roles and yet aren't way off the mark, you can wind up with a wonderfully fresh production of a classic on your hands. In She Loves Me, Brooks Ashmanskas is a funnier, less leading-mannish Georg than usual, while Kate Baldwin is a taller, more self-possessed Amalia than the standard issue. If their performances can't be said to be definitive, they are completely successful on their own terms, and the actors adeptly communicate the arc of the characters' relationship from near hatred to love.

The casting of the other roles is more on-the-nose but equally felicitous: Jessica Stone is a gamine Ilona, Mark Nelson an amusingly obsequious Sipos, Troy Britton Johnson a slick and handsome Kodaly, Jeremy Beck an appealing Arpad, and Marc Vietor an imperious Head Waiter. If you want definitive, look to the brilliantly nuanced performance of honored theater veteran Dick Latessa as Mr. Maraczek.

Situated upstage on top of a platform, a full orchestra (including harp!) conducted by musical director Charlie Alterman plays the Bock-Harnick score for all its worth. Denis Jones' expertise as a choreographer comes to the fore in the cafe scene ("A Romantic Atmosphere") and the "Twelve Days to Christmas" sequence. The work of costumer Robert Morgan, lighting designers Kenneth Posner and Philip Rosenberg, and sound designers Drew Levy and Tony Smolenski IV is as commendable as that of scenic designer Noone. If ever there was a production that in itself justifies a trip to Williamstown, this is it.




Published on Tuesday, June 17, 2008




Michael Portantiere has more than 30 years' experience as an editor and writer for TheaterMania.com, InTHEATER magazine, and BACK STAGE. He has interviewed theater notables for NPR.org, PLAYBILL, STAGEBILL, and OPERA NEWS, and has written notes for several cast albums. Michael is co-author of FORBIDDEN BROADWAY: BEHIND THE MYLAR CURTAIN, published in 2008 by Hal Leonard/Applause. Additionally, he is a professional photographer whose pictures have been published by THE NEW YORK TIMES, the DAILY NEWS, and several major websites. (Visit www.followspotphoto.com for more information.) He can be reached at [email protected]


Why are you looking all the way down here?
For more articles by Michael Portantiere, click the links below!

Previous: The 2008 Phony Awards

Next: Daniel McDonald: True Love

Or go to the Archives