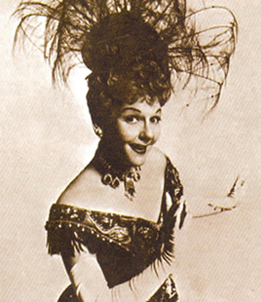 MARY MARTIN IS DOLLY GALLAGHER LEVI!
"Why did it take so long for the Mary Martin Hello, Dolly! to come out on CD?", a colleague of mine recently asked via email. Now that the recording in question has been issued and distributed on CD by ArkivMusic, you can have a listen and decide for yourself whether or not there were good reasons for the belatedness of the transfer.
The history of Dolly! recordings is unusual. In the mid-1960s, three different cast albums of Jerry Herman's wonderful score were released on LP by RCA Victor within three years of each other: the original Broadway cast recording, starring Carol Channing ('64); the London cast recording, starring Martin ('65); and the recording of the revamped, all-black Broadway production that was headlined by Pearl Bailey and Cab Calloway ('67). The Channing album has always been and presumably always will be readily available, while the Bailey is currently out of print but did make it to CD. The Martin album has been out of print for nearly 40 years.
Well, that's not entirely true: Two of Martin's Dolly! numbers, "I Put My Hand In" and "So Long, Dearie," are included as bonus items on the most recent CD edition of the Channing recording. Other bonuses to be found there are two tracks from the Bailey recording and, most interesting of all, Ethel Merman's recordings of the two songs that were added to the Broadway Dolly! when she took over the title role in 1970 and finished out the show's seven-year run: "Love, Look in My Window" and "World, Take Me Back."
Following RCA's three recordings, the Dolly! score turned up again via the soundtrack of the film version, which starred the super-talented but miscast Barbra Streisand, and an unfortunate 1994 revival cast album with Channing back in the lead, then at a far-too-advanced age. My personal favorite of all the recordings is Bailey-Calloway, but I'm thrilled that my CD library now also includes the Mary Martin version, despite its significant flaws.
Martin played Mrs. Levi in London immediately after starring in a tour of Dolly! that visited several U.S. cities, plus Toronto, and then made stops in Japan, Viet Nam, Okinawa, and Korea. Appparently, that company traveled intact to London and performed the show there at the Theatre Royal Drury Lane, later to be replaced by an all-British company headed by Dora Bryan. (This probably explains why the Martin recording is rather oddly billed as featuring the "Original Drury Lane Cast.")
Certainly, Martin's fabled charm comes through on the recording -- as when, in the opening number, her Dolly matter-of-factly explains that "Some people, paint, some sew...I meddle!" (If you'd like to see as well as hear Martin in this plum role, check out the excellent PBS documentary Words and Music by Jerry Herman for some brief but tantalizing clips of her in action.)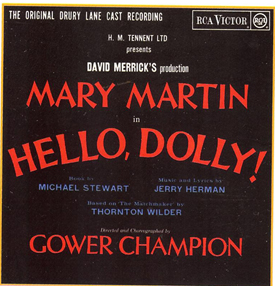 As for the star's singing voice, it was still in good condition in the mid '60s, with only some strain at the top of her range reflecting her age. To be honest, a few of her high notes are embarrassing and may partly account for this album having been so quickly deleted from the catalogue; among the moments in question are her ill-advised attempt at wailing towards the end of the title song and her coarse belting/shouting of "All aboard!" in "Put On Your Sunday Clothes." Otherwise, she sounds warm, expressive, and delightful as ever, even if one wishes that the keys of her songs had been lowered just a little bit.

There's one major disappointment among the supporting cast: Garrett Lewis, whom you may remember for his singing and dancing as Jack Buchanan in the film Star!, really doesn't have the vocal chops for the role of Cornelius Hackl. 'Tis pity, as he gets to sing lead in the pulse-raising production number "Put On Your Sunday Clothes" and the touching ballad "It Only Takes a Moment" -- both of which were used to great effect in the movie Wall-E.

Loring Smith, who had played Horace Vandergelder opposite Martin on the aforementioned tours before repeating the role in London, does a fine job with "It Takes a Woman" and the end-of-show reprise of the title song. Johnny Beecher and the adorably named Coco Ramirez make the most of their brief vocal moments as Barnaby Tucker and Minnie Fay. The most pleasant surprise of the recording is the beautifully sung Irene Molloy of Marilynn Lovell, who later married and performed with the super-talented music man Peter Matz.

The orchestra -- conducted by Alyn Ainsworth -- plays the score to the hilt, and the chorus sings lustily. The sound quality of the recording is slightly over-reverberant but not in an unpleasant way.

As fate would have it, Mary Martin's Dolly! has finally made it to CD at a point in time when that particular medium for sound recording and dissemination is headed the way of the mastodon. If you've already abandoned the format, I'm sure you can download these tracks; but as for me, I'll repeat that I'm glad to have the album join my CD collection.




Published on Monday, August 18, 2008




Michael Portantiere has more than 30 years' experience as an editor and writer for TheaterMania.com, InTHEATER magazine, and BACK STAGE. He has interviewed theater notables for NPR.org, PLAYBILL, STAGEBILL, and OPERA NEWS, and has written notes for several cast albums. Michael is co-author of FORBIDDEN BROADWAY: BEHIND THE MYLAR CURTAIN, published in 2008 by Hal Leonard/Applause. Additionally, he is a professional photographer whose pictures have been published by THE NEW YORK TIMES, the DAILY NEWS, and several major websites. (Visit www.followspotphoto.com for more information.) He can be reached at [email protected]


Why are you looking all the way down here?
For more articles by Michael Portantiere, click the links below!

Previous: Less -- and Much More -- of Liza

Next: Five Enchanted Evenings (and Three Matinees) With William Michals

Or go to the Archives