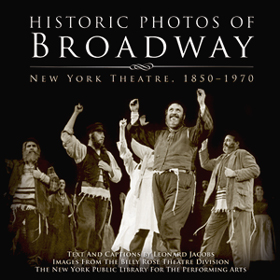 YOU ARE THERE!
I still haven't quite made peace with the fact that no audio/visual documentation exists of most of the great theatrical performances of the 20th century, even though the technology was certainly there to capture them.
Beginning in the mid 1970s, the Theatre on Film and Tape Archive of the New York Public Library for the Performing Arts began to fill this gaping hole in our cultural record; and now, of course, video clips of just about every Broadway show are recorded by audience members via cell phones or mini camcorders and are often posted on YouTube. But the vast majority of 19th and 20th-century theater has been visually preserved only through still photographs, some 200 of which have been collected and published in Historic Photos of Broadway: New York Theater 1850-1970 (Turner), with text and captions by Leonard Jacobs.
This fabulous new hardcover book consists of photos and other images from the Billy Rose Theatre Division of the aforementioned NYPL for the Performing Arts at Lincoln Center. Among the many treasures: an amazing photo from Billy Rose's Jumbo, the fabled 1935 spectacular that played at the no-longer-extant, 5,000-seat Hippodrome on Sixth Avenue (pp. 175-176); an interior shot of the Morosco, one of several theaters that were unnecessarily razed in order that the Marriott Marquis hotel might be erected (p. 111); and a rare photo from Porgy (1927), the DuBose and Dorothy Heyward play that was later adapted as the immortal Gershwin folk opera Porgy and Bess (p. 145).
You say you want more? Go ahead and flip to pp. 132-133 for an adorable group shot from the 1925 production of No, No, Nanette; page 183 for the wedding scene from Our Town (1938); and page 204 for a Carousel photo that features both the original Billy Bigelow, John Raitt, and his understudy/replacement, Howard Keel.
There are some omissions and mistakes in Jacobs' text. The people depicted in a few of the photos, such as those of Charley's Aunt (1892), Outward Bound (1923), and Of Thee I Sing (1931), are not identified clearly or at all. And there's an uncharacteristic grammatical error on page 96, in a paragraph about Alla Nazimova. But most of the text is very well written and bursting with delicious historical tidbits.
For anyone who has attended Broadway Cares/Equity Fights AIDS benefit performances in recent years, the most breathtaking image in the book is likely to be that of a young Doris Eaton, circa 1920 (page 105). The last surviving Ziegfeld girl, Eaton has strutted her stuff in several BC/EFA events over the past few years as she approached and then passed her 100th birthday. Her most recent appearance was this spring, at age 104! So it's a real treat to see her depicted here as a beautiful teenager. If there's one image that encapsulates what this invaluable book is all about, here it is.
*********************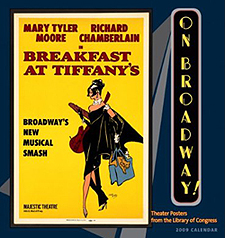 Is it too early to start thinking about what theater-themed wall calendar you're going to purchase for 2009? If your answer to this semi-rhetorical question is a resounding "no," I have two excellent suggestions for you. The first, On Broadway: Theater Posters From the Library of Congress, boasts full-color reproductions of 12 vintage Broadway show posters or window cards, one for each month of the year.
The company that produced the calendar, Pomegranate, was smart enough to draw us in with a cover image of the poster for Breakfast at Tiffany's, the legendary flop that closed during previews on Broadway in 1966. It's fun to view this brightly colored advertisement for the Bob Merrill-Abe Burrows musical, which starred Mary Tyler Moore and Richard Chamberlain, and wonder what might have happened if producer David Merrick hadn't decided to put the show out of its misery before the critics were invited to weigh in. (Ironically, the poster bills Breakfast at Tiffany's as "Broadway's New Musical Smash.")
The choice of which poster images to include appears to have been quite random; there's a mixture of musicals and straight plays, hits (Oliver! and flops (Hallelujah, Baby!), new shows (A Raisin in the Sun) and revivals (Show Boat). If you ask me, the more arcane items -- such as the poster art for a 1965 revival of The Glass Menagerie that starred Jo Van Fleet, Hal Holbrook, and Farley Granger -- are the most interesting.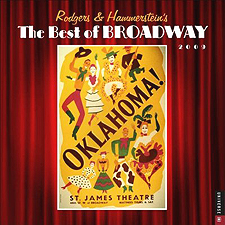 Rodgers and Hammerstein's The Best of Broadway sports an awkward title, but this is a handsome calendar filled with full-color images of posters and sheet music from R&H musicals, plus set designs and black-and-white publicity photos. Of course, the team's five acknowledged classics are represented (Oklahoma!, Carousel, South Pacific, The King and I, The Sound of Music). So are the less popular but still pretty wonderful Flower Drum Song, and R&H's forays into writing directly for film (State Fair) and television (Cinderella).

What's the gem of this calendar? That would be an image of the sheet music for the song "Oh, What a Beautiful Mornin'" from a show titled Away We Go! -- which, of course, was retitled Oklahoma! before it opened on Broadway. We'll never know how much that change contributed toward the musical's phenomenal success, but it's a treat to view a rare image dating from the out-of-town tryout period, during which time one observer reported that R&H's first show as a team had "no girls, no gags, no chance."




Published on Wednesday, August 6, 2008




Michael Portantiere has more than 30 years' experience as an editor and writer for TheaterMania.com, InTHEATER magazine, and BACK STAGE. He has interviewed theater notables for NPR.org, PLAYBILL, STAGEBILL, and OPERA NEWS, and has written notes for several cast albums. Michael is co-author of FORBIDDEN BROADWAY: BEHIND THE MYLAR CURTAIN, published in 2008 by Hal Leonard/Applause. Additionally, he is a professional photographer whose pictures have been published by THE NEW YORK TIMES, the DAILY NEWS, and several major websites. (Visit www.followspotphoto.com for more information.) He can be reached at [email protected]


Why are you looking all the way down here?
For more articles by Michael Portantiere, click the links below!

Previous: Sam Harris Breaks Free

Next: Less -- and Much More -- of Liza

Or go to the Archives