Musical Comedy Nights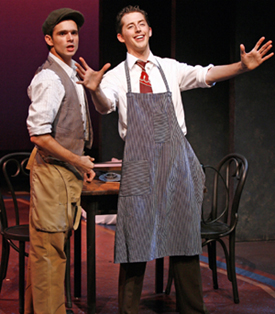 No one loves a good dramatic musical more than I do -- but sometimes, rather than cry along with the music, you just wanna laugh. Thanks to two of New York City's best Off-Broadway theater companies, the York and the Atlantic, we have two great new opportunities to do just that.
The sounds currently emanating from those theaters are audience members chortling and guffawing in response to the companies' respective productions of a great old show called Enter Laughing (formerly So Long, 174th Street) and a wonderful new one whose very title tips you off to its hilarity quotient: What's That Smell: The Music of Jacob Sterling.
It's not surprising that Enter Laughing is a hoot, given its pedigree. The original source material is a semi-autobiogrpahical novel by Carl Reiner, who went on become a TV comedy big-wig when he created -- and wrote himself a nice featured role in -- The Dick Van Dyke Show. Reiner's novel was adapted into a play by Joseph Stein, who worked with Reiner on the writing staff of Your Show of Shows and later proved himself adept as both a dramatic and comedic writer with his books for such musicals as Fiddler on the Roof and Zorba. The play eventually became a film and, in 1976, the Broadway musical So Long, 174th Street -- with a book by Stein and music and lyrics by Stan Daniels, who would go on to become a king of TV comedy himself as a writer and/or producer of Taxi, The Mary Tyler Moore Show, Phyllis, The Bill Cosby Show, etc.
So Long... flopped big-time on Broadway, managing a total of only 16 performances. Judging from the York's production, its failure must have been due not to any flaws in the material but to the miscasting of then-45-year-old Robert Morse in the central role of 17-year-old David Kolowitz. (That epic blunder was reportedly the doing of the show's producer, Frederick Brisson, who had previously perpetrated an even worse crime against musical theater when he bought the film rights to Gypsy in order to steal the role of Rose away from Ethel Merman and hand it to his wife, the vocally challenged Rosalind Russell.)
No such problem exists in the York production. On the contrary, young Josh Grisetti is side-splittingly funny as David, whose dreams of theatrical stardom are nearly derailed by his inexperience and a world-class case of stage-fright. Nothing in Grisetti's bio, except perhaps his stint in the Las Vegas production of Spamalot, would lead anyone to believe he could play this plum role with such brilliance -- and I don't use that word lightly. If it's possible for a performance in a limited-run, Off-Broadway revival of a flop musical to make someone a star, this one will do the trick for Grisetti.
Directed with razor-sharp comic timing by Stuart Ross, the York's Enter Laughing also features standout work by Robb Sapp, Janine LaManna, Ray DeMattis, Betsy DiLellio, and Rick Devine as various people in David Kolowitz's life. Jill Eikenberry is not quite right as David's mother, but her real-life-husband, Michael Tucker, is perfect as her on-stage husband. If nothing else, this show must be seen for the amazing George S. Irving's recreation, 32 years later, of his original role of Harrison Marlowe. His rendition of "The Butler's Song" -- better known as "He's Screwing Dolores Del Rio" -- remains an all-time-classic musical comedy moment, and it's a joy to see and hear it again.
********************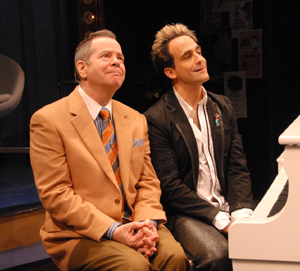 Enter Laughing proudly represents an entire sub-genre of entertainment based on the foibles of showbiz folk. So does What's That Smell? The Music of Jacob Sterling, which has just opened at the Atlantic Stage 2. Here we have a tribute to a scarily untalented, blessedly fictional songwriter whose self-involved, "look at me" personality is all too accurately indicated by his spikey, frosted hair and faux-hipster apparel.

Jacob is played to the pretentious hilt by David Pittu, who also wrote the show's book and lyrics. The conceit here -- and that's a doubly appropriate word! -- is that Jacob is being interviewed and presenting his songs on a low-budget, public access cable TV show hosted by an outlandish musical theater queen named Leonard Swagg (the hilarious Peter Bartlett). Like so many other talent-free "artists," Jacob is prone to grandiose pronouncements along the lines of, "I'm just grateful to be working and creating again and for the chance to somehow move the art form forward." The truth is that he's doing his part to move the art form back a few hundred years with his banal, derivative music and execrable lyrics. (Sample: "What's that smell? I can't quite place it / Is it cole slaw? Is it cheese? / On these city streets, let's face it / Someone always pukes or pees.")

Pittu's script is as bitingly funny as his lyrics, and is particularly notable for his snarky use of acronyms. The very first line of the show is "Hello, I'm Leonard Swagg and this is Leonard Swagg's CLOT -- Composers & Lyricists of Tomorrow." When Jacob tells us that he got his degree from the Southern Palo Alto School of Music, Leonard exclaims, "So much talent comes out of SPASM!" And when Jacob notes that, as a young man, he received a commission to write a song cycle from the Cedar Rapids American Musical Performance Series, Leonard enthuses: "Very impressive to get CRAMPS on your side so early on."

So skillful is the writing that Pittu somehow manages to bring up the AIDS crisis and 9/11 without obliterating the show's overall mood of tremendous good humor. Going way out on a limb, Pittu/Jacob delivers such lines as: "I moved to New York in 1984, but George Orwell didn't prepare me for the two international crises under way at that time. I'm talking of course about AIDS and the British takeover of the American musical theater. Two ghastly epidemics which are still to this day credited with the death of the Broadway musical." Later, we're treated (?) to a mind-numbingly bad song from That Goddamned Day, Jacob's opus about 9/11.

The reason all of this works is twofold: (1) Pittu is not really making jokes about these tragedies but, rather, is satirizing the ineptitude of a talent-free artist's reponse to them; and (2) the show is co-directed with a subtle touch, rather than a sledgehammer, by Neil Pepe and by Pittu himself, who hereby demonstrates it's not always a bad thing when one person has a hand in several different areas of a show. In addition to the deliciiously satiric performances of Pittu and Bartlett, the production allows Brandon Goodman, Matt Schock, and Helene Yorke their moments in the spolight as three young people who are privileged to perform some of Sterling's most unforgettable songs.

As Mel Brooks proved with "Springtime for Hitler," it takes great talent to write intentionally awful material that's funny rather than embarrassing. David Pittu and Randy Redd, the actual composer of Jacob Sterling's music, get an A+ for crafting songs that are so bad, they're brilliant. What's that smell? Well, I don't know about you, but I smell a hit!




Published on Friday, September 12, 2008




Michael Portantiere has more than 30 years' experience as an editor and writer for TheaterMania.com, InTHEATER magazine, and BACK STAGE. He has interviewed theater notables for NPR.org, PLAYBILL, STAGEBILL, and OPERA NEWS, and has written notes for several cast albums. Michael is co-author of FORBIDDEN BROADWAY: BEHIND THE MYLAR CURTAIN, published in 2008 by Hal Leonard/Applause. Additionally, he is a professional photographer whose pictures have been published by THE NEW YORK TIMES, the DAILY NEWS, and several major websites. (Visit www.followspotphoto.com for more information.) He can be reached at [email protected]


Why are you looking all the way down here?
For more articles by Michael Portantiere, click the links below!

Previous: Five Enchanted Evenings (and Three Matinees) With William Michals

Next: Broadway Heats Up!

Or go to the Archives