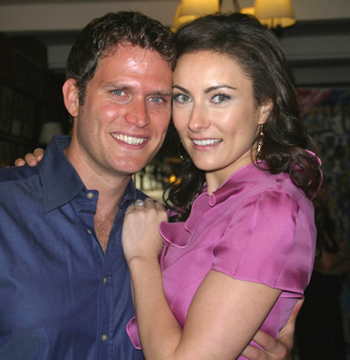 Laura Loves Steven, and Broadway Loves Joe's Pub
If you've attended your fair share of one-night-only benefit concerts, you don't need me to tell you that these special events are often very special indeed. Perfect example: The 2005 World AIDS Day concert performance of The Secret Garden at the Manhattan Center, which was produced by Jamie McGonnigal and which boasted among its stars Steven Pasquale as the grief-stricken Archibald Craven, Laura Benanti as the beautiful ghost of his deceased wife Lily, and Will Chase as his misguided brother Neville.
The concert was unforgettable, and the onstage chemistry between Benanti and Pasquale was so palpable that no one present can have been very surprised when the two subsequently became engaged. Now married, they're so busy with their separate careers that they rarely have the opportunity to perform together. But that's just what they'll do this coming Sunday, November 2, at 9:30pm as part of a concert at Joe's Pub that will reunite them with Will Chase and will also showcase such super-talented folks as Nikki Blonsky, Gavin Creel, Cady Huffman, Jackie Hoffman, Hunter Parrish, and Anthony Rapp.
Titled Broadway Loves Joe's Pub, the evening will celebrate the 10th anniversary of the indispensable music venue that's tucked into a corner of The Public Theater on Lafayette Street. McGonnigal is really jazzed about the event and is pleased to once again be presenting Benanti and Pasquale onstage together, especially since it was his production of The Secret Garden that connected them in the first place. "Before our concert, they had only met in passing," McGonnigal says. "I have some publicity photos that we took in Central Park. There's a beautiful shot of Laura and Steve in front of a fountain; I gave them a copy of that photo for their wedding. They credit me with introducing them, and I'm very proud of that accomplishment!"
Broadway Loves Joe's Pub will be hosted by the hilarious Judy Gold, and Lynne Shankel (Cry-Baby, Altar Boyz) will serve as musical director. Though McGonnigal declines to provide specific details of the program, he said that a "revisitation" of The Secret Garden is a strong possibility, and he also promises some great original stuff from Creel and his musical partner, Rob Roth. For tickets, call 212-967-7555 or visit www.joespub.com.

********************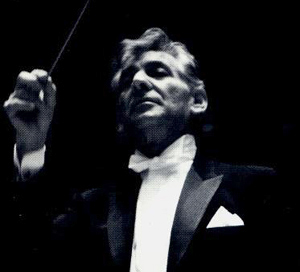 Mass Appeal
Performances of Leonard Bernstein's Mass are so rare that one hopes against hope for something approaching perfection whenever this mammoth "theatre piece for singers, players, and dancers" turns up. The recent presentation at Carnegie Hall fell short of that mark, but it was nevertheless thrilling -- and it certainly made an excellent case for a work that was roundly criticized upon its premiere in 1971 and has only in recent years begun to be fully appreciated.

Let's get the disappointing news out of the way first. Although Jubiliant Sykes displayed a beautiful, expertly controlled baritone in the role of the Celebrant, his performance was disconcertingly affected in terms of his facial expressions, his vocal mannerisms, and his over-reliance on a pretty but odd pianissimo voix mixte. If the Mass were mounted every other season, or even once every five years, such an idiosyncratic interpretation might be welcome; since that isn't the case, I for one would have preferred a more conventional approach.

This presentation also suffered from the strange layout of the forces assembled. The Baltimore Symphony Orchestra was placed way downstage and bifurcated, with a not very large playing area in the middle -- and another one upstage -- where the Celebrant and the Street Chorus performed. (Kevin Newbury directed.) The whole thing looked cramped, and whatever was happening in back of the orchestra was largely obscured from certain vantage points in the auditorium. (Note: The day after the Carnegie performance on Friday, October 24, the concert was given again at the United Palace Theater in Washington Heights, which may have proven to be a better venue.)

On the plus side: Marin Alsop conducted an eloquent performance that featured the Morgan State University choir and the Brooklyn Youth Chorus in addition to the great orchestra. And it was a happy surprise that the Street Chorus featured such musical theater talents as Sarah Uriarte Berry, Telly Leung, Theresa McCarthy, Mike McGowan, and Timothy Shew. Though far from definitive, this Mass was worthy enough to tide us over till the next world-class presentation, whenever that may occur.




Published on Friday, October 31, 2008




Michael Portantiere has more than 30 years' experience as an editor and writer for TheaterMania.com, InTHEATER magazine, and BACK STAGE. He has interviewed theater notables for NPR.org, PLAYBILL, STAGEBILL, and OPERA NEWS, and has written notes for several cast albums. Michael is co-author of FORBIDDEN BROADWAY: BEHIND THE MYLAR CURTAIN, published in 2008 by Hal Leonard/Applause. Additionally, he is a professional photographer whose pictures have been published by THE NEW YORK TIMES, the DAILY NEWS, and several major websites. (Visit www.followspotphoto.com for more information.) He can be reached at [email protected]


Why are you looking all the way down here?
For more articles by Michael Portantiere, click the links below!

Previous: On Broadway!

Next: Rosie Loves Broadway; Kids Get Free Tix!

Or go to the Archives