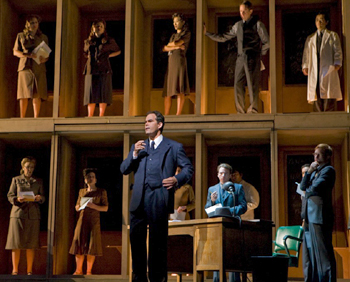 We Bombed in New Mexico
I'm not going to pretend that I have sufficient technical knowledge of music to offer a thorough analysis of John Adams' opera Doctor Atomic, especially not after one hearing. I will say that I found the score far more enjoyable and accessible than I ever dreamed I would, with its often gorgeous, arching vocal lines over a sometimes minimalist, sometimes spiky, always intriguing orchestral component. And it should be noted that Adams is expert at setting dialogue to music, a talent that even some of his most esteemed confreres cannot claim.
Peter Sellars' libretto for this largely brilliant opera is culled from various texts, including several books about the Manhattan Project, interviews, poems by Baudelaire, Muriel Rukeyser and John Donne, and the Bhagavad Gita. The central character is J. Robert Oppenheimer, the scientist who headed the project that led to the development and explosion of the world's first atomic bomb over Alamogordo, New Mexico in 1945.
Ironically, the opera is most involving when Adams sets prosaic conversation or seemingly dry scientific text to music, as in the opening phrases of the chorus: "We believed that matter can be neither created nor destroyed, but only altered in form. We believed that energy can be neither created nor destroyed, but only altered in form. But now we know that energy may become matter, and now we know that matter may become energy and thus be altered in form." This may read as boring, but believe me, it doesn't sing that way. Conversely, while Adams' music for Oppenheimer's wife and maid is unfailingly beautiful, the poetic utterances of these characters seem forced into the work to make it more "operatic" (and to provide opportunities for solo female voices).
Doctor Atomic has been performed elsewhere to deserved acclaim, but the Met production is the company's own. It boasts direction by Penny Woolcock, sets by Julian Crouch, costumes by Catherine Zuber, lighting design by Brian MacDevitt, and choreography by Andrew Dawson, all at the top of their game. Two huge set units that dominate the stage in the opening scene consist of narrow cubicles in which those involved in the Manhattan Project are ensconced. These units break apart to show other locations, including the Oppenheimers' house and the "Trinity" test site. The final image of the explosion is done in the simplest way possible, but you won't soon forget it. Throughout the production, eerie sound effects (by Mark Grey) and video projections (by Leo Warner & Mark Grimmer for Fifty Nine Productions, Ltd.) enhance this chilling tale.
Baritone Gerald Finley is vocally and dramatically perfect as Oppenheimer. Sasha Cooke does what she can with the problematic role of Mrs. O., and Meredith Arwady is a wonderfully grounded presence as the maid, Pasqualita. Richard Paul Fink and Thomas Glenn create memorable characterizations of two of Oppenheimer's colleagues, Edward Teller and Robert Wilson. (Isn't it nifty that an opera with music by John Adams and a libretto by Peter Sellars should include a character named Robert Wilson?) Eric Owens sings sonorously as General Leslie Groves, and one of the highlights of the opera is his performance of the character's weirdly funny "diet aria."
Alan Gilbert, in his Met debut, conducts the orchestra (and the singers) with great skill and assurance. I don't care how well-trained a musician you are: It must be fearsomely challenging to lead a score like this, with its ever-changing time signatures and other complexities, not to mention its huge dynamic range. Gilbert's achievement is one of the most impressive aspects of the Met's excellent production of that rara avis, a new American opera so worthy -- and so accessible -- that it has a very good chance of joining the standard repertory.

**********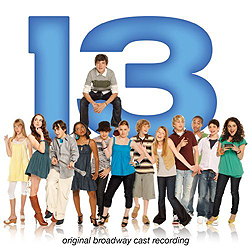 The Ghostlight Fantastic
Here's to Ghostlight! This enterprising company continues to issue high-quality cast albums and other musical-theater-related material at such a rate that my CD roundups end up being mostly or entirely about their product. Here are brief notes on three new Ghostlight releases.

It's understandable that some people might not respond to 13 because they consider the joys and problems of tweens to be insignificant, or because they just don't like to hear kids that age sing for an hour and a half in occasionally grating, not-fully-developed voices. But Jason Robert Brown's music and lyrics for the show are just as great as we've all come to expect from this super-talent. Among the score's highlights as heard on the cast album are the catchy, kinetic title song; the hilarious "Hey Kendra," in which three pubescent, wannabe studs make fools of themselves as they imagine how to get over on a babe; the rollicking "All Hail the Brain," sung by protagonist Evan (Graham Phillips) when he thinks he's found a path to acceptance by the kids in his new school; and the touching penultimate song, "A Little More Homework."

Just because a recording has historical interest doesn't necessarily mean it's crying out to be made available to the general public. Case in point: Patti LuPone at Les Mouches. The cuts on this CD are taken from sound-board tapes of LuPone's very first club act, which she performed for 27 weeks at midnight during her Broadway run in Evita in 1980. The lady is a unique talent, and few would disagree that she possesses one of the greatest musical theater voices of the 20th and 21st centuries; but this recording was never intended for commercial release, and even some of LuPone's staunchest fans may find that the free-reign vocal mannerisms and sometimes slurred diction displayed here don't reward repeated listening. (By the way: Given that LuPone played Evita six times a week rather than eight because of the role's vocal difficulties, it's staggering to think that she was simultaneously doing a midnight club act in which she sang 20 songs! Call her "leather lungs.")

If you love Lea DeLaria's way with jazz, give a listen to Lea DeLaria: The Live Smoke Sessions, including persuasive interpretations of such standards as "Down With Love," "Miss Otis Regrets," "Love Me or Leave Me," and "Come Rain or Come Shine." And if you feel you need TWO recordings of a marginally successful, not very good musical spoof, check out the double-CD set of Reefer Madness, which packages together the original Los Angeles cast recording as well as the soundtrack of the Showtime film version.




Published on Friday, October 17, 2008




Michael Portantiere has more than 30 years' experience as an editor and writer for TheaterMania.com, InTHEATER magazine, and BACK STAGE. He has interviewed theater notables for NPR.org, PLAYBILL, STAGEBILL, and OPERA NEWS, and has written notes for several cast albums. Michael is co-author of FORBIDDEN BROADWAY: BEHIND THE MYLAR CURTAIN, published in 2008 by Hal Leonard/Applause. Additionally, he is a professional photographer whose pictures have been published by THE NEW YORK TIMES, the DAILY NEWS, and several major websites. (Visit www.followspotphoto.com for more information.) He can be reached at [email protected]


Why are you looking all the way down here?
For more articles by Michael Portantiere, click the links below!

Previous: That's Acting!

Next: True Originals

Or go to the Archives