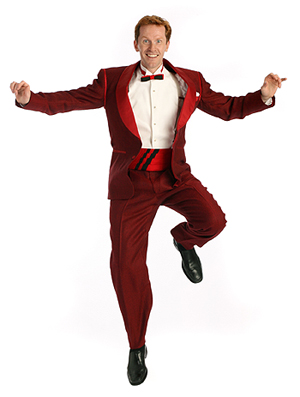 I Wanna Be a Dancin', Singin', Actin', Writin', Directin', Choreographin' Man!
Even as Broadway's love affair with revivals continues, shows that require the talents of traditional-style song and dance men are relatively few and far between. So you might think that Jeffry Denman, a great exemplar of that style, would find it difficult to make a career. On the contrary, he is always working. In fact, he's so busy that he recently choreographed and played a featured role in a reading of Yank -- a newish musical about gays in the military during World War II -- at the York Theatre just a few days before the start of Broadway previews for White Christmas, in which he co-stars with Stephen Bogardus, Kerry O'Malley, and Meredith Patterson.
Directed by Walter Bobbie and choreographed by Randy Skinner, White Christmas has played at holiday time (duh!) in several American cities over the past five years but is only now hitting NYC. "We're in good shape," says Jeffry -- and yes, that's how he spells his first name. "There have been some changes in the show; there are two new set pieces, and one number, 'Let Me Sing and I'm Happy,' has been reconceived to make it seem more spontaneous."
J.D. is already a White Christmas veteran; he was in the original production in San Francisco, opposite Brian d'Arcy James (who's now playing the title role in Shrek), and he subsequently did the show in Los Angeles, Saint Paul, and Boston. "Randy Skinner has been doing a lot of work in tweaking the choreography, which he's very well known for in dance circles," he says. "As a choreographer myself, I really appreciate it when someone has the ability to look at something they've created and say, 'How can I make this better?'"
In addition to having appeared in dozens of musical including The Producers, Dream, How to Succeed..., and Cats on Broadway, Jeffry has acted in such plays as Children of a Lesser God (for the Keen Company) and Dinner With Friends (for Portland Stage). Recently, he staged A Tribute to Lerner and Loewe for Scott Siegel's Broadway series at The Town Hall and did a number in the show with his new wife, the former Erin Crouch. "The thing I was taught in college was to be versatile, so I could do whatever was needed," he remarks. "I absolutely love the medium of theater. I love to story-tell, whether that means acting in a musical or a play, directing or choreographing."
One might guess that Jeffry hooked up with his wife when they were both cast in the same show, but one should guess again. "We met on Match.com," he tells me. "We were both looking for someone who wasn't in the business. What can I say? I was about two weeks away from cancelling my subscription to Match.com, because it wasn't going well. Then I got this email from Erin, and that's where it all started. We were married in August."
By the way, you may also know Jeffry as the author of the book A Year With The Producers: One Actor's Exhausting (But Worth It) Journey from Cats to Mel Brooks' Mega-Hit (Routledge, 2002). He has written two musicals based on the life of Fred Astaire, Dancing in the Dark and Change Partners. Among the many things on his plate, he hopes that Yank will receive a full production at the York in the spring. But right now, he's all about White Christmas.
"There's so much love invested in this show," he enthuses. "As Walter Bobbie says, we have a big Christmas gift that we get to give to whatever city we're playing. It will be interesting to see how New York cynics take to the show. I know when I moved to New York from Buffalo, I definitely developed a tougher skin and became little cynical just to survive. You have to do that. But I hope there's a sentimental side everyone can still access, and that this show will help them do that. It really is worth it."
For more on Jeffry, visit his website, www.jeffrydenman.com -- and be sure to check out his White Christmas "rap" videos on YouTube!

********************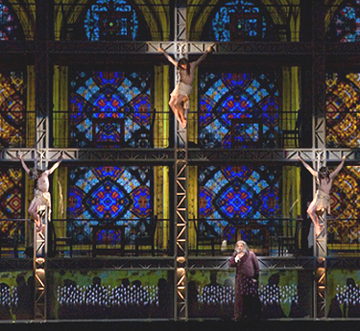 Feasts for the Eyes and Ears
Whenever I try to talk opera-phobic friends into taking the plunge, I stress that, over and above the world's greatest singers and an awesome orchestra, the Metropolitan Opera's productions are famous for sets, costumes, lighting, and other design elements that frequently put even the most elaborate Broadway musicals to shame.
This continues to be true of the Met under Peter Gelb, who took over as General Manager in August 2006. In the roughly one and one-tenth seasons that have passed since then, Gelb has brought to the house some of the most visually stunning productions one could ever hope to experience. Since the Met's musical values remain unsurpassed, these nights at the opera are guaranteed feasts for both the eyes and ears.
Berlioz's La Damnation de Faust has very rarely been heard at the Met; the season premiere of the new production was only the 12th performance of the work in the history of the company, which hasn't presented it since 1906! So the air was exceptionally thick with anticipation when the opera returned to the repertory on November 7. Staged by Robert Lepage, with sets by Carl Fillion, costumes by Karin Erskine, lighting by Sonoyo Nishikawa, interactive video design by Holger Forterer, and image design by Boris Firquet -- all in their Met debuts -- the eye-popping production does full justice to this melodically lush, harmonically entrancing, rhythmically exciting score.
The largest constructed part of the main set calls to mind the Hollywood Squares, but with a few more cubicles. As the action begins, the aged Faust descends a high ladder and the (projected) wall of books behind him turns into a vast skyscape with whirling flights of birds. Other unforgettable images include soldiers marching vertically through grassy fields, half-naked choristers playing the demons of hell, and multiple crucified Jesuses appearing and suddenly disappearing during a church scene (see photo).
The disappointing news about this production is that tenor Marcello Giordani, who's great when singing in Italian, sounds less than great when singing in French -- just as his fellow tenor Roberto Alagna sounds significantly better in French than in Italian. Other than that, all is more than well from a musical standpoint; mezzo-soprano Susan Graham as Marguerite and bass-baritone John Relyea as Mephistopheles give their all for conductor James Levine, as do the top-flight orchestra and chorus.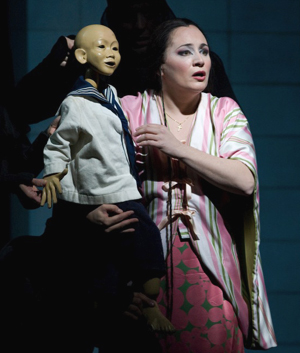 Having caught the Met's current production of Puccini's Madama Butterfly when it was new last season, and having found it breathtakingly beautiful, I needed no special excuse to attend again -- but I got one anyway. In the present run of performances, the extremely demanding title role is being sung by Patricia Racette, whose career I've been following since her days at New York City Opera.

Racette's singing and acting as Cho-Cho-San are magnificent as expected, the verisimilitude of her portrayal hampered only by the fact that she's one of the least exotic, whitest-looking Butterflies ever. Her Pinkerton is Roberto Aronica, whose impressive tenorizing occasionally falters due to nervousness and/or less than 100% solid technique; her Suzuki and Sharpless are the always wonderful Maria Zifchak and Dwayne Croft.

The production, by the late Anthony Minghella -- with sets by Michael Levine, costumes by Han Feng, lighting by Peter Mumford, and puppetry by Blind Summit Theatre, Mark Down, and Nick Barnes -- remains thrilling on second viewing. Among its finest moments are the entrance of the Bonze, backed by a phalanx of what look like Ninja warriors; the gamboling of Butterfly's child Trouble, played to perfection by a skillfully manipulated Bunraku puppet; and the gorgeous, ever-changing scenic elements of the ecstatic love duet.

One shared minus of these two generally fabulous productions: As both begin, the curtain rises and the stage action starts, but no music is heard for one full minute or more. This may sound intriguing, but the silent sequences go on so long that one can sense the audience feeling uncomfortable. Perhaps some re-thinking is in order.




Published on Monday, November 17, 2008




Michael Portantiere has more than 30 years' experience as an editor and writer for TheaterMania.com, InTHEATER magazine, and BACK STAGE. He has interviewed theater notables for NPR.org, PLAYBILL, STAGEBILL, and OPERA NEWS, and has written notes for several cast albums. Michael is co-author of FORBIDDEN BROADWAY: BEHIND THE MYLAR CURTAIN, published in 2008 by Hal Leonard/Applause. Additionally, he is a professional photographer whose pictures have been published by THE NEW YORK TIMES, the DAILY NEWS, and several major websites. (Visit www.followspotphoto.com for more information.) He can be reached at [email protected]


Why are you looking all the way down here?
For more articles by Michael Portantiere, click the links below!

Previous: Rosie Loves Broadway; Kids Get Free Tix!

Next: Thank You Very Much

Or go to the Archives