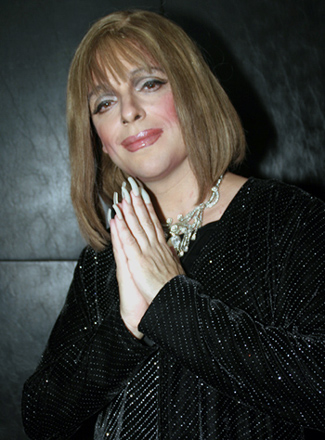 Have Yourself a Very Barbra Christmas
Over the course of her career, Barbra Streisand has made some very odd choices of songs to record, from "Who's Afraid of the Big, Bad Wolf?" to "Guava Jelly." That said, the diva's first Christmas album -- released some 40 years ago -- still ranks as the strangest item in her discography. Sure, she sounds at home in such secular numbers as Mel Torme's "The Christmas Song," and her custom-tailored version of "Jingle Bells" is lots of fun. But hearing one of the world's most famous Jewish women sing about Jesus Christ and/or the Virgin Mary in "Silent Night," "Ave Maria," "O Little Town of Bethlehem," and other religious songs remains a deeply weird experience.
So, which if any of these items has the ace Streisand impersonator Steven Brinberg programmed for A Simply Barbra Holiday Spectacular, the benefit concert for the Ali Forney Center that's set to unfold at Symphony Space on Saturday, December 20 at 8pm? "Well," he says, "I won't be doing any of the religious songs, mainly because I'm not that fond of them. But I'll be doing 'Have Yourself a Merry Little Christmas' and 'The Christmas Song.' There's also a pretty obscure Patti Labelle song called 'I'm Christmasing With You.' I include 'I Don't Believe in Christmas' as a sort of poisoned Christmas card to one of Barbra's exes, Don Johnson. And I'll be doing 'Another Winter in a Summer Town from Grey Gardens."
Brinberg's guest stars for the concert will also dip deeply into the holiday music repertoire: "I think Tituss Burgess is going to sing 'Christmastime Is Here' from A Charlie Brown Christmas, and Julie Wilson will be doing a funny holiday song." As a nod to the New Year, Brinberg/Barbra will duet with Will Taylor -- who has appeared on Broadway in the revivals of A Chorus Line and La Cage aux Folles -- in "The Perfect Year" from Sunset Boulevard. Last but not least, The Broadway Boys, justly billed as "a collection of the hottest male voices currently working on the New York stage," will sing 'Silent Night' and other season-appropriate songs.
If you attend this special event and notice that Brinberg's Barbra seems recharged, it may be due to the fact that he recently had a rare personal encounter with the icon. "Barbra was in the audience at August: Osage County when I went back to see it last week," he relates. "I'm not sure why she chose that particular show to see while she was in town. Maybe she wants to direct the movie, or maybe she wanted to marvel at her former co-star, 81-year-old Estelle Parsons, running up and down those stairs. Barbra looked great -- much thinner than in some recent photos -- and she seemed really friendly when she was talking about the play with the house manager afterwards. It's always a thrill to be in the same room with her."
For more information on A Simply Barbra Holiday Spectacular, click here.
********************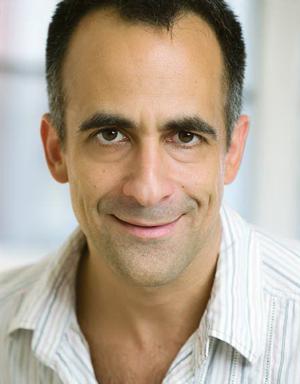 Smell Him!
People love bad musicals -- and I'm not talking about the shows that run for years. I mean the epic flops that tend to attract camp cult worshipers in direct proportion to how awful they are: Whoop-Up, Carrie, The Dance of the Vampires, and so on ad infinitum.

What's That Smell? The Music of Jacob Sterling is a witty Off-Broadway show about the oeuvre of the fictional, titular composer-lyricist, whose reach far exceeds his grasp. During the proceedings, we're treated to several samples of Jacob's output, one more frightening than the next.

When the opportunity came for me to interview the show's co-star and co-author, David Pittu, I initially thought it would be fun to talk to him in the guise of his character, the clueless Sterling. But then I realized -- that's exactly what the show is. So I addressed him as himself in our discussion of bad musicals, and I started by asking him what exactly makes Sterling so pathetic.

"I guess it's the sense of desperation that clings to him," Pittu answers after a moment's reflection. "That plus his lack of awareness of what the world really needs, as opposed to what he thinks it needs. Jacob is working for an audience that may or may not exist. He sifts through all the clichés -- what it means to be in love, to live in New York, to be Jewish -- and he still insists on writing about them. They've been done to death, but he just has to put his stamp on them.

"Jacob is not intelligent in the way of a true artist, but I think his type of writer is a lot more common than we want to admit. Look at Broadway today. The same emotions get sung in each new musical, to the point where the audience checks out and they just watch the color and movement. Nothing is really being said."

In What's That Smell?, we get to hear a number from a show that Jacob has written about 9/11. Of course, it's appalling. But would it be possible even for a genius like Stephen Sondheim to write a worthy musical about that unforgettable day? "I think the question is why you would want to do it," Pittu responds. "Unless you have a particular story to tell, why make the attempt? You can make a musical about anything, but if the story is a true tragedy, it might be better suited to opera. Jacob's mistake is that he co-opts a major world event and tries to interpret it for the masses. I find that endearing on one level, but also rather cringey."

What's does Pittu consider to be the recipe for a really bad musical?. "Some of the worst ideas are when people take something like Gone With the Wind, which is perfect as it is, and try to adapt it as a musical. Why set yourself up for failure? I loved the movie 9 to Five when I was a kid, but I don't want to hear those characters sing. I think there's a place for something like Xanadu, but not necessarily on Broadway. Put it in a cabaret! I'm reminded of Pauline Kael's famous piece about trash art in the movies. You have to have lowbrow entertainment, but when everything goes in that direction, there's a terrible imbalance."

Art often imitates life, even in the case of intentionally bad art. Says Pittu: "Since I started writing this show in 2003, I've had to take out some of the material about Jacob's bad musicals, because they became real. For example: Fight Club: The Musical, and Jacob's show about Princess Diana. I would Google these things and, sure enough, I'd find that they were actually in development. Recently, there was an announcement of American Psycho: The Musical. My first thought was, 'I can't believe this isn't a Jacob Sterling show!'"

Jacob may be a mess, but Pittu feels that playing him has its compensations: "The best thing is when people come up to me after the show and say, 'Thank you so much. This world is insane, and you made me feel sane again.' That's very heartening to me."




Published on Monday, December 15, 2008




Michael Portantiere has more than 30 years' experience as an editor and writer for TheaterMania.com, InTHEATER magazine, and BACK STAGE. He has interviewed theater notables for NPR.org, PLAYBILL, STAGEBILL, and OPERA NEWS, and has written notes for several cast albums. Michael is co-author of FORBIDDEN BROADWAY: BEHIND THE MYLAR CURTAIN, published in 2008 by Hal Leonard/Applause. Additionally, he is a professional photographer whose pictures have been published by THE NEW YORK TIMES, the DAILY NEWS, and several major websites. (Visit www.followspotphoto.com for more information.) He can be reached at [email protected]


Why are you looking all the way down here?
For more articles by Michael Portantiere, click the links below!

Previous: The Robe Must Go On!

Next: Year-End Musings and Follow-Ups

Or go to the Archives