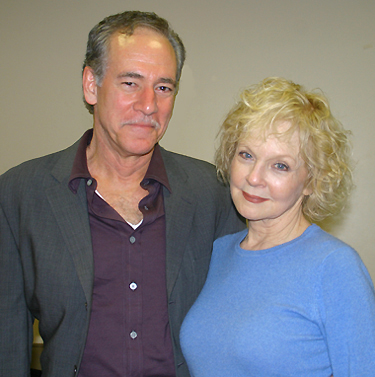 Music of the Night
A Little Night Music is arguably the only true masterpiece of Stephen Sondheim that has not yet had a Broadway revival -- although there has been talk of one for years, and the Roundabout recently offered an all-star benefit concert performance of the show at Studio 54.
I think we can all expect to see Night Music back on Broadway for a run in the near future. But if you love the show and you don't want to wait, here's a heads-up: Beginning performances March 5 at the White Plains Performing Arts Center (WPPAC) is a fully staged production of this exquisite Sondheim/Hugh Wheeler musical about mis-matched lovers, with a cast headed by Broadway vets Penny Fuller, Mark Jacoby, Erin Davie, Rachel de Benedet, Stephen R. Buntrock, and Sheila Smith.
At a press preview last week, I thrilled to the vocalism of the production's liebeslieder singers. And based on Fuller's and Jacoby's performance of their final scene together and the "Send in the Clowns" reprise, it seems to me that they are close to ideal for the roles of Desirée and Fredrik.
Says Fuller, "I was just thinking the other day: I don't primarily do musicals, and yet I've been lucky enough to play some really great roles in musicals. When I was very young, I did Nellie in South Pacific and Carrie in Carousel. Then I did Sally Bowles in Cabaret, Eve Harrington in Applause, Elizabeth and Anne Boleyn in Rex. I wish I had gotten to play so many great parts in the dramatic canon."
Not long ago, Fuller was wonderful as the lead in Do I Hear a Waltz? -- music by Richard Rodgers, lyrics by Sondheim, book by Arthur Laurents -- at the George Street Playhouse. But, rather surprisingly, Night Music is her first experience in a show with both music and lyrics by Sondheim. "I wish I had done Company," she says. "That's the one missing from my list. And Follies. Oh, God! I have to go and see if I can get those parts!"
Fuller's most recent Broadway appearance was as Lucille in the late Horton Foote's Dividing the Estate, a role she will soon reprise at Hartford Stage. "It worked out perfectly," she says. "I get to do Night Music, then I get to rest a little, and then in May I'll go back to Lucille -- who's quite different from Desirée, as you know!"
Jacoby, who previously played Fredrik in a production of Night Music at the South Coast Rep in Costa Mesa, is looking forward to another go at the fellow. "There's so much to mine in this piece and in Sondheim in general," he says. "There's so much to question, so much digging to be done. I find the role of Fredrik difficult because he's so misdirected; he's going here and there, really searching for answers. It's very easy to relate to as a more-than-middle-aged man, I'll tell you that much."
But this very challenge is what makes Fredrik so interesting to Jacoby. "As actors, we're taught to make clear choices in our performances," he remarks, "but I feel that element of it is sometimes overrated. I think the questions are more important than the answers. Just as we don't always have answers in life, I don't think we necessarily need to say 'This is what it is' when playing a role.' That certainly applies to Sondheim, who's largely about ambiguity."
Directed by SIdney J. Burgoyne, with music direction by James Bassi and choreography by Melissa Rae Mahon and Sean McKnight, A Little Night Music will continue its run at WPPAC through March 22. The venue is far more quickly and easily accessible from Manhattan than you might guess. For more information, visit wppac.com.

********************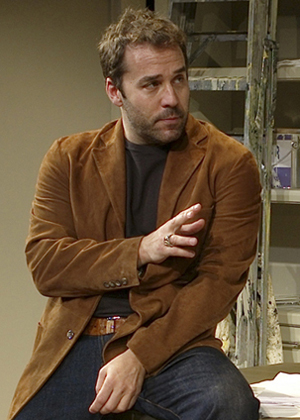 Don't Cry for Jeremy Piven!
If you thought partisan politics only happens in Washington, D.C., think again. On Thursday, February 26, Jeremy PIven attended a hearing at the offices of Actors' Equity Association to make his case as to why he should not be censured by the union for his abrupt departure from the Broadway revival of David Mamet's Speed-the-Plow. At the end of the three-hour hearing, the five members of Equity who were present sided with their fellow actor, while the five attending members of The Broadway League -- a group made up largely of producers -- ruled against him.

In case you haven't been following what has turned into one of the two most widely covered theater stories of recent months (the other being Patti LuPone's photographer-induced meltdown during a performance of Gypsy), here's the sorrowful précis: In December, Piven left the company of Speed-the-Plow with no notice whatsoever, stating that he was seriously ill due to high levels of mercury in his bloodstream.

In the ensuing weeks, doubt was cast on his claim of severe illness, and it was strongly suggested that he left the show out of sheer boredom. Reportedly, Piven had often gone out partying after performances, and photos of him doing just that were printed in various media outlets. It was also reported that he would frequently show up at the theater minutes before curtain time, as he is said to have done during his Off-Broadway stint in Fat Pig a few seasons ago; and that he had been trying to wrangle out of his Speed-the-Plow contract for some time before his exit, personally phoning other actors to see if he could find someone to replace him in the role of Hollywood hotshot Bobby Gould.

After the hearing at Equity, Piven granted an exclusive interview to The New York Times. Given that exclusivity, it's all the more disappointing that the resulting article -- written by Patrick Healy -- either glossed over or completely failed to address several key issues in the dispute, including those noted above. Healy wrote that Piven "twice broke down in tears as he described a health scare that he said made him exhausted and disoriented during some Speed-the-Plow performances and ultimately left him fearful that he could die."

Even if that's true, it seems clear that Piven acted irresponsibly in at least one respect. Let's give him the benefit of the doubt and say we believe he was so sick that he needed to withdraw from the show immediately. But why did he skip town the next day? Can we not assume that New York City is home to at least a few doctors with enough skill and experience to treat mercury poisoning? Isn't it reasonable to think that, if Piven had quit eating fish and had begun treatment for his illness right after his diagnosis, his health might have improved quickly and significantly enough that he could have returned to the show after a medical leave and played out the rest of his contract?

This point seems almost impossible to argue with, so it's hard to fathom how the Actors' Equity members who sided with Piven at the February 26 hearing could have come to the conclusion that he did not act unprofessionally and did not deserve some kind of censure. (I can't help imagining what might have happened if Raúl Esparza and Elisabeth Moss, Piven's co-stars in STP, had been on hand for the hearing.)

Because of the split decision, no action was taken against Piven. But the day after the hearing, the following press release was issued by the producers of Speed-the-Plow: "The grievance went as expected yesterday. The grievance committee (made up of League and Equity representatives) did not rule for either side, and we will be filing for arbitration as provided by our contract." Stay tuned!




Published on Thursday, March 5, 2009




Michael Portantiere has more than 30 years' experience as an editor and writer for TheaterMania.com, InTHEATER magazine, and BACK STAGE. He has interviewed theater notables for NPR.org, PLAYBILL, STAGEBILL, and OPERA NEWS, and has written notes for several cast albums. Michael is co-author of FORBIDDEN BROADWAY: BEHIND THE MYLAR CURTAIN, published in 2008 by Hal Leonard/Applause. Additionally, he is a professional photographer whose pictures have been published by THE NEW YORK TIMES, the DAILY NEWS, and several major websites. (Visit www.followspotphoto.com for more information.) He can be reached at [email protected]


Why are you looking all the way down here?
For more articles by Michael Portantiere, click the links below!

Previous: Give My Regards to Off-Broadway

Next: They Both Reached for the Gunn!

Or go to the Archives