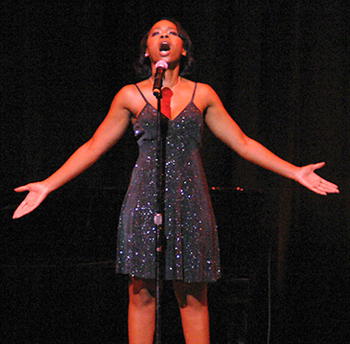 A Broadway Summer at The Town Hall
Summertime Broadway openings aren't entirely unknown; let's not forget Hairspray and Avenue Q. This year, Burn the Floor is set to bow on August 2. But such events are still rare. So, other than listening to cast albums and re-seeing favorite shows that opened during the previous season, what is a musical theater enthusiast to do until fall?
Well, for starters, he or she can attend the offerings of the Summer Broadway Festival at The Town Hall, one of this city's best performance venues. Unless you were lucky enough to be at the hall this past Monday, July 13, you've already missed the first of the festival's three 2009 presentations: Broadway Winners!, an all-star concert of music from all-time classics (Cabaret, She Loves Me, Funny Girl, etc.) and terrific scores of more recent vintage (e.g., Next to Normal).
Among the show's highlights were Anika Noni Rose's vocally and dramatically stunning rendition of "Home" from The Wiz (see photo) and Martin Vidnovic's powerful take on "I Am What I Am" from La Cage aux Folles. Other standouts were Alex Gemignani in the title song from She Loves Me, Donna Lynn Champlin in "Gooch's Song" from Mame, and James Barbour reprising his tour-de-force performance of "Molasses to Rum" from the recent Paper Mill Playhouse production of 1776.
If you missed Broadway Winners!, don't despair: This coming Monday, July 20, Town Hall will give us a Broadway Rising Stars concert featuring the brightest talent selected from some of the nation's finest musical theater schools -- including AMDA, CAP 21, Juilliard, CCM, Carnegie Mellon, NYU Steinhardt and Tisch Schools, Marymount, and The New School -- directed by Emily Skinner and Scott Coulter. The following Monday, the 27th, such crooning hoofers as Joe Komara, Erica Mansfield, Jeffrey Schecter, and Ryan Worsing will strut their stuff as the festival concludes with an All Singin', All Dancin' program directed by Scott Siegel and Josh Prince, choreographed by Prince.
Make no mistake, Town Hall is home to lots of musical theater-related shows not just in summer but throughout the year, all of them put together and hosted by the intrepid Scott Siegel. Be sure to mark your calendar for November 16, when Siegel will present the next edition of Broadway Unplugged, a concert in which great theater songs are performed by Broadway notables with no amplification whatsoever. Past participants have included Michael Cerveris, Sutton Foster, Cheyenne Jackson, Marc Kudisch, Beth Leavel, and Alice Ripley. This year's lineup has not yet been announced, but you can bet the farm that it will be stellar. See you there!
********************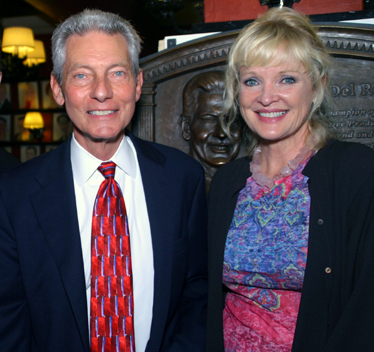 Bravo Angelo!
Having survived a financial crisis that actually preceded the current meltdown of the U.S. economy, the Paper Mill Playhouse in Millburn, NJ now seems to be back on an even keel under its present administration. That's wonderful news, because the theater has a history of excellence -- much of which was the direct responsibility of Angelo Del Rossi, its head honcho for 40 years, from 1963 to 2003.

Though Del Rossi is gone from Paper Mill, he will never be forgotten by anyone who worked at the theater during his tenure. To officially honor him, a plaque commemorating his brilliant career was unveiled at a reception held yesterday (Thursday, July 16) at Sardi's.

Among those on hand to congratulate the man of the hour were such Paper Mill alumni as Christine Ebersole (pictured here with Del Rossi), Tony Roberts, Susan Stroman, George S. Irving, Ron Raines, Jim Walton, Lee Roy Reams, Kelli Rabke, Judy McLane, Paul Iacono (one of the stars of the forthcoming new film version of Fame), and Vincent D'Elia (whose Paper Mill credits include Jesus Christ Superstar and Children of Eden).

Said Roy Miller, who worked with Del Rossi for years at Paper Mill and is now one of the producers of the Broadway revival of West Side Story, "Angelo not only taught me the nuts and bolts of producing, but more importantly -- and I think everyone in this room will agree -- he taught us all to have passion and not apologize for it, and to take risks at the risk of failing."

"I got started at the Paper Mill Playhouse," said Stroman. "Angelo took a chance on me and gave me the opportunity to hone my craft on new material. For young talent coming up today, it's hard to find that place anymore. Angelo was what I thought an impresario should be: always dapper in his suit, always pacing back and forth, watching me do my work. But when I would look down at him, he would smile and would be there to support me. Angelo, I'm so honored to be here today and to see you still looking like the great impresario."

The plaque honoring Del Rossi, which will soon be installed at Paper Mill, lauds him as a "dedicated champion of the arts, executive producer, loyal friend, and inspirational mentor."




Published on Friday, July 17, 2009




Michael Portantiere has more than 30 years' experience as an editor and writer for TheaterMania.com, InTHEATER magazine, and BACK STAGE. He has interviewed theater notables for NPR.org, PLAYBILL, STAGEBILL, and OPERA NEWS, and has written notes for several cast albums. Michael is co-author of FORBIDDEN BROADWAY: BEHIND THE MYLAR CURTAIN, published in 2008 by Hal Leonard/Applause. Additionally, he is a professional photographer whose pictures have been published by THE NEW YORK TIMES, the DAILY NEWS, and several major websites. (Visit www.followspotphoto.com for more information.) He can be reached at [email protected]


Why are you looking all the way down here?
For more articles by Michael Portantiere, click the links below!

Previous: The Funny Girl Has Three Faces

Next: All Singin' All Dancin'

Or go to the Archives