Beach Listening
Assuming that it will eventually stop raining this summer, folks will want to have their iPods or other personal listening devices loaded up with great stuff to enjoy at the beach and on the way to and from. Of course, this applies to musical theater lovers as much as anyone else. I've obtained the cast albums of all of the past season's musicals except for Stephen Sondheim's Road Show, which was officially released yesterday (June 30), and Dolly Parton's Nine to Five, due at the end of July. Here are some of my thoughts on several items of interest. (Note: The only recording of Billy Elliot, the London cast album, was released more than three years ago and I wrote about it back then.) Happy listening!
********************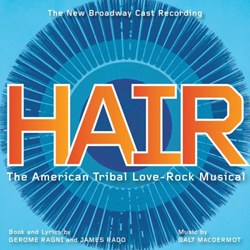 Hair
It would be impossible for any recording to fully capture the thrill of experiencing the revival of the seminal Gerome Ragni-James Rado-Galt MacDermot rock musical Hair at the Al Hirschfeld Theater, but Ghostlight Records' cast album comes very close.
This is one of those cases in which it might have been interesting to record the show live in performance, but of course, that method entails tremendous challenges. Everyone involved in the new cast album should be congratulated for recreating the excitement of the show in a studio setting; an abundance of raw energy has been captured here.
The CD is a winner for Will Swenson's charismatic Berger and Gavin Creel's golden-voiced Claude Hooper Bukowski. Sasha Allen scores with "Aquarius" because she sings the song rather than screaming it, and Caissie Levy is persuasive in "I Believe in Love," "Easy to Be Hard," and "Good Morning, Starshine." Allison's Case's "Frank Mills" is perfection, and Bryce Ryness and Darius Nichols are vividly present as Woof and Hud. Music director/conductor/keyboardist Nadia Digiallonardo does an expert job of leading the singers and the awesome band.
********************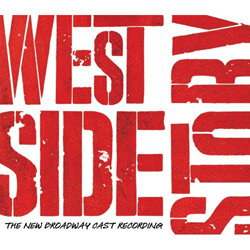 West Side Story
The cast album is emblematic of what's wrong with the current revival of this musical theater masterpiece. It starts off on a bad note with a sluggish, slack reading of the prologue by music director/conductor Patrick Vaccariello -- but not as sluggish and slack as "The Rumble" that ends Act I. There are plenty of other blunders throughout, such as the ludicrous "soprano sing-off" in "I Feel Pretty," one of the songs that have unwisely been translated into Spanish for this production.
As for the soloists, Josefina Scaglione (Maria) and Karen Olivo (Anita) come off best, as you probably have heard. Matt Cavenaugh displays a pleasing vocal tone as Tony, but his phrasing is questionable, his New York accent is not a success, and his delivery of his spoken lines in the "Dance at the Gym" sequence and at the start of the "Somewhere" track is terribly stilted. As Riff, Cody Green nails an impressive high note at the end of the "Jet Song," but his own attempt to sound "Noo Yawk" actually makes him sound as if he has a speech impediment. My advice? Pass on this CD and instead get your hands on the original Broadway cast album or the film soundtrack -- or both.
************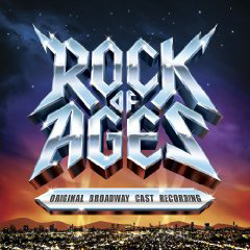 Rock of Ages
When the London cast recording of Mamma Mia! was released, I predicted that it probably wouldn't sell all that well. After all, I thought, even if multitudes of people loved the show, why would they want an album packed with ABBA covers that were crafted to sound as close to the originals as possible when they could buy the ABBA Gold collection and have the real thing instead?
Well, that Mamma Mia! CD went on to become a huge hit, so I'm not even going to guess how high New Line Records' original Broadway cast recording of Rock of Ages will chart. Let me just say that the disc is filled with spot-on covers of hits by Journey, Night Ranger, Styx, REO Speedwagon, Pat Benatar, Twisted Sister, Poison, and other '80s phenoms. High vocal honors go to Constantine Maroulis, James Carpinello, Lauren Molina, Adam Dannheisser, and poor Amy Spanger, who has already left the show for personal reasons.
********************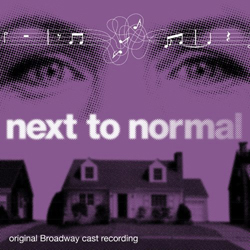 Next to Normal
The sad word on that street is that 2009 Tony Award winner Alice Ripley has been having trouble getting through eight a week of Next to Normal at the Booth Theater, her voice apparently having been compromised by her no-holds-barred performance and, in my analysis, by flawed technique. (Ripley sang consistently flat during the performance I attended, and she yielded the role of bipolar wife and mom Diana to her understudy for the show's first performance after the Tonys.)
The good news is that she sounds terrific on the cast album. So do J. Robert Spencer as Diana's husband, Aaron Tveit as her son, and Jennifer Damiano as her daughter. Whatever major flaws in construction this musical may exhibit, its Tony-winning score -- music by Tom Kitt, lyrics by Brian Yorkey -- fully deserves that honor. If you haven't already picked up Ghostlight's terrific two-disc recording, do yourself a favor and get it soon.
********************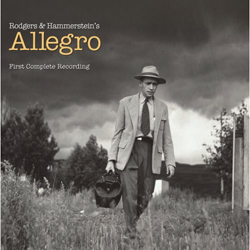 Allegro
This is something of a miracle: A complete, two-disc, state-of-the-art, all-star studio recording of a lesser-known show by the greatest musical theater writing team of the 20th century, a show that was previously (mis)represented only by the severely truncated, monophonic original Broadway cast album.
Rodgers and Hammerstein's Allegro is generally regarded as the first concept musical: Its conventional story of a man from a small town who responds to the siren call of the big city but eventually returns to home and hearth is told in an overtly presentational manner, with much of the goings-on narrated and explicated by a Greek-style chorus. The show doesn't completely work, but the score has lots of wonderful pages. Though the best known songs are "A Fellow Needs a Girl," "So Far," and "The Gentleman is a Dope," I've always felt that Allegro's finest moment is the achingly lyrical "You Are Never Away," beautifully sung on the new CD by Patrick Wilson and ensemble.
The recording is luxury cast in its leads and featured roles (Wilson, Laura Benanti, Nathan Gunn, Audra McDonald, Liz Callaway, Norbert Leo Butz, Judy Kuhn), as well as the smaller parts (Judith Blazer, Ashley Brown, Danny Burstein) and cameos (Schuyler Chapin, Harvey Evans, Howard Kissel, Kurt Peterson, Stephen Sondheim). Even the great Oscar Hammerstein himself makes a posthumous appearance. And it's wonderful to have Marni Nixon, who dubbed Deborah Kerr's singing in the movie version of R&H's The King and I more than 50 years ago, on hand as Grandma Taylor.
********************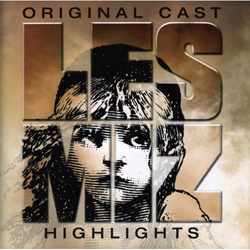 Les Miz: Original Cast Highlights

The recent, belated release of a CD of highlights from the original London cast album of Les Misérables gives me an excuse to rant about something I noticed a while ago: Cameron Mackintosh, Andrew Lloyd Webber, and other movers and shapers behind Brit musicals and cast albums apparently have so little respect for performers that they sometimes exclude their names from CD covers.

I'm telling you, it's weird. To learn the names of the singers heard on the Lez Miz disc, you have to search the enclosed booklet; not one performer is identified anywhere on the outside packaging. The same is true of the two-CD original cast recording of The Phantom of the Opera -- although, oddly enough, the highlights disc does credit Michael Crawford, Sarah Brightman, Steve Barton, et al. Decca's most recent recording of Jesus Christ Superstar is even more peculiar in this regard: Not only does the outer packaging fail to list the cast, it doesn't even specify which production this is or when and where it took place! (I believe what we have here is the cast album of the mid-'90s London revival that later moved to Broadway for a brief run.)

Yes, I know: Certain producers (and composers) deliberately downplay the contributions of performers on the theory that it makes better business sense if "the show is the star," rather than the people in it. But to actually hide the names of singers on a recording? If I may quote Julie Andrews in Mary Poppins, "That's going a bit too far, don't you think?" For the record (as it were), the major soloists on the London Les Miz highlights disc are Colm Wilkinson as Jean Valjean, Roger Allam as Javert, Michael Ball as Marius, Frances Ruffelle as Eponine -- oh, and some unknown named Patti LuPone as Fantine. Surely, there was no point in advertising any of those names on the CD package!




Published on Wednesday, July 1, 2009




Michael Portantiere has more than 30 years' experience as an editor and writer for TheaterMania.com, InTHEATER magazine, and BACK STAGE. He has interviewed theater notables for NPR.org, PLAYBILL, STAGEBILL, and OPERA NEWS, and has written notes for several cast albums. Michael is co-author of FORBIDDEN BROADWAY: BEHIND THE MYLAR CURTAIN, published in 2008 by Hal Leonard/Applause. Additionally, he is a professional photographer whose pictures have been published by THE NEW YORK TIMES, the DAILY NEWS, and several major websites. (Visit www.followspotphoto.com for more information.) He can be reached at [email protected]


Why are you looking all the way down here?
For more articles by Michael Portantiere, click the links below!

Previous: Steven Pasquale: Somethin' Like Love

Next: The Funny Girl Has Three Faces

Or go to the Archives