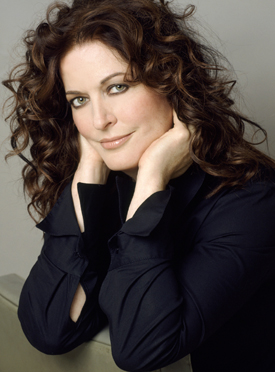 Ann Hampton Callaway and Marc Kudisch Do the Good Stuff
As an early Christmas present to me, me, me (and a lot of other people as well), two of my favorite performers in the whole wide world will be doing their stuff onstage in NYC this week: The amazing Ann Hampton Callaway will headline a New York Pops tribute to Johnny Mercer at Carnegie Hall on Friday evening, November 20, while three-time Tony Award nominee Marc Kudisch will be featured in the City Center Encores! presentation of the Gershwin musical Girl Crazy, Nov. 19-22. I mean, really, who could ask for anything more?
Titled Too Marvelous for Words, the Mercer concert is the latest event celebrating the late, great lyricist and sometime composer in his centenary year. Joining the Pops and conductor Steven Reineke, Callaway will perform alongside Broadway vet James. T. Lane, actress and opera singer N'Kenge, and the Camp Broadway Kids in a program that will include such Mercer perennials as "Dream," "Come Rain or Come Shine," and "Moon River."
"I've had a lifelong love affair with Johnny Mercer," Ann says unabashedly. "I love his sense of wit, his humanity, his ability to create poetry and colloquialism at the same time. He has a great talent to make it sound as if the singer is saying something for the first time. His songs always have an 'aha!' moment -- a moment in which the truth is told in an extraordinary way. His lyrics seem natural and inevitable, but they're also surprising at the same time. I think that's what all songwriters aspire to but very few achieve."
When I ask Ann if she has a favorite or favorites among Mercer's creations, she replies: "Well, he wrote the lyrics to a song that has become something of a signature for me, 'Blues in the Night.' You think about him growing up in Savannah, which is kind of a haunted city. The way Mercer he was able to capture the night having this energy, people being haunted by the sounds of the night -- there's something primordial about it.
"I also love 'Skylark.' I don't think there are many songs that more poignantly paint the dialogue we have with nature. The way Mercer was able to strike up a conversation with something outside of himself is really sublime. Then there are the playful songs he wrote, which are just delightful. And one of my all-time favorite Mercer ballads is 'This Will Be My Shining Hour,' which I recorded on my second album. It's one of those songs that, if you only had an hour left to live, you'd want to sing it."
Mercer could and did write the music for some of his songs, most notably "Dream," but he was far more famous and prolific as a lyricist. Ann says she can only speculate as to why he didn't write more music, "but I do know that, sometimes, when you become known for a particular talent, you can sort of get trapped into doing only that one thing. People want the sure-fire power of a Johnny Mercer lyric paired with the sure-fire brilliance of a Harold Arlen melody. The creative process is a mysterious one. Mercer was very upset in the later years of his life that his songs were starting to lose some of their popularity. I think people sometimes do or don't do things our of fear or insecurity. That's a part of Johnny Mercer I'd like to learn more about."
The Mercer concert will mark Ann's fifth appearance at Carnegie Hall -- "if I'm counting correctly," she says. "I love the hall, I love the Pops, I love the songs, and this will be my first time performing with Steven Reineke. I'm very excited about that. It should be a great night!"
********************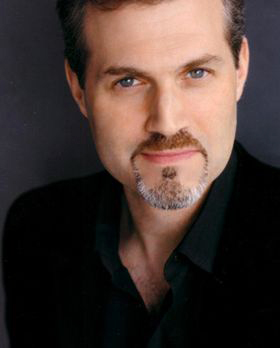 Meanwhile, at City Center -- just two blocks away from Carnegie -- Marc Kudisch and company will be revivifying a show that almost no one alive today has seen in its original form. Make no mistake, folks: This is Girl Crazy as performed on Broadway in 1930, not to be confused with Crazy for You, the '92 revisal that was a hit because of the glorious, augmented Gershwin score and Susan Stroman's terrific choreography, certainly not because of Ken Ludwig's lame rewrite of the book.

The show includes such standards as "I Got Rhythm," "But Not for Me," and "Embraceable You." As described in the press materials, the original plot concerns "a sophisticated New Yorker marooned in a dusty Western cow town with no one who understands him but the Yiddish-speaking cabbie who brought him there and no one to love but the only woman within 50 miles." Real-life couple Chris Diamantopoulos and Becki Newton play the leads, with Seinfeld fave Wayne Knight as the cabbie. And how does Marc fit into the mix?

"I play a character called Slick Follicle. Ana Gasteyer plays my wife, Kate -- the Ethel Merman part. I'm a gambler, and she's a nightclub singer. I only get to sing one song in the show, 'Treat Me Rough.' I gather that's because the guy who originated the role wasn't really a singer. What's fun is that there's a lot of music in this show that many people don't know, like 'Barbary Coast' and 'Sam and Delilah.'"

In his career thus far, Marc has done his share of both revivals and "revisals." So, does he generally feel it's best to present an old show as written when bringing it back to the stage, or to revamp it for contemporary sensibilities? "So often," he replies, "we'll do a revival, and instead of going to the material, we try to make the material come to us. I understand why they did Crazy for You; for one thing, it gave them a way to add more Gershwin songs. But what I love is about Encores! is that they honor the original script. Here, we have Jerry Zaks directing. Nobody does this kind of material better than him. He's old-school; he's Broadway. He's making us respect the material. There's a special style that comes into play with this script and these songs. If you commit to the material, and you don't apologize for it or comment on it, you can rediscover the joy and essence of what made it work to begin with. That's what I'm liking about this; it's a rediscovery of a craft, a remembrance of what was really brilliant."

Given that Crazy for You differs greatly from its antecedent, and that the Mickey Rooney/Judy Garland movie version of Girl Crazy also bears little resemblance to the Broadway show, Marc is happy that the piece will be seen in its original form for the first time since God knows when. "How many people really know Girl Crazy?" he asks rhetorically. "Nobody! I was on YouTube last night, and I found clips from a film that was made in 1932, two years after the show originally opened. It's a much more faithful movie than the Mickey/Judy version, and it was great to watch it, because back then, the piece was contemporary. The actors were playing it with the the perfect style and rhythm. As I was watching it, I thought, 'This is as close as you're going to get to the original Broadway production.' It's fascinating."

Marc feels that producers, etc. make an "enormous mistake" when they assume old shows written in a certain style are so outmoded that modern audiences can't appreciate them. "It's limited thinking to dismiss something just because it happens to be outside of your realm," he says. "It's like operetta, isn't it? A lot of people make fun of operetta because, the truth is, they're afraid to get near it. Nowadays, we're cynical. We question and we criticize constantly, as opposed to really exploring open-hearted values. Life is more complicated today, but that doesn't mean our basic values have changed. Fun is still fun, entertainment is still entertainment, and there is such a thing as love at first sight. Shows like Girl Crazy celebrate that. I think the audience for this show is going to have a ball."




Published on Sunday, November 15, 2009




Michael Portantiere has more than 30 years' experience as an editor and writer for TheaterMania.com, InTHEATER magazine, and BACK STAGE. He has interviewed theater notables for NPR.org, PLAYBILL, STAGEBILL, and OPERA NEWS, and has written notes for several cast albums. Michael is co-author of FORBIDDEN BROADWAY: BEHIND THE MYLAR CURTAIN, published in 2008 by Hal Leonard/Applause. Additionally, he is a professional photographer whose pictures have been published by THE NEW YORK TIMES, the DAILY NEWS, and several major websites. (Visit www.followspotphoto.com for more information.) He can be reached at [email protected]


Why are you looking all the way down here?
For more articles by Michael Portantiere, click the links below!

Previous: You're Going Out There a Soprano, But You've Got to Come Back a Diva!

Next: Wonderful Town

Or go to the Archives