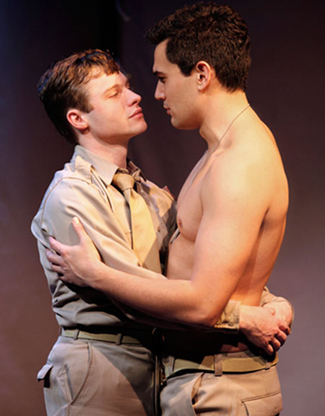 Thinking About Yank!
The shows that work like a charm aren't the only ones that stick in our minds. For the past week or so, I haven't been able to stop thinking about Yank!, the deeply moving but highly problematic musical by brothers Joseph and David Zellnik that's now playing at the York Theatre after years of development and at least two previous productions, one as part of NYMF and the other by The Gallery Players of Brooklyn.
Yank! attempts to tell a gay love story about two World War II-era soldiers named Stu and Mitch (respectively played by Bobby Steggert and Ivan Hernandez, pictured at left) in the style of the stage and film musicals of the 1940s. It's a tribute to the Zellniks and their collaborators that they pull off this fascinating but tricky concept for much of the show's length, which makes the sections in which they stumble all the more disappointing -- and frustrating, given that solutions to most of the show's problems would seem to be quite obvious.
Less than a minute of stage time passes before the first major misstep. On the plus side, the authors had the great idea to give context and add resonance to the story with a framing device: A modern-day gay man, also played by Steggert, reflects on what life must have been like for two men who fell in love with each other in the gay-unfriendly '40s and, even worse, while they were grunts in a virulently homophobic army. But then this nameless young man tells us he learned about Stu and Mitch via Stu's diary, which he found in a junk shop in San Francisco.
The Zellniks proceed to show us just how rigid and brutal the U.S. military could be in dealing with homosexuals who didn't follow the then-unstated "don't ask, don't tell" rule. Yet we're supposed to believe that Stu would keep a diary explicitly detailing his feelings for and relationship with Mitch, this is an environment where there could be no reasonable expectation that the privacy of said diary would be respected. Better to have had the present-day gay man come across a photo of two army guys in which a romantic relationship was implicit but not stated, with some sort of ambiguous inscription on the back. To instead have the guy find a diary that would never realistically have existed, unless Stu was a reckless fool, is a central dramaturgical blunder that undermines Yank! in a big way.
Another huge miscalculation occurs at the end of Act I with the Mitch-Stu duet "A Couple of Regular Guys," in which they dream of someday living together in a little house somewhere in Middle America. It's an okay song and a lovely thought, the only problem being that neither of these men -- especially not the conflicted Mitch -- would ever be able to imagine such an idyllic situation, let alone express his feelings in song. Of course, the Zellniks needed for there to be at least one love ballad in Yank!, so how could they have handled it? One unexplored option is that the lyrics to the song could have been oblique. Alternatively, the authors might have written a scene in which Mitch would sing a full-out love song ostensibly to a pretty young lady from the Women's Army Corps but surreptitiously direct it towards Stu. (Now, wouldn't that have been something? I'm getting chills just thinking about it.)

Yank! also veers off course in that the conventions of a 1940s musical often clash with the serious tale that's being told, as when Stu suddenly and incredibly slips into a pair of tap shoes and joins fellow gay serviceman Artie -- played by Jeffry Denman, who also choreographed the show -- in a number titled "Click." Then there's the unnecessary, smirk-inducing "dream ballet," in which Dream Stu (Joseph Medeiros) and Dream Mitch (Denis Lambert) dance a pas de deux that distills their ill-fated relationship. Word of mouth and Internet chatter indicate that even some of this show's staunchest admirers can't stand the ballet, but the Zellniks and director Igor Goldin have retained it nonetheless. One might admire them for holding fast to their artistic convictions, but on the other hand, one might question their judgment in insisting on giving the audience something it doesn't want.
There are many other flaws in the show. One of the most significant is that the Zellniks provide little opportunity for Stu and Mitch to really get to know each other during the first few scenes; so when Stu suddenly declares his love for Mitch in the middle of Act I and Mitch replies "I love you too, kid," the moment is believable only because of the talent and charisma of the actors, not because the writers have done their job well. Then there are those sections of the script where very strange things happen in order to move the plot along. For example, when Stu is outed as a homosexual, he's given a choice of five years in a military prison or going to fight on the front lines, where he'll presumably be killed. (Really? Wouldn't the brass view the front lines as the worst possible place for someone whose very presence is considered destructive to a fighting unit's cohesion? And, in any event, is it remotely plausible that the man in question would be allowed to choose his punishment?) Finally, there's the ludicrous scene toward the end of the show where Stu immediately forgives Tennessee (Andrew Durand), the redneck who told the brass about his diary and thereby caused him to be thrown into solitary confinement.
Make no mistake: These and other problems notwithstanding, much of Yank! is wonderful. The scenes of camaraderie between the motley crew of soldiers, including the songs "Polishing Shoes" and "Letters/Remembering You," are neat. Act I includes a funny war movie parody starring the fabulous Nancy Anderson as an angelic army nurse. The crowning moment of the entire show is the heartbreaking scene in which Stu finally reconnects with the injured Mitch back home -- still hoping they can somehow have a life together -- and receives the devastating news that Mitch is married. But again, the effect of this and other scenes is due as much to the superb performances of Steggert and Hernandez as to the actual quality of the writing.
Yank! is going over so well at the York that the run has been extended through April 4. My guess is that the brothers Zellnik now consider their work to be finished, especially given the mostly rapturous audience response. But in my opinion, this is one of those cases -- like Brokeback Mountain -- where people become so emotionally involved in a sad, beautiful gay love story that they choose not to notice or be bothered by major flaws in the storytelling. If the Zellniks ever do decide to take another pass at the show, here are my suggestions, for whatever they're worth: (1) change the diary to a photo; (2) amplify the interaction between Mitch and Stu in the early scenes; (3) rework the number "Click" so that Artie is the only one who taps; (4) figure out some way to make the Mitch/Stu love song indirect; (5) get rid of the dream ballet; (6) don't send Stu to the front lines; and (7) cut or completely rewrite the reconciliation scene between Stu and Tennessee. All of this would go a long way toward making Yank! the truly excellent, groundbreaking musical it wants to be.

*********************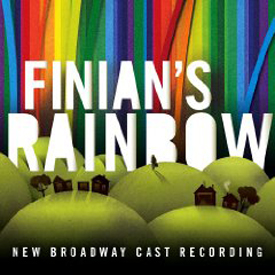 Follow the Fellow
It's sad, confounding, and kind of scary that the recent Broadway revival of the evergreen Burton Lane/E.Y. Harburg musical Finian's Rainbow had such a brief run despite receiving almost universal acclaim from the critics. But the pot of gold at the end of this evanescent rainbow is the recently released cast recording from P.S. Classics.

In one sense, this CD wasn't vitally necessary, as Finian's already had a legacy of four excellent recordings: (1) the exciting Original Broadway Cast album, featuring the strange but bracing vocal embellishments of Ella Logan in the leading female role of Sharon McLonergan; (2) the 1960 Broadway revival album, highlighted by Jeannie Carson's lovely, more straightforward renditions of Sharon's songs; (3) the 1968 film soundtrack with Petula Clark and Fred Astaire, a wonderful presentation of the score even though the movie itself is a bit of a mess; and (4) the recording of the Irish Rep's delightful 2004 Off-Broadway production, commendable for the performances of Melissa Errico, Max Von Essen, Malcolm Gets, et al., even if the accompaniment is limited to two pianos. But the new cast album is a worthwhile addition to the library if only because it captures the vocal performances of Kate Baldwin, Cheyenne Jackson, et al., and it also gives us Robert Russell Bennett's and Don Walker's gorgeous original orchestrations in state-of-the-art digital stereo sound for the first time.

The recording starts unpromisingly with a somewhat stiff account of the overture; I assume this is because the full piece was not played in the theater, and when the cut sections were reinstated for the recording, the performance suffered because music director Rob Berman wasn't used to conducting the whole thing and the musicians weren't used to playing it. But, thereafter, all is more than well in terms of both orchestra and singers. Baldwin is terrific as Sharon, one of the most refreshing aspects of her performance being that she "belts" a good deal more of the role than her recorded predecessors. Only momentarily does this turn out to be an unwise decision: When she goes for the high note on the last word of the phrase "and he's not the hero" in "If This Isn't Love," it sounds less than pretty. Elsewhere, she expertly mixes chest and head voice, and the warmth of her middle register is greatly appreciated on such ballads as "How Are Things in Glocca Morra?" and "Look to the Rainbow."

As Woody, Jackson displays a warm, rounded baritone and has a warm, friendly presence. Jim Norton's Finian gets more lines to sing on this recording than this character is usually allotted (the film soundtrack is a major exception), and he delivers them with great verve, humor, and authenticity. Christopher Fitzgerald is a pixified delight as the leprechaun Og, charming and tickling us with some of Harburg's cleverest lyrics.

Which brings me to an oddity in this otherwise virtually complete aural document of the score. As originally written by Harburg, a section of the song "That Great Come-and-Get-It-Day" goes as follows: "Bells will ring in every steeple; come and get your test on the movie screen. Come you free and you equal people, come and get your beer and your Benzedrine!" For the new recording and the production it documents, the lyrics of this quatrain and the previous one were rearranged and the line "Come you free and you equal people" was cut.

It's hard to guess why this happened or who's responsible for it, but there were a few other weird little cuts made for the show and the CD—some of which may have been the doing of David Ives, who's credited with having adapted the show for the City Center Encores! presentation that yielded the Broadway revival. Or maybe the person responsible is Arnold Perlman, who adapted Ives's adaptation for Broadway. Whatever, these excisions are unfortunate, even though they represent only a few seconds in a generally respectful revival and recording of one of the most beloved musicals in the canon.




Published on Sunday, March 7, 2010




Michael Portantiere has more than 30 years' experience as an editor and writer for TheaterMania.com, InTHEATER magazine, and BACK STAGE. He has interviewed theater notables for NPR.org, PLAYBILL, STAGEBILL, and OPERA NEWS, and has written notes for several cast albums. Michael is co-author of FORBIDDEN BROADWAY: BEHIND THE MYLAR CURTAIN, published in 2008 by Hal Leonard/Applause. Additionally, he is a professional photographer whose pictures have been published by THE NEW YORK TIMES, the DAILY NEWS, and several major websites. (Visit www.followspotphoto.com for more information.) He can be reached at [email protected]


Why are you looking all the way down here?
For more articles by Michael Portantiere, click the links below!

Previous: I'm Getting Temperamental Over You

Next: Colored Lights

Or go to the Archives