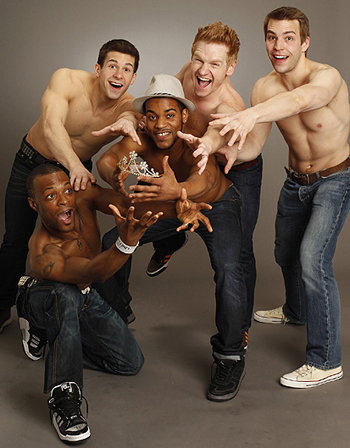 Men of Broadway
It's springtime in NYC, and gala benefits are coming at us fast and furious. One that should definitely be on your calendar is The Broadway Beauty Pageant, an annual event in support of the Ali Forney Center, which provides housing and other services for homeless LGBT youth. The 2010 edition of this all-male pageant will be held on Monday evening, April 19 at Symphony Space (2537 Broadway at 95th Street).
For the fourth consecutive year, the fabulous festivities will feature cast members representing their respective Broadway shows, vying for the title crown through talent, interview, and swimsuit (!) competitions. The hopefuls will go head to head in front of a panel of celebrity judges, but the final vote is in the audience's hands, à la American Idol.
This year's contestants, pictured here from left to right, are Rickey Tripp (Mr. In the Heights, kneeling in photo), Charlie Williams (Mr. Memphis), Daniel Soto (Mr. Fela!), Eddie Pendergraft (Mr. Wicked), and Wes Hart (Mr. West Side Story). The pageant will be hosted by Tovah Feldshuh, who slew the audience in the same capacity for two previous editions, including last year's. Further pithy comments and piquant observations will be provided by the 2010 panel of judges: the glittering Broadway star Christine Ebersole; the beloved playwright and drag artist Charles Busch; and the hilarious Jackie Hoffman on her night off from The Addams Family, in which she's currently cavorting as Grandmama.
The 2009 pageant registered off the charts on both the Hunk Scale and the Hilarity Meter, with Anthony Hollock (Mr. Hair) winning the crown for his unforgettable talent presentation. Hollock is now in London, performing Hair in the West End with the rest of the Broadway revival cast, so he will not there at Symphony Space to hand over the crown at this year's BBP -- but he has made a special video for the occasion. The two other past winners, Frankie James Grande and Marty Thomas, will absolutely be present and will do a number together, as they did last year. Says Grande, with tongue halfway in cheek, "We have put together a multimedia extravaganza that I'm sure will entertain and will live up to our previous performances." (Pictured in the photo below, from last year's pageant, are Thomas at left, Grande at right, and a radiant Hollock in the center.)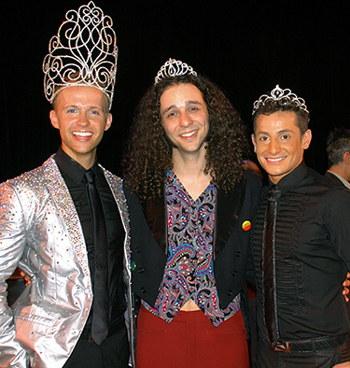 Grande has the distinction of having won the very first Broadway Beauty Pageant, back in aught seven, as a representative of Mamma Mia! "I was petrified and excited at the same time," he says of the experience. "Now the pageant is an established event, and the boys who are competing can watch clips of us on YouTube; but when I did it that first year, there was no precedent. It was very frightening in the beginning, but I guess my natural insanity took over, and I had a blast. Once I got the ball rolling and got my talent presentation together, I enjoyed every minute of it."

Daniel Soto, one of this year's contestants, says: "I first heard about the pageant from my agent. Then I went to a party for the cast of Hair just before they went to do the show in London, and Anthony Hollock also talked up the pageant. I feel very blessed and honored to be part of the event." When I remark that Soto is the one holding the crown in the photo at top, and ask if he considers this an omen, he laughs and says: "Well, I'll let the crowd figure that out!"

Soto hasn't attended any of the previous Broadway Beauty Pageants, but he's thrilled to participate in this one. "I'm most interested in the talent competition," he says. "I'm really eager to see what the other guys will bring to the table. For my presentation, I've decided to do a remix of a song from Fela! It's about how we as people can carry on in the face of so much suffering in society. There's a saying in Africa that means 'Try walking with dry eyes.' It's the idea that we can still live in glory even in the darkest situations."

The Broadway Beauty Pageant is conceived by Jeffery Self and directed by Ryan J. Davis. This year's edition will have choreography by Erin Porvaznika and musical direction by Christopher Denny, and it will feature a new song written especially for the event by Rick Crom (Newsical). Tickets are priced at $25, $50 and $150 (VIP), with individual sponsored tickets ranging from $250 to $1000. For more information or to purchase tickets, visit www.aliforneycenter.org/beauty or click here.




Published on Monday, April 12, 2010




Michael Portantiere has more than 30 years' experience as an editor and writer for TheaterMania.com, InTHEATER magazine, and BACK STAGE. He has interviewed theater notables for NPR.org, PLAYBILL, STAGEBILL, and OPERA NEWS, and has written notes for several cast albums. Michael is co-author of FORBIDDEN BROADWAY: BEHIND THE MYLAR CURTAIN, published in 2008 by Hal Leonard/Applause. Additionally, he is a professional photographer whose pictures have been published by THE NEW YORK TIMES, the DAILY NEWS, and several major websites. (Visit www.followspotphoto.com for more information.) He can be reached at [email protected]


Why are you looking all the way down here?
For more articles by Michael Portantiere, click the links below!

Previous: Kelli and Paulo and Alan and Fritz

Next: Charlie Williams, "Mr. Memphis," Wins Broadway Beauty Pageant

Or go to the Archives