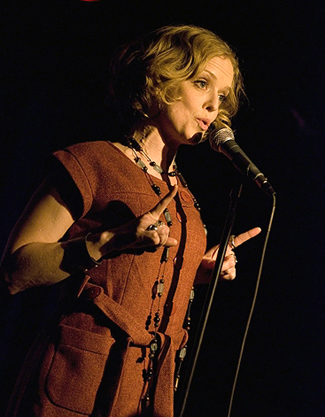 If It Only Even Runs a Minute
If you live in NYC and you adore flop musicals, there are several options available for your entertainment dollar. The "Closing Notice" series of piano-only concert revivals, presented by Opening Doors Productions at the Duplex, is specifically dedicated to shows that failed to find an audience in their day. Mel Miller's "Musicals Tonight!" and the York Theater Company's "Musicals in Mufti" include many short-runners in their programming, and Scott Siegel's Broadway concerts at The Town Hall frequently offer what might be called "hits from misses." Even the high-profile City Center Encores! series occasionally unearths a bona fide flop -- e.g., House of Flowers. Oh, and it's never hard to find cabaret shows that embrace songs from unloved musicals.
What makes If It Only Even Runs a Minute different from all of the above? According to Jennifer Ashley Tepper, who with Kevin Michael Murphy co-created and co-hosts this new concert series at the Laurie Beechman Theatre, "We think we're unique because we present not just songs but also anecdotes, projected photos, and historical tidbits from rare musicals."
If It Only... is also noteworthy for featuring personal appearances and performances by veterans of some of Broadway's biggest bombs and most grievous disappointments. The first concert in the series had Nancy Anderson singing a song from A Class Act and talking about that short-lived show based on the life and career of Ed Kleban (see photo above, by Monica Simoes). Additionally, Craig Carnelia spoke of his non-hits Is There Life After High School? and Sweet Smell of Success, while Nick Blaemire shared memories of Glory Days, which closed on its Broadway opening night in May 2008.
So, what's in store for audiences at the second If It Only Even Runs a Minute concert, slated for Sunday, May 30 at 9:30pm at the Beechman? "It wasn't planned," says Tepper, "but I realized that we're going to have a large number of Off-Broadway musicals represented: Annie Warbucks, A Man of No Importance, Debbie Does Dallas, Diamonds, Personals. So I guess we have an unintentional theme. But there will be Broadway songs, too, from Mack and Mabel, All American, Drat! The Cat!, Starmites. And I think we're going to do "Meadowlark" from The Baker's Wife."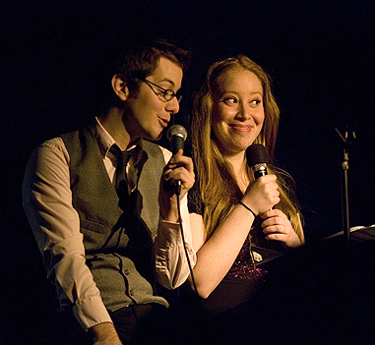 Tepper and Murphy (pictured in Monica Simoes photo at right) pride themselves on giving true rarities a hearing. Says Tepper, "Our musical director, Caleb Hoyer, is so wonderful that he's been able to transcribe some very obscure songs from shows that don't even have published sheet music. In this next concert, we're going to have a song from Marlowe, everyone's favorite 1981 musical about Christopher Marlowe. Caleb transcribed it from a bootleg recording, which is pretty awesome. There was no way we were ever going to find sheet music from Marlowe! He also transcribed a song from Via Galactica that we'll be doing."

Anyone who thinks obsessive love for flop musicals is limited to middle-aged and elderly "show queens" should think again; Tepper and Murphy are still in the bloom of youth, and the audience for the first If It Only Even Runs a Minute consisted largely of folks under 30. Notes Tepper, "We had a lot of young people who are involved with NYMF, and a lot of NYU students and recent grads. Believe it or not, there is a young audience out there who've listened to A Man of No Importance or even Drat! The Cat! a million times."

The format of If It Only Even Runs a Minute might make some of those NYU alums feel like they're back at school, in that Tepper and Murphy provide highly informative commentary in their introductions to the songs. "The whole endeavor is very much its own animal," Tepper remarks. "It's kind of a concert, but we joke around and say that it's also kind of a class. I'd say it's in the same basic genre as Seth Rudetsky's Broadway 101: It's fun, but you learn something."

Among the performers slated for Sunday's show are Aaron Simon Gross, A.J. Shively, Eric William Morris, Leslie McDonel, Jaclyn Huberman, Lance Rubin, Lindsay Mendez, Lorinda Lisitza, Kristy Cates, Molly Hager -- and a very special guest. Says Tepper, barely able to contain herself, "Evan Pappas is going to do a song from My Favorite Year and talk about his experience with the show! That was one of the cast albums that I listened to over and over as a teenager. I wrote to Evan blindly, hoping he'd do this for us, and he said yes. I'm so excited that I want to cry whenever I think about it."

********************

[The Laurie Beechman Theatre is located in the West Bank Café at 407 West 42nd Street, just west of Ninth Avenue, in Manhattan. Tickets for If It Only Even Runs a Minute are priced at $15, and there is a $15 food/drink minimum. For reservations, phone 212-695-6909.]




Published on Thursday, May 27, 2010




Michael Portantiere has more than 30 years' experience as an editor and writer for TheaterMania.com, InTHEATER magazine, and BACK STAGE. He has interviewed theater notables for NPR.org, PLAYBILL, STAGEBILL, and OPERA NEWS, and has written notes for several cast albums. Michael is co-author of FORBIDDEN BROADWAY: BEHIND THE MYLAR CURTAIN, published in 2008 by Hal Leonard/Applause. Additionally, he is a professional photographer whose pictures have been published by THE NEW YORK TIMES, the DAILY NEWS, and several major websites. (Visit www.followspotphoto.com for more information.) He can be reached at [email protected]


Why are you looking all the way down here?
For more articles by Michael Portantiere, click the links below!

Previous: Gregg Baker: From Crown to Porgy

Next: Doug Sills Gets the Hook

Or go to the Archives