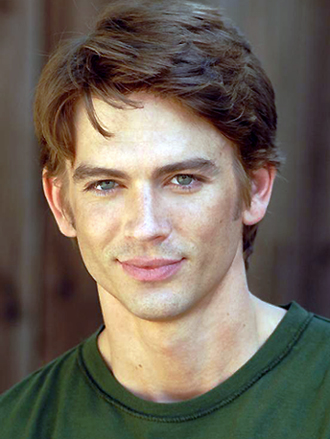 Hardy Boy
The last time America at large saw Austin Miller, he was putting it all out there on the TV talent contest Grease: You're the One That I Want, trying to snare the role of Danny Zuko in the second Broadway revival of everybody's favorite '50s pastiche musical. Our hero had survived many weeks of eliminations, and now it was down to him and one other contestant, Max Crumm...
As it turned out, Austin didn't get the part -- which seemed a bummer at the time but now looks more like a blessing in disguise, as that production of Grease was one of the most unfortunate revivals ever to hit the stage. At any rate, Austin was able to display to the world the triple-threat talent and golden-boy looks that have made him eminently castable in young leading man roles. (To cite only two of his many credits, he did a bang-up job as Link Larkin in Hairspray on tour and in Las Vegas, and he gained lots of fans during his stint as "Hawk" on Days of Our Lives).
Since the Grease ordeal, he has been working steadily. And now he's about to open at the John W. Engeman Theater in Northport, L.I. in one of his dream roles: Joe Hardy in Damn Yankees, opposite Felicia Finley as Lola and André De Shields as Applegate (see rehearsal photo below). Austin and I talked over coffee at Starbucks recently, during his final week of involvement with his previous project.
********************
BROADWAYSTARS: Joe Hardy sounds like a great part for you, and everybody loves a good production of Damn Yankees. You must be so excited.
AUSTIN MILLER: Yes! We're doing the original, not the 1994 version. I kind of prefer the original. It's a simpler story, the devil is more human...
STARS: ...and you get to sing "Two Lost Souls."
AUSTIN: I think that number is going to be awesome, because Felicia and I are both dancers, and there are bars and bars of dance music in it.
STARS: So you'll be doing considerably more dancing than Tab Hunter does in the film?
AUSTIN: Yes. I can't wait. I've never worked with Felicia before, but I love her.
STARS: You've been keeping very busy over the past few years. Tell me about this show Trip of Love that you did in Japan.
AUSTIN: It's kind of like Alice Through the Looking Glass with a catalog of #1 songs from the '60s, and the narrative is woven into the songs. This girl goes to an alternate universe and has to learn lessons about love. I'm her romantic counterpart, and I get mowed down by rifle fire in Vietnam. She's heartbroken, but she goes back to her life having learned whatever it is she was supposed to learn. The producers did a lot of advertising here; we had the back page of Playbill for a couple of months while we were overseas.
STARS: Why were they advertising in Playbill?
AUSTIN: They were hoping to bring it in to New York -- like everything else -- and I guess they were trying to create a buzz by dangling the carrot. We were all excited: "Look, we're comin' in!" It obviously didn't happen, but the show isn't dead yet. I had a meeting with the producers a couple of months ago.
STARS: You're well into rehearsals for Damn Yankees, but you're also finishing up a run in Sophisticated Ladies at Arena Stage in D.C. So, I'm wondering...
AUSTIN: How can I do two things in two different cities at the same time? Sophisticated Ladies was extended three times, but during the extension period we only have six shows a week, and my cover is doing some of the performances.
STARS: What else have you been up to lately?
AUSTIN: Last year, I did Joseph [and the Amazing Technicolor Dreamcoat} at the Arkansas Rep for a long stint, and I did 42nd Street at Goodspeed and on tour. I didn't sleep in my own bed at all last year. I was supposed to go into Joseph in London, but then the show closed. I was really upset, because that's another one of my dream roles, so I was glad to get to do it in Little Rock.
STARS: What is it about the role of Joe Hardy that you like so much?
AUSTIN: I think there's something really cool about playing someone who's sort of magical and who gets the opportunity to fulfill his wildest, craziest dream, to turn back the hands of time and have all these amazing abilities. But at heart, Damn Yankees is really a very tender lover story between Joe and his wife, Meg.
STARS: Did you see the revisal with Bebe Neuwirth and Victor Garber?
AUSTIN: No, the first Broadway show I saw was Sunset Boulevard with Elaine Paige. She was great. I love Andrew Lloyd Webber's music, and I love that show. Joe Gillis is another part that's on my wish list.
STARS: You love that show? Really?
AUSTIN: Yeah! I don't know why, but I do. I probably know every note of that stupid score.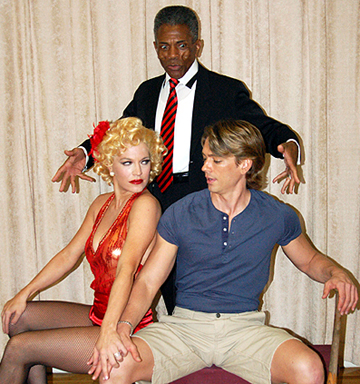 STARS: Back to Damn Yankees: What do you think of this plan to do a movie remake with Jake Gyllenhaal as Joe and Jim Carrey as Applegate?

AUSTIN: Umm, I don't know. Movie musicals are either so right or SO wrong. There doesn't seem to be a gray area. They're either wonderful or they're horrifying to watch.

STARS: They're talking about updating the action to the present day and doing all sorts of rewrites.

AUSTIN: Damn Yankees is what it is. It's set in Washington, D.C., and the action takes place about 10 years after the end of World War II. It's a really specific time and place, and it's an intrinsically American story -- this guy sitting on his couch, watching sports and wanting to be a star athlete. I think the show is best left as it is.

STARS: I can't let you go without asking your take on the whole Grease experience.

AUSTIN: It was weird. Right afterwards, I was upset, but I've gotten over myself a little bit.

STARS: I know you've said you felt the role of Danny belonged to Derek Keeling, who was eliminated early on but who went on to replace Max Crumm on Broadway.

AUSTIN: Yes. I still feel that way.

STARS: Given your love of Andrew Lloyd Webber's work, it must have been a trip for you to perform for him when he was a guest judge.

AUSTIN: Well...I think I frightened him. Straight out of the gate, I was a little too worshipful. I remember telling him, "Omigod, you don't know how you've affected my entire life, and my sister's! She knows every word of Aspects of Love! Can we call her on the phone?! Can you say hi to her?!!" I made a total jackass of myself. But since that whole experience, a lot of really satisfying things have happened in my career. Things are good.

[For more information on Damn Yankees, at the Engeman click here]




Published on Sunday, July 4, 2010




Michael Portantiere has more than 30 years' experience as an editor and writer for TheaterMania.com, InTHEATER magazine, and BACK STAGE. He has interviewed theater notables for NPR.org, PLAYBILL, STAGEBILL, and OPERA NEWS, and has written notes for several cast albums. Michael is co-author of FORBIDDEN BROADWAY: BEHIND THE MYLAR CURTAIN, published in 2008 by Hal Leonard/Applause. Additionally, he is a professional photographer whose pictures have been published by THE NEW YORK TIMES, the DAILY NEWS, and several major websites. (Visit www.followspotphoto.com for more information.) He can be reached at [email protected]


Why are you looking all the way down here?
For more articles by Michael Portantiere, click the links below!

Previous: High School Stars

Next: Presidential Material

Or go to the Archives