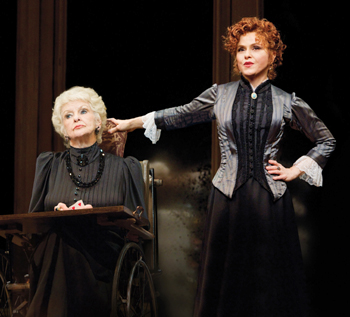 An acquaintance of mine mentioned that he recently got an email from someone in the cast of a musical revival he had directed. The show had settled into its run and the director had moved on to other projects, so he was nonplussed to read what the actor wrote: "Hey, you should come back and see the show. You'd hardly recognize it. Ha-ha, just kidding."
The truth is that the absence of a director can sometimes result in a show deteriorating as the run proceeds. On the other hand, if the talents of the person in question are so ill suited to the material that his or her guidance of the actors can more accurately be described as misguidance, a company can blossom when the director is no longer around to act as overseer. It's not so much "When the cat's away, the mice will play," it's more, "When the ill-equipped captain is away, the crew can sometimes rely on their own skills and superior instincts to run the ship better than ever."
I've witnessed this latter scenario play out a few times in my theatergoing experience, but never to such an extent as is the case with the current Broadway revival of the Stephen Sondheim-Hugh Wheeler masterpiece A Little Night Music. As I'm sure you've heard, the production now stars Bernadette Peters as Desiree Armfeldt and Elaine Stritch as her mother, these honored stage vets having succeeded the estimable Catherine Zeta-Jones and the legendary Angela Lansbury in their roles.
Without a doubt, Stritch and Peters (pictured above in a photo by Joan Marcus) are largely responsible for having revivified this production. Even though both women are somewhat miscast, Stritch much more so than Peters, they bring to Night Music a salutary abundance of talent and energy. But I think the main reason why the show is SO much better now than when it opened is that the continuing performers have gradually thrown off the epically wrong-headed direction they received from Trevor Nunn. (It has been reported that both Peters and Stritch rehearsed with Nunn in private, but my guess is either that they ignored his input or he just let them do what they wanted, realizing that they know much more about American musical theater than he does.)
A vast improvement in three of the featured performances is strong evidence that a movement away from Nunn's (mis)direction is the main reason for this show's rebirth. Ramona Mallory's Anne Egerman, initially so fluttery and tic-laden as to suggest someone undergoing electroshock therapy, is now much less of a cartoon and much more a real person. As the maid, Petra, Leigh Ann Larkin is far funnier and sexier than before, and she has dropped the inexplicable Irish accent she had been using for the character. (Did she adopt that weird, distracting accent at Nunn's urging? Who knows. Anyway, it's gone, thank heaven.)
As for Erin Davie in the plum role of Countess Charlotte Malcolm: I had heard and read that, during early previews, Davie was missing nearly all of the laughs in the sure-fire dialogue that Hugh Wheeler wrote for this brilliantly observed character. By the time of my first visit to the show, shortly after opening, she was nailing about 75 percent of the laughs. When I returned last week, she missed only one -- "Unhappily, without a time bomb in your Lilly-of-the-Valley bouquet" -- and that wasn't her fault. (The audience failed to respond because Mallory didn't clearly enunciate the lead-in line, "I was a flower girl at your wedding!")
Make no mistake, this Night Music still has some big problems: much of the lighting is sepulchral, the puny orchestra is embarrassingly inadequate for Sondheim's glorious score, and the pacing of the dialogue remains so slow that the show with intermission runs a full three hours, rather than the usual two and a half. But somehow, what once was a generally dispiriting production leavened by a few strong performances has become a very satisfying if still flawed staging of a masterwork.
********************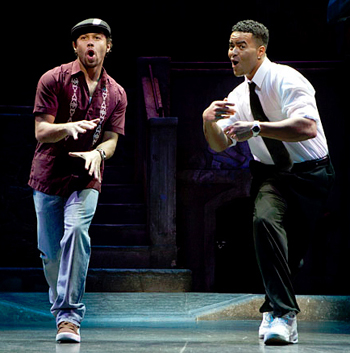 Nothing to Hit But the Heights
I'm getting nostalgic for 2008. Remember 2008? That was the year when two great new musicals with original scores, In the Heights and Passing Strange, led the Tony Award nominations, along with another show, Cry Baby, that wasn't quite at the same overall level of quality but did boast a fine score. This may not exactly sound like a cornucopia; but when you consider the shows that were in competition for Tonys this year, and what won Best Musical and Best Score, it's only natural to look back fondly on the good ol' days of two years ago.

These musings are prompted by my having revisited In the Heights on the occasion of its 1,000th performance. What a wonderfully funny and heartfelt show, and what an excellent score! Lin-Manuel Miranda displays a real talent for writing songs in specific, strictly-defined styles without having them come out sounding hopelessly derivative -- a talent that some other Broadway composers clearly fail to possess. As for his lyrics, Miranda is a genius. His work has the bracing feel of authenticity, and he's adept at using colloquialisms and false-rhymes (e.g., "Cole Porter" / "cold water") in such a way that they sound smart rather than lame.

Corbin Bleu has been playing the central role of bodega owner Usnavi (created by Miranda) for some time now and is soon to leave the show. His performance is notable for its utter sincerity and low-key charisma, so I'm glad I got to see him in the part. Holdovers from the original cast include the dynamic Christopher Jackson (pictured at right above with Bleu, in a photo by Joan Marcus) as Benny, the lovable Eliseo Roman as the Piragua Guy, and the astonishing Olga Merediz as Abuela Claudia. Among the super-talented folks new to the company are Janet Dacal as Nina, Marcy Harriell as Vanessa, Bianca Marroquin as Daniela, and Shaun Taylor-Corbett as Sonny.

For the past few years, whenever someone has asked me to name my favorite musical of those currently running on Broadway, I've usually replied, "Well, that's a very hard question to answer, they're all so different, blah blah blah. " But when pressed, I almost always say, "In the Heights." If you haven't yet seen the show, I strongly urge you to remedy that situation. If you have seen it and are thinking about a return trip to El Barrio, I'm thrilled to tell you that the production is in phenomenal shape. Enjoy!




Published on Tuesday, August 3, 2010




Michael Portantiere has more than 30 years' experience as an editor and writer for TheaterMania.com, InTHEATER magazine, and BACK STAGE. He has interviewed theater notables for NPR.org, PLAYBILL, STAGEBILL, and OPERA NEWS, and has written notes for several cast albums. Michael is co-author of FORBIDDEN BROADWAY: BEHIND THE MYLAR CURTAIN, published in 2008 by Hal Leonard/Applause. Additionally, he is a professional photographer whose pictures have been published by THE NEW YORK TIMES, the DAILY NEWS, and several major websites. (Visit www.followspotphoto.com for more information.) He can be reached at [email protected]


Why are you looking all the way down here?
For more articles by Michael Portantiere, click the links below!

Previous: This Year's Rent

Next: The Critics Be Damned?

Or go to the Archives