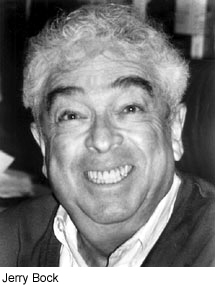 I always used to say that Cy Coleman was the most underappreciated of all Broadway composers, but you know what? Now I'm thinking maybe that dubious honor goes to Jerry Bock. And it pains me to say this in the wake of Bock's death on November 3 at age 81, because I have to admit that I am -- or, rather, have been -- one of the underappreciaters.
Let me make an important distinction between "underappreciated" and "underrated." If you specifically asked me or any other musical theater enthusiast to rate Bock's scores, I'm pretty sure you'd get responses along the lines of "He's great" and "I can't think of anyone better." On the other hand, if your question were "Name the greatest composers in Broadway history," my guess is that many of us wouldn't immediately think to place Bock among the top five, and perhaps not even among the top 10, even though he definitely deserves to be in there somewhere.
There are several reasons for this, none of them having to do with the level of the man's talent. By my count, Bock wrote full scores for eight Broadway musicals, all of them in collaboration with his longtime lyricist partner Sheldon Harnick except for his first Broadway credit, Mr. Wonderful (1956). These shows collectively garnered loads of awards, and Fiorello! is one of only eight musicals to win the Pulitzer Prize for Drama. She Loves Me (1963) is a triumph of musical theater craftsmanship, and Fiddler on the Roof (1964) is an undisputed masterpiece that has been and continues to be frequently produced in countless professional and amateur productions all over the globe.
So, why is it that Jerry Bock's name doesn't necessarily leap to mind along with George Gershwin, Richard Rodgers, Frederick Loewe, Cole Porter, Jerry Herman, Stephen Sondheim, and the rest of the usual suspects who appear on lists of the greatest Broadway composers? I think there are two main reasons. First, only one Bock and Harnick musical, Fiddler on the Roof, was made into a film. I've read that there was talk of She Loves Me heading for the screen in the late 1960s, with Julie Andrews as Amalia, but sadly, it never happened. As Andrews herself once said to me, "Wouldn't that have been something!
Second reason: Because the songs that Bock wrote with Harnick are so wonderfully well integrated into their musicals and are so character-specific, they have relatively rarely been heard as stand-alone items in concerts, on TV, or on recordings, with one or two exceptions -- e.g. the title tune from She Loves Me. (Yes, it's true that many songs from Sondheim shows are also difficult to present effectively out of context because they possess this same wonderful quality of specificity, but this fact has never stopped singers or producers of revues and gala concerts from doing so.)
Last night, the marquees of all Broadway theaters were dimmed for one minute at 8pm in memory of Bock. Paul Libin, chairman of The Broadway League, described him as "one of Broadway's great composers," and stated that "his work will live forever on Broadway." To which I can only say, "Amen." Fiddler on the Roof (with a book by the great Joseph Stein, who preceded Bock in death by one week) and She Loves Me are two of the most perfect musicals ever to be created by the mind of man, and they would have assured Jerry Bock's place of prominence in the pantheon even if he had never written anything else.
********************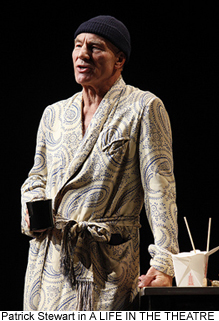 Something unusual has happened over at the revival of David Mamet's A Life in the Theatre, starring Patrick Stewart and T.R. Knight. During early previews, I heard that the scene changes in the show were very long and seemed all the longer because there was no music to accompany them. Then, as previews continued, I started to hear that the changes were happening more quickly, and also that some music had been added to cover them. So you can imagine my surprise when I saw the show a few days after its official opening and there was no music whatsoever -- only complete silence -- during the changes.

I checked the small-print production credits in the Playbill and, indeed, I found there a credit for original music by Obadiah Eaves. A few days later, I asked an in-the-business friend of mine who had also seen the show if he knew what had happened. According to this fellow, Eaves had been hired during previews to write music to cover the scene changes, had done the job very quickly, and his music was used for just this purpose at several previews -- but then it was removed "because Mamet hated it."

The removal strikes me as having been a really bad idea, and I think it was more than a little responsible for the production's mixed reviews and diffident word of mouth. Many of the scenes in A Life in the Theatre are extremely short, so transitional music would have helped (and, apparently, did help) greatly to keep the rhythm of the show going, rather than leaving all that dead space. Stewart and Knight are giving their all up there, but it's impossible to keep up the energy of the production when it's constantly interrupted by 30-second segments during which the audience sits in darkness and silence, waiting for the next thing to happen.

If it's true that Mamet is responsible for the music having been cut, I guess that shouldn't come as a huge surprise. Anyone who has read his book True or False is aware of this great playwright's controversial, simplistic theories on the art of acting. And if you look at the man's track record as a director, both on stage and in film, it seems clear that he is nowhere near as talented in this area as he in in terms of the actual writing. The most recent evidence of this was Race, in which Mamet somehow managed to elicit bland or one-note performances from three of the four cast members -- including David Alan Grier and Richard Thomas, neither of whom to my knowledge has ever before been accused of being bland or one-note.

My point is that, along with Arthur Laurents and a few other writers who attempt to direct their own material or to throw their weight around at rehearsals, Mamet would be well advised to leave the driving to others. After all, there's absolutely nothing wrong in not being multi-talented, unless you try to do it all anyway.




Published on Friday, November 5, 2010




Michael Portantiere has more than 30 years' experience as an editor and writer for TheaterMania.com, InTHEATER magazine, and BACK STAGE. He has interviewed theater notables for NPR.org, PLAYBILL, STAGEBILL, and OPERA NEWS, and has written notes for several cast albums. Michael is co-author of FORBIDDEN BROADWAY: BEHIND THE MYLAR CURTAIN, published in 2008 by Hal Leonard/Applause. Additionally, he is a professional photographer whose pictures have been published by THE NEW YORK TIMES, the DAILY NEWS, and several major websites. (Visit www.followspotphoto.com for more information.) He can be reached at [email protected]


Why are you looking all the way down here?
For more articles by Michael Portantiere, click the links below!

Previous: Bernstein and Schwartz at the Opera

Next: The Picture of Jason Danieley

Or go to the Archives