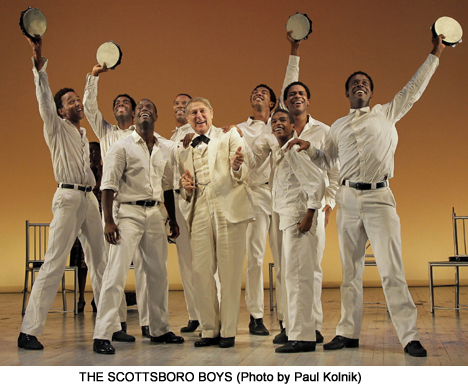 BEST MUSICAL ON OR OFF BROADWAY:
The Scottsboro Boys. In fact, this breathtaking work with music by John Kander, lyrics by the late Fred Ebb, book by David Thompson, and direction and choreography by Susan Stroman is one of the best musicals of the first decade of the 21st century, despite its lamentably short Broadway run. Sadly, Scottsboro will most likely not receive proper recognition in the Tony Awards race, unless it bucks the odds and reopens in the spring, because shows that have already closed by Tony time rarely receive nominations and almost never win. Bad timing for a truly great musical.
BEST BROADWAY PLAY:
Relatively slim pickings, but Brief Encounter would have been a standout even in a far more competitive year. I'm going to choose it as the best Broadway play of 2010 even though it's an adaptation of a very old work by the great Noël Coward -- a tremendously creative, bracingly theatrical, soul-stirring adaptation. Honorable Mention: John Logan's Red, which won the Tony.
FUNNIEST BROADWAY SHOW:
The Pee Wee Herman Show -- a joyous reunion of Pee Wee, Jambi, Miss Yvonne, Cowboy Curtis, and all the other beloved characters that so many of us grew up with. I don't think I've ever experienced such roof-raising audience reaction to any other show.
FUNNIEST OFF-BROADWAY SHOW:
The Divine Sister. Put Charles Busch on stage alongside Julie Halston and Alison Fraser, and you're already more than halfway towards hilarity. Give them one of Busch's best-written hommages/parodies to play and you're sure the hit the comedy bulls-eye.
BEST OFF-BROADWAY REVIVAL OF A PLAY:
The Signature Theatre Company production of Angels in America. Michael Greif's direction leaves something to be desired, but Tony Kushner's play and the excellent performances of a top-shelf company including Zachary Quinto, Christian Borle, Frank Wood, and Billy Porter make for an extraordinary theatrical event. Runner-Up: The Mint Theater Company's exquisite resurrection of Teresa Deevy's Wife to James Whelan, an extremely obscure but beautiful play from the 1930s.
BEST SHOW THAT I DIDN'T EXPECT TO LIKE VERY MUCH AT ALL:
Lombardi. Somehow, author Eric Simonson deftly managed to avoid cliché in crafting this bio-play about the legendary football coach Vince Lombardi. Add skillful direction by Thomas Kail and wonderful performances by Dan Lauria, Judith Light, Keith Nobbs, et al., and the result was a thoroughly satisfying evening of entertainment that apparently brought a whole new audience to Broadway.
MOST ENJOYABLE VANITY PRODUCTION:
It Must Be Him, by Kenny Solms. An unabashedly over-the-top showbiz comedy that managed to encompass the talents of Peter Scolari, Liz Torres, Edward Staudenmayer, Jonathan C. Kaplan, Bob Ari, Stephanie D'Abruzzo, Harris Doran, John Treacy Egan, and others. I've never seen anything like it -- and I wouldn't have missed it for the world.
THEATER BOOK OF THE YEAR:
Finishing the Hat: Collected Lyrics (1954-1981) with Attendant Comments, Principles, Heresies, Grudges, Whines and Anecdotes, by Stephen Sondheim. You'll probably find yourself disagreeing with many of Sondheim's opinions, especially his assessment of other lyricists, and you may feel as I do that he effectively contradicts himself on several occasions. Still, this is one of the most brilliant, enjoyable reads I've had in a long time.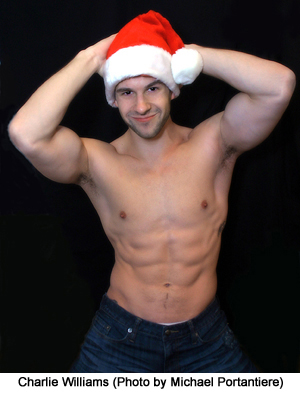 HOTTEST GUY ON BROADWAY:
Charlie Williams, late of Memphis and soon to be seen in the revival of How to Succeed in Business Without Really Trying, won the 2010 Broadway Beauty Pageant, an all-male competition that benefits the Ali Forney Center. Recently, you may have noticed him dancing up a storm in the Jerry Herman segment of the Kennedy Center Honors. Runner-up Hottie: Benjamin Walker, star of Bloody Bloody Andrew Jackson.

SEXIEST LADY ON BROADWAY:
Laura Benanti in Women on the Verge of a Nervous Breakdown. Honorable Mention: Montego Glover in Memphis.

GAYEST SHOW OF THE YEAR:
Tie: Devil Boys From Beyond and The Divine Sister .

BEST DRAG PERFORMANCE:
Tie: Douglas Hodge in La Cage aux Folles and Charles Busch in The Divine Sister.

BEST COSTUMES:
Ann Hould-Ward, A Free Man of Color. If only John Guare's play had been worthy of her efforts...

BEST REPLACEMENT PERFORMERS:
As Diana in Next to Normal, Marin Mazzie is giving one of the greatest performances I've seen in 40 years of theatergoing. Honorable Mention: Bernadette Peters and Elaine Stritch in A Little Night Music. These honored Broadway vets helped bring new life to Trevor Nunn's moribund staging of this Sondheim classic, so I'm very sorry to hear that Stritch's work at certain performances has been marred by major memory lapses. I was lucky to have caught her on a very good night.

MOST IMPRESSIVE TOUR-DE-FORCE:
Mark Rylance in La Bête. Very Honorable Mention: Jan Maxwell in Wings at Second Stage; Michael Shannon in Mistakes Were Made at the Barrow Street Theatre.

SUPER TROUPER AWARD:
To Lily Rabe, who returned to her role of Portia in The Merchant of Venice just a couple of days after the death of her mother, the luminous actress Jill Clayburgh.

MOST ENJOYABLE CHRISTMAS-THEMED SHOW:
Elf. I loved it. But I should note for the record that I didn't see Donny and Marie on Broadway, because I wasn't invited...

MOST UNFORGETTABLE SPECIAL EVENT:
The memorial celebration for John Willis, longtime editor of the Theatre World and Screen World series of yearbooks, at the National Arts Club. There were remembrances from the likes of Cliff Robertson, Patricia Elliott, Bernadette Peters, and Brian Stokes Mitchell, plus a time-stopping rendition of "I'll Be Seeing You" by Karen Akers. A worthy tribute to a great man.




Published on Thursday, December 30, 2010




Michael Portantiere has more than 30 years' experience as an editor and writer for TheaterMania.com, InTHEATER magazine, and BACK STAGE. He has interviewed theater notables for NPR.org, PLAYBILL, STAGEBILL, and OPERA NEWS, and has written notes for several cast albums. Michael is co-author of FORBIDDEN BROADWAY: BEHIND THE MYLAR CURTAIN, published in 2008 by Hal Leonard/Applause. Additionally, he is a professional photographer whose pictures have been published by THE NEW YORK TIMES, the DAILY NEWS, and several major websites. (Visit www.followspotphoto.com for more information.) He can be reached at [email protected]


Why are you looking all the way down here?
For more articles by Michael Portantiere, click the links below!

Previous: The Gypsy in Carol Channing's Soul

Next: Not Your Grandmother's Traviata

Or go to the Archives