The 25th annual Easter Bonnet Competition -- the result of six weeks of intensive fundraising by 52 Broadway, Off-Broadway and national touring companies -- raised a whopping $3,706,085 for Broadway Cares/Equity Fights AIDS. The grand total was announced at the end of the competition at the Minskoff Theater on Tuesday, April 26, which featured songs, dances, sketches, and elaborate, custom-made bonnets from 17 of the participating shows.
The company of La Cage aux Folles took top honors for bonnet presentation, while The Addams Family was runner up. The special award for bonnet design went to Bengal Tiger at the Baghdad Zoo. Here are some images from this fabulous event.
********************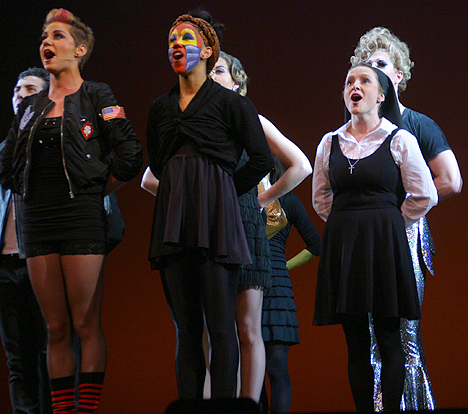 The terrific opening number, a Glee spoof, was directed and choreographed by Shea Sullivan.
---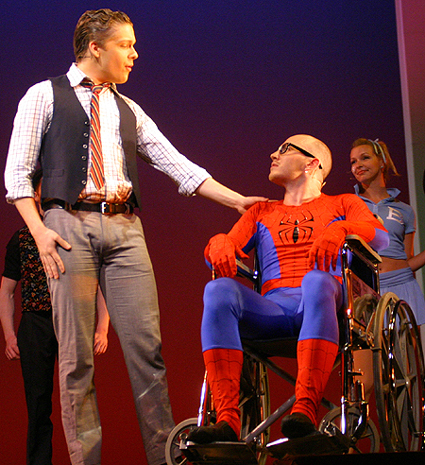 It was no big surprise that "Spider-Man" made an appearance at the start of the show.
---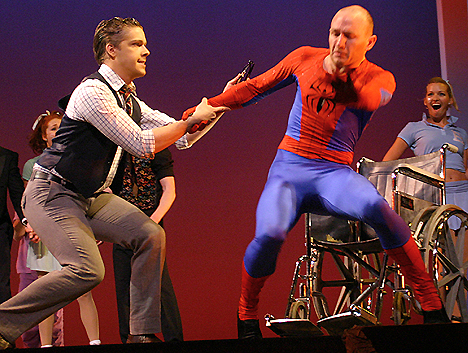 Spidey gets up on his feet!
---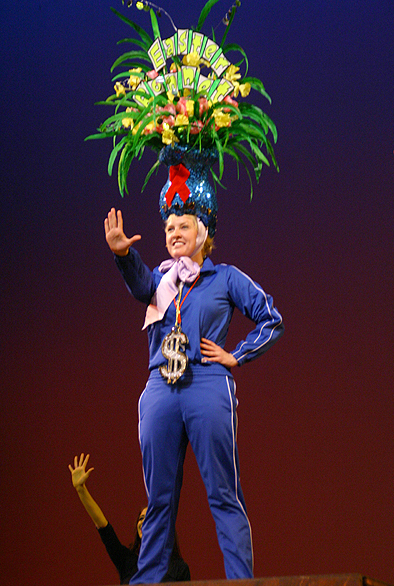 Natalie Joy Johnson, "in her Easter bonnet...."
---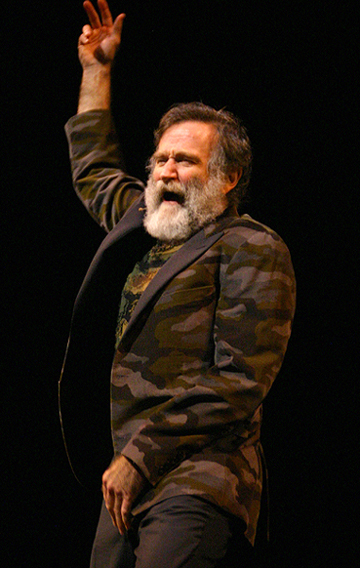 Robin Williams, star of Bengal Tiger at the Baghdad Zoo, did a hilarious stand-up routine...
---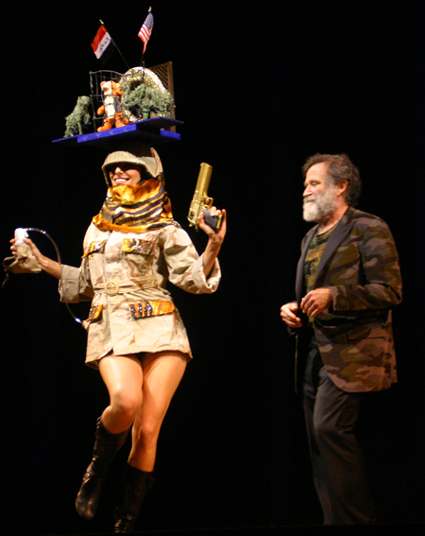 ...and then helped present that company's award-winning bonnet, created by Moira MacGregor-Conrad and Tree Sarvay.
---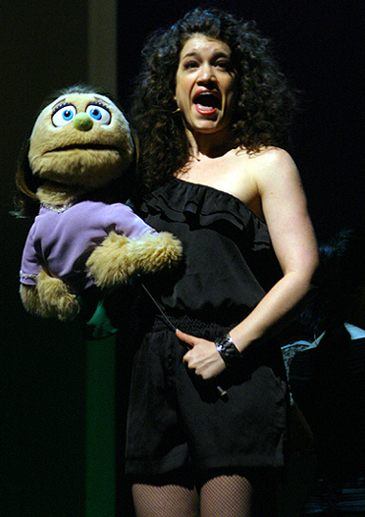 "You live on Avenue Q!"
---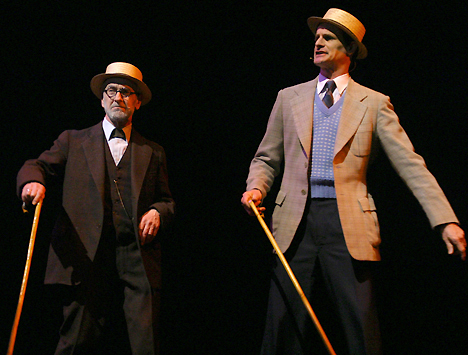 The company of the long-running Off Broadway show Freud's Last Session offered a delightful Gallagher & Sheen-esque number.
---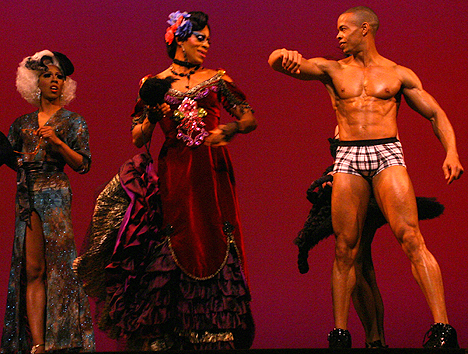 A takeoff on RuPaul's Drag Race, courtesy of The Lion King.
---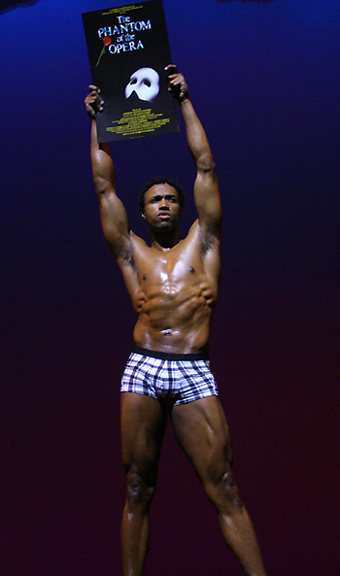 Some Lion King beefcake.
---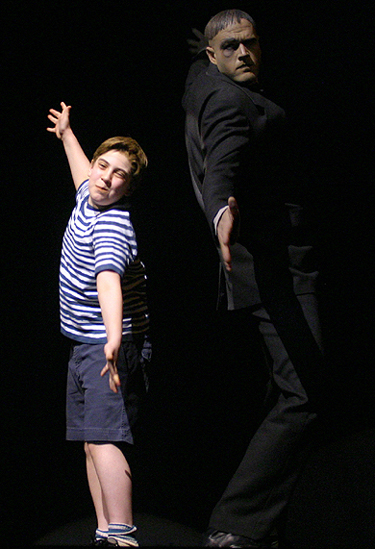 Fun with The Addams Family's Pugsley (Adam Riegler) and Lurch (Zachary James).
---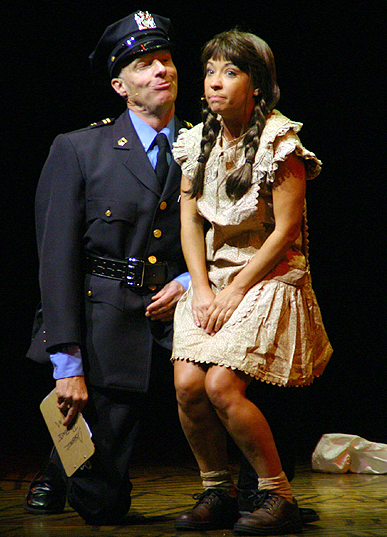 Officer Lockstock and Little Sally, back on board for the Easter Bonnet show!
---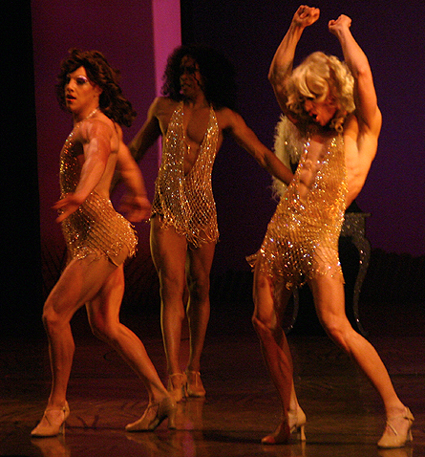 The company of Priscilla, Queen of the Desert gave us "Priscilla, Queens of Burlesque."
---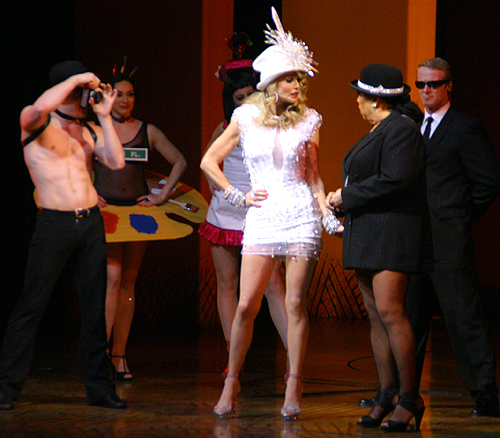 Christie Brinkley and the company of Chicago: "If Looks Could Kill."




Published on Wednesday, April 27, 2011




Michael Portantiere has more than 30 years' experience as an editor and writer for TheaterMania.com, InTHEATER magazine, and BACK STAGE. He has interviewed theater notables for NPR.org, PLAYBILL, STAGEBILL, and OPERA NEWS, and has written notes for several cast albums. Michael is co-author of FORBIDDEN BROADWAY: BEHIND THE MYLAR CURTAIN, published in 2008 by Hal Leonard/Applause. Additionally, he is a professional photographer whose pictures have been published by THE NEW YORK TIMES, the DAILY NEWS, and several major websites. (Visit www.followspotphoto.com for more information.) He can be reached at [email protected]


Why are you looking all the way down here?
For more articles by Michael Portantiere, click the links below!

Previous: Catch Tom Wopat If You Can

Next: Tom Postilio: This Time Around

Or go to the Archives