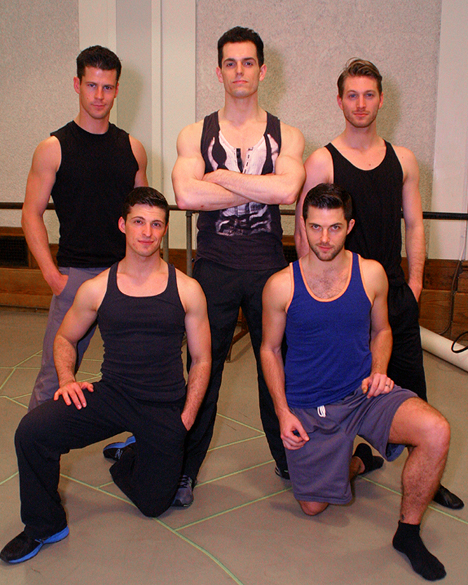 The 1953 film version of Gentlemen Prefer Blondes provides equal opportunity for oglers -- whether they be male or female, straight or gay. In addition to starring two of the most voluptuous women in cinema history, Marilyn Monroe and Jane Russell, the flick was unusual for its day in its inclusion of "Ain't There Anyone Here for Love?", a production number in which scantily clad male athletes (actually dancers, of course) are unabashedly presented as sex objects while Russell cavorts with them in a shipboard gym.
That number is not in the original stage version of Blondes, which is being presented May 9-13 as part of the City Center Encores! series, with Megan Hilty as Lorelei Lee and Rachel York as Dorothy Shaw; but there will still be opportunity for the admiration of lean and muscular male bodies in a number called "I Love What I'm Doing (When I'm Doing it for Love)." Randy Skinner, choreographer of the Encores! production, explains: "It was originally a big old chorus number that had nothing to do with anything, but we've reworked it for Dorothy and the five male dancers who are playing the 1924 Olympic track team." (He promises that each of the guys will be wearing sexy "track suits" designed by David C. Woolard.)
"Four of the five boys are new to me," says Skinner. "When you cast an Encores! show, you usually want to use people you've already worked with; since the rehearsal period is so concentrated, it helps to know going in that you're on the same wavelength with the dancers. But here, we really had to look for the boys, because in addition to their dancing ability, they had to be believable as Olympic athletes. So we went out and found Callan Bergman, Eric Bourne, Kyle Brown, Luke Hawkins, and Nick McGough. The only one I had already worked with is Luke, in No, No, Nanette at Encores! and in White Christmas."
You can judge for yourself whether Skinner and director John Rando were successful in their search. I got to shoot the boys during a break in a recent rehearsal; here are the pix, along the boys' bios as they will appear in the Playbill.
[All photos Copyright 2012 by Michael Portantiere.]
******************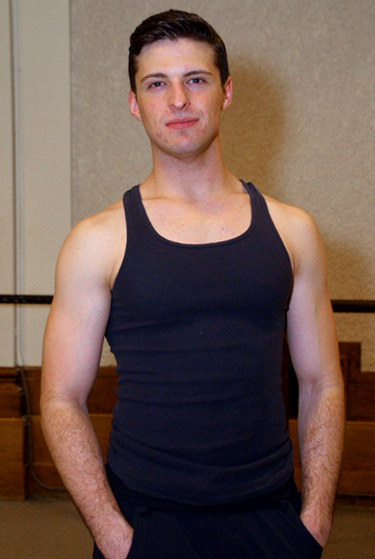 CALLAN BERGMANN could not be more thrilled to be making his New York City Center debut in Gentlemen Prefer Blondes. He comes directly from the Off-Broadway hit Silence! The Musical (Dream Hannibal). Other NY credits: Off Broadway's Lucky Guy (Buckaroo). Regional: Paper Mill Playhouse, Pittsburgh CLO, The Muny, NSMT. Proud graduate of Point Park University. This one's for you, Olivia!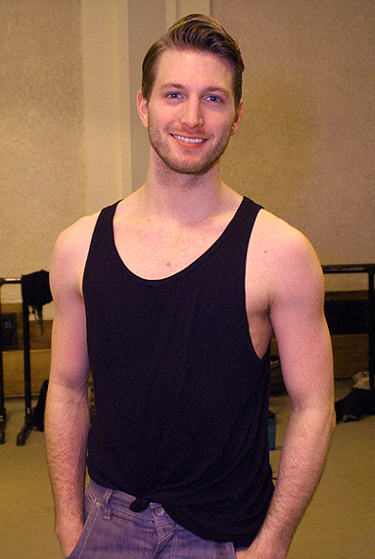 ERIC BOURNE grew up in Midland, MI and started dancing at 16 years old. His formal training began while attending Ryerson University in Toronto and spending summers studying at Perry-Mansfield in Colorado. Moving to New York City in 2007, he danced the role of James in the North American Tour of Twyla Tharp's Movin' Out. Since August 2008, Eric has been a company member of Parsons Dance Co., dancing repertory of David Parsons. He is very excited to be on the Encores! stage with Gentlemen Prefer Blondes.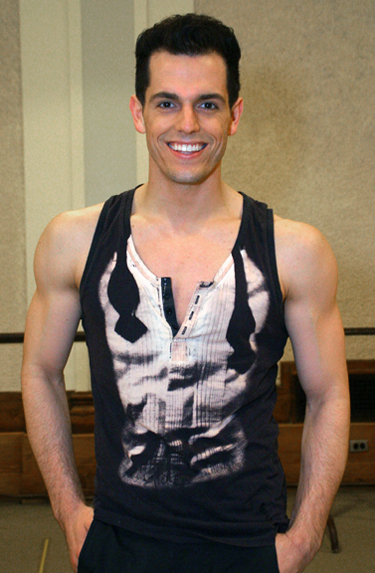 KYLE BROWN is excited to be making his Encores! debut! Broadway credits include: Priscilla Queen of the Desert, Legally Blonde. National Tour: Legally Blonde. Training: CCM, WHS. Thank you Nick for your love and support. I love you Mom.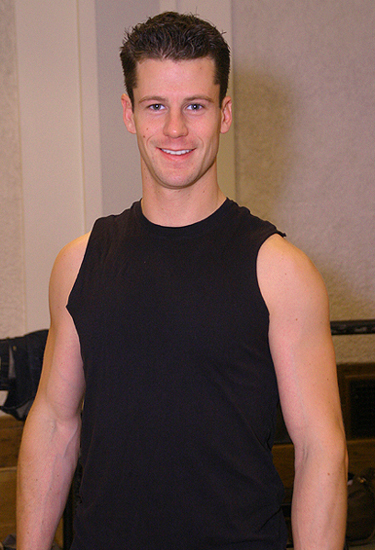 LUKE HAWKINS Broadway: Xanadu. City Center Encores!: No, No Nanette. Cirque du Soleil: Banana Shpeel. Regional: Irving Berlin's White Christmas, Big River (Huck), Gypsy (Tulsa), Johnny Guitar (Turkey), Over The Tavern (Rudy Pazinsky). Favorites among 11 California Musical Theater's Broadway Series and Music Circus shows were Singin' in the Rain, Annie Get Your Gun, The Producers, and Miss Saigon. Thanks, Mom!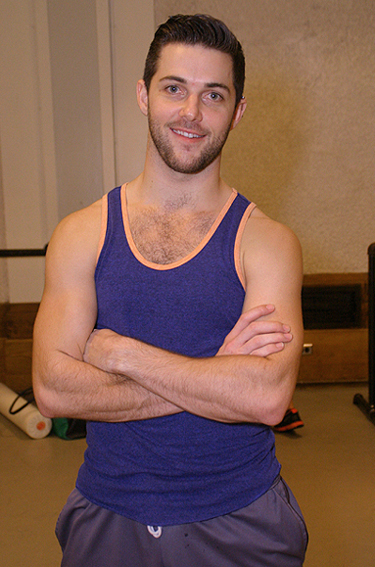 NICK McGOUGH is excited to join this season of Encores! Tours: Movin' Out (Eddie/understudy James), Cats (Tumblebrutus/Misto). Regional: Tarzan (aerialist), HMS Pinafore (dance captain/swing), Radio City Christmas Spectacular (ensemble), Tokyo Disney-Encore(dancer). Thanks to my friends, family for their support and patience, and to my grandma and grandpa for everything!




Published on Thursday, May 3, 2012




Michael Portantiere has more than 30 years' experience as an editor and writer for TheaterMania.com, InTHEATER magazine, and BACK STAGE. He has interviewed theater notables for NPR.org, PLAYBILL, STAGEBILL, and OPERA NEWS, and has written notes for several cast albums. Michael is co-author of FORBIDDEN BROADWAY: BEHIND THE MYLAR CURTAIN, published in 2008 by Hal Leonard/Applause. Additionally, he is a professional photographer whose pictures have been published by THE NEW YORK TIMES, the DAILY NEWS, and several major websites. (Visit www.followspotphoto.com for more information.) He can be reached at [email protected]


Why are you looking all the way down here?
For more articles by Michael Portantiere, click the links below!

Previous: Bonnets Full of Easter Joy

Next: Jessie Mueller: Theatre World Award Winner

Or go to the Archives