Max von Essen has been duly praised for his performance as Magaldi in the Broadway revival of Evita, but many theatergoers may be unaware that he is also the understudy for the marathon leading male role of Che -- unless they happened to see the show at either the matinee or evening performance on Wednesday, June 13, when on VERY short notice Max went on as Che in place of star Ricky Martin. Apparently, it went well, and he'll be spelling Ricky when the latter takes a brief vacation, July 2-7. I got to chat with Max about what it was like to be shot out of a cannon.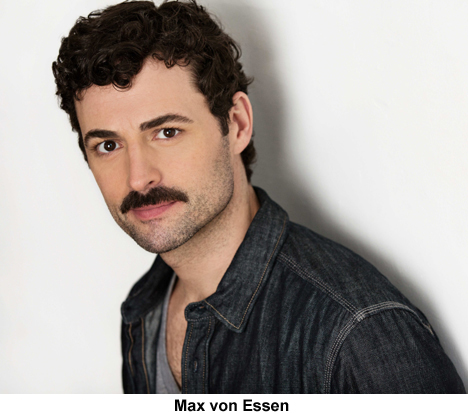 BROADWAYSTARS: Max, are you excited about continuing your relationship with Che?
MAX VON ESSEN: Yeah! It will be great to play that incredible role for almost a week.
STARS: Please tell me what it was like to go on in the part with almost no notice.
MAX: Ricky is a champ when he performs, and I guess I thought, "He's not going to miss a show until his vacation." Then, all of a sudden, I was warming up in my dressing room an hour before the Wednesday matinee when there was a knock on the door, and they told me I was needed onstage. So I went to the stage and they said, "Ricky's out. You're on." I thought they were joking. When I realized they weren't, I started cramming; I hadn't had a lot of rehearsal [in the part], and we hadn't done a put-in [rehearsal with the entire cast], so I went over all of the dance steps and the entrances.
STARS: Is it unusual that you hadn't had a full rehearsal of the role you're understudying by that point in the run?
MAX: Well, I had rehearsed the whole show, but only with the dance captain, the assistant director, and the stage manager. What with recording the album and extra rehearsals for the Tony Awards and other things, there just wasn't enough time to do it all. They would have scheduled a rehearsal for me with the full cast before Ricky's vacation, but we hadn't gotten to that.
STARS: In a way, maybe it was better to go on as Che without a lot of time to think about it.
MAX: I know! I wish I could say I don't ever have stage fright, but I do. I had been nervously counting the days to Ricky's vacation, and then I went on for him on an hour's notice. There was no time whatsoever to be nervous; the audience was coming into the theater, and I just had to do it. I knew where I was going, and I knew the words, but it was kind of amazing to do the whole show as Che for the first time with the full cast in front of an audience.
STARS: And you probably didn't have a moment to think about the audience being disappointed because the star was out.
MAX: No, not at all. Definitely not for the matinee. We had a full house, and they were extremely responsive. I understand that people are coming from all over the world to see Ricky in the show, and of course they're disappointed if he's out. But if I really thought about that, it would sabotage my performance. In my mind, there's no way to understudy Ricky Martin, so I have to think about it as understudying the role of Che and trying to do my best.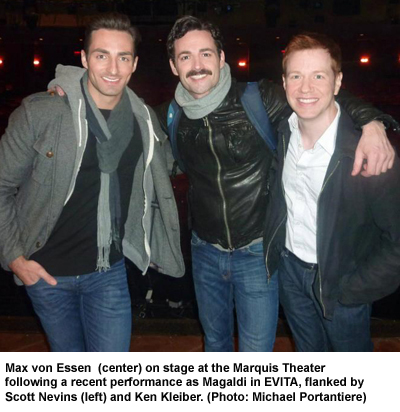 STARS: Judging from the few times I've seen understudies or standbys go on for major stars, the audience may be very disappointed when they hear the news and some may choose not to stay, but those who do stay tend to be very appreciative of the cover and give him or her a huge hand at the end.

MAX: I've found that, too. You certainly have the chance to win an audience over. Also, especially for people who see a lot of theater, there's a new excitement level when an understudy goes on, just because it's something different.

STARS: I very much enjoyed your performance as Magaldi. In the original production of Evita, the character was played as something of a joke -- an egotistical, smarmy guy without a whole lot of talent. But you don't play him like that, and I'm wondering if it was your idea or if you were directed that way.

MAX: I didn't know the show at all before my audition, so I did some research on Magaldi. He made a tremendous amount of recordings. He died young, and he may or may not have met Eva Peron, but he was very well respected and popular among the working class in Argentina. I just felt he was the real deal, so I took him seriously at the audition, and they said that's why they hired me. The only bittersweet part of going on as Che is that I love playing Magaldi. It's such a great featured role, and I'm going to miss him when I leave him behind for a week. But I guess I can't play both parts.

STARS: Now, there's a thought. After all, Che assumes lots of different personae during the show. Why can't he also be Magaldi?

MAX: [Laughing] Oh, my God!




Published on Thursday, June 28, 2012




Michael Portantiere has more than 30 years' experience as an editor and writer for TheaterMania.com, InTHEATER magazine, and BACK STAGE. He has interviewed theater notables for NPR.org, PLAYBILL, STAGEBILL, and OPERA NEWS, and has written notes for several cast albums. Michael is co-author of FORBIDDEN BROADWAY: BEHIND THE MYLAR CURTAIN, published in 2008 by Hal Leonard/Applause. Additionally, he is a professional photographer whose pictures have been published by THE NEW YORK TIMES, the DAILY NEWS, and several major websites. (Visit www.followspotphoto.com for more information.) He can be reached at [email protected]


Why are you looking all the way down here?
For more articles by Michael Portantiere, click the links below!

Previous: Jack Jones: Upholding Standards

Next: Marilyn Maye Hooks Up With Michael Feinstein

Or go to the Archives