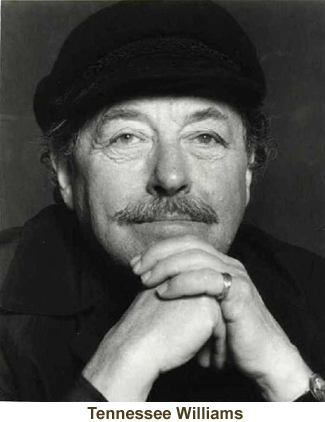 Located at the tip of Cape Cod, Provincetown is considered by many to be the birthplace of the modern American theater, having served as an artistic home for such playwrights as Eugene O'Neill, Tennessee Williams, and Susan Glaspell.
This year's edition of Provincetown's annual Tennessee Williams Festival, slated for September 20-23 in various venues around town, sounds particularly intriguing in that its title and unifying theme is Tennessee Williams and Music. As noted by the festival's co-founder and curator David Kaplan, "Williams' musical tastes were wide and varied, influenced by the jukebox, the radio, New Orleans jazz, the sounds of the Mississippi Delta where he grew up, and the foreign countries he visited repeatedly: Mexico and Italy. Williams invited music onstage, often ironically, as an important element of a vibrant theater, revealing character and conflict." The program of events will include productions from Italy, South Africa, Alabama, Boston, and New York. In addition, the festival is collaborating with artist/musician Bill Evaul, who's creating a series of 10 original woodcuts that will capture the musical essence of the individual shows. For complete information, visit twptown.org.
I attended a benefit for the festival during a visit to the Cape last week, and it struck me that the title of the event, "Wine, Williams, and Song," applies handily to the whole gamut of live performances slated for P-Town this season, in that (1) many of the shows will be held in venues that serve vino (and other beverages); (2) works by Williams will be a major part of the mix, thanks to the festival; and (2) music will be everywhere, in a myriad of styles and forms. In fact, P-Town has already seen and heard an early-season presentation of an honest-to-goodness opera: Menotti's The Medium, with drag performer Varla Jean Merman in a very impressive performance of the title role.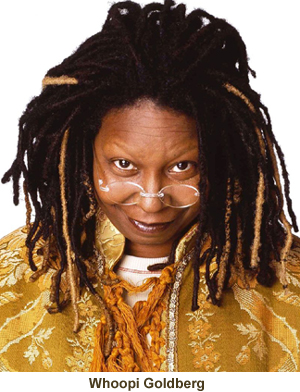 The Provincetown Theater is currently presenting Oscar Wilde's The Importance of Being Earnest (June 7-September 2) in its Bradford Street performance space. In August, that venue will host the Counter Productions staging of Next to Normal -- and in a neat little coincidence, Alice Ripley, who won a Tony Award for her performance in the Broadway production of that beautiful, heartbreaking musical, will appear in concert in P-Town over the Labor Day weekend.
Every year, Provincetown offers shows by a starry clutch of headliners, usually on or around the big holiday weekends in July and August. But this year's group is particularly starry. The biggest news is probably a rare live performance by Whoopi Goldberg, who'll perform two shows at Town Hall on August 5 in the excellent company of Bruce Vilanch.
Other than that, the best place to find headliners here this summer is The Art House. Patti LuPone will open the Broadway in Provincetown series there with three concerts on July 4 & 5. Other notables set for Art House gigs are Ana Gasteyer (July 26-27), who reportedly rocked P-Town with her New Years' Eve show; Marilyn Maye (August 7 & 8), whose debut here last summer was a smashing success; the hilarious Margaret Cho (August 11-18); the one and only Betty Buckley (August 11 & 12); the divine Charles Busch (August 18 & 19); and Megan Mullally (August 23 & 24), a.k.a. Karen from Will and Grace. Oh, and I'd be remiss if I didn't mention that the a-MAH-zing Seth Rudetsky will be in residence here from July 3 through September 1 with That '70s Deconstructing Show.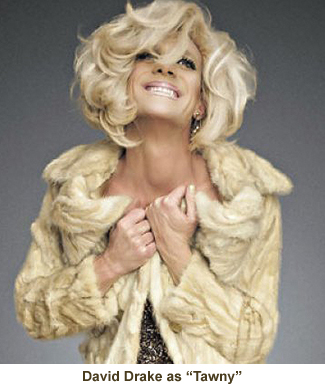 Drag performers of every conceivable stripe and sensibility have been a major presence in Provincetown for years, and 2012 offers several highlights in that area. David Drake, best known for The Night Larry Kramer Kissed Me, will be introducing a new character called "Tawny Heatherton" in a show titled Tawny, Tell Me True! at the Crown and Anchor, and will also appear with local drag star Ryan Landry in the Provincetown Theater Production of Charles Busch's The Divine Sister (July 12-September 8).

Other drag artistes to be found doing their thing at the Crown and Anchor this summer include Dina Martina, a.k.a. Miss Richfield 1981, in a "glamour extravaganza revue" titled Illusions; Pam Ann, the "fabulous air-hostess to the stars" (July 1); and Miss Coco Peru (July 4-8). Also keep an eye out for Randy Roberts at the Pied Bar, beginning June 22; and the aforementioned Varla Jean Merman in a new show, Topping Myself.

On top of all of the above, visitors to P-Town can expect to find such familiar and beloved presences as comedians Kate Clinton, Paula Poundstone, and Judy Gold, not to mention jazz/musical theater singer Lea DeLaria and the long-running revue Naked Boys Singing, which never fails to draw crowds during its summer-long stint. And if by chance you find there's not enough to keep you entertained within Provincetown itself during your visit, you can check out what's happening at the venerable Cape Playhouse in Dennis, the Wellfleet Harbor Actors Theatre (W.H.A.T.) and the Harbor Stage Company (both in Wellfleet), and the Payomet Performing Arts Center in North Truro.




Published on Wednesday, June 6, 2012




Michael Portantiere has more than 30 years' experience as an editor and writer for TheaterMania.com, InTHEATER magazine, and BACK STAGE. He has interviewed theater notables for NPR.org, PLAYBILL, STAGEBILL, and OPERA NEWS, and has written notes for several cast albums. Michael is co-author of FORBIDDEN BROADWAY: BEHIND THE MYLAR CURTAIN, published in 2008 by Hal Leonard/Applause. Additionally, he is a professional photographer whose pictures have been published by THE NEW YORK TIMES, the DAILY NEWS, and several major websites. (Visit www.followspotphoto.com for more information.) He can be reached at [email protected]


Why are you looking all the way down here?
For more articles by Michael Portantiere, click the links below!

Previous: Jessie Mueller: Theatre World Award Winner

Next: Happy, Happy Man

Or go to the Archives