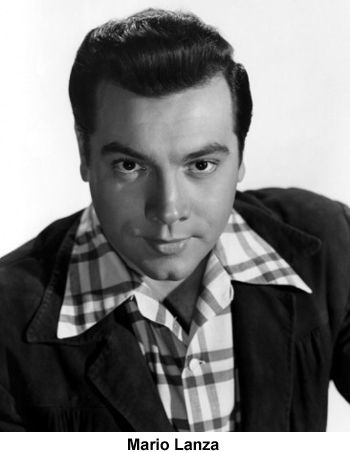 The late, great tenor Mario Lanza is most famous for almost single-handedly popularizing opera for a mass audience of Americans in the 1950s through his glorious singing in a series of big-budget films, not to mention his plethora of recordings. But because Lanza achieved stardom at a time when legit voices were warmly welcome in popular songs and show music, he made his mark in those genres as well. I fondly remember an old LP I used to have that included a thrilling Lanza rendition "Younger than Springtime" from Rodgers and Hammerstein's South Pacific. (I've really got to try to track down that album...)
Lanza is long gone but not forgotten, nor will he ever be if the Mario Lanza Society has anything to say about it. "We're a fan club devoted to the preservation of Lanza's memory," says Bill Ronayne, president and founder of the New York chapter of the society. "We publish a newsletter called The Legacy of Mario Lanza that has articles about him and his movies and recordings. Occasionally, we've had interviews with people who worked with him -- people like Kathryn Grayson and Elaine Malbin. And we cover events, such as the Mario Lanza Ball in Philadelphia."
The society also holds its own special events, most notably a quarterly luncheon at Patsy's, the legendary mid-town Manhattan restaurant that was a favorite haunt of Lanza and another famous Italian-American singer, Frank Sinatra, who hung out there with members of The Rat Pack. "We invite singers to perform, and we have celebrity guests like Licia Albanese, Lucine Amara, and Marni Nixon, all of whom sang with Lanza. We're very happy that Elaine Malbin will be there for our upcoming luncheon on Saturday, September 15 at 1pm." (An operatic soprano who's well remembered for her numerous appearances on radio and television, and who also appeared on Broadway in My Darlin' Aida and Kismet, Malbin recorded two duets with Lanza for an RCA album devoted to selections from one of his films.)
The September 15 event will feature performances by lyric baritone Michael Padgett and soprano Emily Stokes. Says Padgett, "I became involved with the Mario Lanza Society by going to some of their past luncheons and hearing some friends perform there. My friend Vincent Ricciardi sounds almost exactly like Lanza; he's only 27, but he's got a beautiful sound and incredible control. Naturally, he came to the society's attention, and he's the one who usually sings for them when they want someone who sounds like Lanza. But sometimes they'll have singers who are just entertaining in their own way, and this time they asked Emily and me to do it."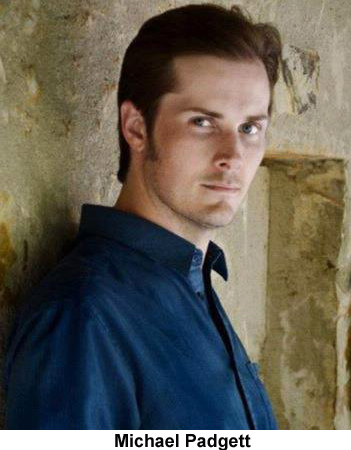 When I spoke with Padgett in early September, he hadn't yet begun rehearsing with Stokes, and in fact, they hadn't even met. "But we've communicated through Facebook a couple of times, to work out what we're going to sing together. I know we're going to do the balcony scene from West Side Story. I've been singing 'Maria' in concerts for a long time, but I haven't actually played Tony, so I'm looking forward to singing the balcony scene with Emily. I'm told she's extraordinarily talented and also beautiful, which is always very enjoyable to sing along with."

The rest of the afternoon's program was still far from set when we spoke, but Padgett gave me a few tidbits: "I'm pretty sure that I'll end up singing 'On The Street Where You Live.' And the 'Soliloquy' from Carousel is definitely a contender; I think I give a good rendition of that, but it's eight minutes long. It's a lot to ask of an audience for them to join you on that kind of an extended journey. The 'Soliloquy' is one of the defining pieces for any Broadway baritone, one of the most difficult emotionally and in terms of range and stamina. It's close to opera in many ways. John Raitt used to add a B-flat to the end of the song, and I do the same, in tribute to him."

Padgett admits that he wasn't familiar with Lanza's legacy until he attended his first Mario Lanza Society luncheon, but he has since become a big fan. And you can count on it that most of those present at Patsy's on September 15 will be staunch devotees. Says Bill Ronayne, "I've been a fan of Lanza since I was seven, when you used to be able to watch his movies on TV. I developed a love of music and opera through him, and now I'm a regular attendee at the Metropolitan Opera. Lanza didn't live a long life, but he was a wonderful artist, and he inspired so many people."

The gala luncheon at Patsy's (236 West 56th Street) will feature a three-course menu with a cash bar; admission is $65 for Mario Lanza Society members and $75 for nonmembers. For more information and reservations, contact Bill Ronayne 718-338-8662 or via e-mail at [email protected]




Published on Monday, September 10, 2012




Michael Portantiere has more than 30 years' experience as an editor and writer for TheaterMania.com, InTHEATER magazine, and BACK STAGE. He has interviewed theater notables for NPR.org, PLAYBILL, STAGEBILL, and OPERA NEWS, and has written notes for several cast albums. Michael is co-author of FORBIDDEN BROADWAY: BEHIND THE MYLAR CURTAIN, published in 2008 by Hal Leonard/Applause. Additionally, he is a professional photographer whose pictures have been published by THE NEW YORK TIMES, the DAILY NEWS, and several major websites. (Visit www.followspotphoto.com for more information.) He can be reached at [email protected]


Why are you looking all the way down here?
For more articles by Michael Portantiere, click the links below!

Previous: Debra Barsha: A Womb With a View

Next: Marry Me a Little More

Or go to the Archives