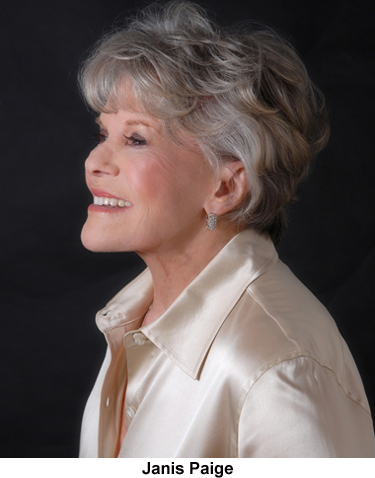 Janis Paige was supposed to play Feinstein's last spring, and I had the pleasure of interviewing her via telephone in advance of that planned appearance. But then she was injured in a fall and couldn't make the trip to New York from her home in L.A., so our interview was never published.
Now, Feinstein's is gone from Loews Regency, hopefully to reappear soon in another venue. But Janis Paige is, as we often say in musical theater circles, "still here" at age 90. She has a club act that she occasionally trots out; and soon she'll join Shirley Jones, Patrick Cassidy, Florence Henderson, Patricia Morison, Andrew Rannells, Davis Gaines, Lillias White, and other notables in this year's edition of S.T.A.G.E., the annual AIDS benefit presented by A.P.L.A. (AIDS Project Los Angeles), on Saturday, April 6 at the Saban Theatre in Beverly Hills. To help publicize the event, I called Ms. Paige to update our interview, and here it is. [For more information on the show, go to www.stagela.com]
************************
BROADWAYSTARS: Greetings from NYC. When was the last time you were onstage here?
JANIS PAIGE: It was for the Tonys in 2006. Oh, my God, that was one of the most exciting things that ever happened to me. As the years go by and you're living in California and you don't do Broadway any more, you think, "Well, my day is past." And then, it wasn't. They called and said, "We'd love you to do the Tonys." I was so excited. First of all, I have such enormous, unbridled admiration for my fellow actors. To stand there in the middle of all those people was wonderful. James Earl Jones was there. Everybody was there. I was bug-eyed with awe.
STARS: I don't imagine you get back to New York very often these days.
JP: Not often, because I live here and I run my husband's music corporation. I also have dogs. My life is here now. You kind of get settled in, and it's hard to move -- much harder today than it ever was.
STARS: Talk to me about your late husband.
JP: My husband was Ray Gilbert, a wonderful songwriter who won an Oscar for "Zip-a-Dee-Doo-Dah." We spent much time in Brazil, and he wrote with Antonio Carlos Jobim and all the finest Brazilian writers. We own the copyrights for a lot of beautiful songs that have become standards. When Ray died, he left everything to me, and I didn't know what to do -- music was his job, mine was acting. I remember he told me, "If anything ever happens to me, you should sell the company." But after he was gone, I thought, "That would be like selling Ray. I'll learn how to run the company myself." So I did.
STARS: I understand that, over the past several years, you've gotten a club act together and performed it in L.A. and elsewhere on the West Coast.
JP: Yes, here and there. When I decided to go back to work in about '03, I started at the Plush Room in San Francisco. I didn't really have an act yet, I just wanted to get my feet wet again. I've always loved being in front of a live audience, because they give you so much. You're able to have that great interplay when it's not on film, it's not on television -- you're right there with everybody.
STARS: You must really love it, because you keep doing it.
JP: Listen, I thought I had quit several times, but obviously, I haven't. You know, I never knew I could tell a story, but one day I was rehearsing with my pianist, Bill Schneider. We were working on "Fly Me to the Moon," trying to find the best key for me. I said, "This reminds me of Sinatra...," and I started to tell him about an experience I had with Frank many, many years ago when I was in my early 20s. He and his wife were just wonderful to me. Bill said, "You've got to tell that story!" I said, "I can't tell stories, and nobody wants to hear them." But they do!
STARS: Can I ask you please to tell me the Sinatra story?
JP: It was life changing. When someone like Sinatra, who was the biggest star in the world at the time, does something special for a newcomer.... It was 1946. I was a total stranger to New York, it was Thanksgiving Day, and the phone rang. A familiar voice said, "This is Frank Sinatra," and I said, "Oh, yeah. Frank Sinatra, my foot!" I had never met him. He laughed and said, "It's really Frank." He was performing at the Latin Quarter, and he and his wife Nancy invited me to come to the show and have Thanksgiving dinner with them and the gang.
STARS: What made him call you out of the blue?
JP: I don't know. The only thing I can figure out is that maybe the bellhop said something to him. I was staying at the beautiful, old Gotham Hotel, which is now the Peninsula. In the morning, the bellhop asked me, "Are you going somewhere special for Thanksgiving dinner, Miss Paige?" I said, "No, I think I'll just walk around and see some of New York." I had been working at the Strand, doing five shows a day, and I hadn't had a chance to see anything. So the bellhop said, "Well, okay, I'm going to bring you a turkey sandwich." I thanked him, and I forgot about it. Twenty minutes later, the phone rang, and it was Frank. The only thing I can think of is that the bellhop knew Frank and said something to him.
STARS: I recently re-saw Romance on the High Seas, with you, Jack Carson, Oscar Levant, Franklin Pangborn, and Doris Day in her movie debut. Are you still in touch with Doris?
JP: Oh, gosh, I don't get to see her anymore. Everybody thinks everybody in show business stays in touch, but we don't. The years go by -- she lives in Carmel, I live in Los Angeles. Her life has taken a different road than mine. But I admire her enormously. She was a sweetheart to work with.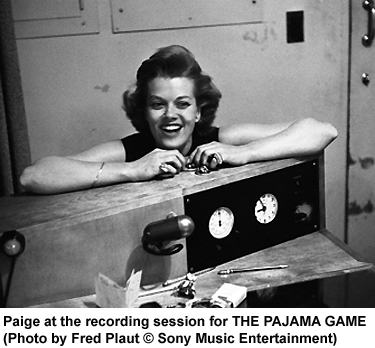 STARS: When she was cast in the film of The Pajama Game as Babe, the role you played on Broadway, was that easier or hardier for you to take because you were friends?
JP: That had nothing to do with our friendship; it was business. The truth is that they had first offered the role of Sid [in the movie] to Frank [Sinatra]. They wanted one big name to put the fannies in the seats, so if Frank had been Sid, I would have been Babe. But he turned it down. Since they couldn't get him, they got Doris to play Babe, and John Raitt got to be Sid in the movie
STARS: What are some of your best memories of the Broadway production?
JP: We had the happiest company in the world. Nobody thought the show was going to be a hit; it was a musical about a pajama factory. But it was the biggest hit in the world. We were all walking around 10 feet off the ground in disbelief.
STARS: The Adler/Ross score is terrific. What a shame that Jerry Ross died so young.
JP: At 29. We came in one day and heard that Jerry was gone. Nobody could believe it; I still remember how I felt. It was sad beyond words, and a great loss to the music world.
STARS: You did a lot of shows on tour and in stock. A friend of mine says that you were the best Joanne in Company he ever saw.
JP: Oh, isn't that wonderful. I love that role, and I love that whole show. We played two weeks at the Little Theater on the Square in Sullivan, Illinois. The town was in the middle of a soybean field. I'm not kidding! The theater was run by a guy called Guy Little. They gave you a little house, and for three weeks, you were kind of captive in this small town in the middle of a soybean field. But the productions were fantastic, and there was never an empty seat.
STARS: Another role you played outside of New York was Bea in Ballroom.
JP: I saw that show in New York. It didn't last very long, but I loved it. I did a summer tour of the show in big outdoor theaters, and we finished at the Muny in St. Louis -- 11,500 seats, and believe it or not, it was intimate. If you saw the house when it was empty, it was terrifying, but when it was full, there was something intimate about it.
STARS: Can you talk to me a little about Here's Love?
JP: They thought they could take a brilliant movie called Miracle on 34th Street and make a Broadway musical out of it, but it was a very difficult show to do, mainly because of the sets. We had these big balloons on stage, and the sets were always moving. As an actor, I felt a couple of scenes could have been juxtaposed; but once the show was on its feet, there was no changing it, because of the sets. Of course, it's a Christmas show, and I think it was Time magazine that said, "This is a wonderful show for anyone under the age of seven." That was unfair. There was a lot in it for adults.
STARS: The brief run of that show must have been a big disappointment, but you certainly bounced back when you replaced Angela Lansbury in Mame, just a few years later.
JP: I've always said that if you want to play a great role, pick any role that was originated by Ethel Merman or Angela Lansbury, because they do the best shows.
STARS: You made your Broadway debut in Remains to Be Seen, in 1951. What a cast: Jackie Cooper, Howard Lindsay, Ossie Davis...
JP: Yes. They're all gone know. Everyone involved with that show was the cream of the crop. It was my first show, and I had Bretaigne Windust directing, Leland Heyward producing, Lindsay and Crouse as the playwrights, and that wonderful cast. Can you imagine? I couldn't have been luckier. "Buck" Crouse told me he thought the critics saw the play as a step downward from Life With Father and State of the Union, and that's why it got bad reviews that it didn't deserve. I got good reviews -- except from Brooks Atkinson. I'll never forget that as long as I live. We were all at Sardi's, waiting for the reviews. And Atkinson, who was the dean of New York theater critics, wrote: "As far as the girl is concerned, she has no apparent talent."
STARS: Wow.
JP: A few years later, when we were in Boston with Pajama Game, I was worried about what kind of review I'd get from Atkinson, because somebody had told me that critics never go back on their opinions. I said, "I can't believe he would be that small" -- but I was still worried. Well, he wasn't that small. He gave me a rave.
STARS: If you don't mind spilling the beans, what will you be doing in this year's S.T.A.G E benefit?
JP: I'm doing "That's Life," a number from my act that [producer/director] David Galligan asked me to do. We've added a Broadway slant to the song, with special lyrics about my career.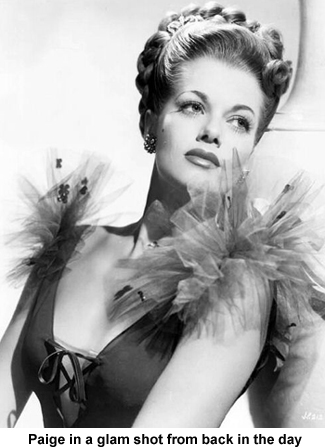 STARS: When was the last time you did your act, and where?

JP: It was in November, at Vitello's. [Click here for a review of the act.] Everybody said it was a wonderful show, but I can't tell. I go out and give 1,000 percent every time; I don't know how to do it any other way. It's like being lucky enough to be in a hit on Broadway. Eight shows a week, you can go out there and work and improve in front of an audience. I loved it. I remember thinking about my first and last nights in Pajama Game at the Saint James Theatre, and how much richer the character had become during that time.

STARS: You're probably aware that things have changed in that regard; actors rarely stay with shows as long as they used to, and generally speaking, there are a lot more scheduled and unscheduled absences than there were years ago.

JP: I will never understand that. We wouldn't think of asking for a week off to do Law & Order or a part in a Woody Allen movie, but that's what they do today.

STARS: Thanks so much for speaking with me. One last question: Was Joanne in Company your only Sondheim role? Have you never done Follies anywhere?

JP: No, I've never done Follies anywhere. I don't know why.

STARS: That's amazing. I think you're the only one.

JP: You're right, Michael. I'm the only one!




Published on Sunday, March 31, 2013




Michael Portantiere has more than 30 years' experience as an editor and writer for TheaterMania.com, InTHEATER magazine, and BACK STAGE. He has interviewed theater notables for NPR.org, PLAYBILL, STAGEBILL, and OPERA NEWS, and has written notes for several cast albums. Michael is co-author of FORBIDDEN BROADWAY: BEHIND THE MYLAR CURTAIN, published in 2008 by Hal Leonard/Applause. Additionally, he is a professional photographer whose pictures have been published by THE NEW YORK TIMES, the DAILY NEWS, and several major websites. (Visit www.followspotphoto.com for more information.) He can be reached at [email protected]


Why are you looking all the way down here?
For more articles by Michael Portantiere, click the links below!

Previous: Will Swenson vs. Superman

Next: Rigoletto on the Strip

Or go to the Archives