One hundred years of Broadway milestones and musicals will flash to life on the PBS-TV series Broadway: The American Musical. It brings alive the epic story of musical theater and its inextricable link to 20th-century American life through portraits of the creators and collaborators who toiled on and off stage to define and develop theater.
EPISODE GUIDE
Host JULIE ANDREWS onstage at the New Amsterdam Theatre, which was home to the Ziegfeld Follies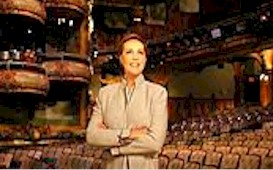 [ Marty Sohl/Thirteen/WNET ]
October 19 Episode One: Give My Regards to Broadway
(1893-1927)
Florenz Ziegfeld arrives in New York to find an act for the Chicago World's Fair and stays to create the spectacular
Ziegfeld Follies
. He introduces Irving Berlin, a Russian immigrant who becomes the voice of assimilated America, and entertainers, like Fanny Brice, W.C. Fields and African American Bert Williams, who become America's first "crossover" artists. Irish-American George M. Cohan's song-and-dance routines embody the energy of Broadway.
Irving Berlin and
Show Boat


[ Culver Pictures; Culver Pictures; Rodgers and Hammerstein Org. ]
On to World War I, as Cohan's "I'm A Yankee Doodle Dandy" becomes the patriotic song of the boys "over there"; the labor unrest of 1919. The episode culminates in Ziegfeld's 1927 landmark production of Jerome Kern and Oscar Hammerstein II's
Show Boat
, which caused not only controversy but also changed the course of musical theater.
Interviews with Berlin daughter Mary Ellen Barrett, Follies girls Doris Eaton and Dana O'Connell, New Yorker critic Brendan Gill, Al Hirschfeld, Stephen Sondheim and Ziegfeld daughter Patricia Z. Stephenson. Highlights include newly-restored rare color footage of the Ziegfeld Follies and footage of Brice singing "My Man."
Episode Two: Syncopated City (1919-1933)
Columnist Walter Winchell gives Broadway a nickname that becomes synonymous with all of New York: "It is the Big Apple, the goal of all ambitions, the pot of gold at the end of a drab and somewhat colorless rainbow...."
With the advent of Prohibition and the Jazz Age, America convulses with energy and change, and nowhere is the riotous mix of classes and cultures more dramatically on display than Broadway.
While brash American women flapped their way to newfound freedoms, heroines of Broadway like Marilyn Miller become a testament to pluck and luck. It's the age of Runnin' Wild and the spectacular choreography of the George White Scandals. In the 20s, jazz arrives with Noble Sissle and Eubie Blake, reopening Broadway's doors to black talent.
The Marx Brothers and Al Jolson - a Jewish immigrant and Prohibition's biggest star - rocket to stardom. The Gershwins bring a "Fascinating Rhythm" to an entire nation. Innovative songwriting teams like Richard Rodgers and Lorenz Hart ignite a new age of bright, clever lyrics with the massive hit "Manhattan."
But as the Roaring Twenties come to a close, Broadway's Jazz Age suffers the one-two punch of the "talkies" and the stock market crash, triggering a massive talent exodus to Hollywood and putting an end to Broadway's feverish expansion.
Interviews with Carol Channing, Gershwin sister Frances Gershwin Godowsky, Al Jolson & Co. creator Stephen Mo Hanan, critic Margo Jefferson, writer Miles Krueger, New Yorker critic John Lahr, music critic Jonathan Schwartz, theater historians Max Wilk and Robert Kimball and George C. Wolfe. Highlights include rare performance footage of composer Eubie Blake and a specially animated sequence of Rodgers and Hart's 1927 hit "Thou Swell" from A Connecticut Yankee.
October 20
Episode Three: I Got Plenty O' Nuttin' (1930-1942)
The Depression and a period of creative growth on Broadway, from which a dichotomy in the musical theater emerges. Cole Porter's Anything Goes offers Ethel Merman, glamour and high times as an escape, while others -- such as Of Thee I Sing, which satirizes the American political system, and the WPA's The Cradle Will Rock, about a steel strike -- deal directly with the era's social and political concerns.
Ethel Merman, 1934, Anything Goes

Rodgers and Hart return to Broadway to create a string of new shows, including the sexually frank Pal Joey. In the Depression gloom, Porter offers Broadway audiences such unforgettable songs as "You're the Top," which serves as an effervescent tonic to a weary nation.
In 1935, George Gershwin creates his epic masterpiece, Porgy and Bess, which becomes, in the words of one critic, "the most American opera that has yet been seen or heard." World War II galvanizes the country and America's troubadour, Irving Berlin, rallies the troops with This Is the Army.
Interviews with the original "Porgy" and "Bess," Todd Duncan and Anne Brown, playwright Jerome Chodorov, Channing, film director Stanley Donen, Kitty Carlisle Hart, June Havoc, actor/producer John Houseman and Sondheim. Highlights include rarely seen home movies of the Gershwin brothers from the 1930s, and 1950s TV footage of the incomparable Ethel Waters singing Berlin's "Suppertime."
Episode Four: Oh, What a Beautiful Mornin' (1943-1960)
The new partnership of Richard Rodgers and Oscar Hammerstein II changes the face of Broadway, beginning with Oklahoma! in 1943, featuring a landmark ballet by Agnes De Mille. Carousel and South Pacific set the standard for decades to come by pioneering a musical where story is all-important. For challenging deep-seated racial bigotry, South Pacific wins the Pulitzer Prize.
Richard Rodgers and Oscar Hammerstein II

[ Rodgers and Hammerstein Org. ]
In On the Town, an exuberant team of novices - Leonard Bernstein, Betty Comden, Adolph Green and Jerome Robbins - capture the energy, humor and pathos of New York City during World War II. Berlin triumphs again with Annie Get Your Gun, starring Ethel Merman and featuring the "national anthem" of American musical theater, "There's No Business Like Show Business."
In shows like Guys and Dolls, My Fair Lady and Kiss Me, Kate, sophisticated adaptations of literary material prevail. Cole Porter defies the censors writing songs about love and sex, paving the way for a new openness.
Alan Jay Lerner and Frederick Loewe triumph with
My Fair Lady
, featuring 20-year-old Julie Andrews. With the death of Oscar Hammerstein II soon after the premiere of
The Sound of Music
in 1959, the curtain begins to lower on a golden age.
Interviews with Andrews, Comden and Green, De Mille, Michael Kidd, James Michener, John Raitt, Robbins, Mary Rodgers Guettel and conductor Michael Tilson-Thomas. Highlights include never-before-broadcast footage of Jerome Robbins' choreography for On the Town, 1960 TV footage of Rex Harrison re-enacting "I'm an Ordinary Man" from My Fair Lady and the first American broadcast of 1950 footage of the original Guys and Dolls cast performing in London.
October 21
Episode Five: Tradition (1957-1979)
West Side Story not only brings untraditional subject matter to the musical stage, it ushers in a new breed of director/choreographer who insists on performers who can dance, sing and act. But by the time Robbins' last original musical, Fiddler on the Roof, closes after a record run, the world of Broadway has changed forever.
Rock 'n' roll, civil rights and Vietnam usher in new talents, many trained by the retiring masters, taking musical theater in daring directions with innovative productions like Hair, the first Broadway musical with an entire rock score. The non-linear narrative of George Furth and Sondheim's Company plunges the musical into a new era. Hal Prince's conceptual staging showcases John Kander and Fred Ebb's score for Cabaret. Bob Fosse captures a sexuality and cynicism ahead of its time with Chicago, but it is director/choreographer Michael Bennett who spearheads the biggest blockbuster of all - A Chorus Line.

Bob Fosse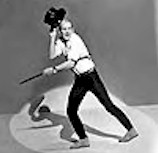 [ Photofest ]
With Sondheim's Sweeney Todd, the Broadway musical reaches unexpected heights in style and material. By the end of the 1970s, Broadway becomes the centerpiece of a successful PR campaign to lure tourists to New York.
Interviews with Joel Grey, Marvin Hamlisch, Jerry Orbach, Prince, Frank Rich, Sondheim, Julie Taymor and Ben Vereen. Highlights include rare footage of Ethel Merman rehearsing for Gypsy and home movies from the original Chicago.
Episode Six: Putting It Together (1980-Present)
Showman David Merrick re-conquers Broadway with an adaptation of the movie musical 42nd Street. But soon the biggest hits are arriving from London. Producer Cameron Mackintosh redefines show business as Cats, Les MisÈrables, The Phantom of the Opera and Miss Saigon become blockbusters. James Lapine lures Sondheim Off-Broadway to develop Sunday in the Park with George, while Harvey Fierstein and Jerry Herman's adaptation of La Cage aux Folles focuses for the first time on a gay partnership -- without a single kiss [but they sing a "love song" to each other]. AIDS decimates Broadway.
With Julie Taymor's acclaimed staging of The Lion King, Disney leads a resurrection of 42nd Street. Jonathan Larson scores a bittersweet victory adapting La Boheme into rock-flavored Rent and the old-style musical is reborn in Mel Brooks and Susan Stroman's The Producers, which sidelines scalpers by offering VIP $480 seats.
After 9/11, Broadway - like the rest of America - begins the slow emergence from the darkness.
Interviews with Brooks, Kristin Chenoweth, Walt Disney CEO Michael Eisner, Harvey Fierstein, Herman, Nathan Lane, Lapine, producer Rocco Landesman, Arthur Laurents, Idina Menzel, Stroman and Lloyd Webber. Highlights include clips of Larson working as a waiter before leaving to create Rent and behind-the-scenes footage of Wicked.
Broadway: The American Musical will not just be on TV: Bulfinch Press has a lavishly illustrated companion book, co-authored by Kantor and NYU professor and theater historian Laurence Maslon. In addition, there's Paramount home video and DVD. Columbia Masterworks has issued a five-CD box set of the music with lavish print materials and Decca Broadway has released a single highlights disc.
The series will be marathon rebroadcast on Thirteen on Saturday, October 23, from 4-11 P.M., with an all-nighter that date from 11 P.M. - 6 A.M. Also, it will be shown weekly on WLIW21 Mondays at 9 P.M. beginning October 25.
--------
Ellis Nassour is an international media journalist, and author of Honky Tonk Angel: The Intimate Story of Patsy Cline, which he has adapted into a musical for the stage. Visit www.patsyclinehta.com.

He can be reached at [email protected]
Why are you looking all the way down here?
For more articles by Ellis Nassour, click the links below!
Previous:
PBS-TV'S AMAZINGLY COMPRENSHIVE BROADWAY: THE AMERICAN MUSICAL AIRS OCTOBER 19-21
Next:
DANCERS GALORE TAKE TO CITY CENTER STAGE FOR CAREER TRANSITION FOR DANCERS BENEFIT
Or go to the
Archives